It's easy to make Fried Ice Cream in a Pan! You'll love this version with toasted corn flakes, butter, cinnamon, brown sugar and honey. Such a fun and popular dessert! Check out the video too!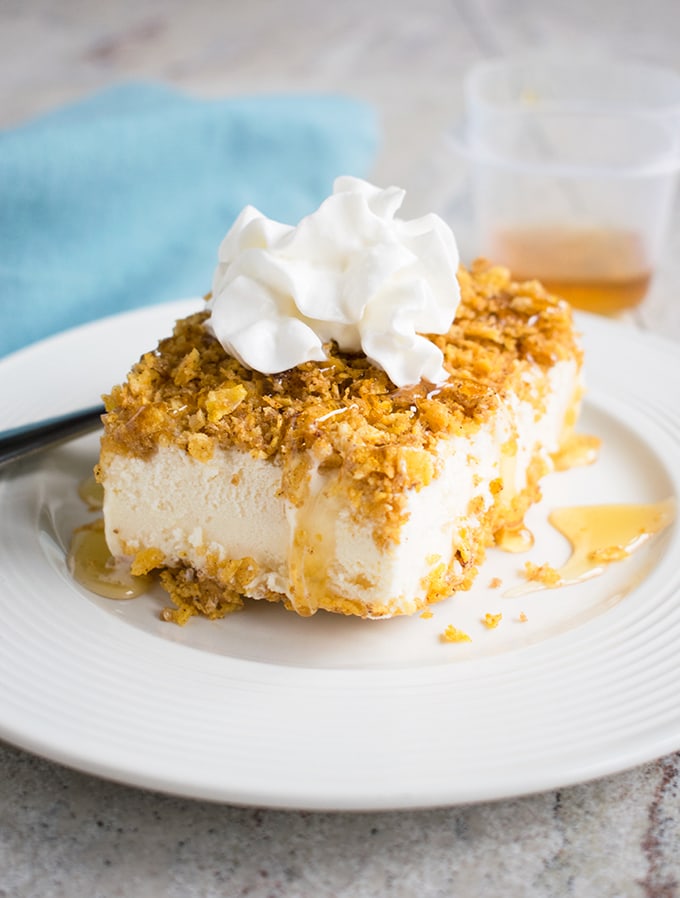 Would you believe fried ice cream in a pan is the first thing I ever made from Pinterest? I'm talking back in the day, when I first joined and had 11 followers but no blog. It was so 2012.
My family loved that dessert, which I served at least a couple of times. Then, I guess I got distracted by other goodies from my dessert archives and forgot all about it for a few years.
Fast forward to earlier this week. My hubby politely asked if I "wanted to make something" he could bring to the office for a Cinco de Mayo celebration. But I knew what he was thinking.
"YOU'RE A FOOD BLOGGER, FOR HEAVEN'S SAKE. I CAN'T SHOW UP WITHOUT SOMETHING YOU MADE."
The air was heavy with expectation, as I pondered my response. Of course, I'd make something!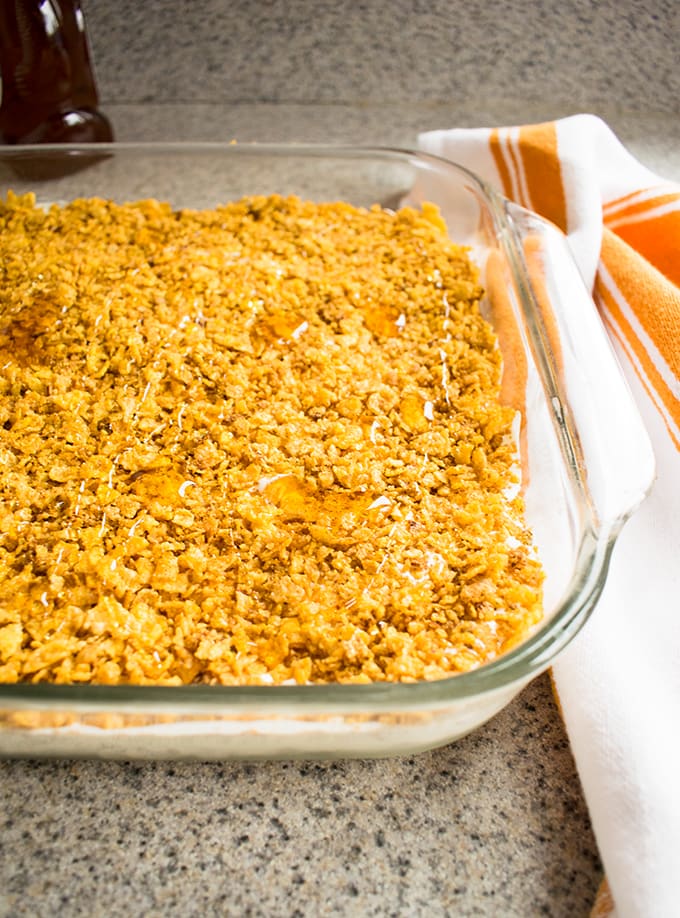 But it had to be easy. Something I could squeeze into my schedule at the last minute… something tried and true…maybe a dessert…fried ice cream in a pan!! Bingo!
I couldn't find the recipe I'd used before. But it was easy to pull from various versions and taste test my way to something office worthy…and blog worthy.
Because you need this recipe in your life. Let's explore how it's done.
You'll crush some corn flakes and toast them in a pan with butter. Then, you'll stir in brown sugar and cinnamon. Then, you'll probably burn your mouth while shoveling in a taste of that buttery, crunchy goodness.
While the cereal mixture cools, you'll stir your vanilla ice cream until it's soft and smooth…like soft serve. Then, you'll layer your 9×13 with some of that "fried" corn flake crust, all your ice cream plus another layer of crust. You'll drizzle on some honey before covering and freezing the pan.
Sorry, folks, but the fried ice cream needs to stay in the freezer for at least five hours before serving. But once it emerges, you'll cut it into squares, pour honey all over it until it's dripping down the sides, then top it with a mound of whipped cream.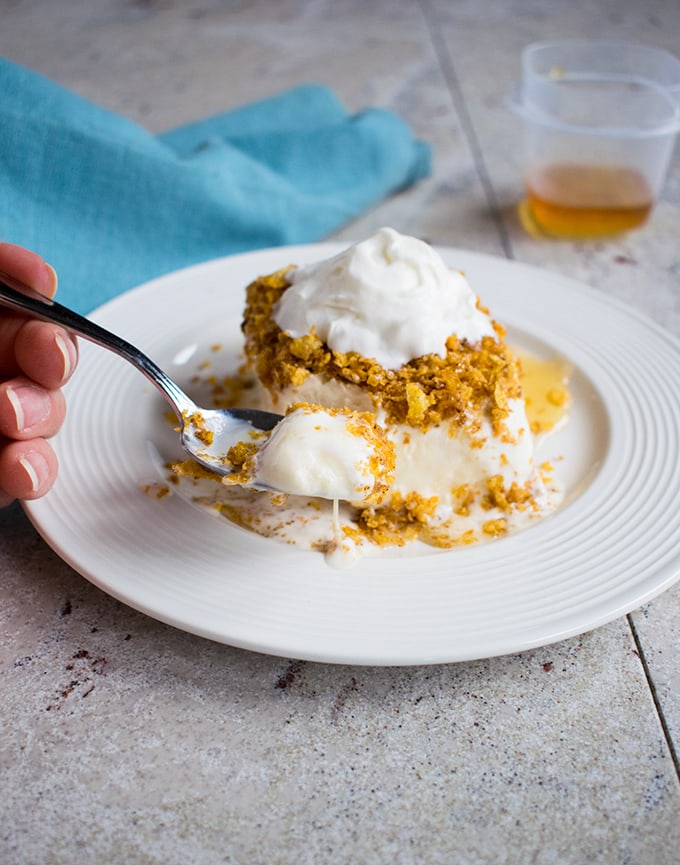 It's worth the wait. I promise.
This recipe is great for parties or Mexican-themed dinners. You can serve this Seven-Layer Taco Dip from Scratch too. Or chips with my guacamole from this post on Basted Eggs with Guacamole Toast. It's all good!
Enjoy!
(Recipe Source: Cooking with Mamma C, inspired by recipes on Pinterest)
Watch the video to see how easy it is to make Fried Ice Cream in a Pan!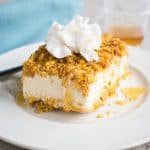 Fried Ice Cream in a Pan
It's easy to make fried ice cream! Note, you'll need to let it freeze for at least five hours before serving.
Keyword:
easy, fried ice cream
Ingredients
2

quarts

vanilla ice cream

6

cups

corn flakes

(half a 12-ounce box; use gluten free if needed)

4

tablespoons

salted butter

¼

cup

brown sugar

1 ½

teaspoons