Homemade Italian Bread is easier than you think! You'll be so proud when this delicious, crusty loaf comes out of your oven. It's vegan too. Don't miss the video!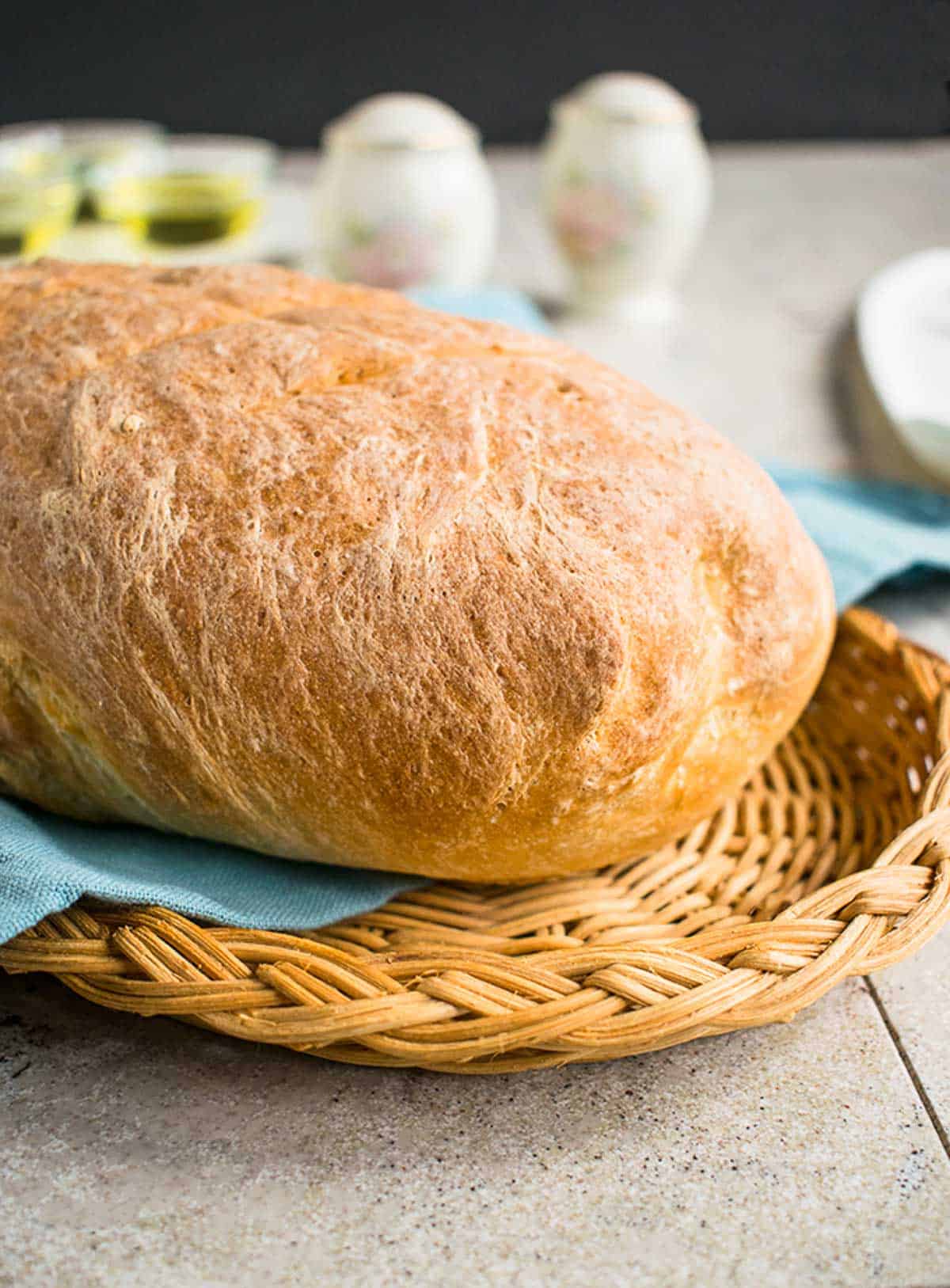 My goal today is to convince you to try this recipe. Because this homemade Italian bread is so easy, crusty and delicious. I don't want you to miss out!
There's nothing like the sense of accomplishment that comes from baking your own bread.
"Did I do that?!!," you'll wonder, in your best Steve Urkel voice. Or maybe that's just me.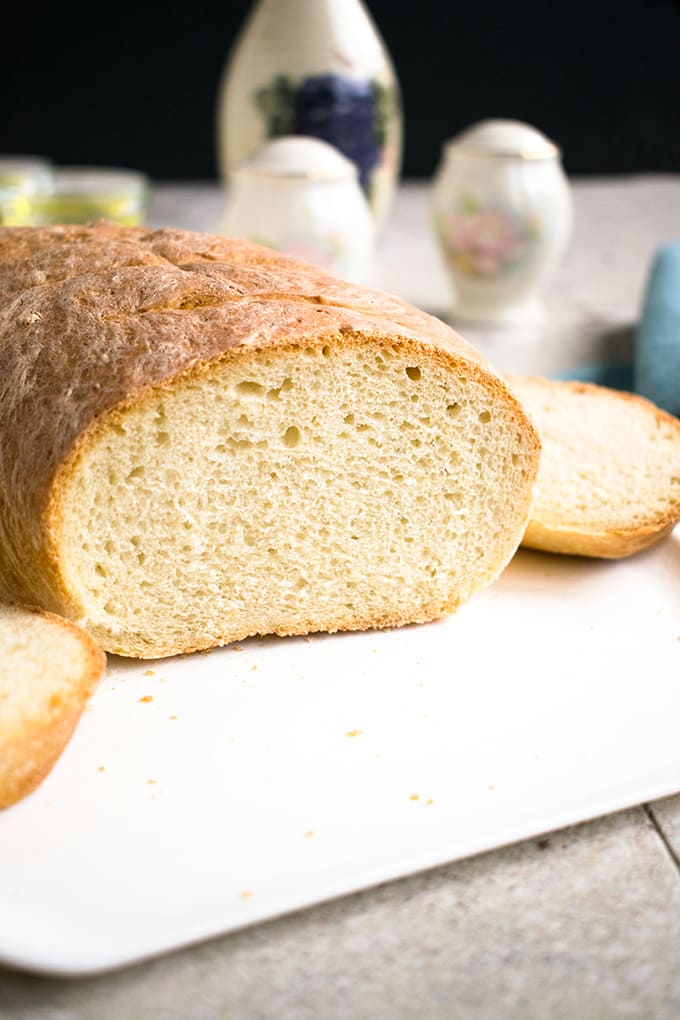 But, seriously. Why is it that as kids, we went to town with Play Doh and Silly Putty (now I'm aging myself), yet as adults, we shy away from making dough and shaping it into a simple loaf?
Yes, there's kneading involved. But if you have a stand mixer with dough hooks, all you need to do is throw in your ingredients and let the machine run for six minutes. By hand, you'll probably need a couple minutes longer, but it's so therapeutic.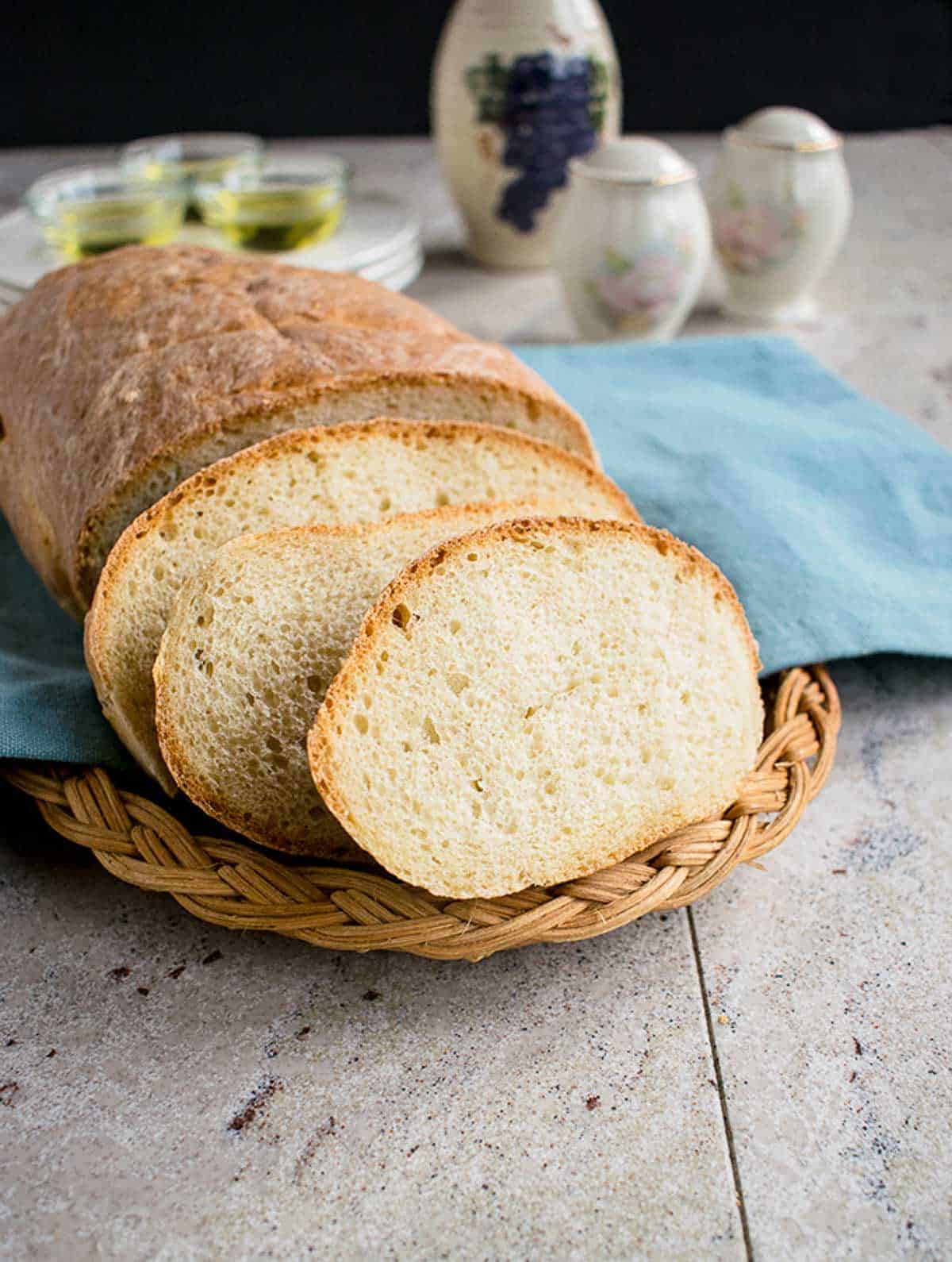 My son has been making this homemade Italian bread for years, and kneads the dough by hand like a boss. I just use my KitchenAid. (That's an affiliate link.)
The only part that requires some thought is figuring out whether to add more flour. The humidity of your kitchen will be a factor.
But, here's a ridiculously simple tip: If, after a couple minutes of kneading, you touch the dough and realize it's stuck to your fingertips, you need to add more flour.
Start with an extra 1/4 cup, knead it some more and see if the dough comes together. In a stand mixer, the dough should pull away from the insides of the bowl and form a ball in the center.
If you still see residue at the bottom of your bowl, add a little more flour. Try touching the dough again.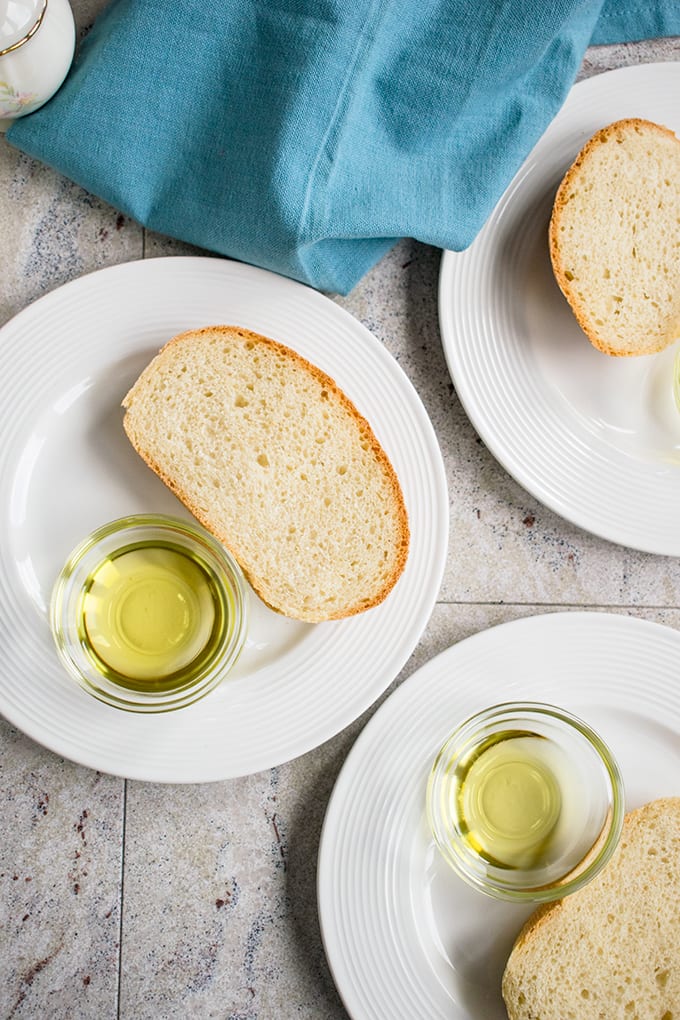 Still sticky? Add another 1/4 cup of flour.
It's not rocket science, I promise. You almost can't go wrong.
You'll let the dough rise for two hours. You can leave your house. It's fine.
Then, you'll come back and (gently) punch down your dough. You'll let it rise for another 40 minutes. (One time, I left to do errands and came back more than an hour later — no big deal.)
Next, you'll scoop up that puffy ball of dough and shape it into a loaf. It takes about five seconds. You'll score it with a knife to provide venting, which will allow the loaf to open as it bakes.
You'll bake the bread on a half sheet pan, or whatever you use to bake cookies. You don't need a special loaf pan.
To give your bread a crispier crust, fill a metal 9×13 or cast iron pan halfway with hot water and place that on the bottom rack of your oven while your bread bakes on the middle rack.
To test whether your bread is done: Wearing oven mitts, turn over your loaf of bread when it's out of the oven. With ungloved fingertips, tap the bottom of the loaf. If it sounds hollow, it's done.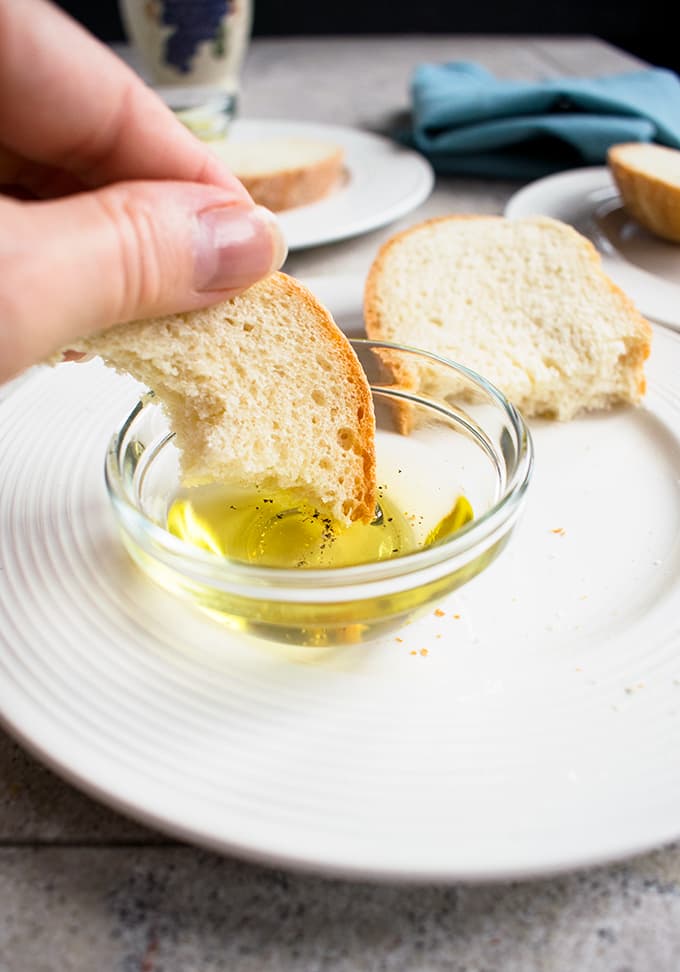 When the bread cools…you'd better have some olive oil on hand for dipping. I like regular olive oil for that, since I find it's milder than extra virgin. Sprinkle some salt and pepper into your oil, or not, and dip away!
Friends, making homemade Italian bread is easier than lots of things in life.
It's easier than changing a tire.
Easier than driving a stick shift.
Easier than filling out back-to-school paperwork.
Easier than mowing the lawn.
But, if you insist you're not ready for kneading dough, you can crank out this Easy Beer Bread in under an hour. And don't forget quick breads like this Lemony Whole Wheat Zucchini Bread.
Enjoy!
Watch the video to see how easy it is to make Homemade Italian Bread!
(Recipe Source: Adapted from my son's recipe, which he'd adapted after seeing it online years ago.)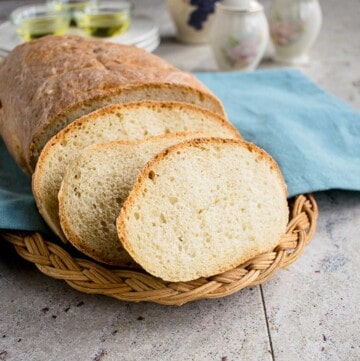 Homemade Italian Bread
Making Homemade Italian Bread is easier than you think!
Print
Pin
Rate
Total Time:
3
hours
45
minutes
Servings:
14
Makes 1 large loaf
Ingredients
Dough
3

cups

all-purpose flour

(use up to four cups if needed; see notes)

2 1/4

teaspoons

instant yeast

(see notes if using active dry yeast)

2

teaspoons

granulated sugar

2

teaspoons

salt

1

tablespoon

olive oil

1 1/4

cups

warm water
Instructions
Add three cups of flour and the remaining dough ingredients to the bowl of a stand mixer, if you have one. Otherwise, use a large mixing bowl.

If using a stand mixer with dough hooks, start the machine on "stir," then switch to a low speed to knead the dough for six minutes.

If kneading by hand, stir with a spoon, then knead the dough on a clean, floured work surface for at least six minutes.

After a couple minutes of kneading in your mixer or by hand, check to see if the dough is sticky. Touch it with your fingertips and pull them away.

If there is dough residue on your fingertips, you need to add more flour. Add 1/4 cup extra flour and knead some more.

Check again to see if the dough is still sticky. If so, add more flour, 1/4 cup at a time, until your dough comes together in a smooth ball and isn't sticky. It should pull away from the inside of the bowl of your stand mixer.

When you are done kneading, grease your mixing bowl with cooking spray (you can use the same bowl without cleaning it first.) Place your ball of dough in the greased bowl and roll it around to coat it a bit with the oil.

Cover the bowl with plastic wrap and let the dough rise for two hours at room temperature.

After two hours, peel back the plastic and gently punch down the dough. Cover the bowl again with the plastic wrap and let the dough rise for another 40 minutes.

When your dough is almost done rising, preheat your oven to 425 degrees F. Make a steam bath so your crust will be crispier. Fill a 9x13 metal pan or cast iron pan halfway with hot water. (Avoid using a glass pan, if possible, because it could shatter.) Wearing oven mitts, place the pan with the hot water on the bottom rack of your oven.

When the dough is risen, place it onto a half sheet pan lined with parchment paper or a silicone baking mat. (If you have neither, you can lightly grease your pan with cooking spray.)

Shape your dough into a loaf about 10 inches long and four inches wide. Use a straight-edged knife to score the dough (make a long vertical slit or horizontal slits along the surface of the dough) to allow venting. Place the pan with your dough on the middle rack of your oven.

Bake initially for 10 minutes at 425 F.

Lower your oven temperature to 400 degrees F, and bake your bread for 30-35 minutes more. Check if your bread is done by removing the pan from the oven. Wearing gloves, flip over the loaf. Take off one glove and tap the underside of the bread with your fingertips. If the bread sounds hollow, it is done. If not, bake it a little more.

When the bread is done, let it cool on a wire rack until it's no longer hot. Slice the bread and serve with oil, salt and pepper for dipping, if you wish.

Store the bread at room temperature, wrapped in plastic and then placed in a brown bag. It is best eaten by the next day or so for freshness. If you wish, you can slice the loaf and freeze it in a freezer bag.
Notes
The amount of flour you need will depend on the humidity that day. Start with 3 cups of flour, and if the dough is sticky, add 1/4 cup extra flour at a time until the dough comes together in a smooth ball and isn't sticky. You shouldn't need more than 4 cups of flour total.
If using active dry yeast, you'll need to proof it first to activate it. In a small mixing bowl, mix the warm water with the yeast and a pinch of sugar. Wait about 10 minutes, until the mixture foams and bubbles. Then add it to the mixing bowl with the remaining ingredients. If your yeast doesn't foam and bubble during that time, the yeast won't work, so you'll need to buy fresher yeast.
Nutrition
Calories:
114
kcal
|
Carbohydrates:
21
g
|
Protein:
3
g
|
Fat:
1
g
|
Sodium:
334
mg
|
Potassium:
47
mg
|
Fiber:
1
g
|
Calcium:
4
mg
|
Iron:
1.3
mg