Mom's Spinach-Ricotta Pie – One of the most delicious Italian dishes ever! Perfect as an appetizer, vegetable side dish or vegetarian entrée. A family favorite for many years!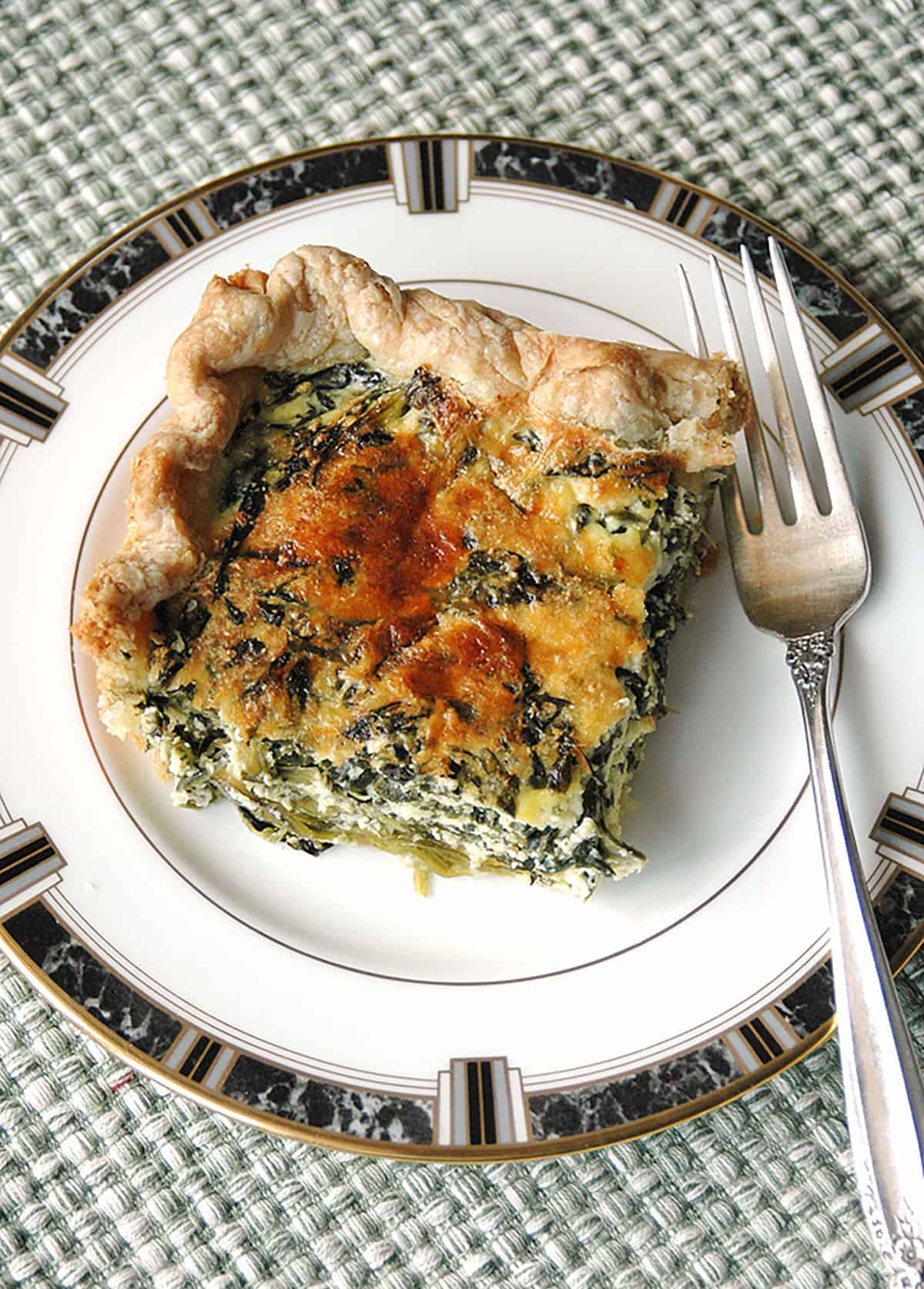 Behold, Mom's Spinach-Ricotta Pie. Easily in my top ten favorites of Mom's culinary masterpieces, it was the first recipe I asked her to teach me to make for the blog. I spent a wonderful spring afternoon in her kitchen, in the house where I grew up.
Mom always makes this pie in a 9×13 pan, perfect for a buffet. For the first time, she made the crust with butter instead of margarine, since I've eliminated most processed foods from my diet. The pie tasted phenomenally better, elevating this dish even higher on my list of favorites.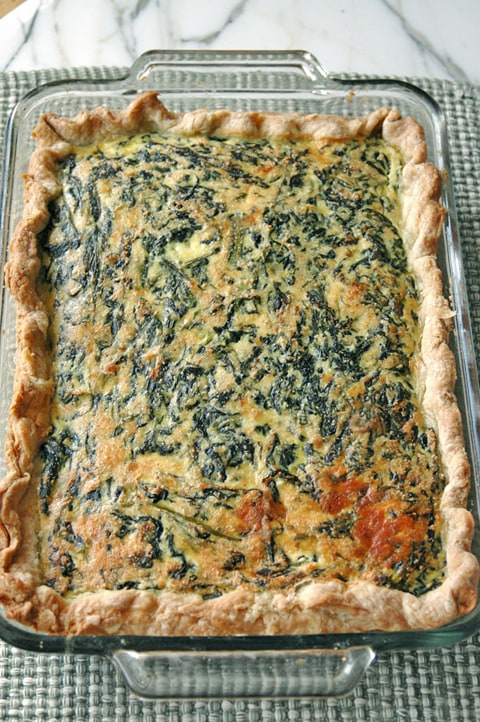 I helped with the filling, but for the crust, I let Mom show me how it's done. She's a true master, and I was the apprentice.
I watched in awe as she placed a pastry cloth on her counter and sprinkled it with flour. (I had never even heard of a pastry cloth, but apparently, it makes it easier to roll out dough.) She also placed a cloth sock on her rolling pin, to prevent sticking.
Next, she turned her glass pan face-down on the cloth and sprinkled flour in a rectangular frame around the pan, about two inches away from the edges. She explained that this outline would guide her as she rolled out the crust. Genius!
Then, Mom worked that dough like a boss, with the utmost confidence. It was such a contrast to my excuse-me, pardon-me approach to rolling pastry crust in fear. My jaw dropped as I heard her smack her rolling pin on the ball of dough and listened to the rhythm of her work.
"Thwack!" Roll, lift.
"Thwack!" Roll, lift.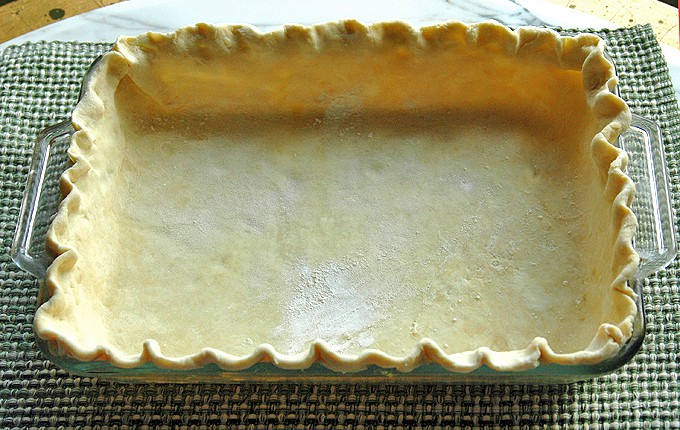 Mom meant business, and that dough knew it. It succumbed to her firm pressure, rolling out to a smooth consistency in no time.
At one point, the crust started separating at the edges, which would have had me cussing and criticizing (and probably crying). But Mom just pushed that pastry back together with her fingertips and rolled right over it. So that's how it's done!
The spinach-ricotta pie came out of the oven looking like a work of art. And it was.
Mom, Dad and I each devoured a huge piece, swooning and rolling our eyes after each bite. The combination of the buttery crust with the cheesy spinach filling was pure heaven.
I needed to run, so Mom sent me home with the rest of the pie, still warm. (Mom never lets me leave her house without food. It's an Italian thing; my mother-in-law is the same way.)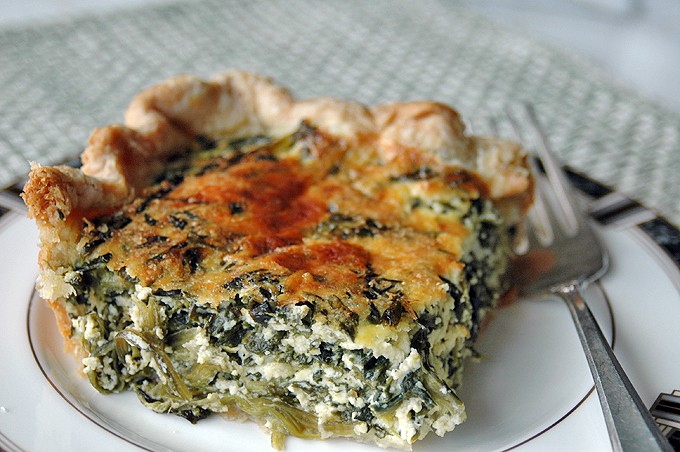 The pie's intoxicating aroma filled my van and tempted me all the way home. I thought about pulling over to the side of the road to sneak a piece, but that would be ridiculous. Surely, there would be a gas station somewhere.
I was so distracted, I almost ran a red light. (I could just picture a police officer tapping on my vehicle's steamed glass and being overtaken by the heavenly scent as I slowly rolled down my window.)
Finally, I made it home. I think I still had on my jacket as I rushed into the kitchen to cut myself another serving.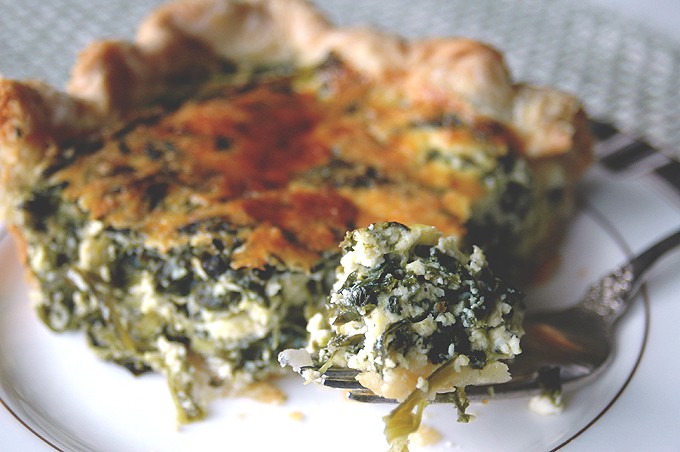 P.S. If you love savory pies, don't miss this Vidalia Onion Pie!
Recipe Source: My Mom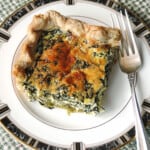 Mom's Spinach-Ricotta Pie
A delicious, savory pie that's perfect for parties as a side dish or appetizer, or even as a meatless meal.
Course:
Appetizer, Side Dish
Keyword:
ricotta, spinach pie
Servings
:
10
as a side dish
Ingredients
Filling
3

10 ounce packages frozen leaf spinach (or 2 pounds fresh), thawed & drained

1 1/2

pounds

ricotta

1

small yellow onion

(finely chopped)

2

cloves

garlic

(finely chopped)

2

tablespoons

chopped fresh parsley

7

tablespoons

salted butter

(if using fresh spinach, use 4 tablespoons butter and 3 tablespoons olive oil)

1/4

teaspoon

salt

black pepper

(to taste)

1 1/4

cup

Pecorino Romano

(grated)

5

eggs

(beaten)

1

tablespoon

Parmesan

(to sprinkle on top)
Crust
3

cups

all-purpose flour

1

cup

plus 1 tablespoon salted butter

(softened & cut into pieces)

5-6

tablespoons

very cold water

1

tablespoon

apple cider vinegar

(or white)

1

egg white

(beaten)
Instructions
Thaw frozen spinach in the microwave on defrost (spinach must still be raw.) Let the spinach drain in a colander in the sink.

While spinach is draining, prepare dough. In a large mixing bowl, use a pastry cutter to cut the butter into the flour until coarse crumbs appear.

In a small bowl, use a fork to beat the liquids together (5 tablespoons water, egg white & vinegar). Add a little of the liquid mixture to the dry ingredients and stir with a fork. Continue adding a little bit of liquid at a time and mixing. Press the butter into the flour with the fork. Add an extra tablespoon of water if needed.

Gather the dough into a ball and wrap it in plastic. Refrigerate the dough for 15 minutes and preheat the oven to 375 degrees.

While the dough is chilling, chop the onion, garlic, and parsley and grate the Pecorino Romano and Parmesan. Set them aside and prep the counter for rolling out the dough. (You can use a floured pastry cloth or parchment paper.) Place a 9x13 glass pan face-down on the surface and sprinkle flour in a rectangular frame around it, two inches beyond the pan's edges. This will be the outline to guide your rolling.

Set aside the pan and place the dough in the center of the flour rectangle. Using a floured rolling pin (or a cloth-covered rolling pin), firmly roll the pastry out into a rectangle that fits into your outline (press down, roll, and lift as you go.) If the dough separates at the edges, just push it back together with your fingertips and roll over it to smooth it out. When the pastry is smooth and the right size, transfer it to the ungreased pan. (You can lift your cloth or parchment paper and turn the dough into the pan.) Trim any dough that overhangs too far. If the dough is thin at the edges, you can fold the edges inside the rim of the pan before crimping them with your fingertips. If the dough is thick at the edges, just flute it without folding it under. Brush cold water on the edges of the pan so the crust will stick to the rim and not slide down. Refrigerate the pan with the raw crust while you finish the filling.

Dry the spinach with paper towels and squeeze out any excess liquid. Melt the butter (and olive oil if using fresh spinach) in a pan on the stove. Add the onions and garlic and cook for 2-3 minutes on low heat. Then add the spinach to the pan, sprinkling with salt and black pepper. Stir and cook on medium for 3-4 minutes. Off the heat, stir Romano into the pan.

Place the spinach mixture in a large mixing bowl. Add the ricotta and parsley and stir well until blended. Fold in the beaten eggs. Pour the filling into the pan of raw crust. Sprinkle Parmesan on top. Place pan on the bottom rack of the oven. Bake uncovered, for 1 hour, or until the surface is golden brown. Let cool for a few minutes before cutting.
Recipe Notes
If using unsalted butter, you will need to add an extra 1/4 teaspoon salt to the filling and 1 teaspoon salt to the crust.
Please note that Mom's Spinach-Ricotta Pie should not be reheated in the microwave, because it will ruin the texture and flavor. You can either take leftovers out of the refrigerator and let them come to room temperature, or reheat the pie in the oven at 350 degrees, uncovered. Start with 15 minutes and see if it needs more time.
Nutrition Facts
Mom's Spinach-Ricotta Pie
Amount Per Serving
Calories 619
Calories from Fat 387
% Daily Value*
Fat 43g66%
Cholesterol 205mg68%
Sodium 624mg27%
Potassium 478mg14%
Carbohydrates 36g12%
Protein 22g44%
Vitamin A 11390IU228%
Vitamin C 6.8mg8%
Calcium 421mg42%
Iron 4.2mg23%
* Percent Daily Values are based on a 2000 calorie diet.