You'll love my Gluten-Free Turkey Meatballs in Sauce! This healthy turkey meatball recipe uses oats instead of bread crumbs, but no one will notice!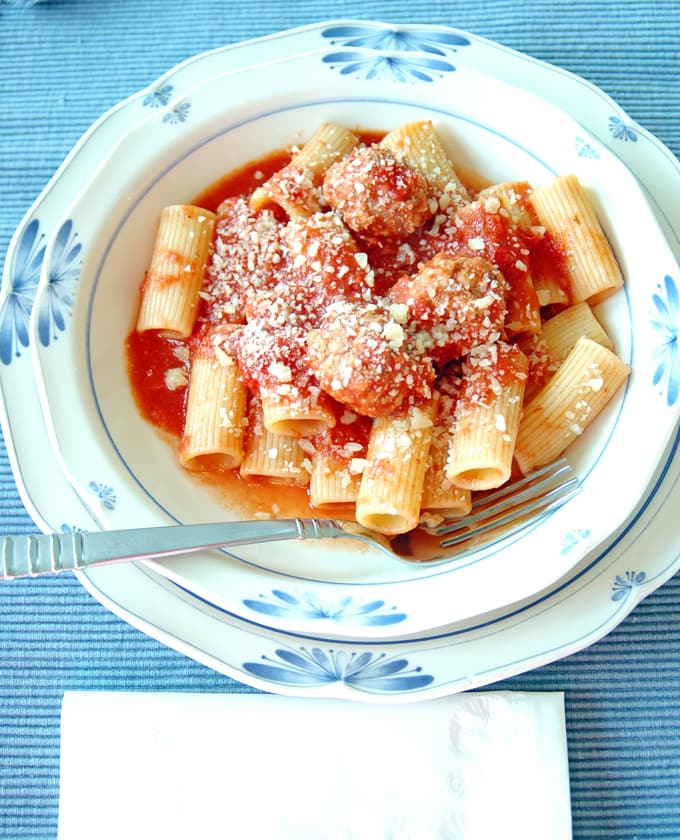 We love our pasta and meatballs. I'm so glad these gluten-free turkey meatballs and sauce taste delicious and are relatively easy to make.
I used to think turkey meatballs were a sacrifice, a consolation prize. "Sorry you didn't win the full-fat beef meatballs with sauce, but we have these lovely, low-fat turkey meatballs for you…"
And truth be told, I rarely made meatballs of any kind, since Mom would make them on Sundays for us and give us leftovers. But as we got busier on Sundays and I wanted to cook at home after working full time all week (and making only quick dinners), I started experimenting with meatballs.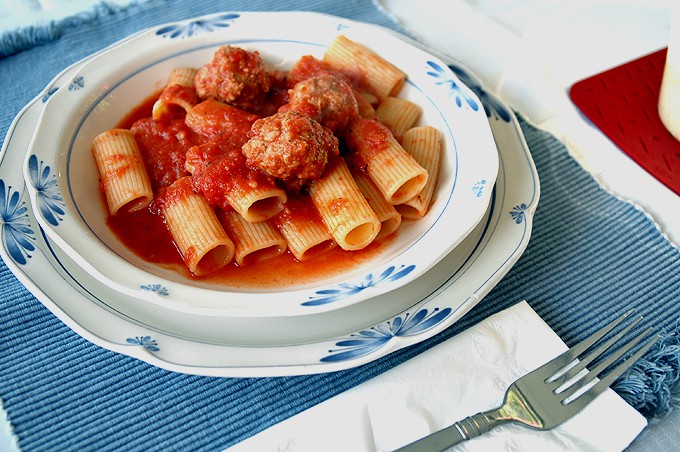 They weren't pretty. Or tasty.
My meatballs always looked cone-shaped and were dry. They were so hard, it was challenging to cut them with a fork.
What kind of Italian was I?
I think it was partly because of the bread crumbs. Mom always used water-soaked "American bread" (I was an adult before I learned that "white bread" is the proper term) instead of bread crumbs in her meatballs.
Since I never purchased that bread (I can't stand it), I would use dry, store-bought bread crumbs in my meatballs. I also didn't like the idea of frying the meatballs first, so I tried baking them.
But I just wasn't getting the results I wanted.
Then, I was reading a Giada De Laurentiis cookbook, and she raved about how meatballs made with turkey are healthier and so good that she no longer makes them with beef. Hmmm.
So, I started experimenting with turkey.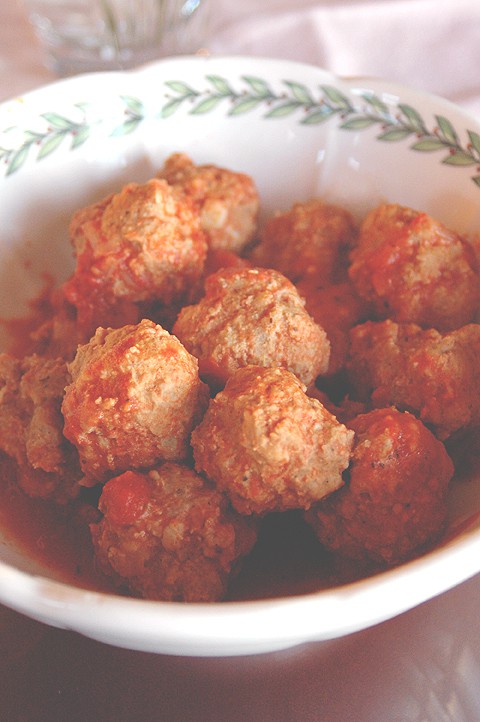 After a few tries, I finally figured out a way to have fork-tender, round meatballs and a delicious sauce big on flavor — while eliminating the hassle of browning the meatballs first.
I use whole-grain oats instead of bread crumbs and soak them in water to ensure a soft texture. (They also make the recipe gluten-free, if you buy the right oats.)
And once I shape the meatballs, I just place them into the sauce to cook.
This has become my go-to recipe for meatballs and sauce. (I do have another not-so-healthy-but-fantastic recipe for meatballs and sauce that I will share with you at some point, and here is the link to my marinara sauce. I also turned this recipe into an Italian Meatloaf, which is fantastic with either ground chicken or ground turkey.)
We love our meatballs with pasta, but they also would be great in a sandwich.
And, here's a tip: If you serve my gluten-free turkey meatballs in sauce to beef lovers, don't tell them it's turkey until after they've tried it. My Dad loved this meal so much, I was almost afraid to say anything.
I confessed after his first few bites.
"Really?" he said, and kept right on eating. "This is so good."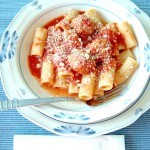 Gluten-Free Turkey Meatballs in Sauce
You'll love my Gluten-Free Turkey Meatballs in Sauce! This healthy turkey meatball recipe uses oats instead of bread crumbs, but no one will notice!

Keyword:
gluten-free meatballs, healthy turkey meatballs, meatballs in sauce, turkey meatballs
Ingredients
Sauce
6

garlic cloves

(peeled & sliced thinly)

1

large onion

(peeled & chopped)

4

tablespoons

olive oil

2

28-ounce cans crushed tomatoes

(I like Tuttorosso or Cento San Marzano)

1

28-ounce can whole peeled tomatoes

(mashed with a potato masher)

2

bay leaves

1/4

teaspoon

salt

1/8

teaspoon

black pepper
Meatballs
1

egg

(lightly beaten)

4

tablespoons

water

1/3

cup

whole grain oats

(use gluten free if needed)

3

teaspoons

dried parsley

(optional)

1

large garlic clove

(chopped)

3/4

cup

freshly grated Parmesan cheese

3/4

tsp

salt

3/4

tsp

black pepper

1.2

lbs

lean ground turkey
Instructions
Chop a large clove of garlic and set it aside for the meatballs. Slice six cloves of garlic and chop the onion. Heat olive oil in a large pot on medium high. Add onions and cook until soft (around five minutes), stirring occasionally. During the last two minutes, add the garlic slices to the pan and stir them to combine with the onions.

While the onions are cooking, mash the whole, peeled tomatoes in a bowl. After the onions are soft, add the mashed tomatoes to the pot, along with the crushed tomatoes. Stir to combine and add the bay leaves, salt and pepper. Stir to combine.

When the sauce comes to a boil, lower the heat and loosely cover the pot with a lid, using a wooden spoon resting on the edges of the pan to keep the lid propped open a bit.

For the meatballs, while your hands are clean, place a large spoon within reach of the pot. Place the oats in a small bowl and pour the water over them. Stir and let soak for a couple of minutes. In a large bowl, lightly beat the egg with a fork and add the parsley, chopped garlic, Parmesan, salt, pepper, and the oats/water mixture. Add the meat to the bowl and mix all the ingredients gently with your hands.

Shape the mixture into meatballs about two inches wide. Gently place the meatballs into the sauce (place a couple at a time on the large spoon and transfer them). Wash your hands well and stir the sauce gently with the wooden spoon, being careful not to break the meatballs. Wash the wooden spoon and rest it again on the rim of the pot, so it props the lid. (Do not taste the sauce until the meatballs are fully cooked.)

Stir the sauce occasionally to prevent sticking, being sure to gently scrape along the bottom of the pot. After 35 minutes, check to see if the meatballs are done by cutting into the largest one. If it is cooked through, the sauce can be tasted going forward. Using a slotted spoon, transfer the cooked meatballs to a serving bowl and cover with foil. Continue cooking the sauce for another 20 minutes.

Serve the meatballs and sauce over pasta or in hoagies. Store leftover sauce and meatballs in the refrigerator for up to three days, or freeze separately (as long as your turkey was not previously frozen).
Nutrition Facts
Gluten-Free Turkey Meatballs in Sauce
Amount Per Serving
Calories 289
Calories from Fat 108
% Daily Value*
Fat 12g18%
Cholesterol 66mg22%
Sodium 882mg38%
Potassium 1029mg29%
Carbohydrates 23g8%
Protein 25g50%
Vitamin A 670IU13%
Vitamin C 29.3mg36%
Calcium 216mg22%
Iron 4.5mg25%
* Percent Daily Values are based on a 2000 calorie diet.