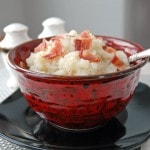 Savory with just a hint of sweetness, these Mashed Turnips with Brown Butter and Bacon are so delicious! A great substitute for mashed potatoes.
Keyword:
bacon, brown butter, mashed turnips
Rinse the turnips in cold water and trim off the stem and root ends. Use a vegetable peeler to remove the skin. Rinse the turnips again and cut them into cubes.

In a medium pot, place one cup of hot water and a teaspoon of salt on the stove over high heat to boil. When the water is boiling, add the turnips. When the water comes to a boil again, lower the heat and cover the pot. Cook the turnips for 15-20 minutes, or until fork tender. Drain.

While the turnips are cooking, cook the bacon in the microwave on a plate between paper towels. The bacon is done when it just becomes crispy and is no longer pink. Pat the cooked bacon with a clean paper towel to absorb excess grease, and using kitchen scissors if you have them, cut the bacon into small pieces and set them aside.

To brown the butter, place the butter in a small pan over medium high heat and watch it carefully as it melts. Lower the heat a bit and swirl the pan or use a spoon to stir the butter around. The butter will foam, and eventually, the milk solids will start to brown. Keep watching the butter so it won't burn. The butter is browned when it is a caramel color. As soon as it reaches that stage, turn off the heat and remove the pan to a cool burner.

When the turnips are drained, return them to the pot and mash them with a potato masher. Stir in 1/8 teaspoon salt, the brown butter, black pepper, brown sugar and bacon. (If you wish, you can reserve some of the bacon to sprinkle on top before serving.)

Store leftovers in the refrigerator for up to four days.
Nutrition Facts
Mashed Turnips with Brown Butter and Bacon
Amount Per Serving
Calories 150
Calories from Fat 81
% Daily Value*
Fat 9g14%
Cholesterol 20mg7%
Sodium 775mg34%
Potassium 372mg11%
Carbohydrates 13g4%
Protein 3g6%
Vitamin A 140IU3%
Vitamin C 38.1mg46%
Calcium 54mg5%
Iron 0.6mg3%
* Percent Daily Values are based on a 2000 calorie diet.