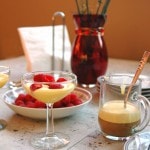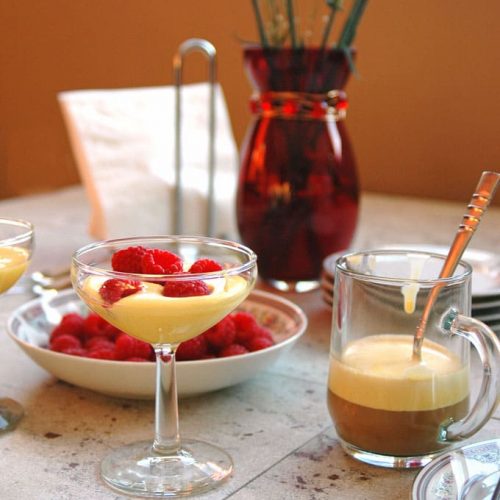 Egg yolks, sugar, a bit of salt and some whisking over a double boiler will give you this creamy, custard-like Italian treat. Serve it with berries, toast for dipping, and you must try it with espresso poured on top!
Course:
Breakfast, Dessert
Keyword:
custard, nonna, zabaglione
6

extra large egg yolks

1/2

cup

plus 1 or 2 teaspoons granulated sugar to taste

2

dashes salt

hot unsweetened espresso for serving

berries for serving

toast for serving
Fill a pot (the bottom of your double boiler, if you have one) about 1/3 full with hot water. Make sure that the water level will not touch the bottom of your stainless steel or glass bowl that will be resting on top of the pot. Set the pot on the stove over medium heat. (You want the water to simmer, not boil.)

Separate the yolks from your eggs. It helps to set a fine-mesh strainer over a container to catch the egg whites. (Crack your egg, let the whites ooze out, and transfer the yolk back and forth between the two eggshell halves until the whites have all dripped out.) Reserve the whites for another use. Place your yolks into a stainless steel or glass bowl that fits on top of your pot.

Add the sugar and salt to the egg yolks in the bowl and whisk them briefly before placing the bowl on top of the pot of simmering water. Continue whisking, using a figure 8 motion, for at least 10 minutes. Periodically check the water underneath to make sure it's not boiling. Lower the heat if you need to, so the water stays simmering.

The zabaglione is done when it is thick and pulls away from the sides of the bowl, starting to gather in the middle. The color will be a paler yellow than when you started. It should not be as thick as custard.

To serve, immediately spoon the zabaglione into coffee mugs or stemmed glasses. Serve with berries, toast and unsweetened espresso. The espresso can be poured over the zabaglione.
Nutrition Facts
Breakfast Zabaglione with Berries and Espresso
Amount Per Serving
Calories 375
Calories from Fat 126
% Daily Value*
Fat 14g22%
Cholesterol 585mg195%
Sodium 414mg18%
Potassium 58mg2%
Carbohydrates 53g18%
Protein 8g16%
Vitamin A 780IU16%
Calcium 70mg7%
Iron 1.5mg8%
* Percent Daily Values are based on a 2000 calorie diet.