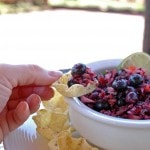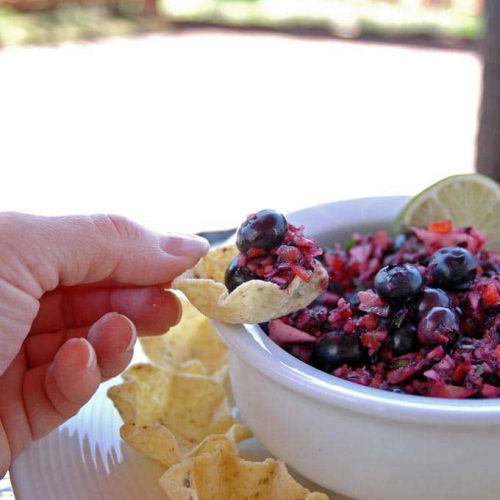 So refreshing and delicious! Vegan and gluten free.
Keyword:
blueberry salsa, gluten free, vegan
3

cups

fresh blueberries

(divided use)

2/3

of a medium red apple

1/2

of a red bell pepper

2/3

cup

chopped red onion

1

jalapeno

1/3

cup

fresh cilantro leaves

juice of 1 lime

2

tablespoons

unsweetened applesauce

1

teaspoon

hot sauce

1/3

teaspoon

salt

1/4

teaspoon

black pepper

2

or 3 teaspoons sugar

(optional; if your berries aren't sweet enough, you might need the sugar.)

tortilla chips for serving
Rinse blueberries and remove any stems. Pat them dry. Place two cups of blueberries in a medium bowl.

Rinse an apple and pat it dry. Without peeling the apple, use a small knife to slice off large pieces around the core. Chop up 2/3 of the apple and add it to the bowl with the blueberries.

Rinse a red pepper and cut out the stem. Cut the pepper in half and remove the membrane and seeds. Chop up half of the pepper and add it to the bowl.

Peel and chop a small red onion until you have 2/3 cup. Add it to the bowl.

Rinse the jalapeno and cut off and discard the stem. Cut the jalapeno in half. You can use the seeds if you want a hotter salsa or discard them for a more mild salsa. Chop up the jalapeno, adding it to the bowl. Wash your hands well after handling the jalapeno and seeds.

Rinse the cilantro and shake off the water. Use scissors to cut off some leaves until they measure 1/3 cup. Add the cilantro to the bowl.

Add the lime juice, applesauce, hot sauce, salt and black pepper. Toss everything with a spoon to mix it. Add the mixture to the bowl of a food processor fitted with a chopping blade (or add it to your blender). Gently and briefly pulse the mixture one or two times. If needed, pulse it again, just until everything is chopped. (Be careful not to let the food processor or blender run too long, or you'll end up with all liquid.)

Drain any excess liquid in a fine mesh strainer and return the chopped salsa to your mixing bowl. Stir in the remaining cup of whole blueberries. Refrigerate the salsa for an hour before serving, ideally. Give it another stir and taste it to see if it needs any sugar or seasonings before serving it with tortilla chips. Refrigerate any leftovers for up to three days.
Nutrition Facts
Red, White and Blueberry Salsa
Amount Per Serving
Calories 44
% Daily Value*
Sodium 104mg5%
Potassium 83mg2%
Carbohydrates 11g4%
Vitamin A 300IU6%
Vitamin C 16.7mg20%
Calcium 6mg1%
Iron 0.2mg1%
* Percent Daily Values are based on a 2000 calorie diet.