I'm so happy to share my best recipes for Pasta and Sauces with you!
Many of them are authentic Italian recipes from Naples, handed down to me by my Mom, who learned how to make them from my Nonna. I've tested and measured to document more than a century of delicious Italian food!
Plus, I've created my own versions of Italian sauces and pasta dishes and put an Italian twist on an American favorite!
With my Pasta & Sauces collection, even a beginner can cook like an Italian nonna!
Featuring:
Color photos: 1-2 photos for each recipe!
Clear, step-by-step instructions: Easy enough for a beginner to follow!
Helpful tips: Everything you need to know!
Storage information: How long to store leftovers!
No ads: Just the recipes!
Digital format: Easy to view on your cellphone, tablet or computer!
Print-ready: Print the whole book or just the recipes you need!
LEARN TO MAKE THESE RECIPES!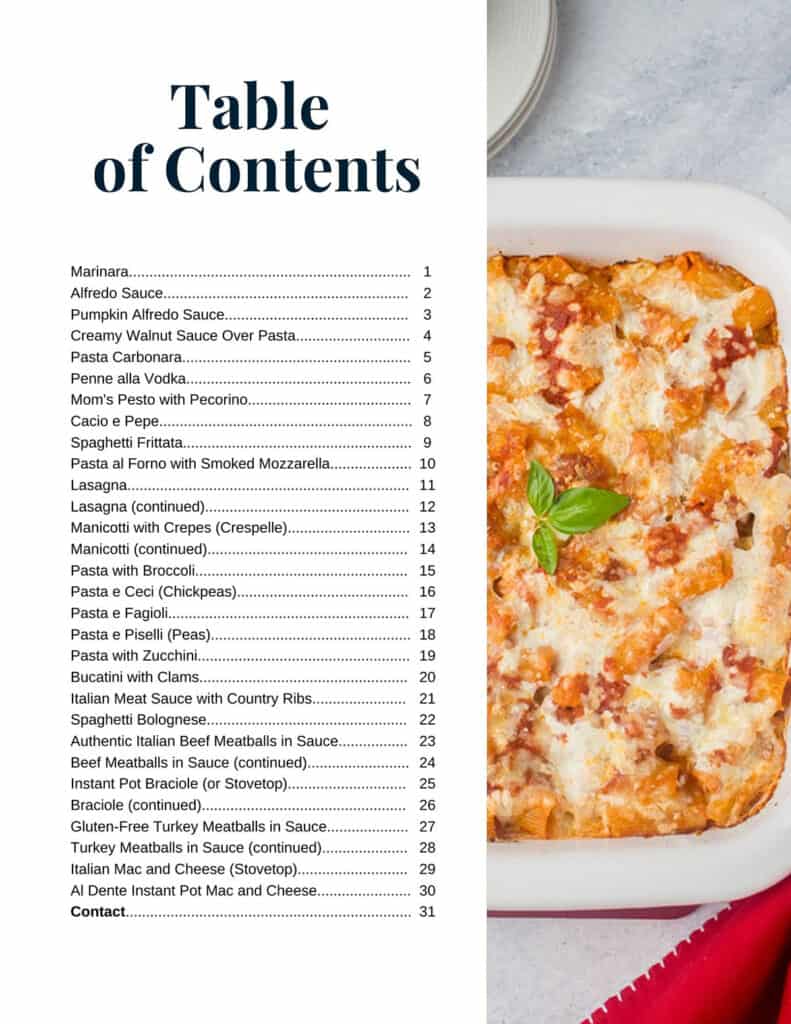 Just $11.99

TESTIMONIALS
I have been using many of your recipes and everyone is very impressed. My Italian dishes have never tasted so good. Thank you.

- Lucy
I have NEVER tried one of your recipes where I haven't said, "This is the best I've ever had!!"

- Jalaine
Love your pasta and sauces recipe ebook!

- Rich
I'm loving your cookbook.

- Roslin
Your pasta and sauces cookbook is really good. Gotten so many ideas from it plus new recipes.

- Nancy
Love your recipes. I cooked your meatballs last week. Fantastic!

- Al
You make me a better cook with all your recipes... Thank you Mamma C...💙

- Margie
The BEST recipes!

- Michele
I've owned two restaurants. I just want to tell you that every dish you cook is sometimes above restaurant quality. Oh, you do a great job.

- George
You are my GO TO website on meal planning/grocery shopping day! So many yummy recipes.

- Diane
The best 5-star eats!!

- Jack
Thank you for all your wonderful recipes - many are now my family's favorites!!

- Joan
Great time to try her recipes!! They are so delicious!!

- Tina

Buy today, before the price increases. It's immediately downloadable!
THIS IS A PDF DIGITAL, DOWNLOADABLE E-COOKBOOK.
No physical book will be shipped or mailed.