This Cheesy Zucchini Bake is made from scratch with Pecorino Romano and Parmesan! It's based on my Mom's zucchini casserole that's a huge family favorite. Make it for brunch, parties or a side dish!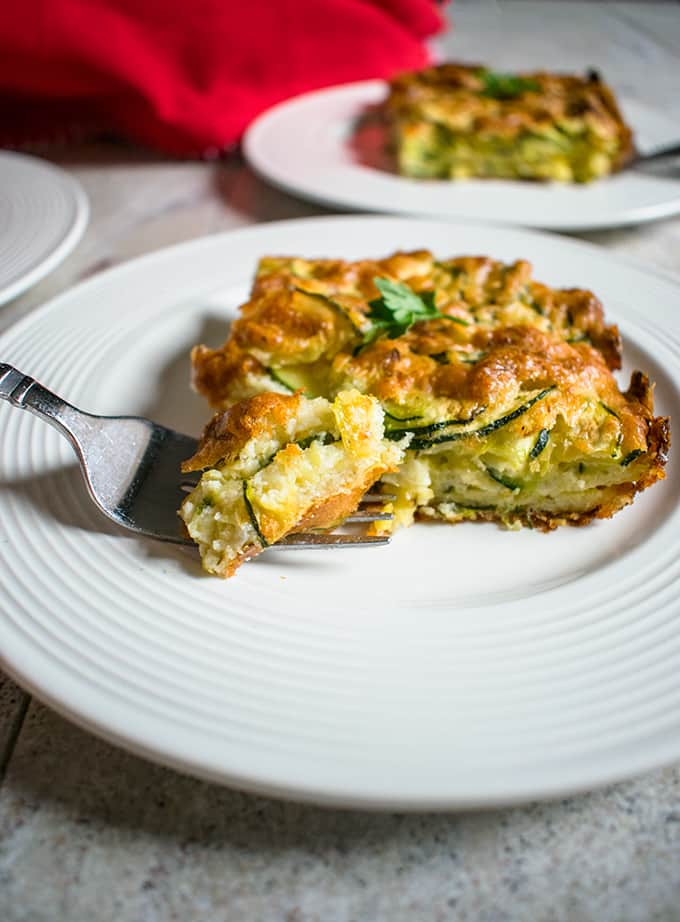 At last! I finally nailed a from-scratch version of Mom's zucchini casserole, which she'd adapted from the famous Bisquick recipe. Folks, you'll want to print out this Cheesy Zucchini Bake for keeps.
It's not like all the rest.
Mom had the brilliant idea years ago to add Pecorino Romano, doubling the amount of cheese and providing a nice flavor kick. She also increased the oven temperature and baking time to produce a delicious browned crust.
I mean… Hello, Gorgeous!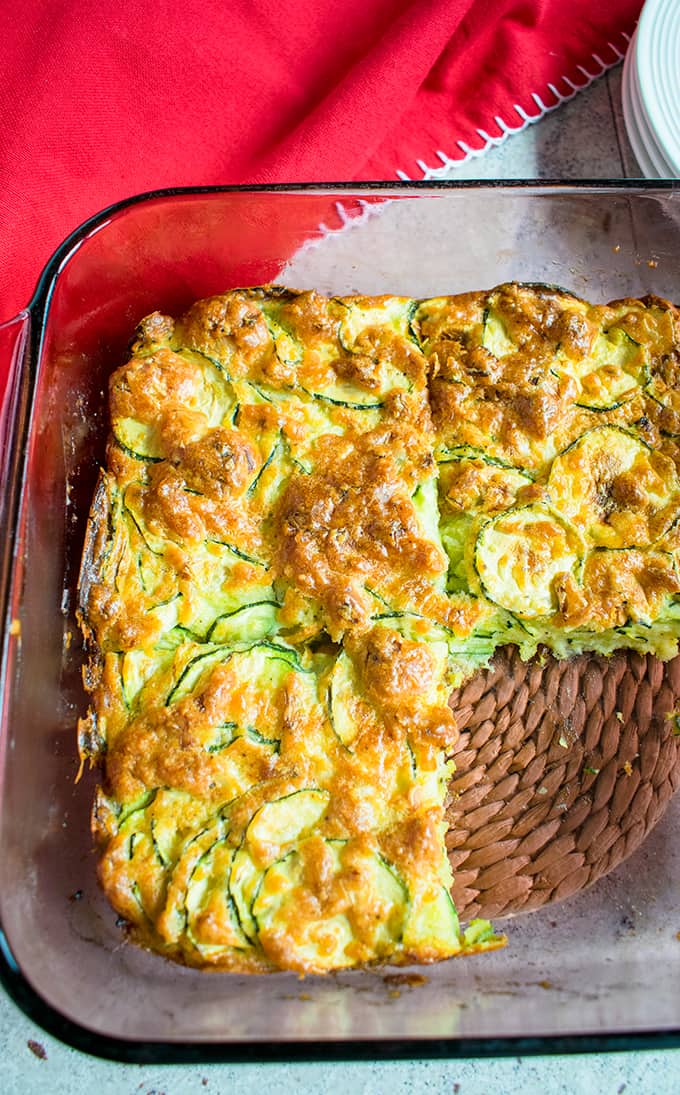 Her version is excellent, and we've requested it over and over for dinners, parties and brunches. But I gave up making recipes with baking mixes a few years ago. (I avoid partially hydrogenated ingredients when possible.)
So, when I first started Cooking with Mamma C, I tried using "homemade Bisquick" in this cheesy zucchini bake. You can imagine how that went, since it's taken me three years to attempt the casserole again.
This time, I decided to play around with just flour and baking powder to yield baking-mix results. It took three more rounds, but I finally did it! I wanted to release white smoke from my chimney, like when there's a new Pope.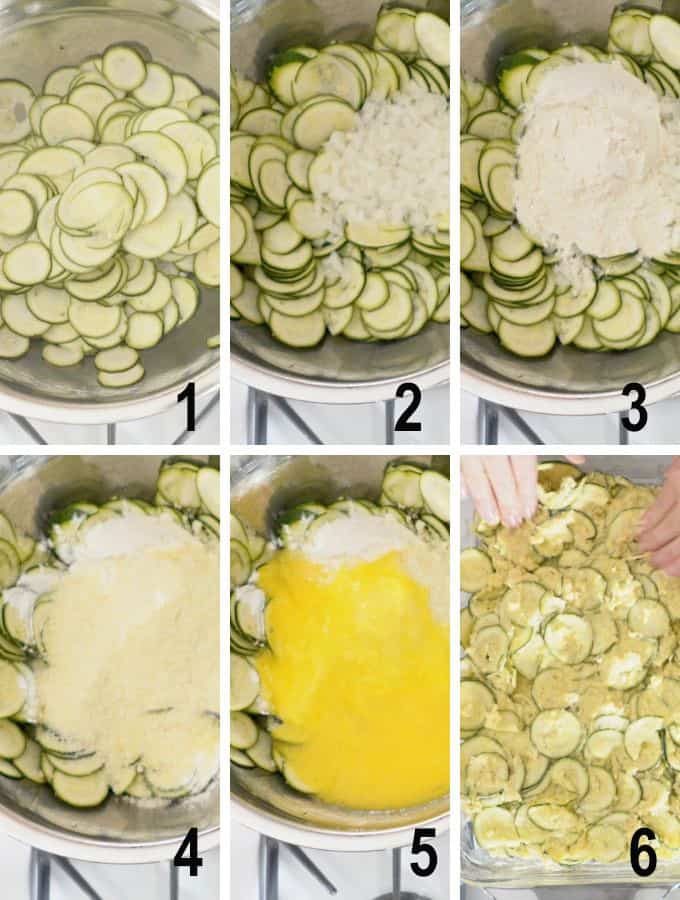 Seriously, my hubby and I really took one (or three) for the team in our taste testing. We survived the Lousy Version, the Soggy Version and the Pasty Version, (also known as the Nasty One, if I'm being honest.
To prevent a soggy zucchini casserole: Dry your zucchini slices by patting and gently squeezing them with paper towels.
So, if you're new here, you can expect high standards. I'll never post a recipe until it's fantastic.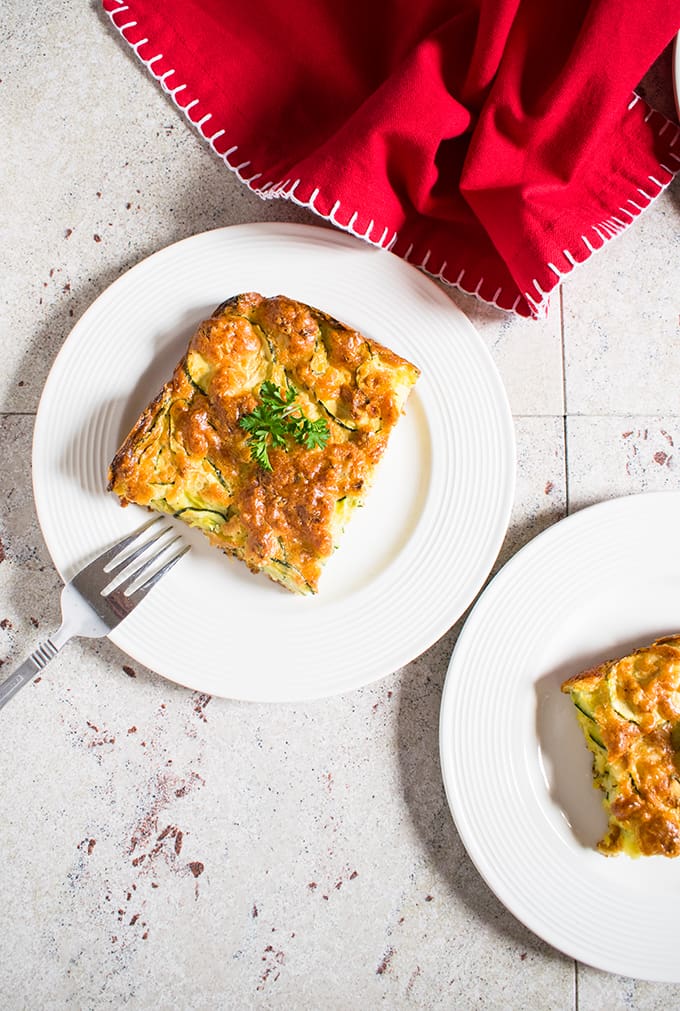 And…after several trials…I mean tries, I decided I must weigh my zucchini to achieve an accurate ratio of ingredients. It's not specific enough to say "three zucchini."
Because let's face it, there's a big difference between a cucuzza the size of a baseball bat and a small zucchino. And it's not easy to measure cups of zucchini and get consistent results.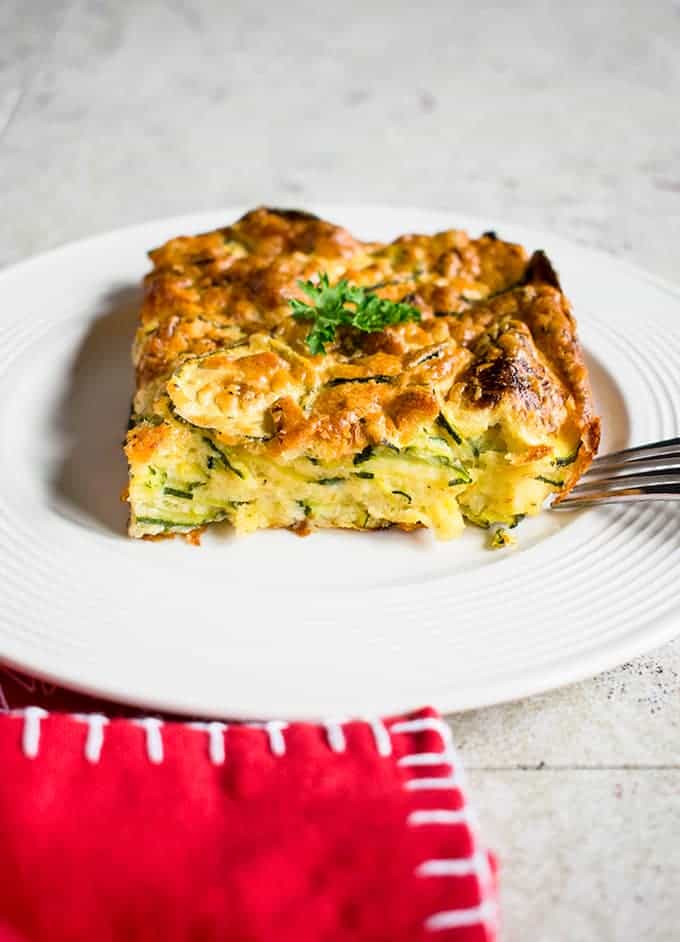 You'll need 1 1/2 pounds of zucchini for a 9×13 pan and 3/4 pound for an 8×8. (Yes, you can halve the ingredients for an an 8×8, as I did in the photos.)
This cheesy zucchini bake is the answer to so many questions, such as:
And, absolutely no baking mix is required. You've got to try this. Enjoy!
P.S. If someone calls you a "cucuzz," it's not a compliment.
P.P.S. Mom slices her zucchini by hand, but I love using my mandoline (that's my Amazon affiliate link) for a quick and easy job.
(Recipe Source: Adapted from my Mom's version, which she adapted from a Bisquick recipe for Cheesy Zucchini Bites.)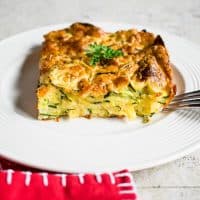 Cheesy Zucchini Bake
This Cheesy Zucchini Bake is made from scratch with Romano and Parmesan! No baking mix required.
Print
Pin
Rate
Total Time:
1
hour
25
minutes
Servings:
12
(Makes a 9x13 pan)
Ingredients
1 1/2

pounds

zucchini

(3 medium ones; see notes)

1

small white onion

2

medium garlic cloves

(pressed or finely chopped)

1/2

cup

olive oil

(or vegetable or canola)

4

eggs

(I use extra-large)

1

cup

all-purpose flour

4

teaspoons

baking powder

1/2

cup

freshly grated Parmesan cheese

1/2

cup

freshly grated Pecorino Romano cheese

1/2

teaspoon

salt

1/2

teaspoon

pepper

1/4

teaspoon

dried basil

butter to grease your pan

fresh parsley for garnish

(optional)
Instructions
Preheat your oven to 375 degrees F. Grease a 9x13 glass pan with butter.

Rinse your zucchini and slice off the tip and root ends. Pat your zucchini dry with a paper towel. Leave the skin on.

Slice your zucchini into 1/8-inch rounds, using a

mandoline

, food processor or paring knife. Place your zucchini slices into a large mixing bowl.

Using paper towels, pat your zucchini slices and gently squeeze them to absorb excess moisture. (This is key to prevent a soggy casserole.)

Peel and finely chop your onion and add it to your bowl.

Add your pressed garlic (or peel and chop it finely).

In a liquid measuring cup, add your oil, then beat in your eggs with a fork. Pour the egg/oil mixture into your bowl with the zucchini.

Add your flour, baking powder, Parmesan, Romano, salt, pepper and basil to your bowl.

Use a wooden spoon to carefully mix everything until combined well. Try to separate any zucchini slices that are stuck together.

Transfer your zucchini mixture to your greased pan and smooth it out evenly. Bake uncovered for 55-60 minutes, or until the entire top is browned (but not burned).

Let the casserole rest for at least five minutes before slicing it. Garnish with parsley, if desired.

Store leftovers in the refrigerator for up to five days.
Notes
It's best to weigh your zucchini for accurate results, but if you don't have a scale, choose three medium zucchini.
For an 8x8 pan, halve the ingredients but bake the casserole for the full amount of time.
Nutrition
Calories:
188
kcal
|
Carbohydrates:
11
g
|
Protein:
6
g
|
Fat:
13
g
|
Saturated Fat:
3
g
|
Cholesterol:
62
mg
|
Sodium:
238
mg
|
Potassium:
336
mg
|
Fiber:
1
g
|
Sugar:
1
g
|
Vitamin A:
245
IU
|
Vitamin C:
11
mg
|
Calcium:
170
mg
|
Iron:
1.2
mg