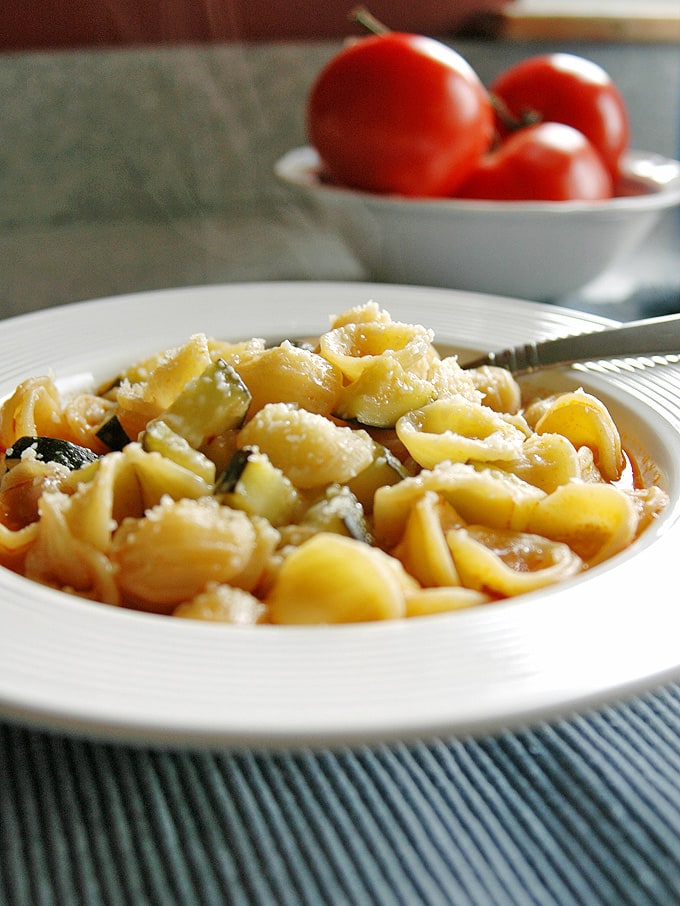 Pasta is my ultimate comfort food. This dish is one of my favorites, and if you know me and have ever asked me what you should cook, I've probably told you to make pasta e zucchini. All you need is 35 minutes to reach comfort-food nirvana.
First, some background. In Naples, where Mom comes from, there are several one-pot pasta and vegetable dishes that start out cooking like soup, but end up with almost a creamy consistency when the liquid is absorbed.
My Nonna's original version of this dish was like that. She started by heating olive oil in a pot, adding onions and garlic, and then tomato, zucchini, salt and pepper.
Once the vegetables were tender, she'd add four cups of water, bring it to a boil, and add the pasta, cooking it without draining. Then she'd add in freshly grated Parmesan cheese.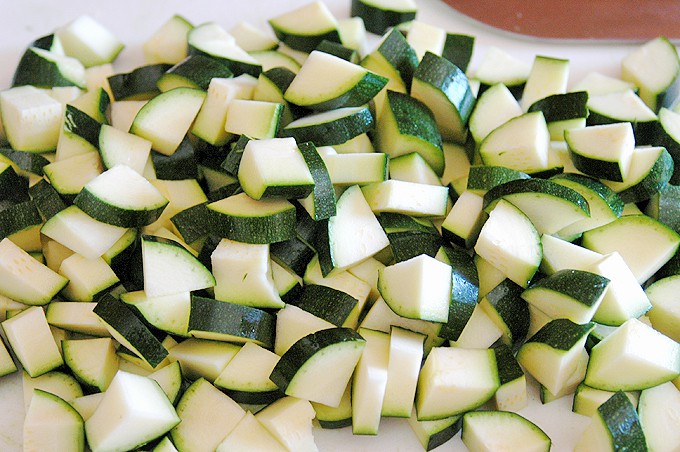 When I grew up and started cooking for my own family, I decided to try making the pasta e zucchini a little more soup-like. I added chicken stock and increased the total volume of liquid by 50%.
I also omitted the onions (by accident at first, and then on purpose after I found I preferred it that way).
The result is a pasta dish with broth, but not too much. Once you dish out the servings, any pasta e zucchini left in the pan will quickly absorb most of the remaining liquid. (To avoid soggy leftovers, I remove any extra broth from the pan at that point and store it separately.)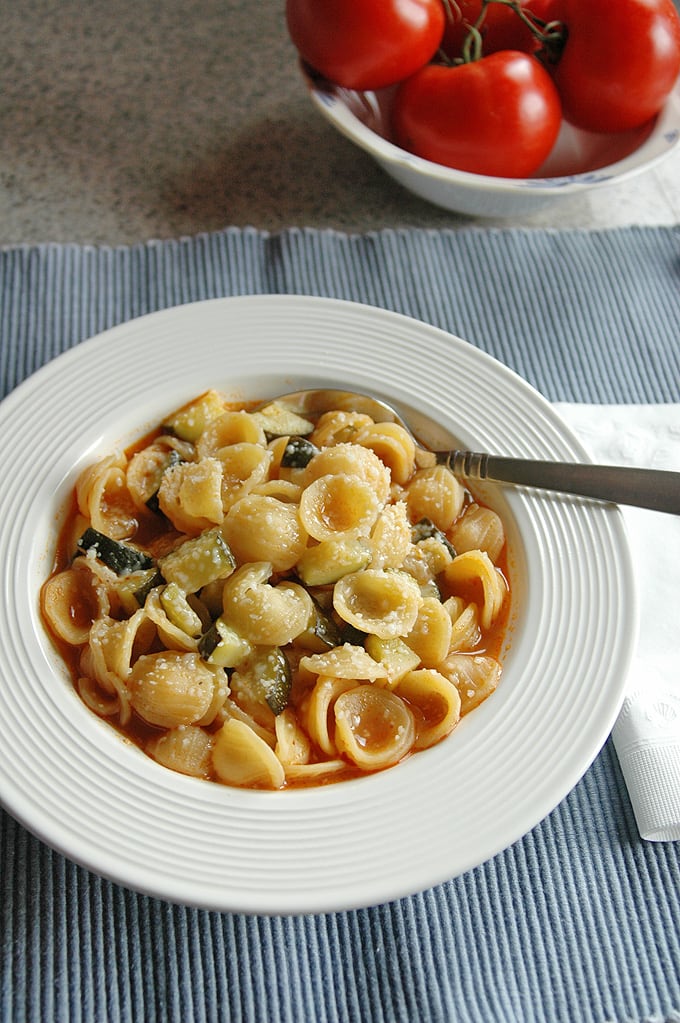 Also, I've always used a fresh tomato in this dish, but discovered recently that a bit of tomato paste makes a great substitute if I'm out of tomatoes. In fact, my husband prefers the way the tomato paste slightly thickens the broth. (It is really good.)
I've listed both options in the recipe.
I hope you make this. Enjoy!

Cooking with Mamma C
Serves 5-6
Pasta e Zucchini
One pot and 35 minutes until comfort-food nirvana
10 minPrep Time
25 minCook Time
35 minTotal Time
Ingredients
3 medium zucchini, cut into 1/4-inch thick triangles
3 cloves garlic, peeled and pressed
2 tablespoons olive oil
2 tablespoons tomato paste (or one fresh tomato, peeled, seeded and chopped)
1/4 teaspoon black pepper
1/8 teaspoon salt
1 quart chicken stock (I like Kitchen Basics, Market District, or Kirkland Organic)
2 cups hot water
16 ounces small pasta, such as shells or orecchiette
1/3 cup grated, fresh Parmesan cheese
3 dashes red pepper flakes
additional grated Parmesan to top each serving
Directions
Rinse whole zucchini and pat dry. Trim off ends. Cut each zucchini in half horizontally, then cut each of those pieces in half lengthwise.
Cut each plank in half again lengthwise. Now slice the planks horizontally into triangles just over 1/4-inch thick.
Heat oil in a 6-quart pot on medium high. Add pressed garlic and cook, stirring, for one minute.
Add zucchini, tomato paste (or tomatoes), salt & black pepper to the pot and stir to mix. Cover the pot and cook zucchini until just tender (about 12 minutes), stirring periodically to prevent sticking.
Remove the lid and add chicken stock and hot water. Stir to blend. Increase heat to high, cover, and bring liquid to a boil.
When the pot is boiling, add pasta and stir periodically to prevent sticking. Cook pasta until al dente (taste it when there are three minutes left on the al dente time recommended on the package.)
When pasta is cooked, DO NOT DRAIN. Turn off the heat and stir in Parmesan cheese. Add red pepper flakes.
Ladle into bowls and serve with additional grated Parmesan.
Immediately store any leftover broth in a separate container so it does not make the leftover pasta soggy.
Notes
If you open a new can of tomato paste for this recipe, you can store any unused paste in a small container in the freezer.
7.8.1.2
178
https://cookingwithmammac.com/pasta-e-zucchini/
Recipe Source: Adapted from my Nonna's method