Breaded Italian Chicken Cutlets are so juicy and tender! My recipe is based on my family's version with homemade Italian bread crumbs that include Romano and Parmesan cheeses!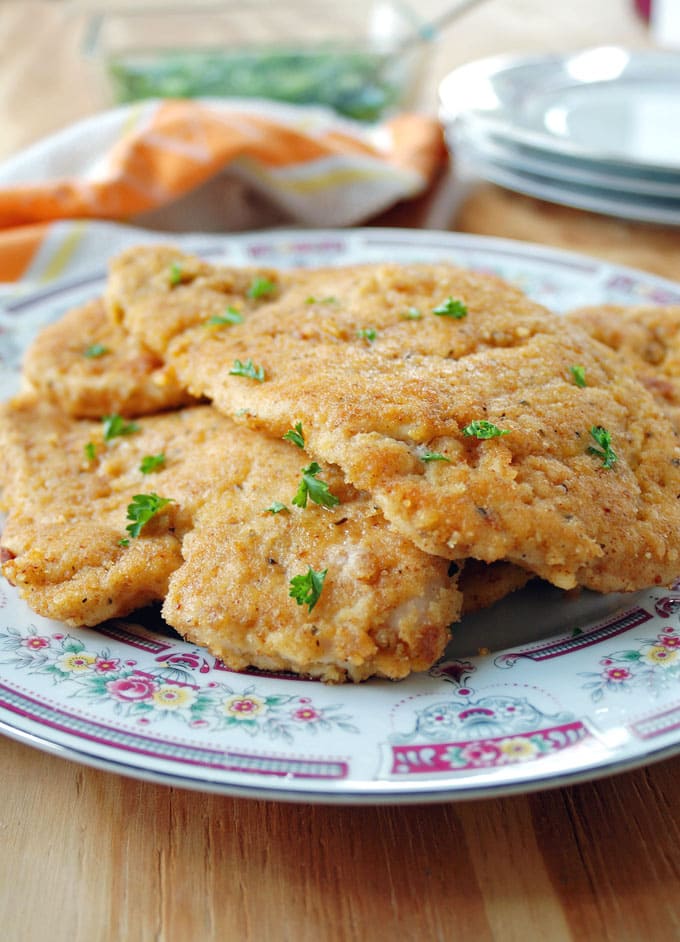 I've been meaning to post this family recipe for two years. I've no good excuse for the delay.
But, I trust that once you make these breaded Italian chicken cutlets, you'll forgive me…and then wonder where these have been your whole life. They're the most, tender, juicy, flavorful chicken breasts!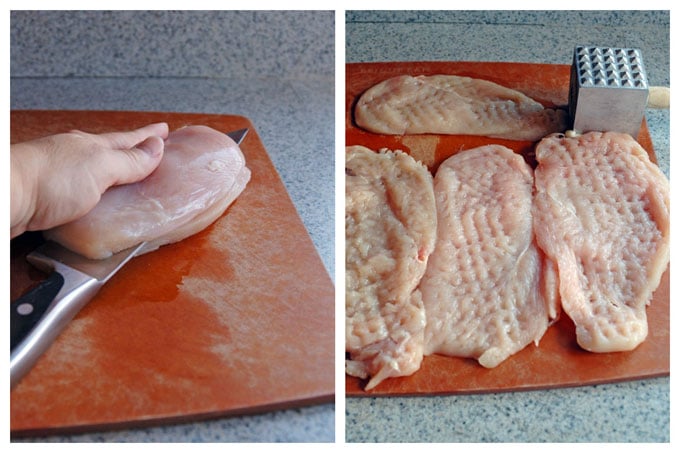 We start with boneless, skinless chicken breasts and slice through the middle of them to make thinner pieces (butterflying them). Then, we pound the chicken into even thinner cutlets to ensure tenderness.
Then, we set up our assembly line of meat, beaten eggs and a special blend of Italian bread crumbs, Romano and Parmesan cheeses. Oh yes, my friends.
But, here's the caveat. We never use store-bought bread crumbs. The recipe would turn out "okay" with them, but we're aiming for outstanding.
Don't worry, though. I outlined various simple methods you can use to make bread crumbs in my Homemade Italian Bread Crumbs post.
You'll need that key recipe to have your chicken cutlets turn out like my family's version, i.e., the southern Italian way, with cheese in the seasoned bread crumbs. And, unlike chicken Milanese, these southern Italian chicken cutlets aren't dipped in flour.
The breaded cutlets are pan-fried, but I only use three tablespoons of olive oil for a pound of chicken. It works great, but I'm 99% sure Mom uses more oil. You can always add more, if you wish.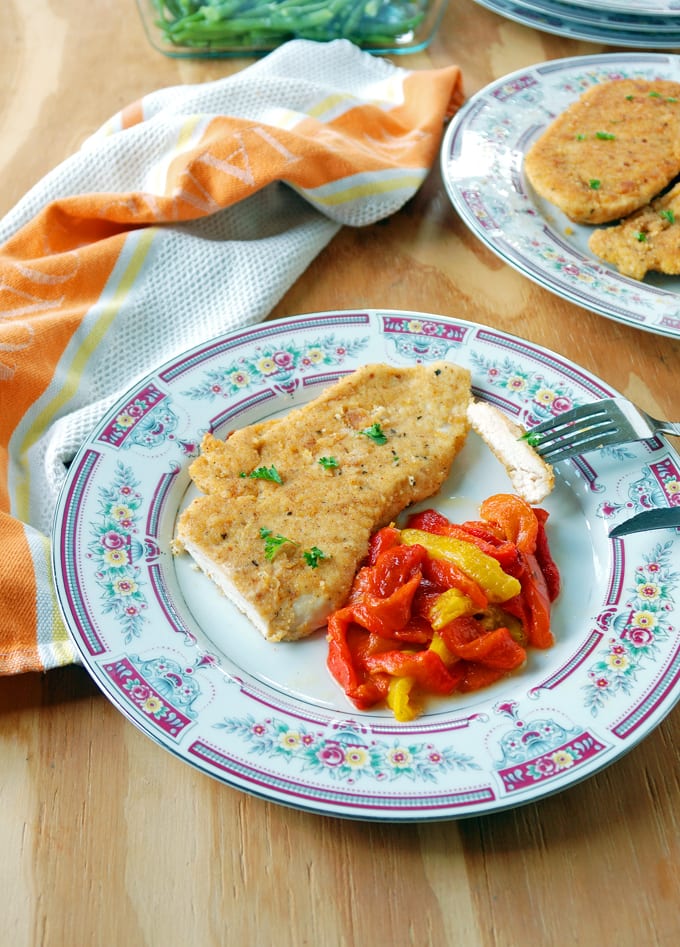 And, while a pound of chicken yields six large cutlets, I make twice that amount, because I need enough to make sandwiches with the leftovers. We spread my Homemade Basil-Garlic Mayonnaise on the bread and top the chicken with mozzarella…so good!
You also could add roasted peppers or sautéed mushrooms. Yum!
You can decide whether to double the recipe. Just make these breaded Italian chicken cutlets — with the homemade Italian bread crumbs.
I promise, it'll be worth it.
More Chicken Recipes
If you love these cutlets, you'll also enjoy these Parmesan chicken drumsticks. And don't miss my Chicken Marsala, Nonna's chicken meatball soup or this one-pan roasted chicken and vegetables.
Finally, you have to try my Italian meatloaf with chicken and my Chicken Paprikash!
Enjoy!
(Recipe Source: Adapted from my Mom's method)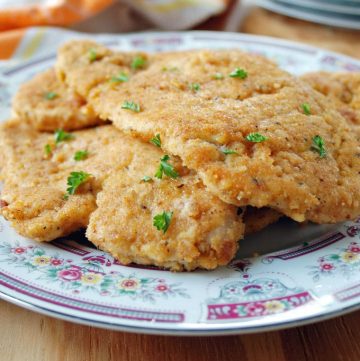 Breaded Italian Chicken Cutlets
Breaded Italian Chicken Cutlets are so juicy and tender! My recipe is based on my family's version with homemade Italian bread crumbs.
Print
Pin
Rate
Servings:
6
large cutlets
Ingredients
1 1/4

cups

Homemade Italian Bread Crumbs with cheese

(use Cooking with Mamma C's Homemade Italian Bread Crumbs recipe, but for the cheese, use a 50/50 combination of Parmesan and Romano - see Notes)

1

pound

boneless skinless chicken breasts

(3 breasts)

2

extra large eggs

(beaten)

1/4

teaspoon

salt

1/4

teaspoon

black pepper

3

tablespoons

olive oil
Instructions
Prepare Cooking with Mamma C's Homemade Italian Bread Crumbs, using Parmesan and Romano for the cheese required. Set aside 1 1/4 cups of the prepared bread crumbs on a dinner plate.

On a large cutting board, use a large, straight-edged knife to thin the chicken breasts by slicing through them to cut them in half. (See the photo in the post.) It helps to place one hand flat on top of the chicken breast, while using the other hand to hold the knife while cutting through the chicken with a sawing motion. You will end up with two halves connected in the middle like a butterfly. Vertically slice through the center to separate the two halves.

To pound your chicken cutlets, cover them with a large sheet of plastic wrap (to prevent a mess). Use a meat mallet or the bottom of a heavy frying pan to pound the chicken so that it is no more than 1/4 inch thick. (It might be a bit thinner than that.) Lift the plastic, flip the chicken over, cover it again with plastic wrap, and pound the other side. Discard the plastic wrap and wash your hands well if you touched the raw meat.

Crack your two eggs and add them to a small bowl, such as a pasta dish. Season the eggs with the salt and pepper and beat the eggs with a fork.

Set up an assembly line from left to right with your chicken, the bowl of eggs, your bread crumbs and a clean platter. Use a fork to pierce a cutlet, dip it in the egg, then in the bread crumbs. Cover the breast with the bread crumbs and pat them onto the chicken with the fork or your hands. Flip the chicken over and bread the other side. Place the breaded cutlet onto the platter and continue until you have breaded all of your chicken. Discard any leftover egg mixture and any breadcrumbs that had raw chicken dipped in it.

On the stove, heat your largest skillet on medium high. Add your olive oil to the pan and let it get hot. When the oil is sizzling hot, add some chicken cutlets to the pan in a single layer. You will probably need to cook them in two batches, since they won't all fit. Cook the chicken on the first side for almost three minutes, then flip the chicken over and cook it for another two minutes. The chicken should be golden brown on both sides. If at any time, the pan gets dry, add a little more oil.

Transfer the cooked chicken to a clean platter. (You can cut into one to make sure it's done. It should not be pink inside.)

Cover the chicken loosely with foil and continue cooking the rest of the cutlets. Let the cutlets rest under the foil for at least five minutes before serving, to help keep them juicy.

Store leftover chicken in the refrigerator for 3-4 days. The leftovers are great in sandwiches.
Notes
It's easiest to make 1 cup of seasoned bread crumbs, then add 1/4 cup freshly grated Romano and 1/4 cup freshly grated Parmesan. You will end up with 1/4 cup extra crumbs that you can set aside for another use before you do anything with the chicken. The extra, clean bread crumbs can be stirred into vegetables, for example.
Nutrition
Calories:
258
kcal
|
Carbohydrates:
16
g
|
Protein:
20
g
|
Fat:
11
g
|
Saturated Fat:
2
g
|
Cholesterol:
102
mg
|
Sodium:
370
mg
|
Potassium:
344
mg
|
Fiber:
1
g
|
Sugar:
1
g
|
Vitamin A:
100
IU
|
Vitamin C:
0.9
mg
|
Calcium:
53
mg
|
Iron:
1.7
mg