You have to try Roasted Peppers Sautéed with Garlic in Olive Oil! An Italian family favorite that's vegan, gluten free and simply the best roasted red peppers you'll ever have!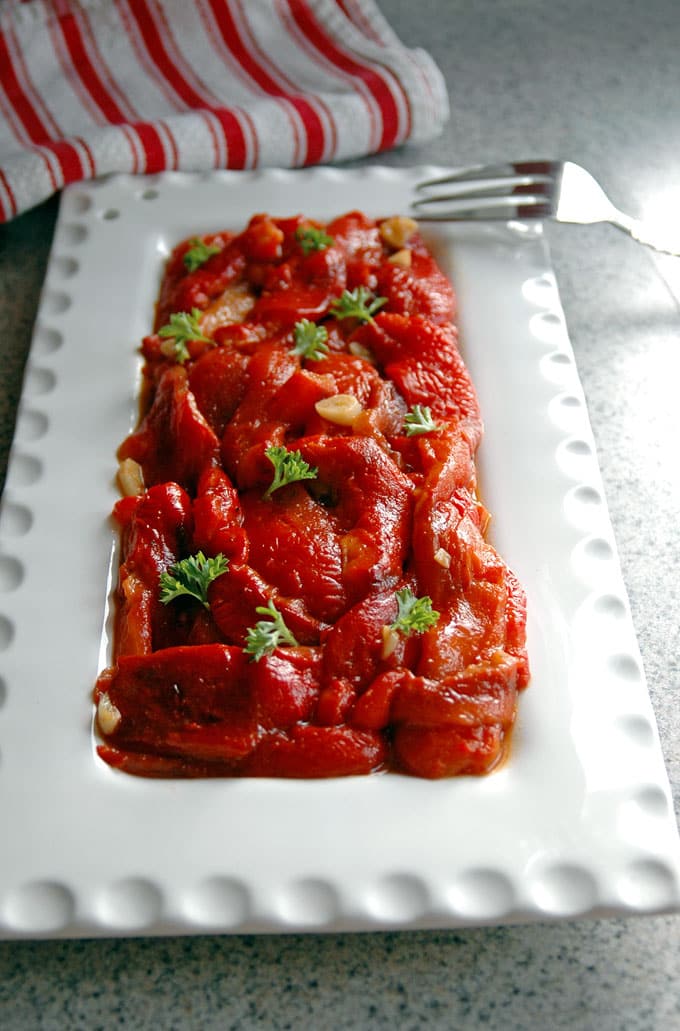 I need to introduce you to one of my top favorite vegetable dishes, one that I'd be content to eat as the main meal — with a side of fresh, crusty bread, of course.
Roasted peppers sautéed with garlic in olive oil are so divine, I'm pretty sure angels serve them on platters just inside the gates of heaven. The aroma alone is enough to make me swoon.
This is another family recipe that happens to be vegan, meaning there's no animal products involved. It's also gluten free, minus the bread.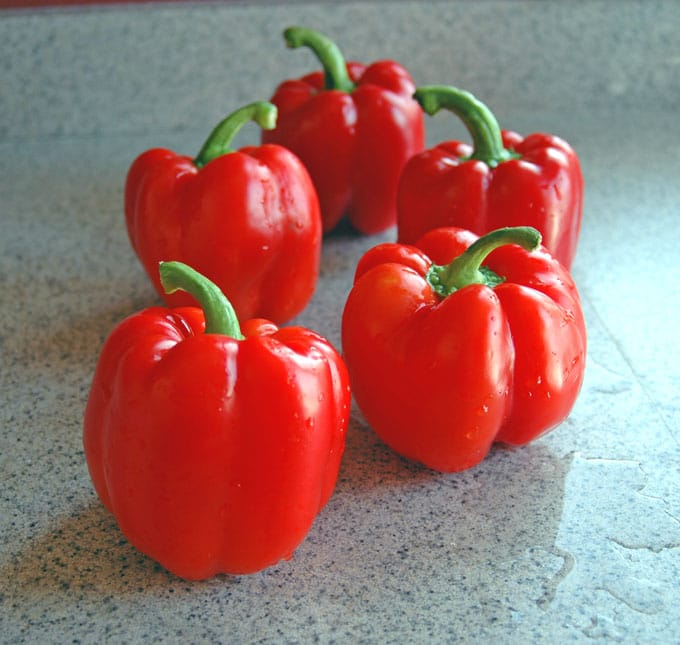 The peppers are blackened first, then enclosed in a paper bag for 15 minutes so that the skins can be peeled off. (Yes, that part is a pain, but so worth it.)
I use the broiler to roast the peppers, although they're traditionally charred over an open flame on the stove. (I'm pretty sure I would burn my house down if I tried that.)
Then, the peeled peppers are sautéed briefly with garlic in olive oil. So, so good!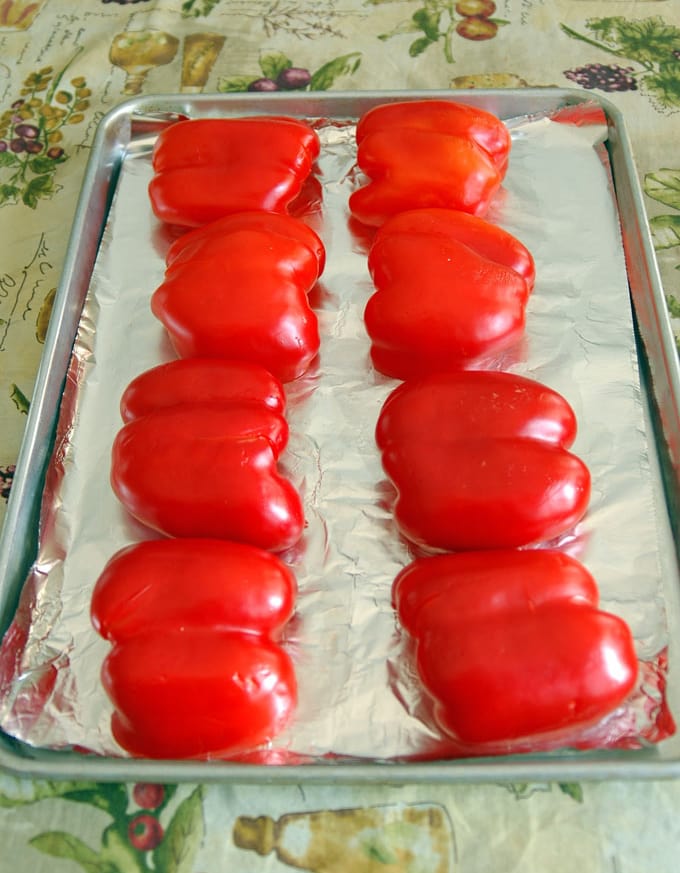 If I close my eyes, I can still see Nonna wearing her blouse, slacks and gold, open-toed, Daniel Green slippers (with heels), charring the peppers over open flames on the basement stove. Her sleeves would be rolled up and her fingertips blackened, yet she'd be smiling with contentment, unfazed by the messy process.
I just loved keeping her company.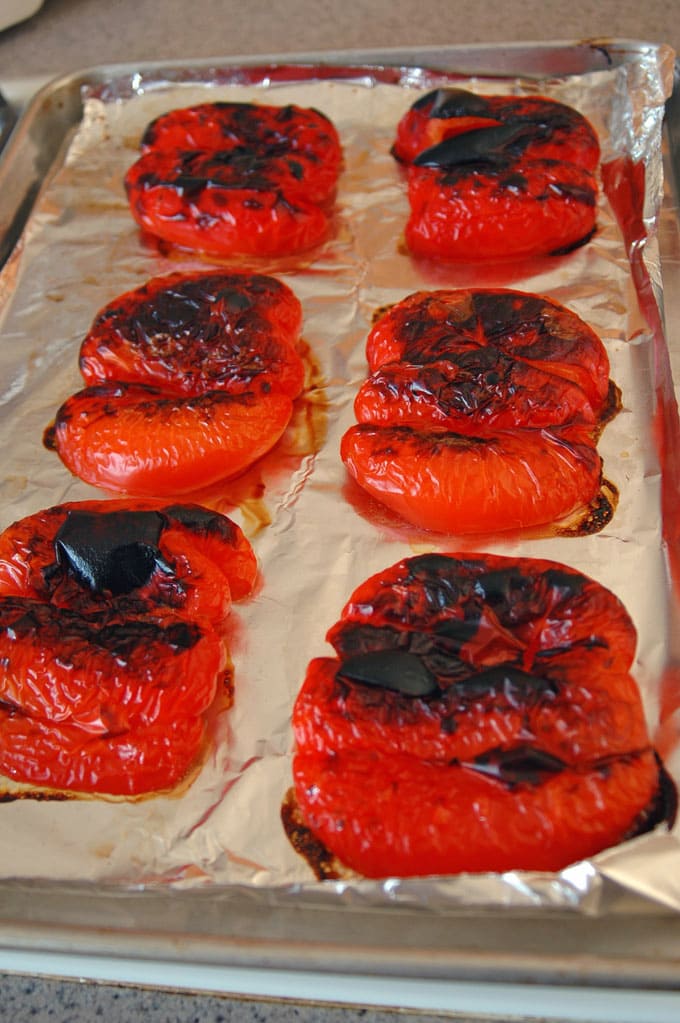 Nonna always made enough for leftovers, so sometimes, I'd have a roasted pepper sandwich for lunch at school. Let me tell you, nothing screams "I'm the child of an immigrant" louder than greasy olive oil stains on your brown bag.
As the other kids were eating their bologna on Wonder bread, I could feel my face burning with embarrassment as I'd quickly remove my pepper-stuffed, 5-inch slab of Italian bread.
I'd open my napkin as fast as I could and spread it over the telltale bag, keeping an eye out to see if anyone noticed. (This is why I've watched My Big Fat Greek Wedding approximately 47 times.)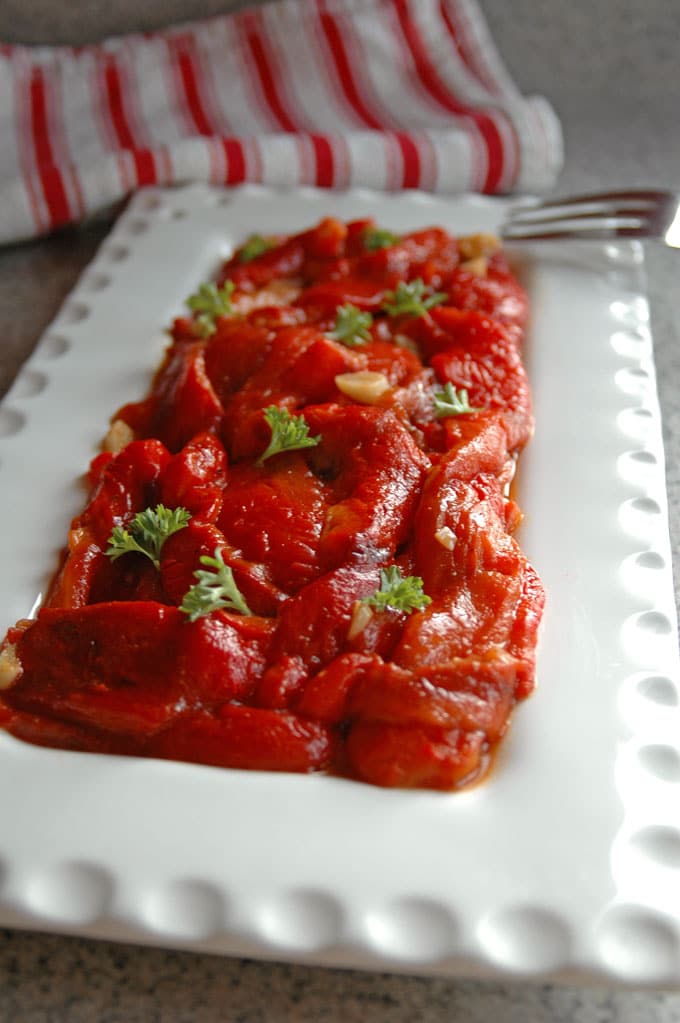 But one bite later, I couldn't care less if I had olive oil dripping down my chin. Because this...this....was far, far better than any bologna sandwich.
(Cooking with Mamma C. Adapted from my Nonna's method, via my Mom)
More bell pepper recipes
Enjoy!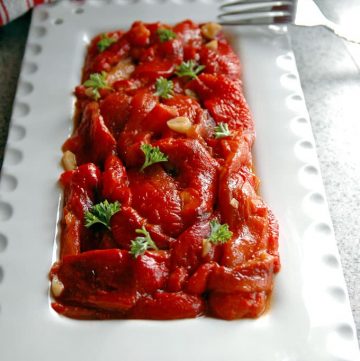 Roasted Peppers Sautéed with Garlic in Olive Oil
Vegan, gluten-free, and the most flavorful peppers you'll ever have. Great with bread for dipping or tucked into a crusty sandwich.
Print
Pin
Rate
Ingredients
5

bell peppers

(red, yellow or orange are best)

3-4

cloves

garlic

(peeled & sliced)

2

tablespoons

olive oil

1/8

teaspoon

salt

1/8

teaspoon

black pepper

fresh

(rinsed parsley for garnish)
Instructions
Set the top oven rack as high as it will go. Place the bottom rack in the middle position. Preheat the broiler.

Rinse peppers and pat dry. For each pepper, use a knife to cut a circle around the stem to remove and discard it. Cut the pepper in half the long way (from top to bottom) and remove the membranes and seeds, discarding them.

Line up the pepper halves on two, foil-lined sheet pans with sides, flattening the peppers a bit with your hands. Broil the peppers for 12 minutes, or until they are blackened. The peppers on the lower rack will take longer than the top ones.

Place the blackened peppers inside a clean, brown paper bag and fold the top closed. (A plastic Ziploc bag will create extra steam and cook the peppers more, but it's OK to use if you don't have a brown bag.) Keep the peppers in the bag for 15 minutes to enable the skin to be removed easily.

While the peppers are steaming in the bag, peel and slice your garlic. After 15 minutes, peel the peppers with your fingers, placing the peeled peppers in a drainer in the sink. Blot the peppers with paper towels and cut them into strips about 2 inches wide.

Heat the olive oil in a 12-inch skillet over medium-high heat. Add the garlic slices and cook them for a couple minutes before adding the peppers to the pan. Gently toss the peppers to mix with the oil and garlic. Add salt and pepper, and sauté the peppers for 8-10 minutes, stirring occasionally, until the garlic is done to your liking.

Garnish with parsley. Serve the peppers at room temperature with crusty bread. Store leftovers in the refrigerator for up to five days.
Nutrition
Calories:
89
kcal
|
Carbohydrates:
7
g
|
Protein:
1
g
|
Fat:
5
g
|
Sodium:
63
mg
|
Potassium:
258
mg
|
Fiber:
2
g
|
Sugar:
5
g
|
Vitamin A:
3725
IU
|
Vitamin C:
152.5
mg
|
Calcium:
12
mg
|
Iron:
0.5
mg