You'll love this Sausage and Peppers Breakfast Casserole featuring eggs, red onion, fontina and Parmesan! It's low carb, gluten free and keto friendly! Make it for brunch, dinner or meal prep too!

I had to do it. I had to take one of our favorite dinners and turn it into a sausage and peppers breakfast casserole with red onions, eggs, fontina and Parmesan.
Oh, yes, my friends.
I made this with Father's Day in mind, but I'll gladly enjoy it on any special occasion...like today. It's Cooking with Mamma C's 2nd birthday!
So, I'll briefly mention that if you love my Easy Sausage and Peppers, you must try this breakfast casserole. Crumbled, sweet Italian sausage and chopped peppers with onions are sautéed on the stove, mixed with the cheeses, then topped with an egg and milk mixture, plus more Parmesan, then baked.
We all love it, and whenever I make it, my hubby may or may not hover near the oven asking "Is it ready yet?" at least five times.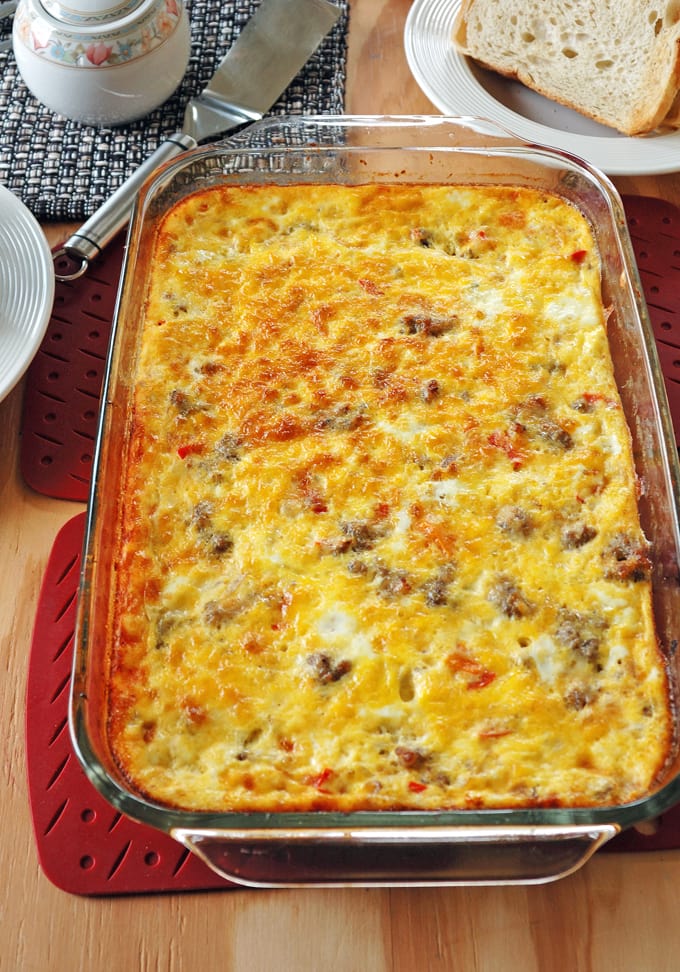 Now, I want to share with you a few of the emails and comments I've received from readers since launching Cooking with Mamma C, just to give you an idea of why I love what I do here.
From Gina: "...as I kept going through your recipes - these were all our favorites growing up!! I couldn't believe it! Anyway, I've never written to anyone like this, and just wanted to say thank you. Not only for bringing back recipes I thought were lost, but you brought back memories, nostalgia and traditions again!"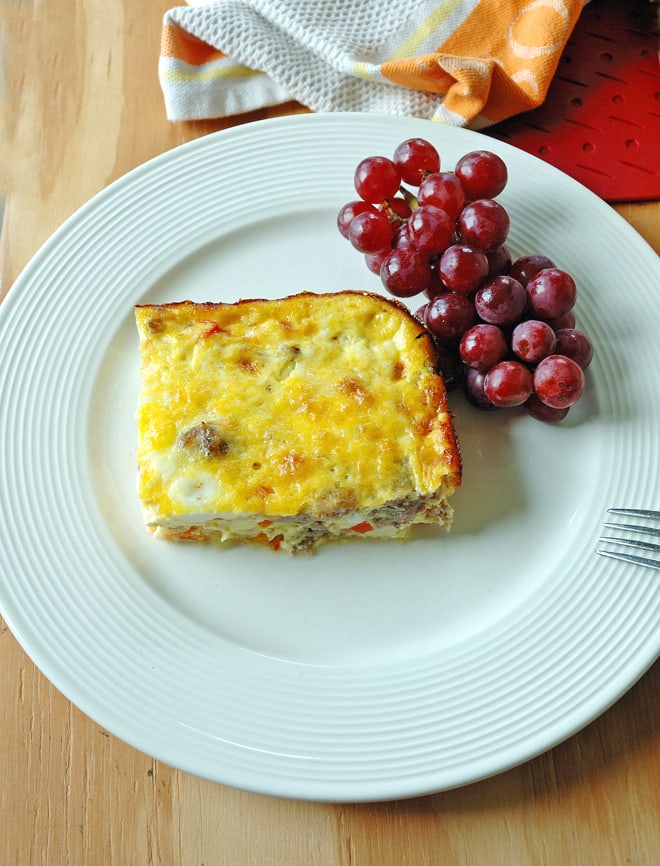 From Cindy: "I have tried many of your recipes. Funny thing is, you cook much like my mother. She has never shared her recipes because she doesn't use any! Mamma C has really made a difference in my ability to cook for my family."
From David, who loves my Pasta alla Pomegranate Vodka with Bacon: "Made this tonight, and my kids, ages 7 and 5, asked for fourths. FOURTHS. Your family recipe has now become ours. Thank you for sharing it with us."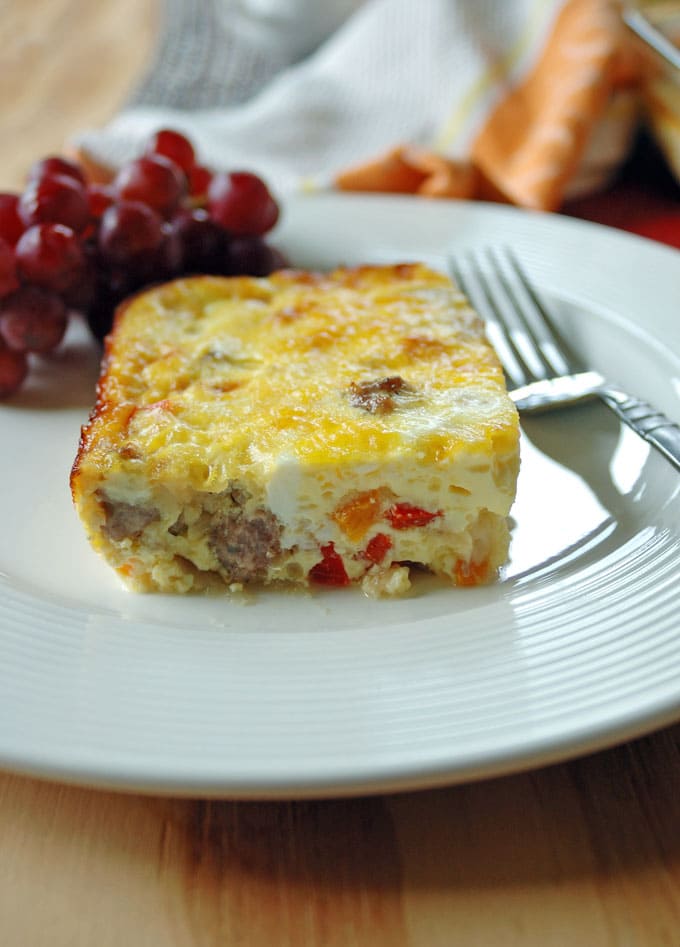 Excuse me. I think I have something in my eye.
Both eyes, actually. Thank you to everyone who has visited Cooking with Mamma C, perhaps tried some recipes and shared this site with friends and family.
Ti voglio bene. (I love you!)
More recipes like this
Enjoy!
(Recipe Source: Cooking with Mamma C)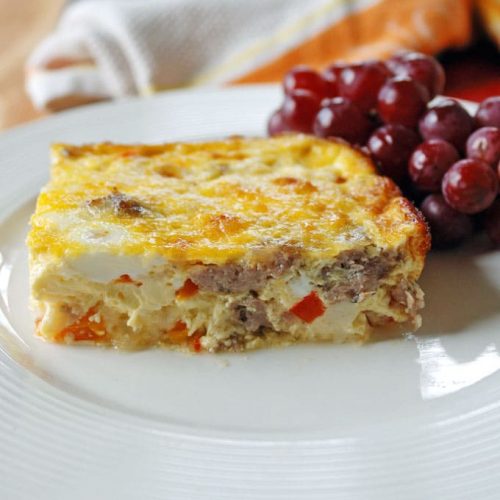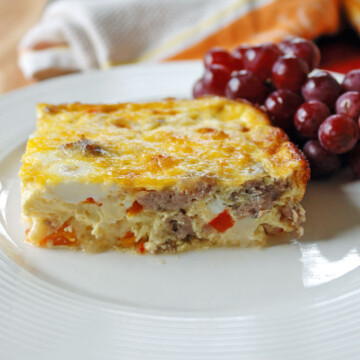 Sausage and Peppers Breakfast Casserole
If you love Italian sausage and peppers, you'll enjoy this breakfast version, made with eggs, red onion, fontina and Parmesan. This recipe is for a 9x13 pan, but you can halve the ingredients for an 8x8.
Print
Pin
Rate
Save
Go to Collections
Ingredients
2

medium red, yellow or orange bell peppers

1

cup

chopped red onion

2

cups

shredded fontina cheese

(8 ounces)

1

cup

+ 2 tablespoons grated Parmesan cheese

(divided use)

1

pound

sweet Italian sausage

(crumbled; see notes)

1

tablespoon

olive oil

salt

pepper

garlic powder

8

extra-large eggs

1 ½

cups

milk

(2% is fine)
Instructions
Lightly grease a 9x13 pan with cooking spray. Preheat your oven to 375 degrees F.

Rinse and dry your peppers and cut the stems out. Cut each pepper in half, then in half again. Remove the seeds and membranes. Then slice the peppers and chop the slices into pieces about ½ inch long. Set them aside.

Peel and chop your onion (start with 1 medium one) and measure out 1 cup of chopped onion.

Shred your fontina on a box grater (or you can partially freeze the cheese and then throw it in your blender to shred it).

Place your crumbled sausage in a 12-inch skillet and break it up with a wooden or plastic spoon. (If you are starting with sausage links instead of crumbled sausage, cut the links in half and use a small, sharp knife to remove the casings. It will be easier to break the meat up with your hands than trying to do it with a spoon.) Turn the heat on medium high to brown the sausage. Stir the sausage often until it is no longer pink. Using a slotted spoon, transfer the cooked sausage to your baking pan.

In the same skillet, and keeping the small amount of sausage fat that there, add a tablespoon of olive oil and heat it on medium high. Add your onions and peppers and give them a stir. Lightly sprinkle on salt, moving from the top to the bottom of the pan in rows. Sprinkle on black pepper and garlic powder, again covering all of the veggies. Sauté the peppers and onions, stirring often, for 5-6 minutes, or until they are tender. Transfer the veggies to a colander in the sink to drain. Use paper towels to carefully pat them and absorb excess liquid. (You don't want your casserole to be soggy.) Then transfer the drained peppers and onions to your baking pan and stir them into the sausage.

Stir your fontina and 1 cup of Parmesan into the sausage and peppers.

In a medium bowl, whisk your eggs well. Then, whisk in your milk. Pour the egg mixture over the sausage and peppers. Sprinkle on 2 tablespoons of Parmesan. Bake, uncovered for 40 minutes, or until the top is set and browned a bit, and a cake tester or toothpick inserted in the center comes out clean.

Let the casserole rest for five minutes before cutting into it and serving. Store leftovers in the fridge, covered with foil (not plastic, because that will create too much moisture).
Notes
If you don't see crumbled Italian sausage in the meat department, try asking your grocer's butcher for it. Otherwise, you'll have to buy the links and remove the casing to crumble the meat.
If you want to start preparing this the night before, brown your sausage, sauté your veggies, drain them and prep your cheeses. Assemble the casserole in the morning before baking it.
Nutrition
Calories:
447
kcal
|
Carbohydrates:
6
g
|
Protein:
26
g
|
Fat:
34
g
|
Saturated Fat:
15
g
|
Cholesterol:
231
mg
|
Sodium:
870
mg
|
Potassium:
352
mg
|
Sugar:
4
g
|
Vitamin A:
1455
IU
|
Vitamin C:
36.1
mg
|
Calcium:
384
mg
|
Iron:
1.6
mg