Basted Eggs with Guacamole on Toast is a fabulous breakfast! Mom's method of basting an egg gives perfect results every time.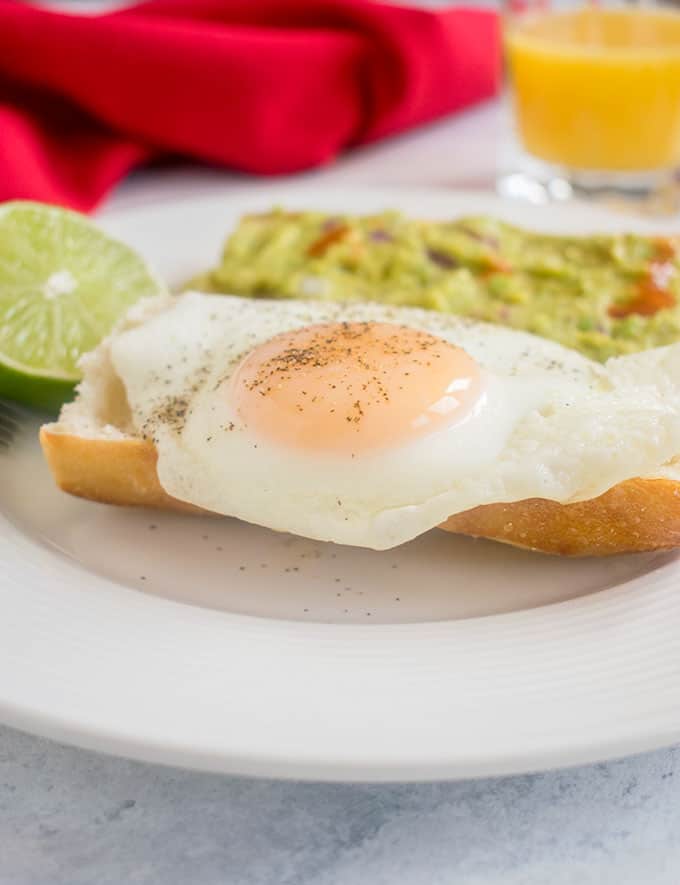 Can we talk about eggs? I have to tell you, I can't stand runny whites.
So over-easy eggs don't cut it for me. Thankfully, Mom taught me her method of basting eggs, and I've never looked back.
Because you know I'm all about that baste...
That's right. I'm here all night, folks.
But seriously, you need basted eggs in your life! Mom's twist on them is easy, delicious and produces perfectly cooked eggs every time.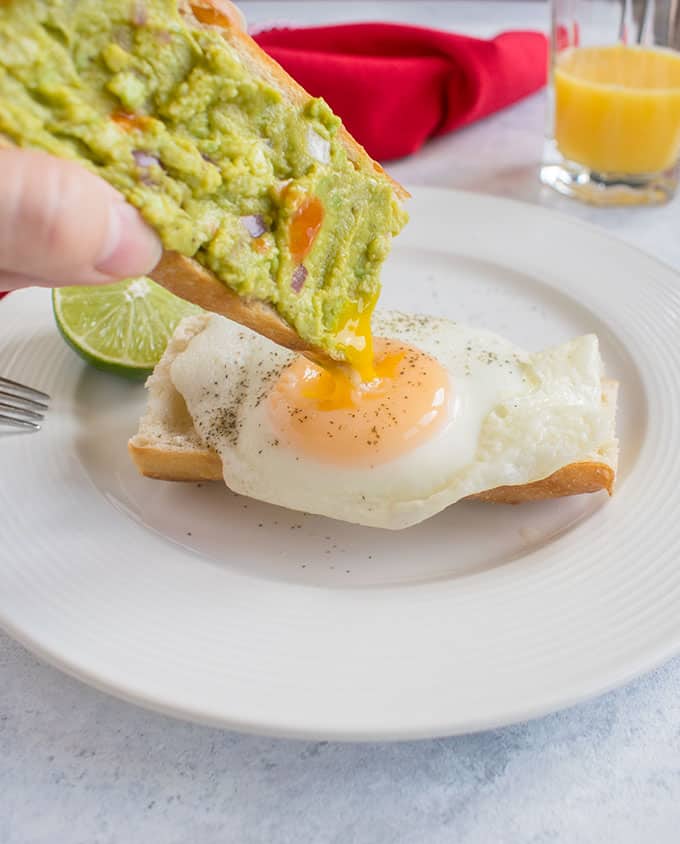 And wait until you try them with my guacamole on toast! I recommend toasting a sliced baguette or Italian bread.
But, you're probably wondering, "what is a basted egg?" So, before we go any further, let's get some background.
What does basting an egg mean?
It simply means steaming the egg until the golden yolk is covered in a pinkish color. It's a cross between fried and poached.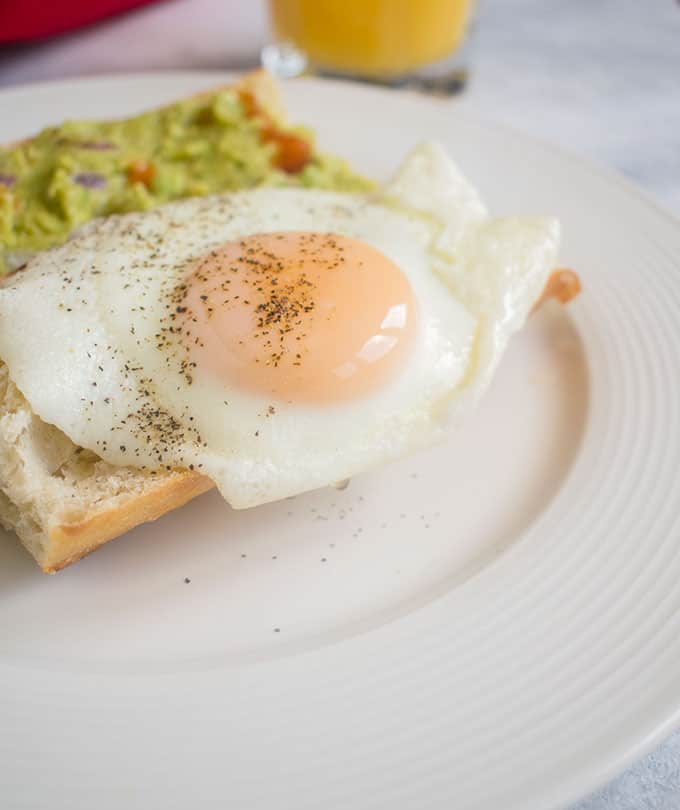 What's the difference between poached and basted eggs?
A poached egg is made by sliding a cracked egg into a simmering, water-filled pan and swirling it to keep the egg white neatly wrapped around the yolk. A basted egg, however, requires no flipping or stirring. You crack the egg onto the prepared skillet and cover it with a lid.
How to baste an egg (Mom's way)

Most basted egg recipes call for using a bit of water to make steam, but when I tried those methods, they resulted in soggy egg whites (eww).
Mom's method provides better taste and texture. The eggs get cooked in melted butter in a pan (affiliate link) over medium heat while covered with a lid -- ideally a glass one to allow for viewing.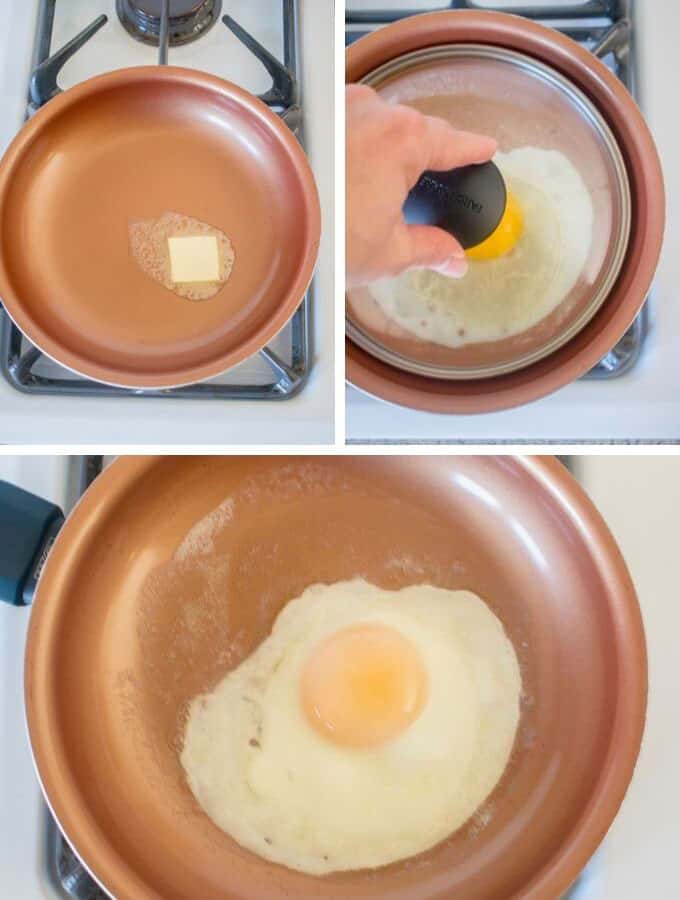 In just three minutes, you end up with beautifully cooked eggs perfect for dipping. And when you pair them with toasted baguette slices, topped with my delicious guacamole…well, holy moly!
Is guacamole on toast the same as avocado toast?
Actually...no! Avocado toast involves plain avocado.
My guacamole toast features mashed avocado that's been kicked up a few notches with red onions, lime juice and hot sauce. It's fabulous!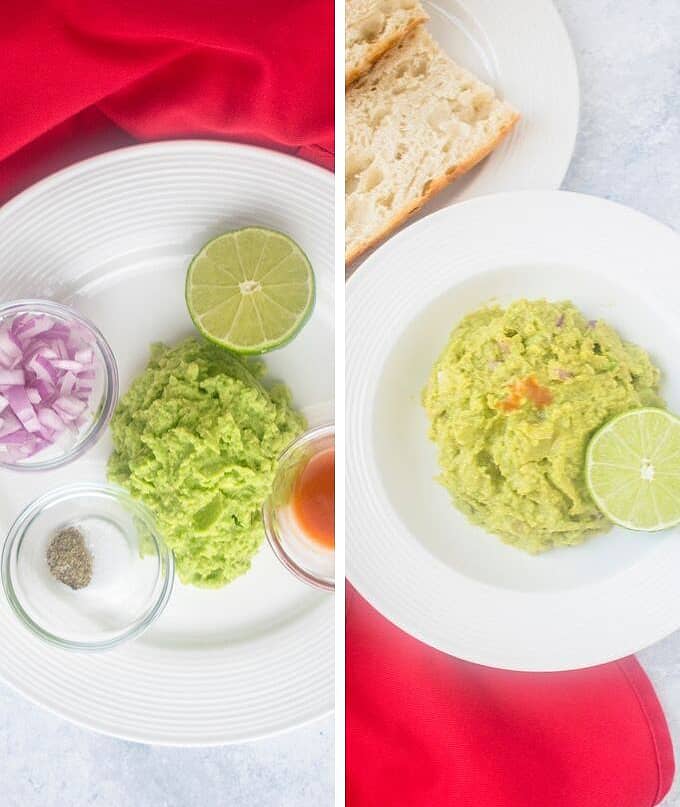 And here's a tip to help keep leftover guacamole from losing its green color: Place an avocado pit in your guacamole before covering it with plastic wrap and storing it in the refrigerator. Then stir the guac before serving.
Other breakfast recipes to try

If you love eggs, you have to try my Breakfast Casserole that can be made for breakfast, dinner or meal prep. Also, Mom's Asparagus Frittata is one of the best things in life!
And for a decadent continental breakfast, don't miss this non-alcoholic zabaglione, made with egg yolks and sugar. Its custardy texture will have you swooning.
You can also head to my Breakfast page to find more delicious recipes. You have to try Lemon Ricotta Pancakes with Italian Strawberries!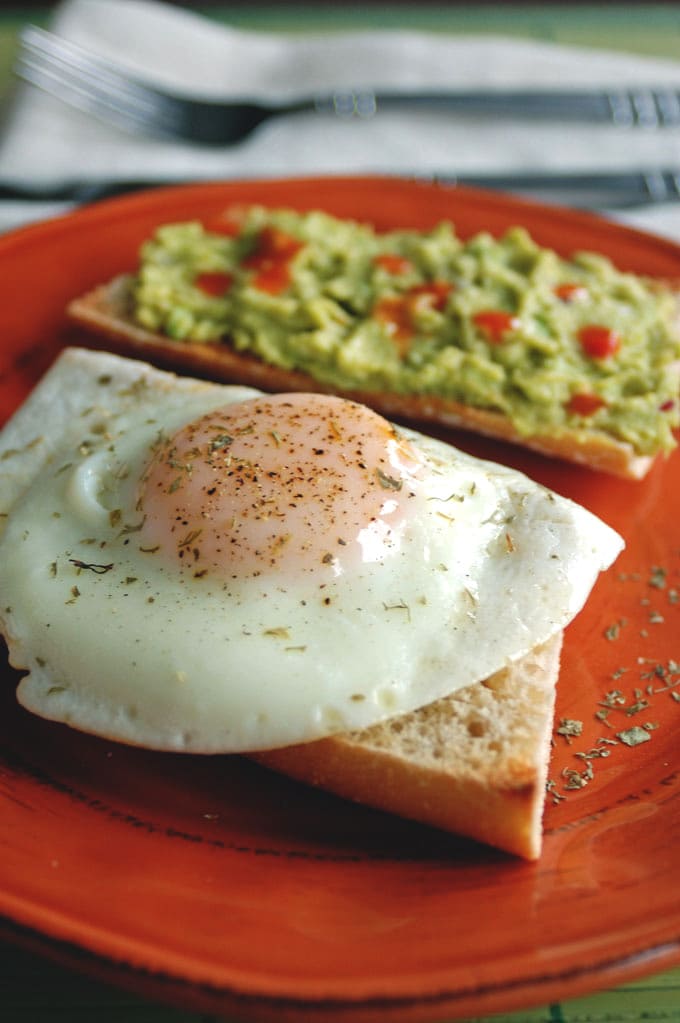 And, if you love guac, I also have a sweet and spicy guacamole dip with gorgonzola, walnuts and cherries. To die for!
Enjoy!
(Recipe Source: Cooking with Mamma C, using Mom's basted eggs method. Originally published on January 11, 2016 and updated now with new photos and text.)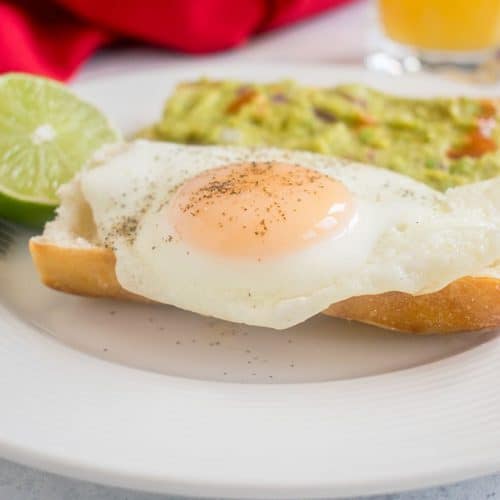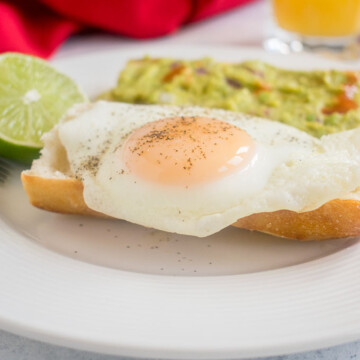 Basted Eggs with Guacamole on Toast
Basted Eggs with Guacamole on Toast is a fabulous breakfast! Mom's method of basting an egg gives perfect results every time. 

Print
Pin
Rate
Save
Go to Collections
Ingredients
Basted Eggs
4

teaspoons

salted butter

(use 1 teaspoon per egg)

4

eggs

pepper to taste

salt to taste
Guacamole
2

avocados

(mashed)

¼

cup

red onion

(finely chopped)

2

teaspoons

hot sauce

(I use Frank's RedHot Original)

juice from ½ lime

⅛

teaspoon

salt

⅛

teaspoon

pepper
Toast
1

large

baguette

(cut into 4.5-inch pieces & sliced the long way)
Instructions
Make your guacamole in a small mixing bowl. Slice your avocados in half the long way and gently squeeze the halves as you pull them apart. Scoop out the pit and save it for later to help keep any leftover guacamole from turning an unappealing color. Scoop out the avocado flesh into your mixing bowl. Mash the avocados with the back of a fork or a potato masher.

Peel your red onion and finely chop up about ¼ of it, until you have ¼ cup. Transfer the chopped onions to your mixing bowl and add the hot sauce. Cut a lime in half and squeeze the juice into the bowl. Add your salt and pepper. Mix everything with a fork.

To make your toast, cut your baguette into 4.5-inch pieces, one per person. Slice the pieces in half the long way and toast the slices.

Make your eggs up to two at a time in a large skillet. (If only making one egg, an 8-inch skillet is fine.) Melt two teaspoons of butter in your pan and crack two eggs in the pan, trying not to crowd them. Lower the heat to medium and place a lid, ideally a glass one, over the eggs.

As soon as the yolks get covered with a pinkish color, they are done. It should take around 3 minutes, so check on your eggs just before the 3-minute mark if you don't have a glass lid. Transfer each cooked egg onto a piece of toast and pour the butter on top. To cook the remaining eggs, melt two more teaspoons of butter in the pan and proceed as before.

To serve, give each person a piece of toast with the egg on it and a piece of toast with guacamole spread on it. (Or spread guacamole on both slices.) Add pepper to the eggs. Taste before adding any salt to your egg, since the guacamole has salt.

Store any leftover guacamole in the refrigerator with an avocado pit in the middle, covered with plastic wrap. Use by the following day.
Notes
If only making one egg, use one teaspoon of butter in an 8-inch skillet.
Nutrition
Calories:
494
kcal
|
Carbohydrates:
52
g
|
Protein:
15
g
|
Fat:
25
g
|
Saturated Fat:
6
g
|
Cholesterol:
174
mg
|
Sodium:
775
mg
|
Potassium:
656
mg
|
Fiber:
9
g
|
Sugar:
1
g
|
Vitamin A:
510
IU
|
Vitamin C:
10.8
mg
|
Calcium:
103
mg
|
Iron:
3.8
mg