Try this Easy Basted Eggs Recipe for perfect results every time! In just over three minutes, you'll have delicious eggs with runny yolks and fully cooked whites.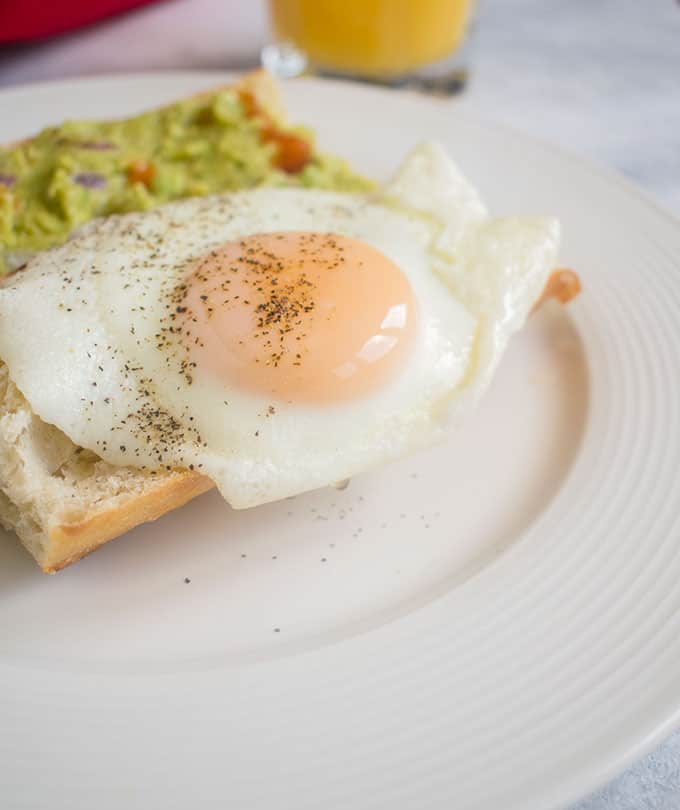 Can we talk about eggs? I have to tell you, I can't stand runny whites!
So, over-easy eggs don't cut it for me. Thankfully, Mom taught me her method of basting eggs, and I've never looked back.
Because you know I'm all about that baste...
That's right. I'm here all night, folks.
But seriously, you need basted eggs in your life! Mom's twist on them is easy, delicious and produces perfectly cooked eggs every time.
The yolks are cooked until they have a pinkish tint on top, but are still dippable. And the whites are fully cooked!
It's one of my favorite breakfasts.
You're probably wondering, "what is a basted egg?" So, before we go any further, let's get some background.
What does basting an egg mean?
A basted egg is a cross between fried and poached.
The traditional way to baste an egg is to cook it in butter as if you were making a fried egg, but then spoon the melted butter over the egg until it's done. That's a called a "butter-basted egg."
A steam-basted egg involves pouring water into the skillet with the egg and covering the pan to make steam. I tried that method, but it resulted in soggy egg whites (eww.)
Mom's method (and now mine) is a combination of the butter-basted and steam-basted methods. The eggs get cooked in melted butter over medium heat while covered with a lid ― ideally, a glass one to allow for viewing.
Let's call it a butter-steam-basted egg! It provides the best taste and texture.
How to baste an egg (Mom's way)
Melt butter in a pan (affiliate link) over medium heat.
Crack an egg into the pan and cover with a lid (preferably, a glass one so you can keep an eye on the yolk).
Let the steam cook the egg until the surface of the yolk starts turning pale pink. Turn off the heat and serve!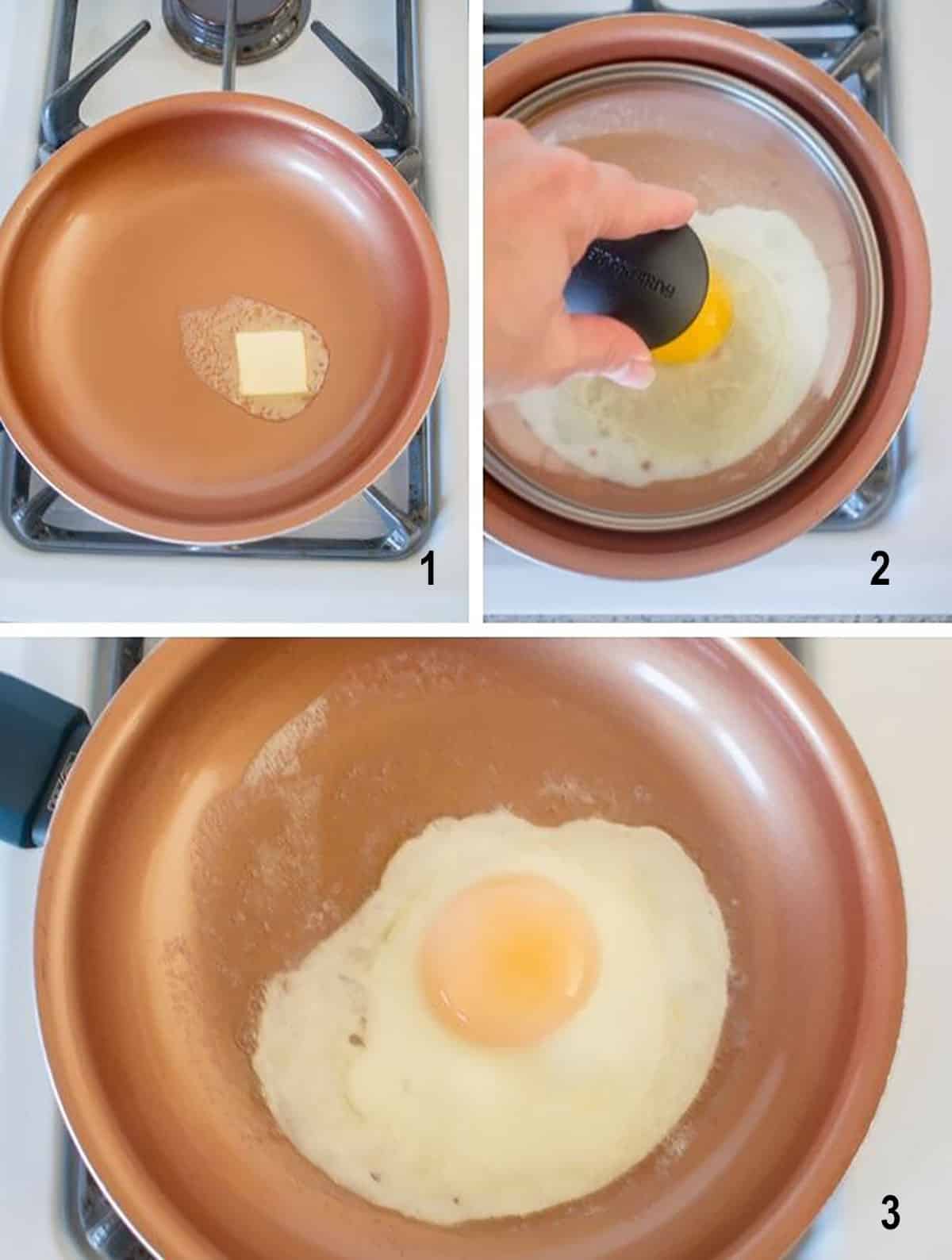 How to serve basted eggs
You just need some toast for dipping in the delicious yolks. And wait until you try basted eggs with my guacamole on toast! I recommend toasting a sliced baguette or Italian bread.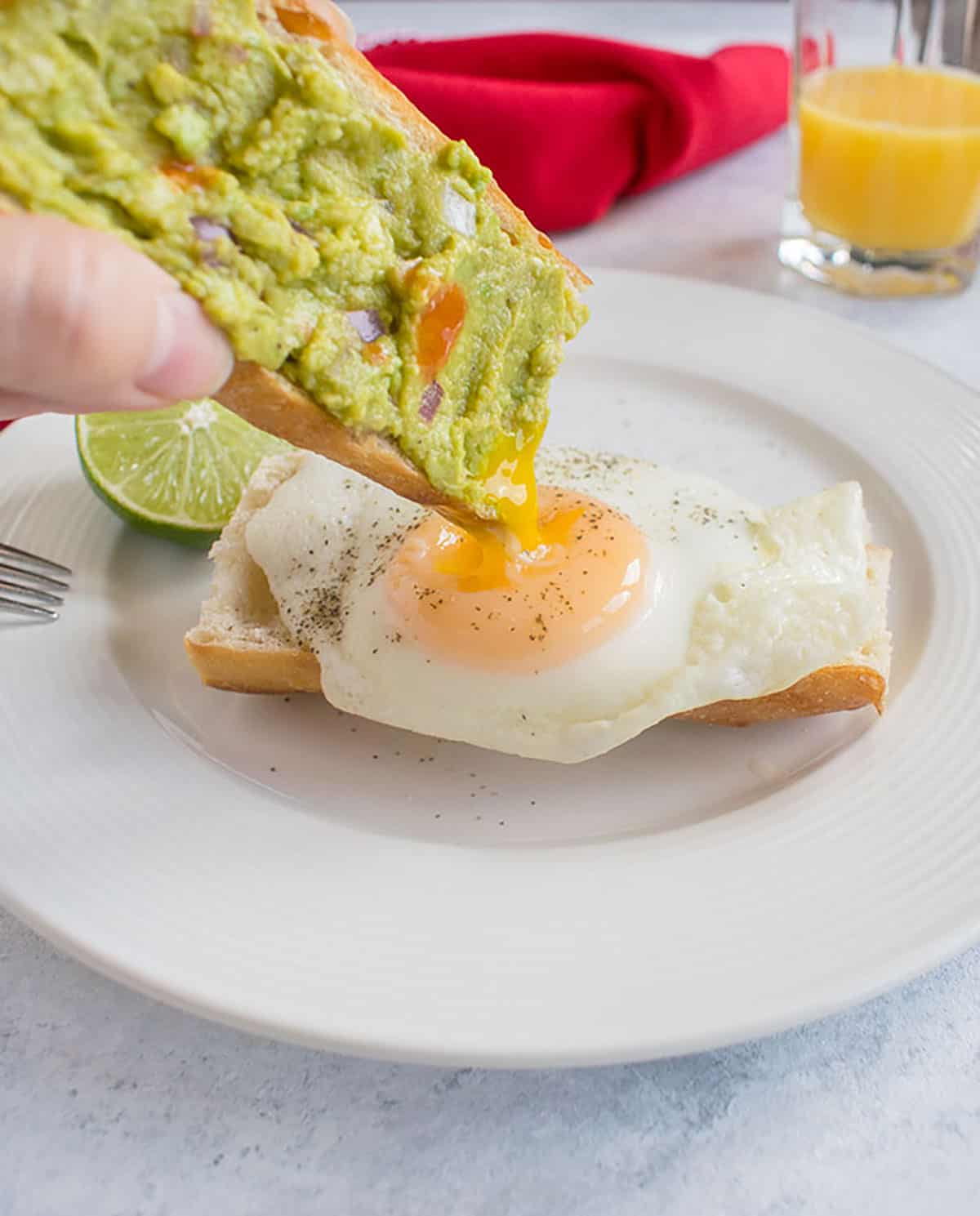 You also could serve a basted egg over sausage and cheese in a breakfast sandwich. Or how about over rice and veggies, such as this Baked Vegetable Risotto?
Yum!
Frequently asked questions
Poached vs. Basted Eggs?
A poached egg is made by sliding a cracked egg into a simmering, water-filled pan and swirling it to keep the egg white neatly wrapped around the yolk. A basted egg is made by cracking the egg onto a prepared skillet and covering it with a lid so the steam cooks it.
Are basted eggs flipped?
No flipping is required. Just cook the egg in butter with a lid on the pan to create steam.
More breakfast recipes to try
If you love eggs, you have to try my Italian Sausage and Egg Casserole that can be made for breakfast, dinner or meal prep. Also, Mom's Asparagus Frittata is one of the best things in life! You'll also love this Baked Arugula Frittata.
And for a decadent continental breakfast, don't miss this non-alcoholic zabaglione, made with egg yolks and sugar. Its custardy texture will have you swooning.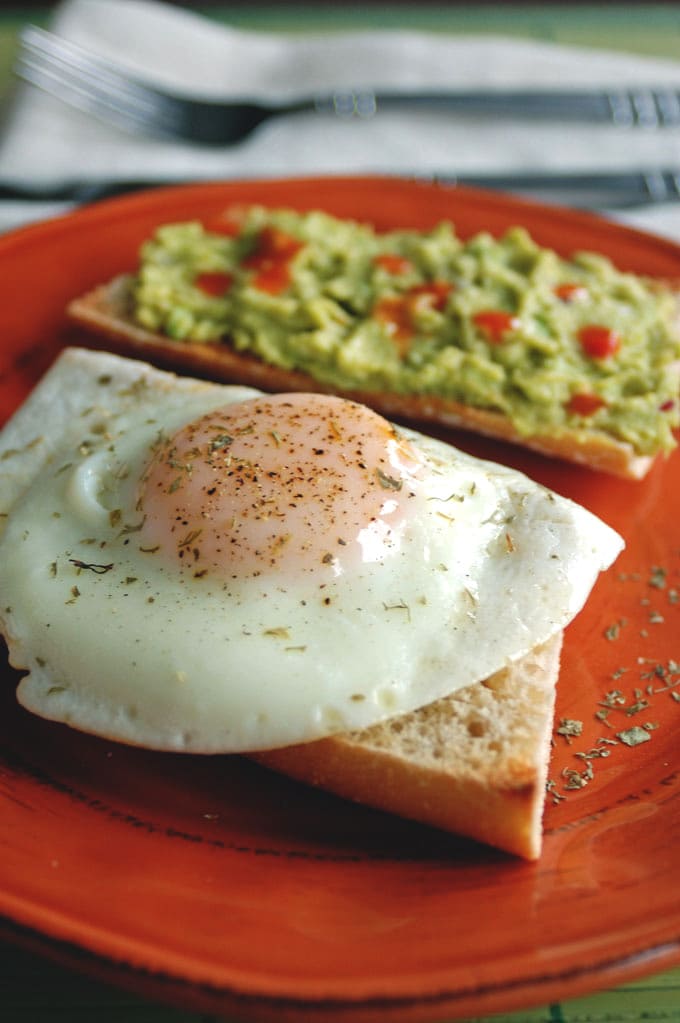 Enjoy!
If you try this Easy Basted Eggs Recipe, let me know how you liked it! Please leave a comment and a rating.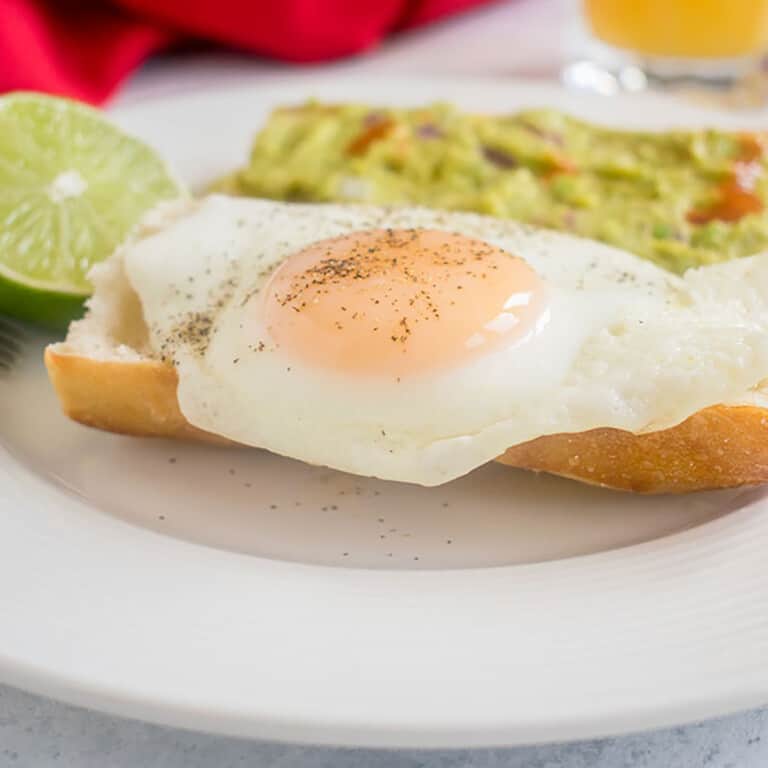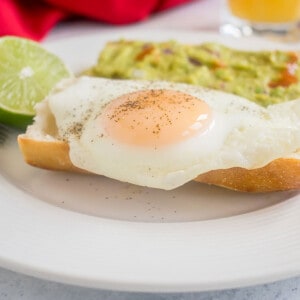 Easy Basted Eggs Recipe
Try this Easy Basted Eggs Recipe for perfect results every time! In just over three minutes, you'll have delicious eggs with runny yolks and fully cooked whites.
Print
Pin
Rate
Save
Go to Collections
Ingredients
Basted Eggs
2

teaspoons

salted butter

(use 1 teaspoon per egg)

2

eggs

pepper to taste

salt to taste
Instructions
Make your eggs up to two at a time in a large skillet. (If only making one egg, an 8-inch skillet is fine.) Melt two teaspoons of butter in the pan over medium heat. Crack two eggs in the pan, trying not to crowd them. Place a lid, ideally a glass one, over the eggs. (See notes.)

As soon as the yolks get covered with a pinkish color, they are done. It should take around 3 minutes, so check on the eggs just before the 3-minute mark if you don't have a glass lid. Transfer each cooked egg onto your plate and pour the butter on top.

Add salt and pepper to the eggs, and serve with toast.
Notes
If only making one egg, use one teaspoon of butter in an 8-inch skillet.
If you have a glass lid for your pan, use it. It will allow you to view the eggs while they're cooking and see when the surface of the yolks start to turn pink, which means they're done. Otherwise, you'll have to lift the lid to check on the eggs.
Nutrition
Calories:
198
kcal
|
Carbohydrates:
1
g
|
Protein:
11
g
|
Fat:
16
g
|
Saturated Fat:
8
g
|
Polyunsaturated Fat:
2
g
|
Monounsaturated Fat:
5
g
|
Trans Fat:
1
g
|
Cholesterol:
349
mg
|
Sodium:
196
mg
|
Potassium:
124
mg
|
Sugar:
1
g
|
Vitamin A:
725
IU
|
Calcium:
52
mg
|
Iron:
2
mg
(Recipe Source: Cooking with Mamma C, using Mom's basted eggs method. Originally published on January 11, 2016 and updated now with new photos and additional information.)