Basted Eggs with Guacamole Toast is a great Tex-Mex breakfast! Basting is the best way to cook perfect eggs, and if you love avocado toast, this is even better!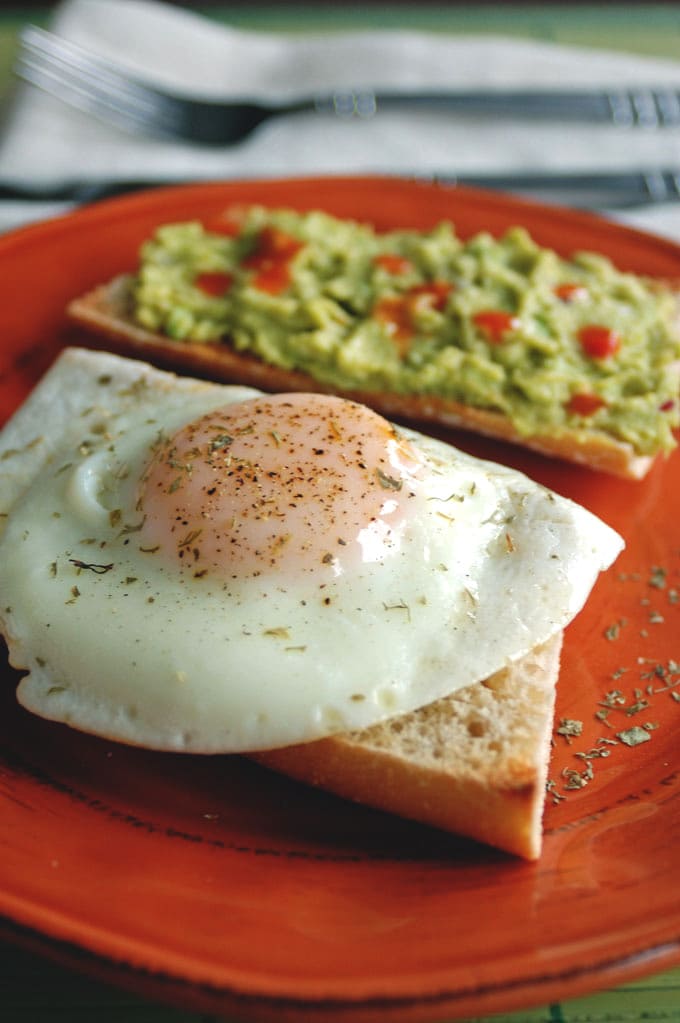 I've been on such an egg kick lately. In the past couple of weeks, I've baked them, hard-boiled them and poached them.
But, I have to say, after trying them Mom's way, I'm all about that baste.
Badda-bing! I'm here all night folks.
I just had to make some basted eggs with guacamole toast to share with you. It's my new favorite Sunday breakfast!
First, let's talk about basting. You might be wondering what the heck that means.
Basically, the eggs are steamed until the golden yolks are covered in a pinkish color. It's a cross between fried and poached.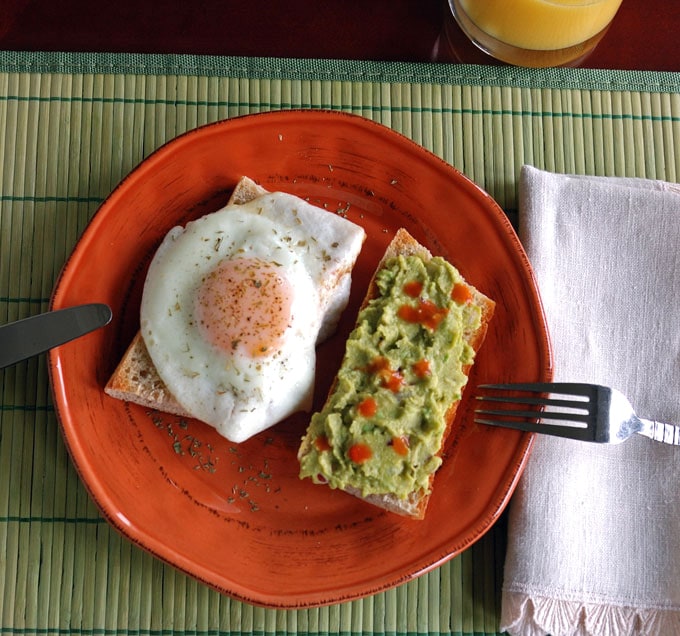 But, here's the thing: Poached eggs are simmered in water, and most basted egg recipes call for using a bit of water to make steam. When I tried those methods, they resulted in soggy egg whites (eww.)
Mom's method, however, involves none of that. The eggs simply get cooked in melted butter over medium-low heat while covered with a lid, ideally a glass one to allow for viewing.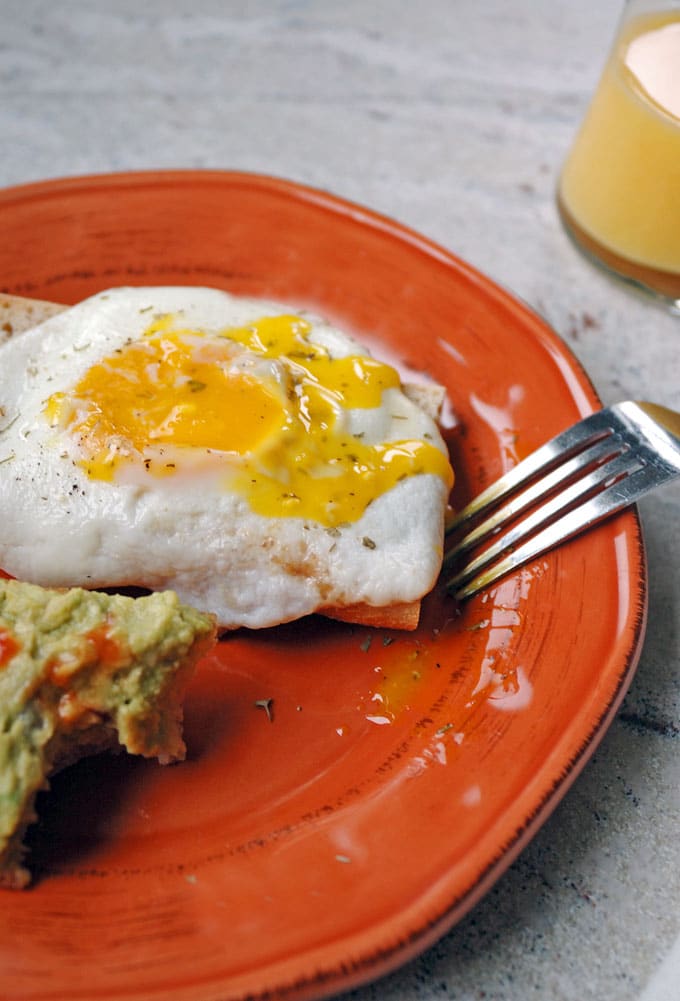 In just 3-4 minutes, you end up with beautifully cooked eggs that are perfect for dipping. And when you pair them with toasted baguette slices, topped with my delicious guacamole…well, holy moly!
I add red onions, lime juice and hot sauce to the mashed avocados in my guacamole, and we like it better than anything we've tried in restaurants. I've been meaning to post the recipe here for months, and these basted eggs with guacamole toast seemed like the perfect excuse.
Enjoy!
P.S. Here's a tip to help keep leftover guacamole from losing its green color: Place the avocado pits in your guacamole when storing it in the refrigerator.
Recipe Source: Cooking with Mamma C, using Mom's basted eggs method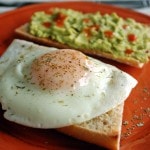 Basted Eggs with Guacamole Toast
Keyword:
avocado toast, basted egg, guacamole
Ingredients
Guacamole
2

avocados

(mashed)

4

Tablespoons

red onion

(finely chopped)

2

teaspoons

hot sauce

(I use Frank's RedHot Original)

juice from 1/2 lime

1/8

teaspoon

salt

1/8

teaspoon

pepper
Toast
1

12-ounce

baguette

(cut into 5-inch pieces & sliced the long way)
Basted Eggs
4

teaspoons

salted butter

4

eggs

pepper to taste
Instructions
Make your guacamole in a small mixing bowl. Slice your avocados in half the long way and gently squeeze the halves as you pull them apart. Scoop out the pit and save it for later to help keep any leftover guacamole from turning an unappealing color. Scoop out the avocado flesh into your mixing bowl. Mash the avocados with the back of a fork or a potato masher.

Peel your red onion and finely chop up about 1/4 of it, until you have 4 Tablespoons. Transfer the chopped onions to your mixing bowl and add the hot sauce. Cut a lime in half and squeeze the juice into the bowl. Add your salt and pepper. Mix everything with a fork.

To make your toast, cut your baguette into five-inch pieces, one per person. Slice the pieces in half the long way and toast the slices.

Make your eggs up to two at a time in a large skillet. (If only making one egg, an 8-inch skillet is fine.) Melt two teaspoons of butter in your pan and crack two eggs in the pan, trying not to crowd them. Lower the heat to medium-low and place a lid, ideally a glass one, over the eggs. As soon as the yolks get covered with a pinkish color, they are done. It should take 3-4 minutes, so check on your eggs at the 3-minute mark if you don't have a glass lid. Transfer each cooked egg onto a piece of toast and pour the butter on top. To cook the remaining eggs, melt two more teaspoons of butter in the pan and proceed as before.

To serve, give each person a piece of toast with the egg on it and a piece of toast with guacamole spread on it. Add pepper and herbs to taste. Taste everything before adding any salt to your egg, since the guacamole has salt.
Recipe Notes
If only making one egg, use one teaspoon of butter in an 8-inch skillet.
Nutrition Facts
Basted Eggs with Guacamole Toast
Amount Per Serving
Calories 494
Calories from Fat 225
% Daily Value*
Total Fat 25g 38%
Cholesterol 174mg 58%
Sodium 775mg 32%
Potassium 656mg 19%
Total Carbohydrates 52g 17%
Protein 15g 30%
* Percent Daily Values are based on a 2000 calorie diet.