You must try Breakfast Zabaglione with Berries and Espresso! A non-alcoholic, custard-like treat that's so delicious!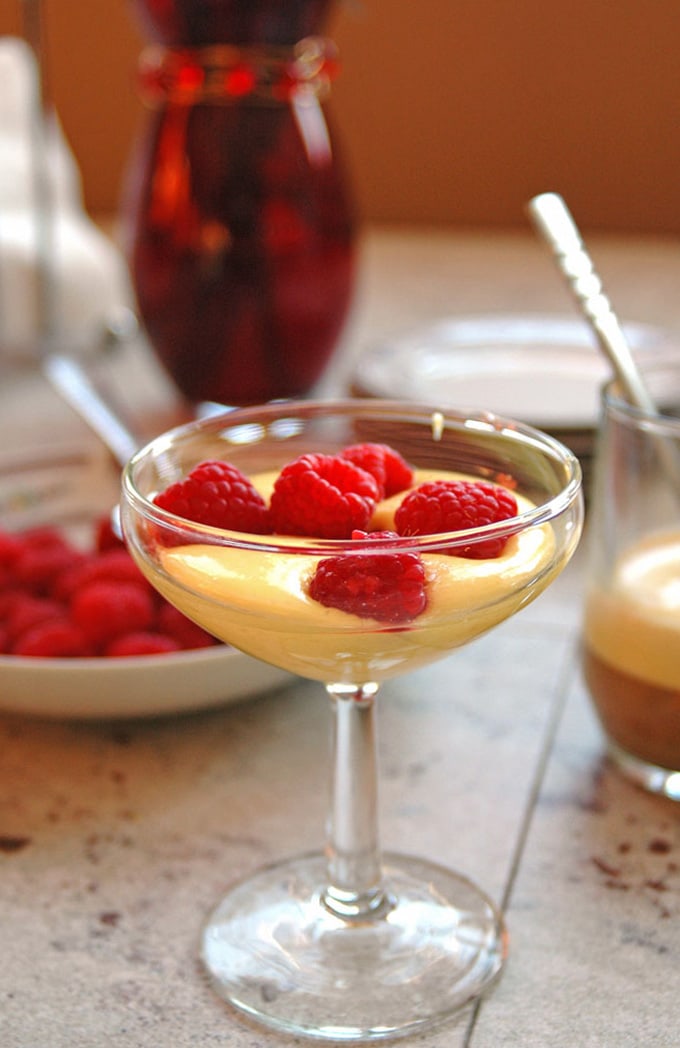 Welcome to my Italian continental breakfast. We have non-alcoholic breakfast zabaglione (zah-bah-yoh-nay) with berries and espresso, toast and some dark chocolate.
This is what I want the morning of Valentine's Day or any holiday, for that matter.
If you've heard of zabaglione, you might know it as a custard-like dessert made with sweet wine. I only know the non-alcoholic version that Nonna used to make for us as a special breakfast treat.
She served it just like in Italy, nice and sweet with espresso poured over it and toast on the side for dipping. Heaven!
And yes, I occasionally consumed coffee as a kid, either poured over this zabaglione or on my cereal. And I drank red wine mixed with pop every Sunday at dinner.
It's an Italian thing.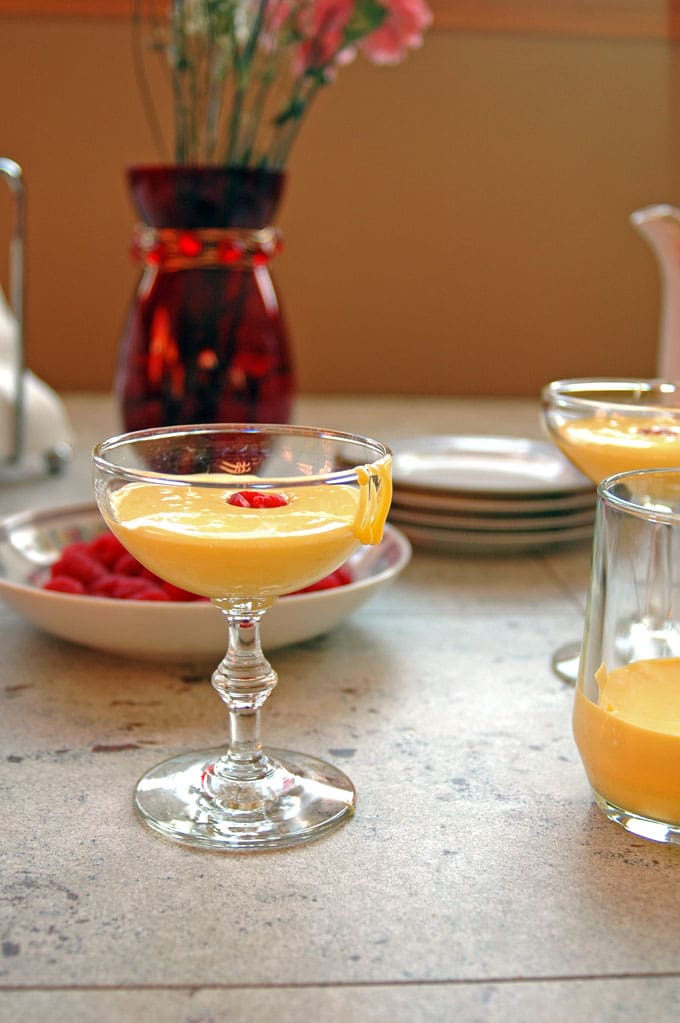 Nonna used just two ingredients in her zabaglione: raw egg yolks and sugar. I cooked mine over a double boiler for food safety reasons, but otherwise, I've stayed true to her version, only adding a couple dashes of salt to bring out the flavor.
It's rich, creamy, and out-of-this-world delicious. You can adjust the sugar level to your liking, but keep in mind that if you're going to add unsweetened espresso to yours (for the love of coffee, you must!)you'll want the zabaglione sweet enough to compensate.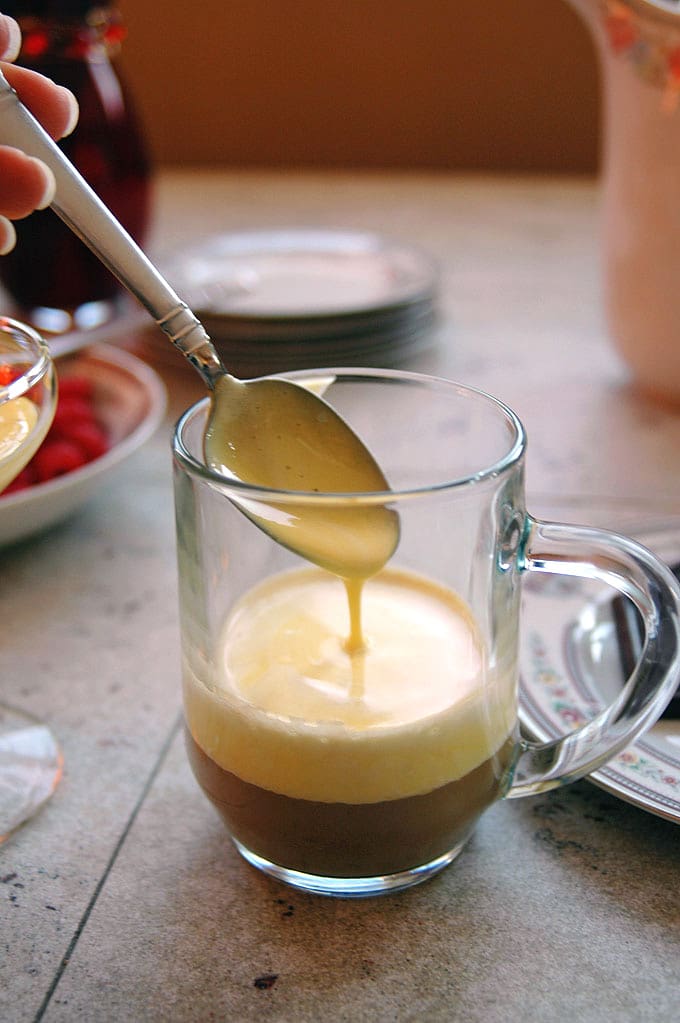 Okay, I beg of you, if you drink coffee, you must experience it with the luscious zabaglione in your cup!
The zabaglione will swirl around for a bit in the espresso, then the whole thing will look cloudy, and then the zabaglione will rise to the top. You'll dip your spoon in and take a scoop...and the taste will make you weak in the knees and you'll roll your eyes swooning.
At least, that's what happens to me. If you like traditional tiramisu or coffee ice cream, your life will not be complete until you've tried this!
Of course, if you're not a coffee drinker, you can swoon too, just by plopping juicy raspberries into your cloud of zabaglione, or maybe even trying it with hot chocolate. (Let me know if you do.)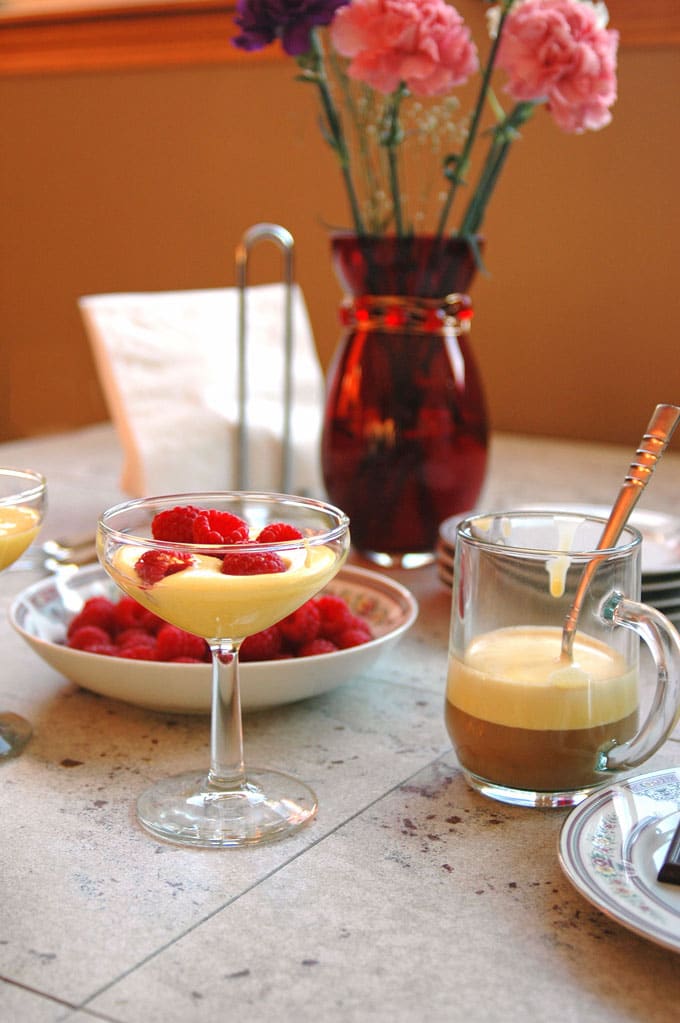 I guess I'd better wrap this up by saying a few words about the cooking process. You'll need lots of eggs.
I use extra large, and needed three yolks per person.
You won't use the whites, but you can save them for a day or two in the refrigerator and make egg-white omelettes, Lemon Meringue Pie, Chocolate Meringue Cookies or angel food cake. You also can freeze the whites in small quantities for later.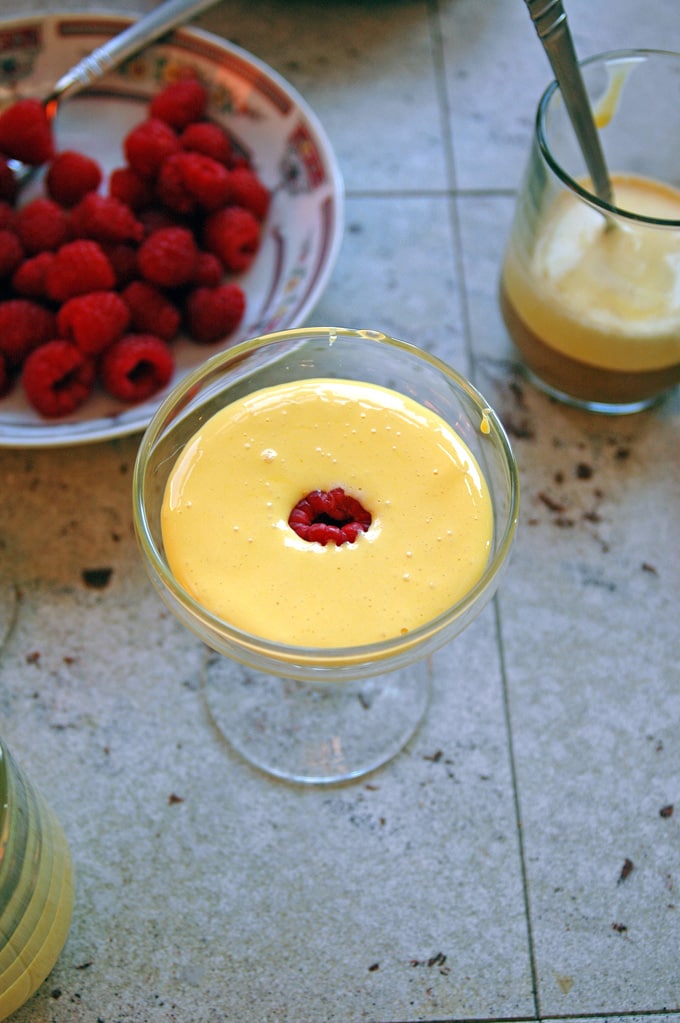 Then, you'll need to whisk your ingredients for at least 10 minutes to achieve the right consistency. It helps to make figure eights with the whisk to incorporate air and keep your arm from getting too tired.
The zabaglione is done when it is thick, a paler shade of yellow, and starts to pull away from the sides of the bowl. (It won't be as thick as custard though.)
If you've never had breakfast zabaglione, I hope you try making it!
Just Dorothy Hamill your way through it, and you'll be fine.
Other Egg Recipes to Try
If you love eggs, don't miss these other recipes:
Enjoy!
(Recipe Source: Adapted from my Nonna's zabaglione)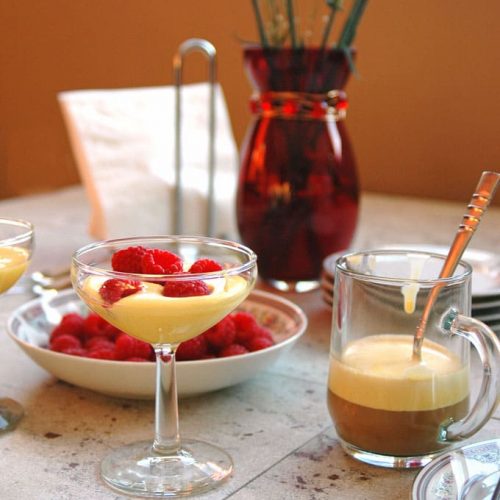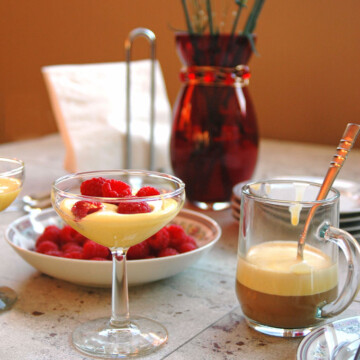 Breakfast Zabaglione with Berries and Espresso
Egg yolks, sugar, a bit of salt and some whisking over a double boiler will give you this creamy, custard-like Italian treat. Serve it with berries, toast for dipping, and you must try it with espresso poured on top!
Print
Pin
Rate
Save
Go to Collections
Ingredients
6

extra large egg yolks

½

cup

plus 1 or 2 teaspoons granulated sugar to taste

2

dashes salt

hot unsweetened espresso for serving

berries for serving

toast for serving
Instructions
Add an inch of hot water to the bottom of your double boiler, if you have one. Otherwise, use a medium pot that a stainless bowl will rest on top of.) Set the pot on the stove over medium heat. (You want the water to simmer, not boil.)

Separate the yolks from your eggs. It helps to set a fine-mesh strainer over a container to catch the egg whites. (Crack your egg, let the whites ooze out, and transfer the yolk back and forth between the two eggshell halves until the whites have all dripped out.) Reserve the whites for another use. Place your yolks into a stainless steel or glass bowl that fits on top of your pot.

Add the sugar and salt to the egg yolks in the bowl and whisk them briefly before placing the bowl on top of the pot of simmering water. Continue whisking, using a figure 8 motion, for at least 10 minutes. Periodically check the water underneath to make sure it's not boiling. Lower the heat if you need to, so the water stays simmering.

The zabaglione is done when it is thick and pulls away from the sides of the bowl, starting to gather in the middle. The color will be a paler yellow than when you started. It should not be as thick as custard.

To serve, immediately spoon the zabaglione into coffee mugs or stemmed glasses. Serve with berries, toast and unsweetened espresso. The espresso can be poured over the zabaglione.
Nutrition
Calories:
375
kcal
|
Carbohydrates:
53
g
|
Protein:
8
g
|
Fat:
14
g
|
Saturated Fat:
5
g
|
Cholesterol:
585
mg
|
Sodium:
414
mg
|
Potassium:
58
mg
|
Sugar:
52
g
|
Vitamin A:
780
IU
|
Calcium:
70
mg
|
Iron:
1.5
mg