Roast these Easy Sausage and Peppers in the oven and you'll never go back to making them on the stove! This is my go-to recipe that's always a hit. A fantastic, one-pan meal ready in under an hour.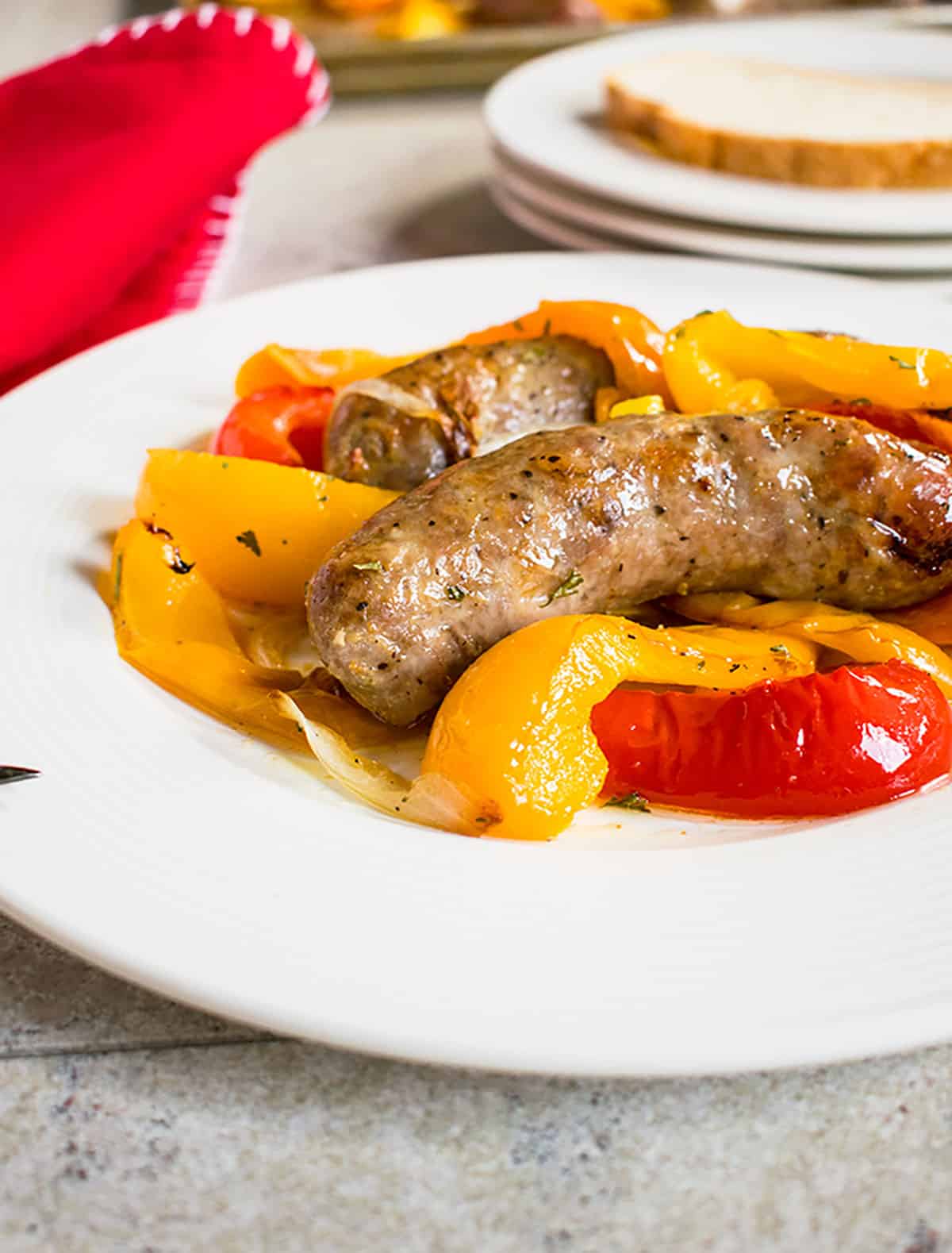 It's graduation party season, and anyone planning a menu should consider making these easy sausage and peppers. This dish is always a hit, and requires little effort.
In fact, it fits the bill if you're just looking for a delicious dinner that you can get on the table in under an hour. Around here, I make sausage and peppers about once a month, and my family devours this meal. (I make enough for leftovers, too!)
I always use my favorite trio of bell peppers — red, yellow and orange. They are more sweet than green peppers and look gorgeous. I know they are more expensive, but sometimes you can find them on sale.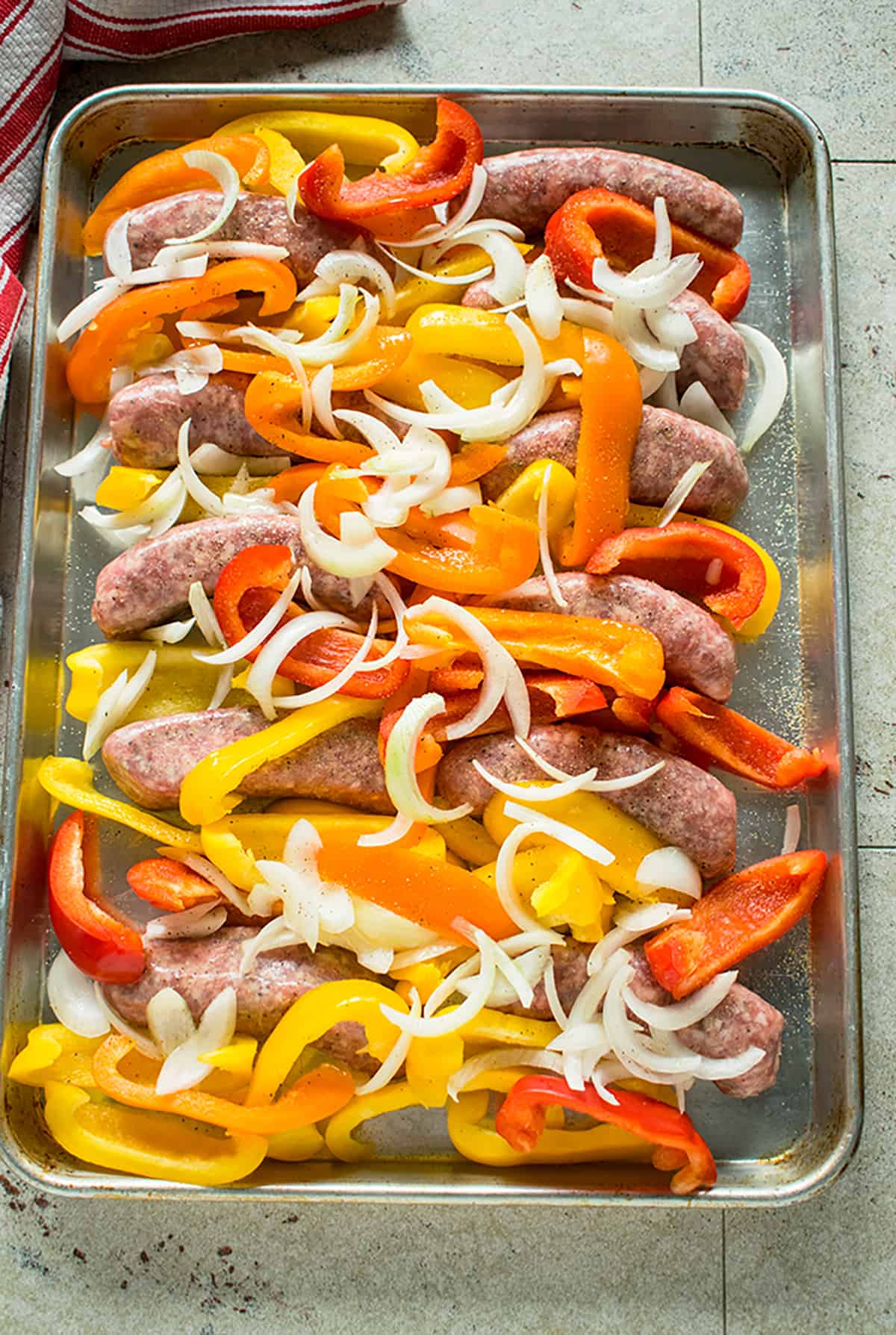 All you need to do is place your sausage in a baking pan (a dark roasting pan is ideal for caramelizing, but a half sheet pan will do.) Add sliced peppers and onions, drizzle everything with olive oil, and add salt, pepper and garlic powder. Then you'll bake it uncovered, turning over the sausage and stirring around the vegetables just past the halfway point.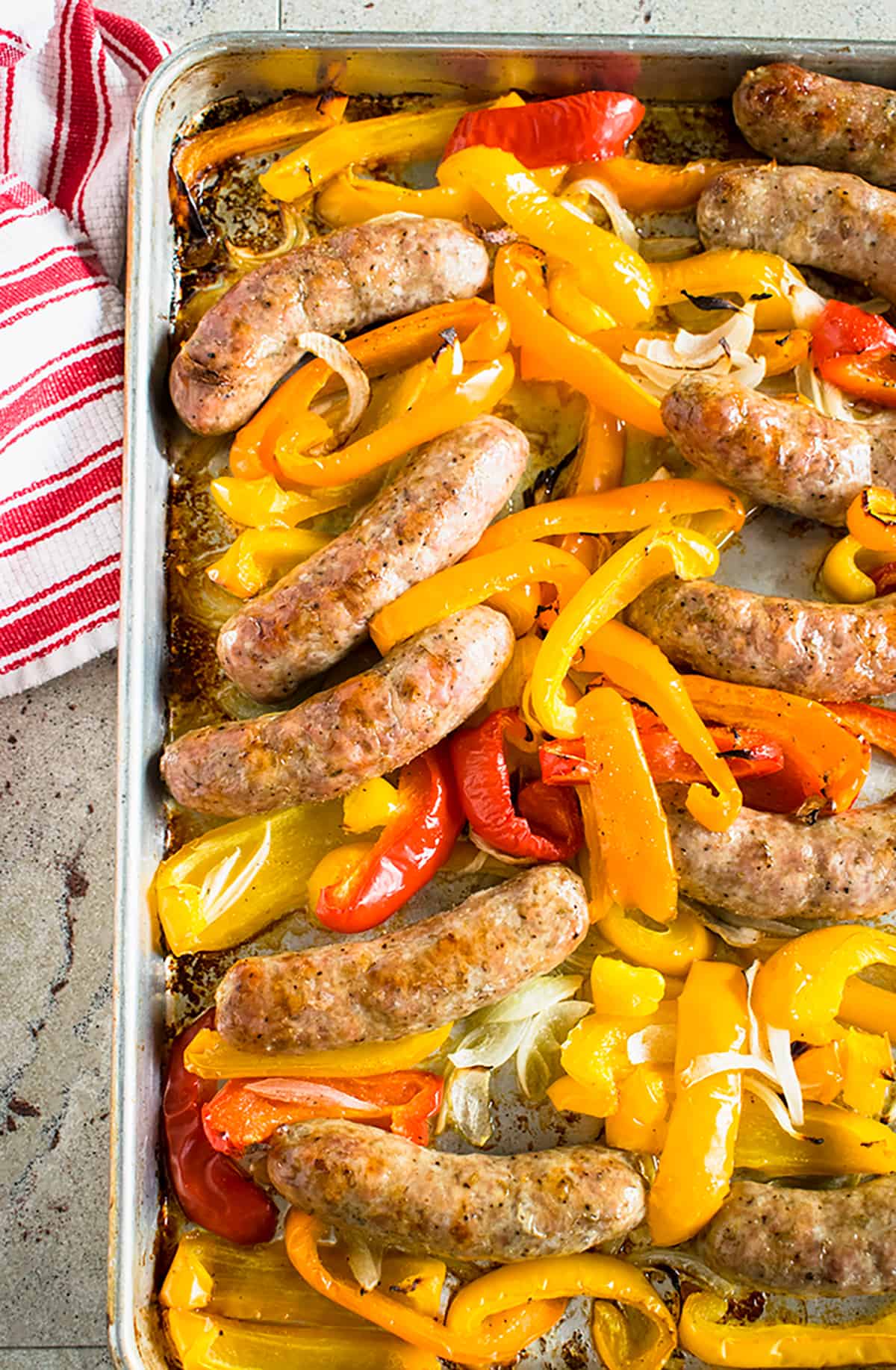 When it's just my family, and I don't have much time, I roast the sausage and peppers at 400 degrees for 45 minutes, which will get everything caramelized pretty quickly. Even a few of the onions will start to blacken (we like that.) For parties, I cut each sausage in half for smaller portions and then bake everything at 375 degrees for 90 minutes.
Either way, make sure you have fresh Italian bread on hand to go with it. Or maybe some hoagies.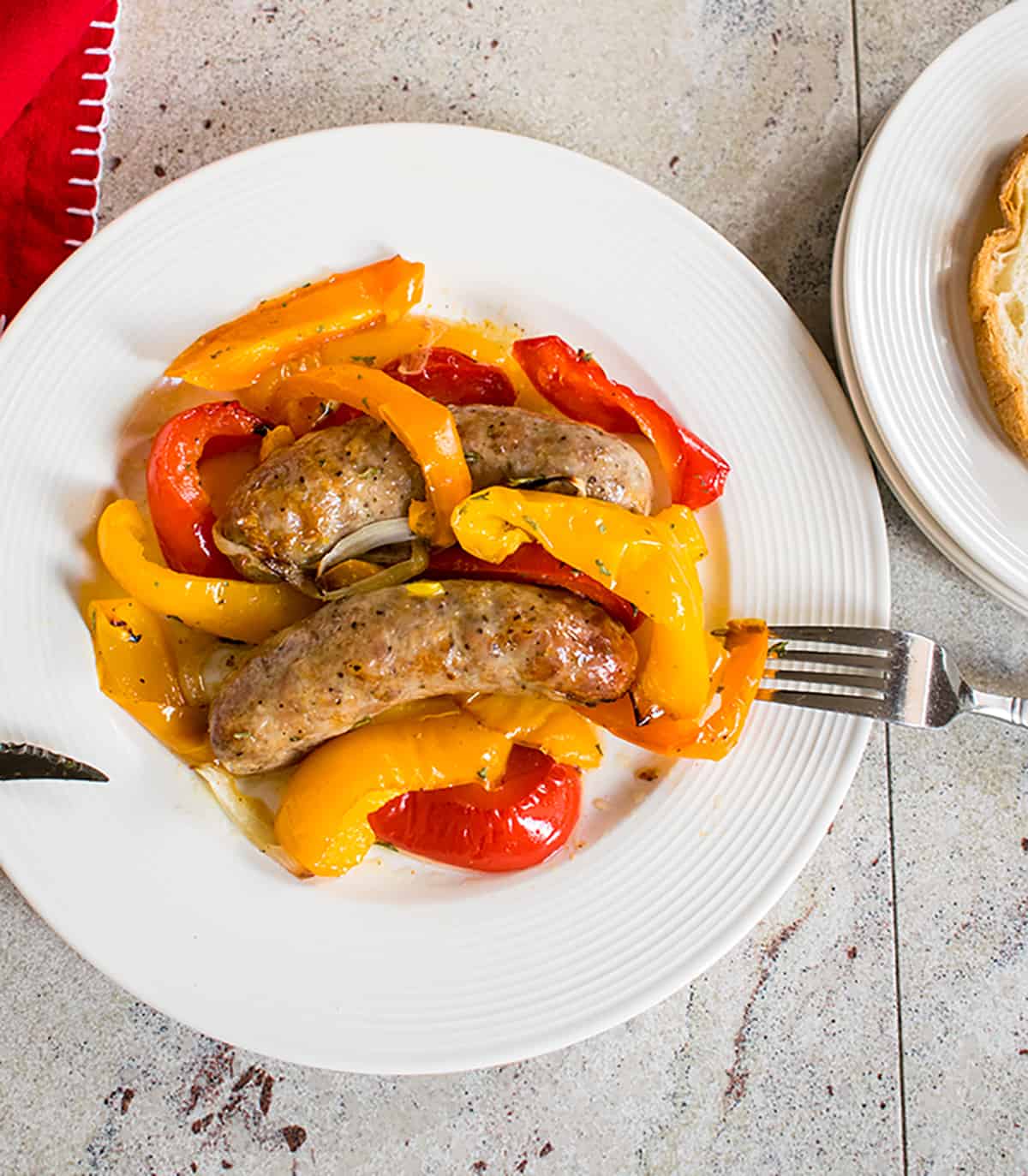 I love that sausage and peppers are equally at home served on dinner plates with forks and knives or on paper dishes tucked inside rolls. Whether you go fancy or just pick up a sandwich and eat it with olive oil dripping down your chin, I hope you enjoy this!
P.S. You can use kielbasa or chorizo instead of Italian sausage, if you prefer. Just make sure to buy it raw from the meat department; you don't want to use the pre-cooked stuff.
(Recipe Source: Cooking with Mamma C)
If you like Cooking with Mamma C, subscribe to get new recipes delivered to your inbox and follow me on Facebook, Pinterest, Twitter and Instagram!

Cooking with Mamma C
Serves 6-8
Easy Sausage and Peppers
Perfect for parties or a delicious dinner in under an hour
Ingredients
2 pounds sweet Italian sausage
4-6 bell peppers (use red, yellow and orange), sliced
1 large onion, sliced
3-4 Tablespoons olive oil
salt
black pepper
garlic powder
fresh parsley for garnish
Directions
Preheat the oven to 400 degrees for a quicker dinner, or 375 degrees if you are cooking for a party.
Spray a roasting pan with cooking spray. Prepare the peppers by rinsing and patting them dry with a paper towel. Cut a circle around the stems to remove them. Cut each pepper in half and remove the seeds and membranes. Cut the halves in half again. Then slice each one into strips about 1/2 inch wide.
Prepare the onions by cutting off the ends, peeling off the skin, and cutting the onions in half. Then cut each half into vertical slices.
If you are making the sausage for a party, cut each sausage in half horizontally to make smaller portions. Place the sausage in a single layer in the pan. Add the peppers, then onions.
Drizzle olive oil on each row of sausage. Lightly sprinkle salt on each row. Then sprinkle on pepper and garlic powder, again being sure to season every row.
Bake, uncovered. If using a 400-degree oven, bake it for 45-50 minutes total, turning over the sausage and stirring around the vegetables after 30 minutes. The sausage should be browned on the bottom before you turn it over. If using a 375-degree oven, bake for 90 minutes total, turning over the sausage and stirring the vegetables after about 50 minutes, again waiting for the sausage to brown on the bottom before turning it over.
Since ovens vary, be sure to check on the sausage and peppers a couple of times during baking to see if you need to stir them around. Test for doneness by cutting a sausage in half. It should no longer be pink inside.
Serve with fresh Italian bread or on hoagies.
7.6.4
182
https://cookingwithmammac.com/easy-sausage-and-peppers/