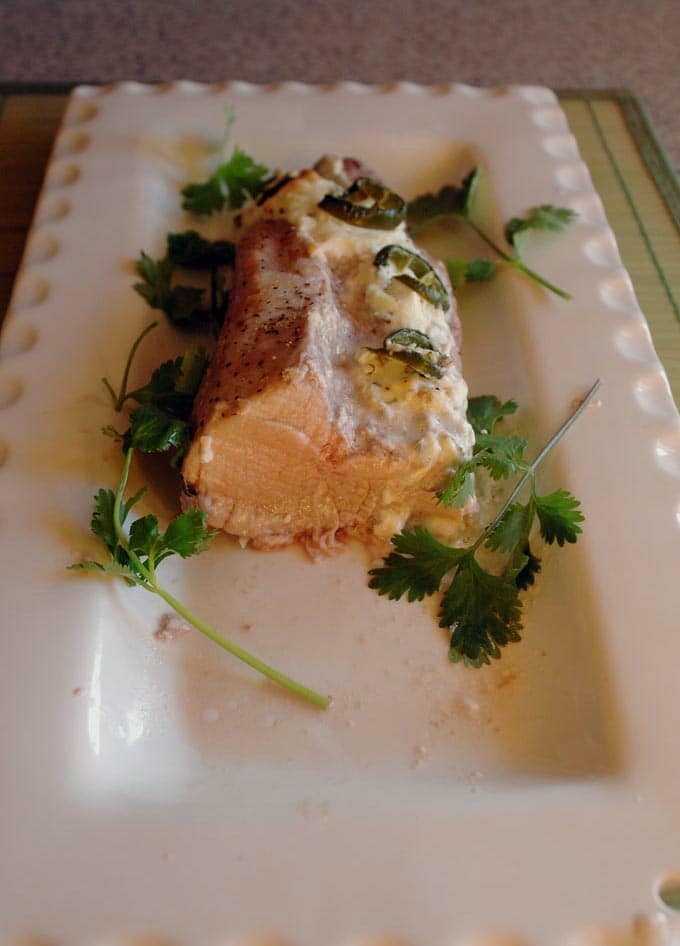 No, this isn't a Thanksgiving recipe. But this stuffed pork tenderloin with cream cheese and jalapeños is so easy and delicious, you might want to make it this week.
It became an instant family favorite and earned a spot in my dinner rotation in October, after I saw a version of it on Pinterest. And now that I see the photos, I'd say it's company worthy as well.
I've made this pork tenderloin at least four times, experimenting along the way. I tried substituting mascarpone, but we really prefer cream cheese here.
I tried adding chopped red onions, but we like it better with the chives blend. I tried sprinkling on chopped garlic — and that was good — but garlic powder works fine too, if you don't feel like making extra work. (Cough, cough.) Finally, I tried garnishing with fresh cilantro after the pork is cooked, and that tastes awesome, so don't even think about skipping it!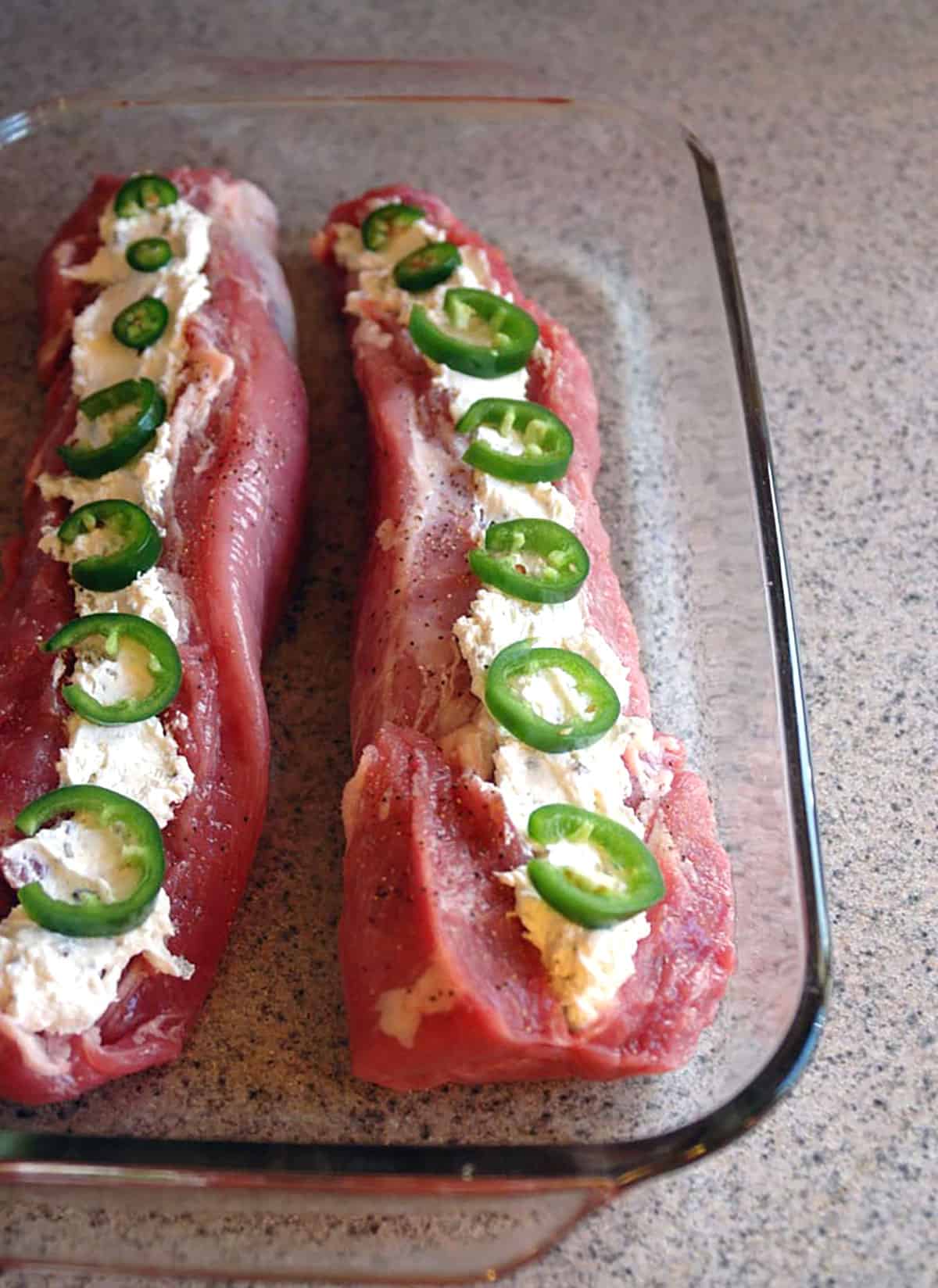 The beauty of this dish is that it's so simple, flavorful and easy to memorize. You really won't need a recipe after the first couple tries, except to note the oven temperature and cooking time.
All you have to do is trim the fat off the pork and cut a slit down the center of each tenderloin. Add salt, pepper, and garlic powder. Stuff the pork with cream cheese and chives (you can use plain cream cheese and fresh or dried chives, or go with the chive blend in a tub), and then add sliced jalapeños (without the seeds for mild heat, or with the seeds to make it spicy hot).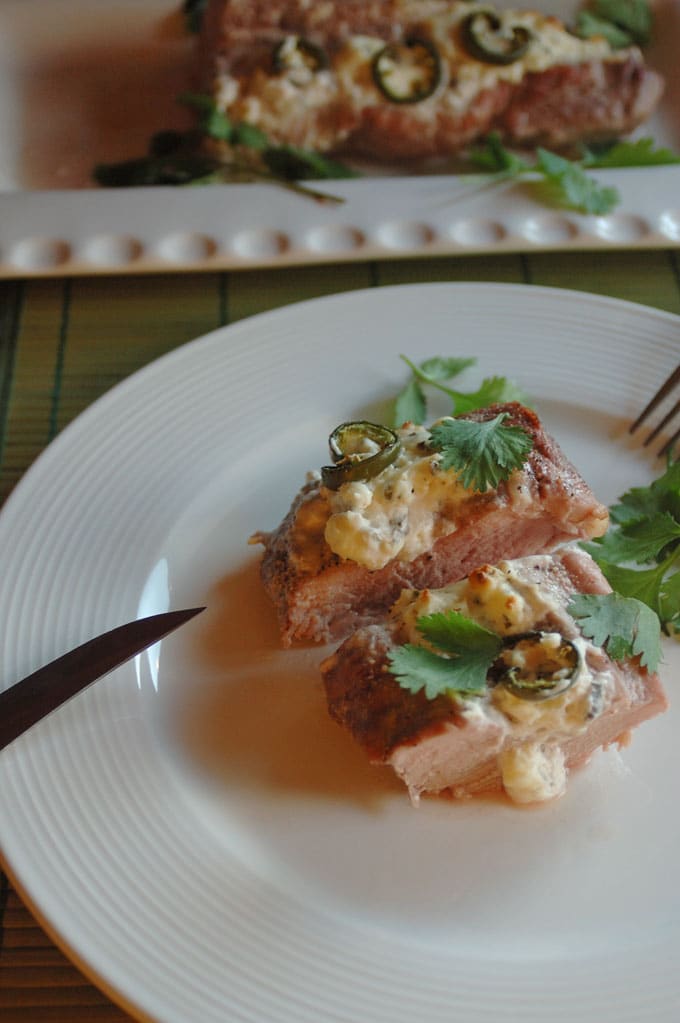 Insert a meat thermometer, and bake at 375 F for 45 minutes, or until the pork reaches 160 F. Top with cilantro. That's it. Enjoy!
P.S. Have a Happy Thanksgiving!
(Recipe Source: Adapted from this recipe I found on Pinterest)

Cooking with Mamma C
Serves 6-8
Stuffed Pork Tenderloin with Cream Cheese and Jalapenos
15 minPrep Time
45 minCook Time
1 hrTotal Time
5 based on 2 review(s)
Ingredients
2 pork tenderloins (they usually come in one package)
4 ounces cream cheese with chives (see notes)
salt
pepper
garlic powder (or use 2 garlic cloves, peeled and chopped)
1 jalapeño, sliced into rings and seeds removed (or keep seeds to make it hot)
3 tablespoons fresh cilantro, rinsed and stems snipped off
Directions
Preheat your oven to 375 degrees F. Set aside 4 ounces of cream cheese in a tiny bowl (so that when you stuff the meat, you won't dip your utensil that has touched raw meat into your package of cream cheese).
Place the pork tenderloins side by side in a 9x13 pan. Trim off excess fat with kitchen scissors or a knife. Use your knife (a smooth blade works best) to cut a slit into the length of each tenderloin, being careful not to cut all the way through. Wash your hands.
Sprinkle the meat with salt, pepper, and garlic powder (or sprinkle on chopped garlic).
Using a spoon or knife, fill the tenderloins with the cream cheese, making sure to go all the way to each end. Smooth it a bit with your knife or spoon. Wash your hands again, if you touched the raw meat.
To prep your jalapeño, rinse a whole jalapeño and pat it dry. Cut off and discard the stem. With the jalapeño laying on its side, slice it into rings about 1/4-inch thick. (Do not touch your eyes once you have cut into a jalapeño, because it will sting.) Use your knife to cut out the membrane and remove the seeds. (If you like extra heat, leave some seeds; use all the seeds for a spicy-hot dish.) Top the cream cheese with your jalapeño slices. Wash your hands well.
Insert a meat thermometer into the thickest part of a tenderloin. Bake the meat, uncovered, for 45 minutes, or until the tenderloin reaches 160 degrees F. Remove the pork from the oven and loosely cover it with foil. Let it rest for 10 minutes before slicing into it, to retain the juices.
While the meat is resting, rinse your cilantro and trim off the stems. Serve the pork sliced, topped with cilantro. Store leftovers in the refrigerator for up to four days.
Notes
If you are using cream cheese with chives that comes in a tub, don't buy the one that says "whipped." It will turn out a bit runny, as you can see in the photo at the top. There should be a regular tub of cream cheese with chives.
Also, block cream cheese holds up really well in this recipe, but you will need to add your own chives (1-2 tablespoons.) I've used low-fat block cream cheese with good results.
7.8.1.2
281
https://cookingwithmammac.com/stuffed-pork-tenderloin-cream-cheese-jalapenos/