You'll love this Roasted Pork Loin with Rosemary and Garlic! A simple but fabulous entrée that's low carb and company worthy!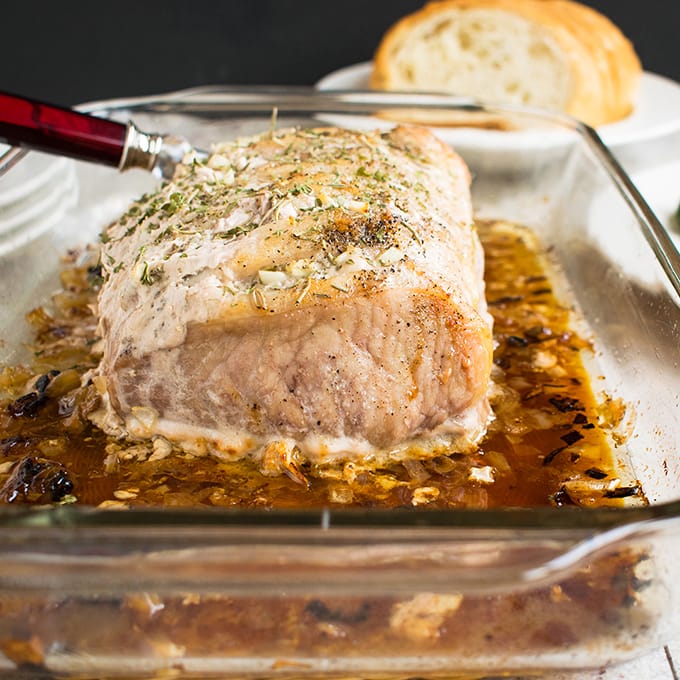 I'll say it upfront: You need to add this roasted pork loin to your dinner rotation. Trust me.
I've been making and perfecting this recipe for a month. I'm talking five times.
And, my family has enjoyed every version along the way.
It's the kind of meal Sundays are made for, although a weeknight isn't out of the question. (This is a fairly straightforward roast that needs just over an hour in the oven.)
Here's the lowdown. You'll take a pork loin, and if you're like me, you'll leave on the little bit of fat for flavor.
Then, you'll cut slits along the surface and stuff them with Italian gold, otherwise known as chopped rosemary and garlic.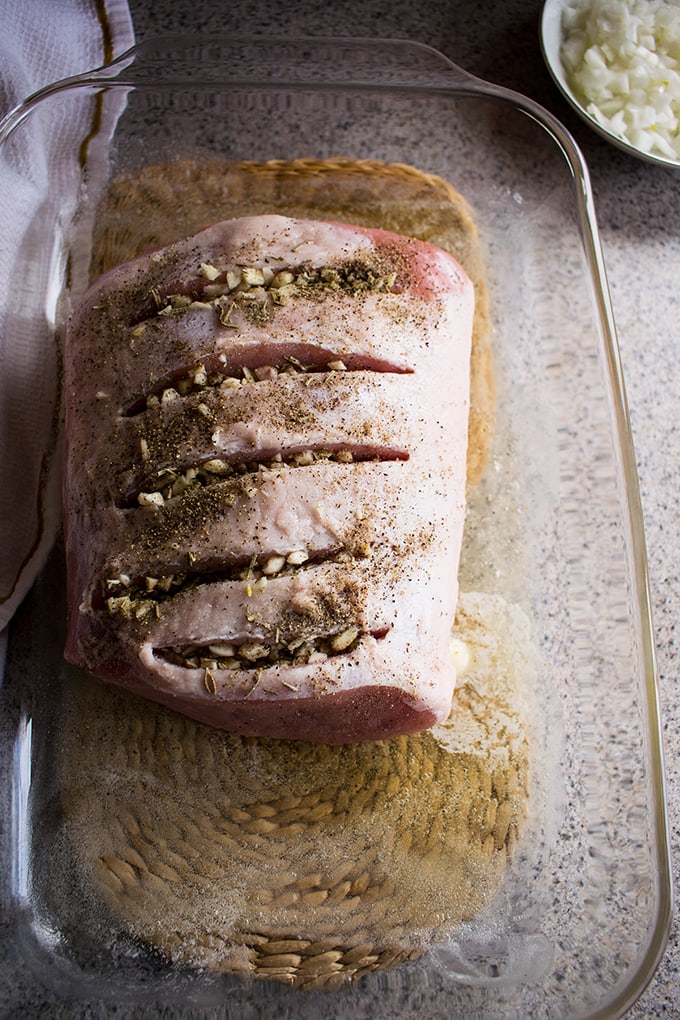 Then, you'll place your pork roast on a thin layer of melted butter, season the meat and pour olive oil all over the top. Are you drooling yet?
Wait, it gets better. After the pork roasts for half an hour, you'll add chopped onions to the bottom of the pan, creating a satisfying sizzle.
Then, you'll finish roasting that luscious pork, just until it reaches 160 degrees F. (There's no need to overcook pork like in the old days, according to current USDA guidelines. A pale pink center is absolutely fine.)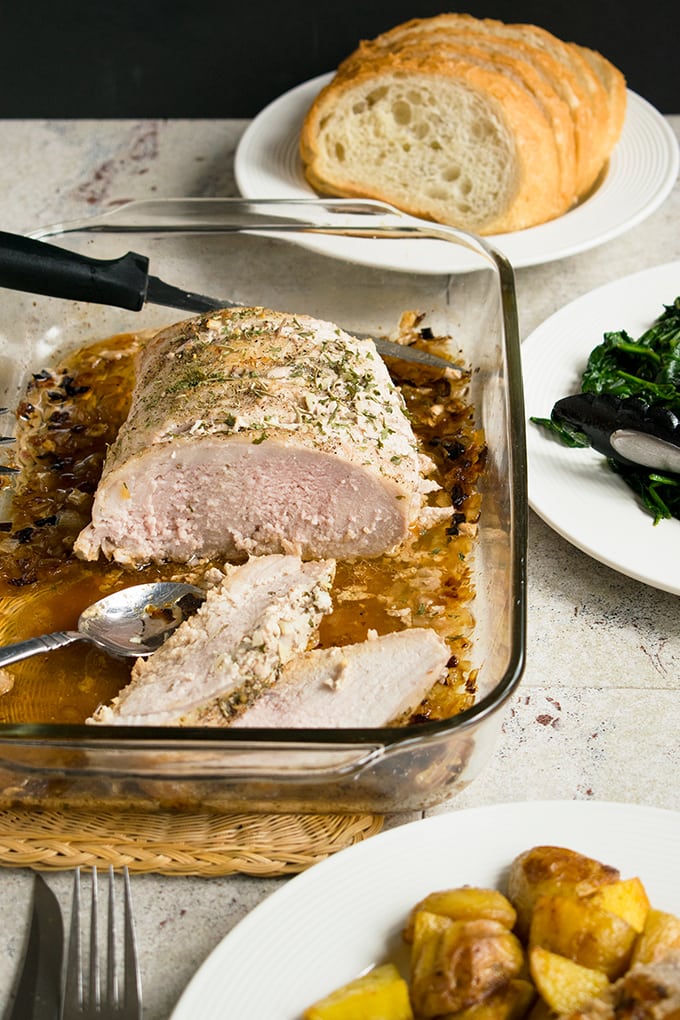 The pork roast emerges in a savory pool of butter and oil, dotted with caramelized onion bits, some of which have blackened (but not burned). You'll let the roast rest for ten minutes to retain its juices.
The aroma that fills your home will make you swoon.
And then.
Then, you'll slice through that garlic and rosemary-crusted surface. You'll place your pork on your plate and spoon on that mouthwatering amber liquid from the bottom of the pan.
It. Is. Everything.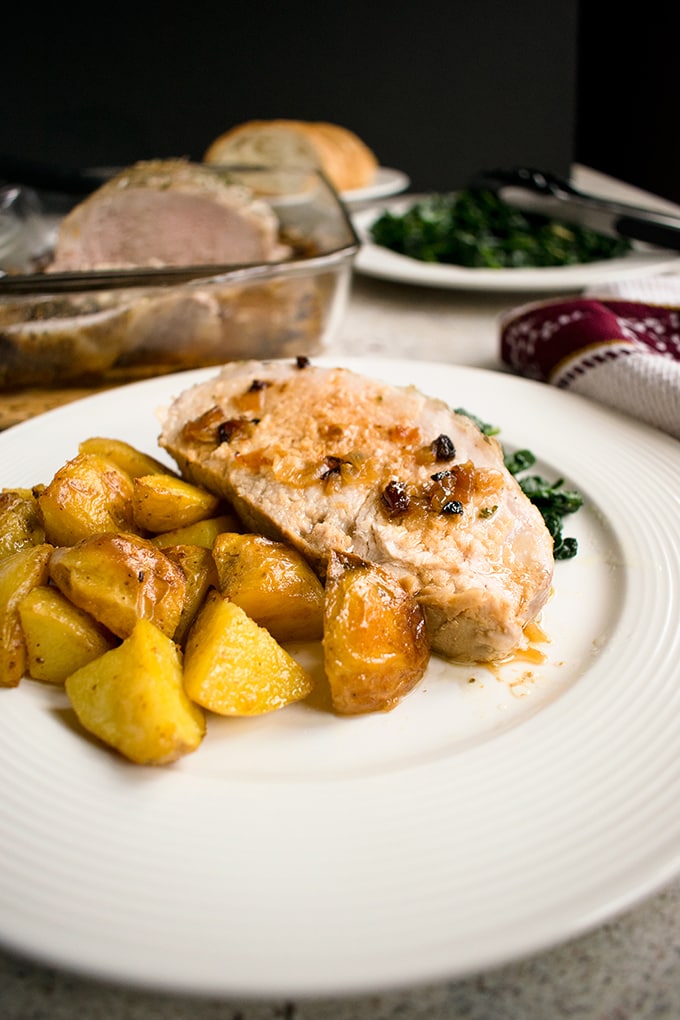 Some fresh Italian bread for dipping is mandatory, I'd say. If it needs to be gluten-free, so be it.
But, you won't want to waste that olive oil-butter-pan juice with caramelized onions. Even if you must drink it with a spoon. (Who, me?)
And, if you really want to take this meal over the top, serve it with these crispy, buttery Seasonello Roasted Potatoes, plus some spinach sautéed with olive oil and garlic. To. Die. For.
(Drops the mic)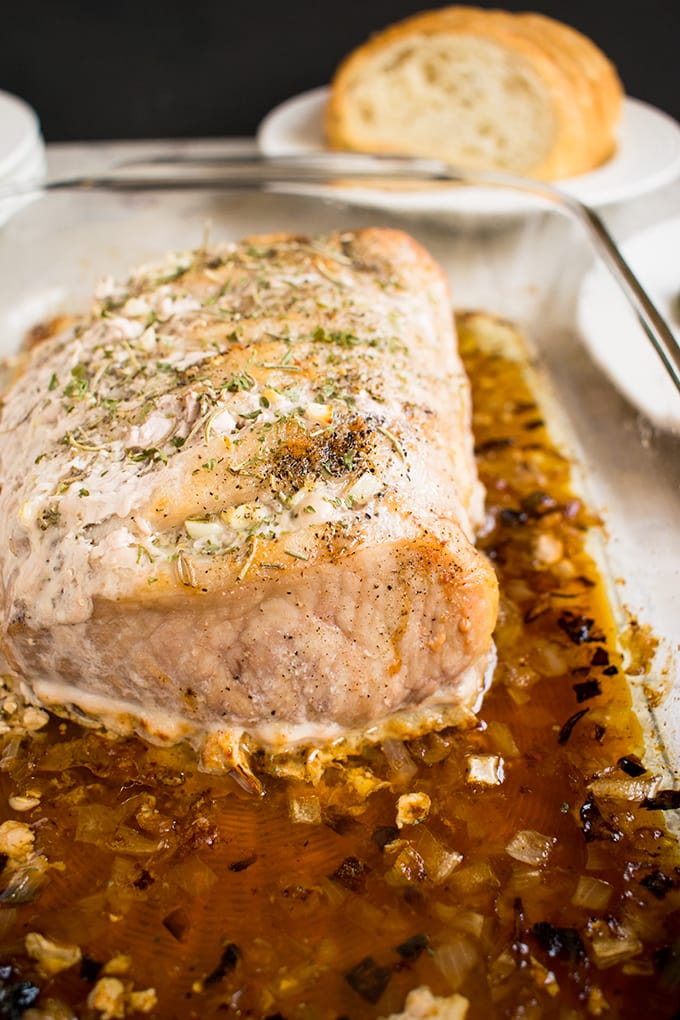 Enjoy!
P.S. If you'd like to check out some of my other Italian recipes, how about these Homemade Manicotti? Serve them with The Best Italian Green Salad with Homemade Dressing, for a complete meal.
Buon appetito!
(Recipe Source: Cooking with Mamma C. Roasted Pork Loin with Rosemary and Garlic Recipe originally published on Food Fanatic.)