You'll love this Roasted Pork Loin with Rosemary and Garlic! It's so easy to make and delivers big flavor!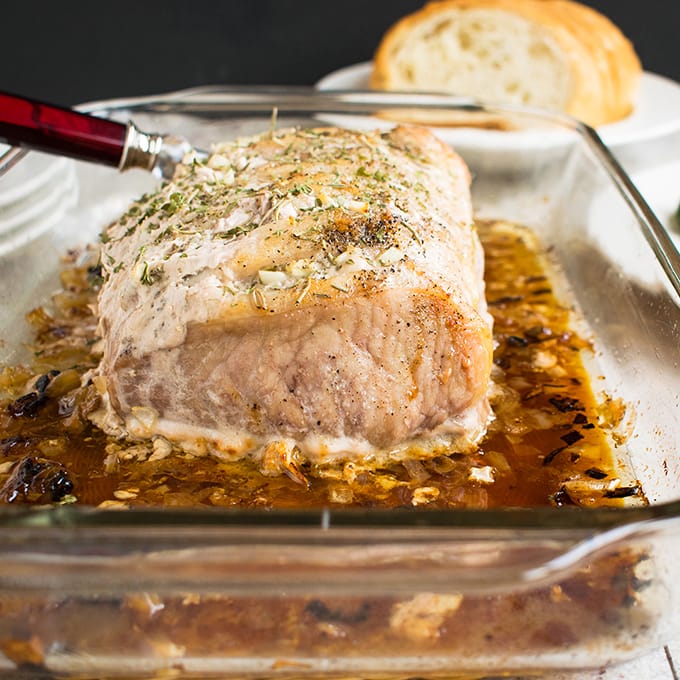 I'll say it upfront: You need to add this pork roast to your dinner rotation. Trust me.
I've been making and perfecting this recipe for a month. I'm talking five times.
And, my family has enjoyed every version along the way.
It's the kind of meal Sundays are made for, although a weeknight isn't out of the question. (This is a fairly straightforward roast that needs just over an hour in the oven.)
Here's the lowdown. You'll take a pork loin, and if you're like me, you'll leave on the little bit of fat for flavor.
Then, you'll cut slits along the surface and stuff them with Italian gold, otherwise known as chopped rosemary and garlic.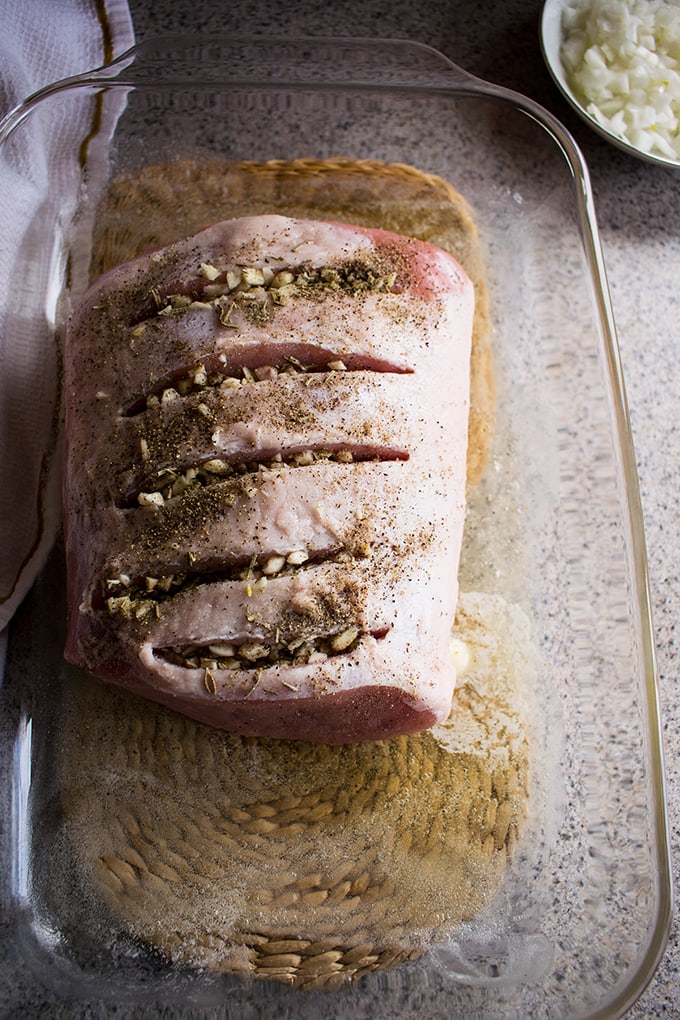 Then, you'll place your pork roast on a thin layer of melted butter, season the meat and pour olive oil all over the top. Are you drooling yet?
Wait, it gets better. After the pork roasts for half an hour, you'll add chopped onions to the bottom of the pan, creating a satisfying sizzle.
Then, you'll finish roasting that luscious pork, just until it reaches 160 degrees F. (There's no need to overcook pork like in the old days, according to current USDA guidelines. A pale pink center is absolutely fine.)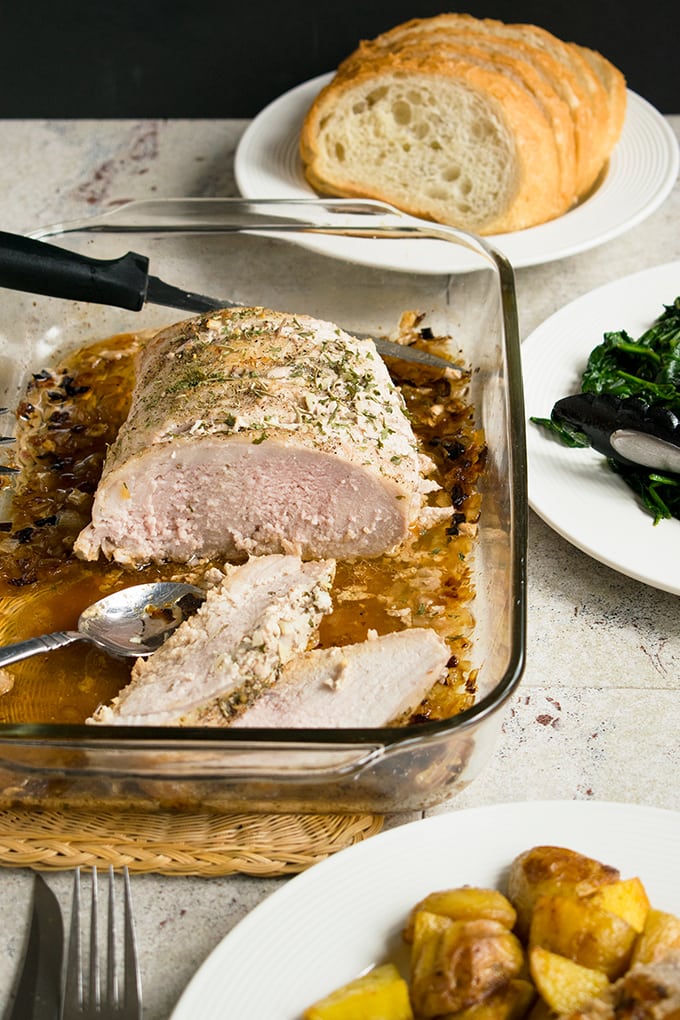 The pork roast emerges in a savory pool of butter and oil, dotted with caramelized onion bits, some of which have blackened (but not burned). You'll let the roast rest for ten minutes to retain its juices.
The aroma that fills your home will make you swoon.
And then.
Then, you'll slice through that garlic and rosemary-crusted surface. You'll place your pork on your plate and spoon on that mouthwatering amber liquid from the bottom of the pan.
It. Is. Everything.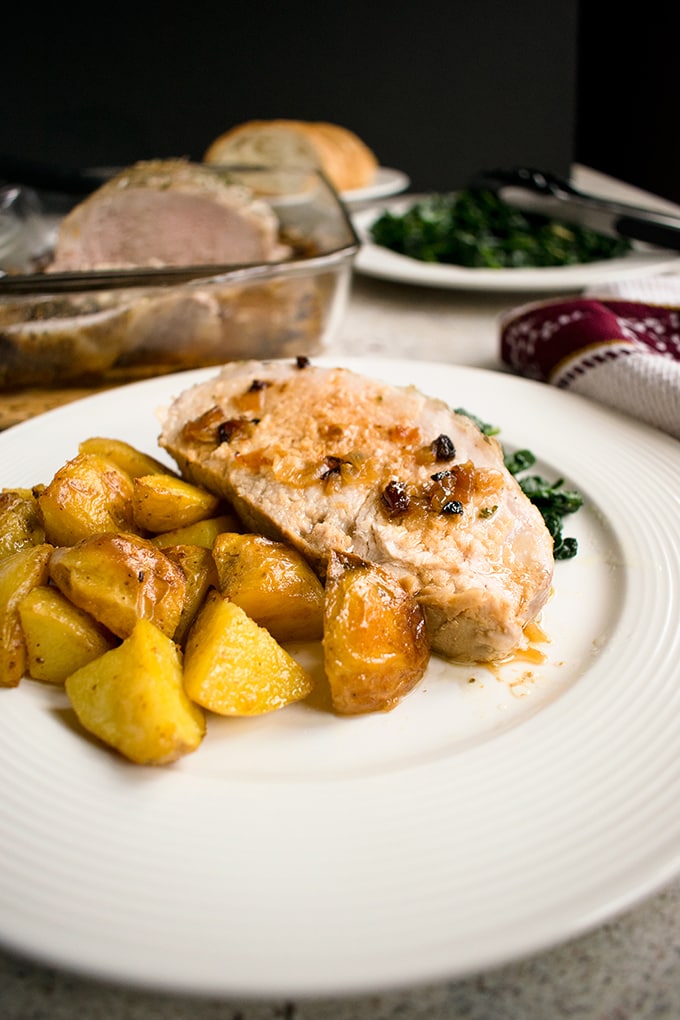 Some fresh Italian bread for dipping is mandatory, I'd say. If it needs to be gluten-free, so be it.
But, you won't want to waste that olive oil-butter-pan juice with caramelized onions. Even if you must drink it with a spoon. (Who, me?)
And, if you really want to take this meal over the top, serve it with these crispy, buttery Seasonello Roasted Potatoes, plus some spinach sautéed with olive oil and garlic. To. Die. For.
(Drops the mic)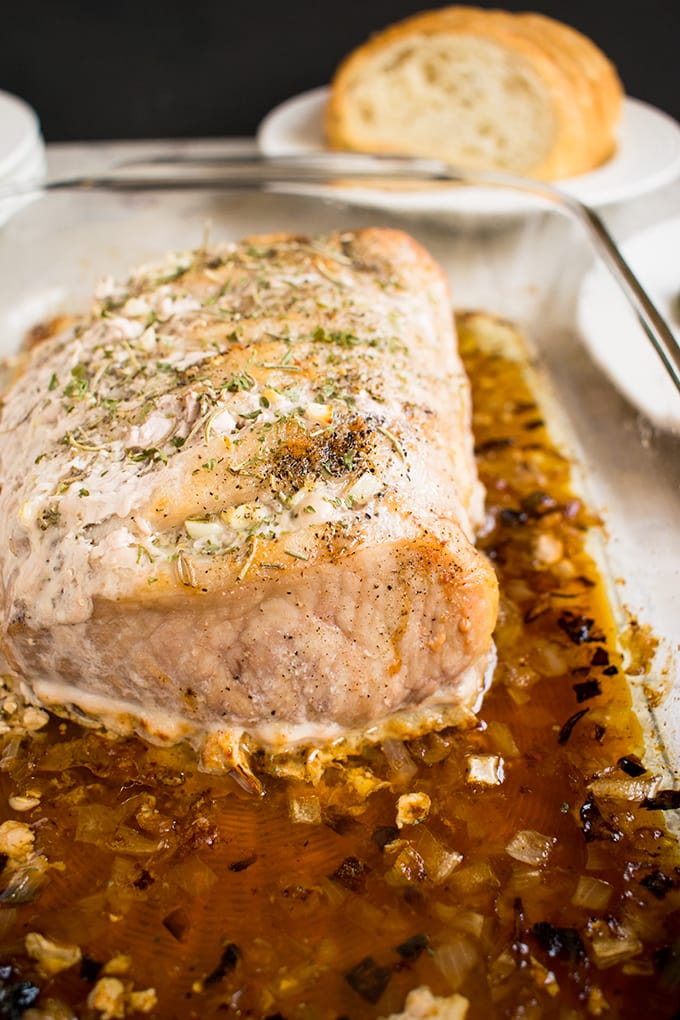 For holidays, you could serve this following Homemade Manicotti, along with the best Italian green salad, for a complete meal.
And if you love pork, don't miss this Carolina pulled pork, glazed pork tenderloin, apple pork tenderloin, stuffed pork, BBQ ribs or these sausage and peppers!
Buon appetito!
(Recipe Source: Cooking with Mamma C. Roasted Pork Loin with Rosemary and Garlic Recipe originally published on Food Fanatic.)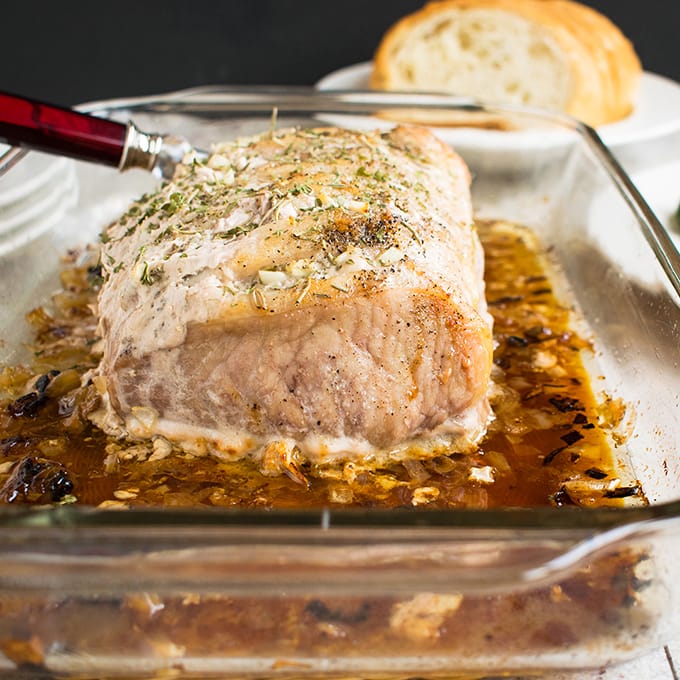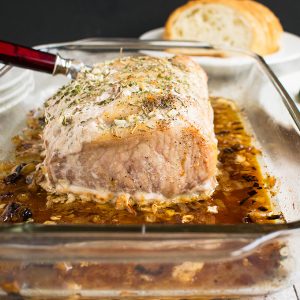 Roasted Pork Loin with Rosemary and Garlic
You'll love this Roasted Pork Loin with Rosemary and Garlic! It's so easy to make and delivers big flavor!
Print
Pin
Rate
Save
Go to Collections
Ingredients
4

cloves

garlic

(peeled)

1 ½

teaspoons

dried rosemary

(or 2-3 Tablespoons fresh)

2

Tablespoons

salted butter

3

pounds

pork loin

¼

teaspoon

salt

¼

teaspoon

black pepper

¼

cup

olive oil

½

medium onion

(peeled)
Instructions
Heat your oven to 350°F. Peel the garlic and finely chop it together with the rosemary. Set the mixture aside in a tiny bowl.

When your oven is ready, place the butter in a 9x13 pan or roaster and set the pan on the center oven rack for about 4 minutes, to allow the butter to melt.

While the butter is melting, place your roast horizontally in front of you and use a sharp, serrated knife to cut vertical slits in the pork. Make the slits about four inches long, two inches deep and space them at least an inch apart. (See photo in post.)

Stuff the rosemary-garlic mixture into the slits you made in the roast. Wash your hands well.

When the butter is melted, take your pan out of the oven. Tilt the pan back and forth a bit so the melted butter coats the whole bottom. Set the pork on top of the melted butter in the pan. Season the roast with the salt and pepper. Pour the olive oil over the top.

Bake the pork initially for 30 minutes, uncovered. During that time, chop up half an onion. After the pork has cooked for 30 minutes, remove the pan from the oven. Add the chopped onion to the bottom of the pan, around the pork.

Make sure to wear gloves/mitts again as you put the pork back in the oven to roast for another 30-35 minutes, until the internal temperature reaches 160 degrees F.

Let the pork rest for 10 minutes before slicing it. Use a large knife with a smooth blade to slice the meat. To serve, spoon the juices and onions on top of the sliced pork.

Store leftover pork covered in the refrigerator for up to four days. You should be able to freeze the sliced pork for up to three months.
Notes
The cooking time is for a 3-pound roast. If yours is smaller, it will cook faster.
When slicing a roast, don't use a serrated knife, because it will tear up the meat as you slice it. Use a smooth, chef's knife (affiliate link).
Nutrition
Calories:
314
kcal
|
Carbohydrates:
1
g
|
Protein:
38
g
|
Fat:
17
g
|
Saturated Fat:
5
g
|
Cholesterol:
115
mg
|
Sodium:
182
mg
|
Potassium:
652
mg
|
Fiber:
1
g
|
Sugar:
1
g
|
Vitamin A:
87
IU
|
Vitamin C:
1
mg
|
Calcium:
13
mg
|
Iron:
1
mg