You can make this Easy Bay Scallop Salad with lemon vinaigrette in 15 minutes! Bake the breaded scallops and serve them over fresh spinach and kale or the lettuce of your choice. You'll love the delicious, bright flavors!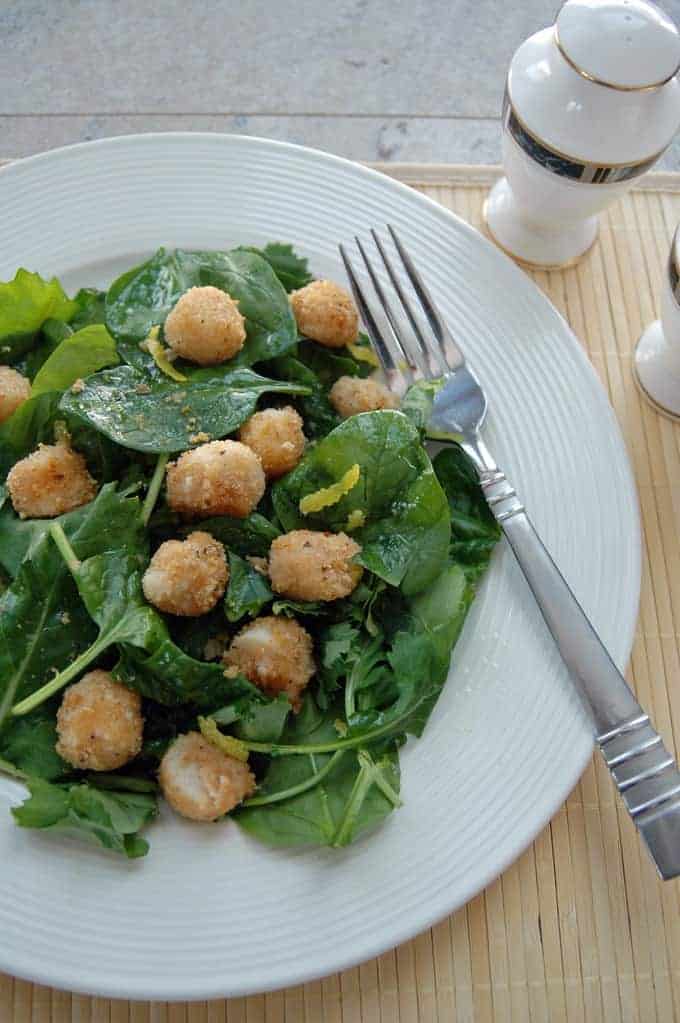 One of my favorite ways to prepare bay scallops is to coat them with seasoned bread crumbs, drizzle on some olive oil, and roast them in the oven for less than 10 minutes. A sprinkle of lemon juice provides the finishing touches.
They're super simple, and made without cheese. (If you prefer cheesy bread crumbs, you have to try these Broiled Scallops with Parmesan Bread Crumbs.)
I've served these easy bay scallops as the main dish or over pasta, but I love them on salad with lemon vinaigrette.
Including the time it takes to wash the scallops, we're talking about a 15-minute meal.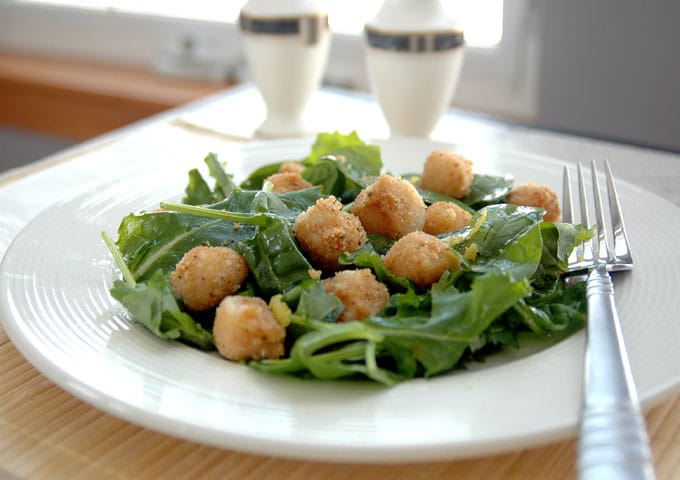 And, if I may say so, it's a fabulous dish with glorious simplicity. You don't need to dip the scallops in anything first, because the water that clings to them after washing will help the bread crumbs adhere.
It's best to use dry, Italian-seasoned crumbs here, and either homemade or store-bought will work. If you use my Homemade Italian Bread Crumbs, don't add any cheese.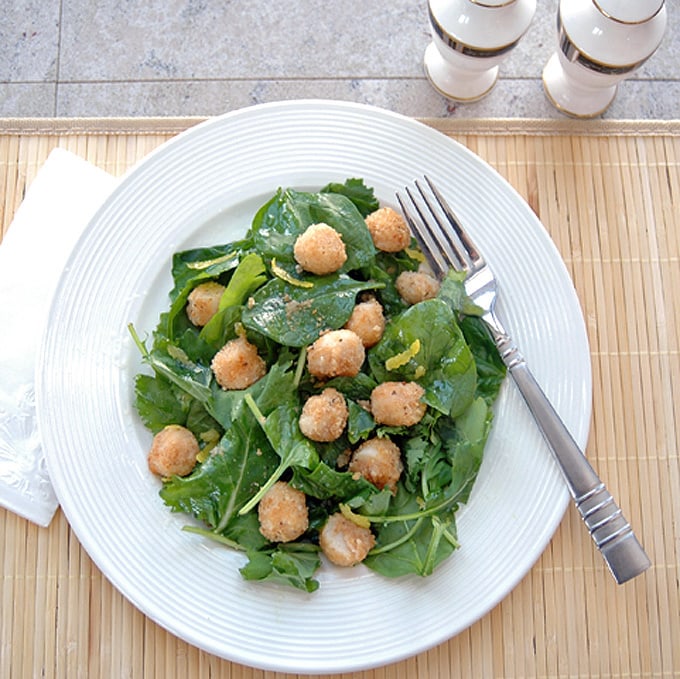 You can use the lettuce of your choice, but the scallops pair beautifully with dark, leafy greens like the spinach and kale mix pictured here.
Then there's the lemon vinaigrette, which uses equal parts olive oil and lemon juice, with a little white balsamic vinegar and salt.
You also could try using this refreshing Lemon-Infused Olive Oil or even homemade ranch dressing.
Since the bread crumbs have garlic powder and other seasonings, you really don't need any extra. The dressing gets poured over the top, and gorgeous ribbons of lemon zest get added for looks and incredible flavor. (Don't skip them!)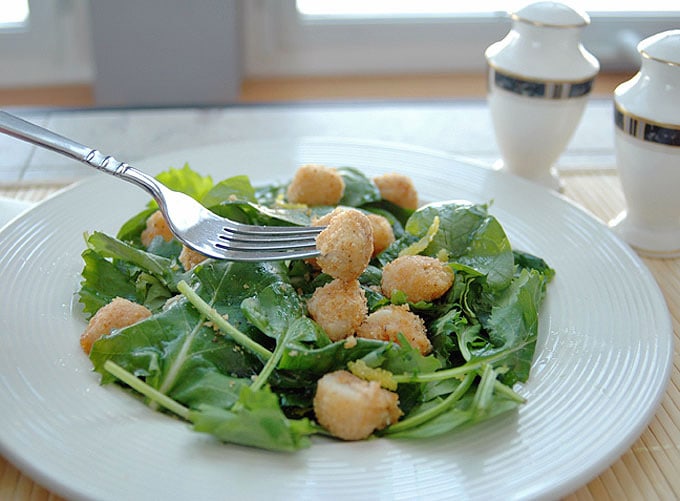 The result is a bright, refreshing, delicious salad bursting with Mediterranean flavors. You can make a meal of this with some nice rolls and fresh fruit on the side. It's perfect recipe for Lent.
And since this is light and healthy, you needn't feel guilty about having cheesecake for dessert, if such a thing would ever occur to you. I'm just saying, (as I wipe dessert crumbs from my face).
Enjoy!
More recipes like this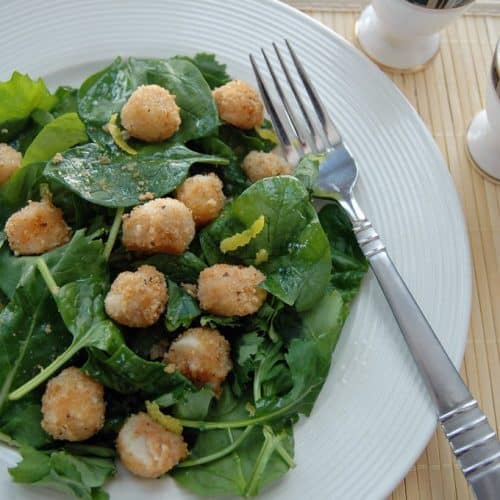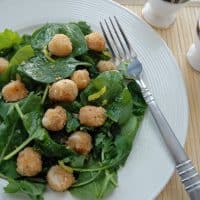 Easy Bay Scallop Salad
Easy Bay Scallop Salad with lemon vinaigrette features baked, breaded scallops. It's ready in 15 minutes!
Print
Pin
Rate
Save
Go to Collections
Ingredients
Scallops
12

ounces

bay scallops

(see notes if using sea scallops)

¼

cup

dry Italian-seasoned bread crumbs

1

tablespoon

olive oil

(plus a bit to grease the pan)
Salad
Lemon zest ribbons from two lemons

13

ounces

dark

(leafy greens such as spinach-kale blend)
Instructions
Preheat the oven to 400 degrees F. Grease a rimmed baking sheet with a bit of olive oil.

In a fine mesh strainer, rinse the scallops under cold water, being careful to remove any specks of sand by gently scraping them off with a brush or your nail. It's important to closely examine each scallop to look for sand.

Transfer the drained scallops to a small mixing bowl and pour the bread crumbs over them. Shake the bowl a bit to distribute the bread crumbs so they cling to the scallops. Use your hands to gently mix them if necessary.

Place the breaded scallops in a single layer on the baking sheet, drizzle on the tablespoon of olive oil and bake them for about 8 minutes. (Check them after 5 minutes, cutting one open to see if it's almost done.) The scallops are done when the center is no longer pink and shiny, but is white. Be careful not to overcook them, or they will become tough and rubbery.

While the scallops are cooking, make your lemon vinaigrette. Whisk the olive oil, lemon juice, vinegar and salt in a small bowl. Use a lemon zester or vegetable peeler to scrape thin ribbons of lemon zest from the lemons.

To serve, plate the lettuce and top with scallops, dressing and lemon zest. Store any leftover scallops in the refrigerator for up to three days.
Notes
If using large sea scallops, you can speed up the cooking time by heating the oven to at least 425 degrees F (or 450 degrees F.) Check the scallops after five minutes, cutting one open to gauge how much time is still needed to cook them. Gently toss them with a spoon if needed, and continue cooking them for a couple extra minutes at a time, checking after each interval.They're ready when the centers are white but still tender.
If serving the scallops as a stand-alone dish or over pasta, just drizzle lemon juice over them and any extra oil as needed. (Don't use the vinaigrette.)
Nutrition
Calories:
268
kcal
|
Carbohydrates:
12
g
|
Protein:
13
g
|
Fat:
18
g
|
Saturated Fat:
2
g
|
Cholesterol:
20
mg
|
Sodium:
747
mg
|
Potassium:
717
mg
|
Fiber:
2
g
|
Sugar:
1
g
|
Vitamin A:
8640
IU
|
Vitamin C:
31.7
mg
|
Calcium:
109
mg
|
Iron:
3.2
mg
(Recipe Source: Cooking with Mamma C)