You'll love Mom's Broiled Scallops with Parmesan Bread Crumbs! This is our favorite seafood dish!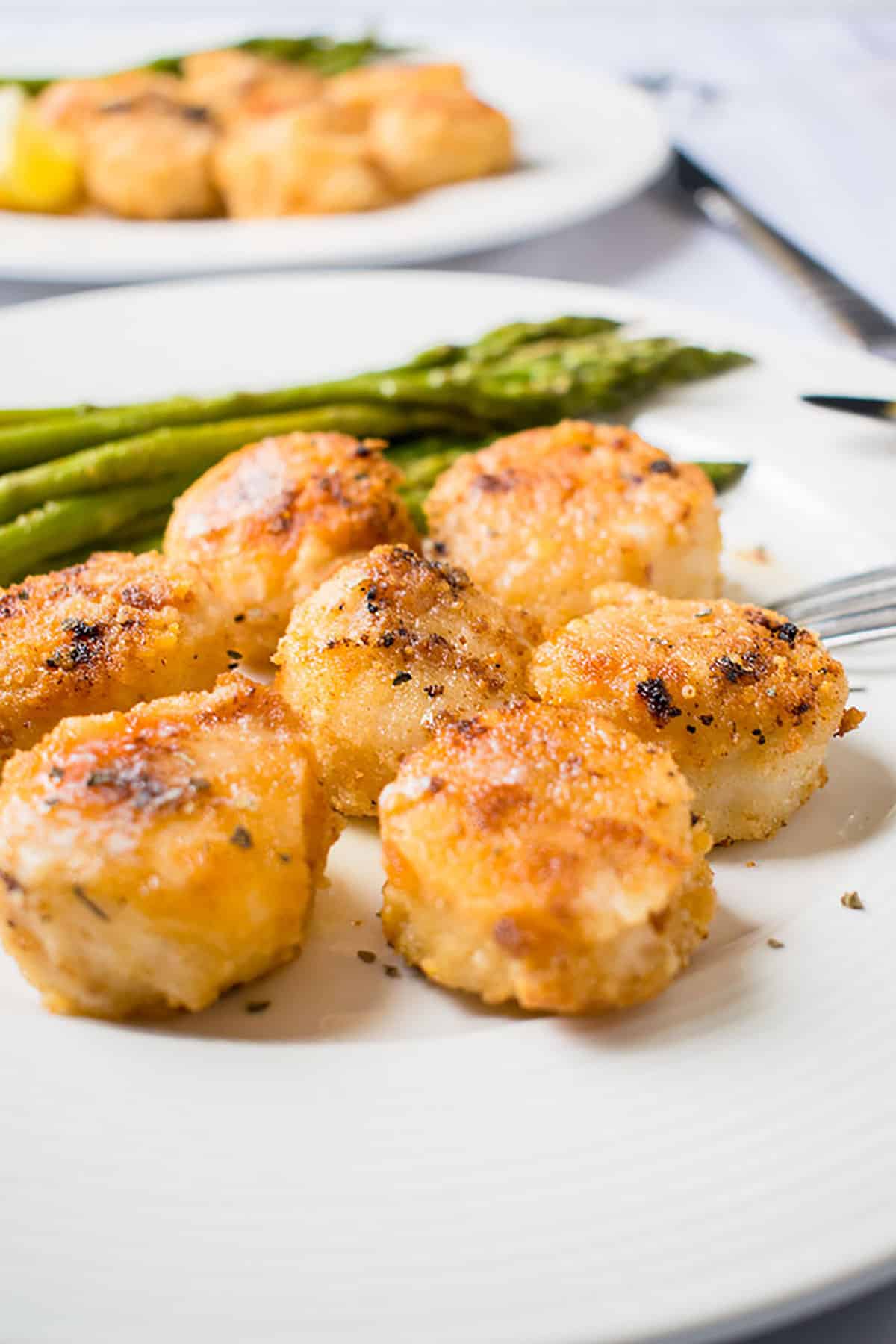 Behold, our favorite seafood dish! Mom's broiled scallops recipe will rock your world.
It starts with sea scallops that get dunked in butter and oil. Then, they get coated with fresh, homemade bread crumbs mixed with Parmesan, a little Romano and seasonings.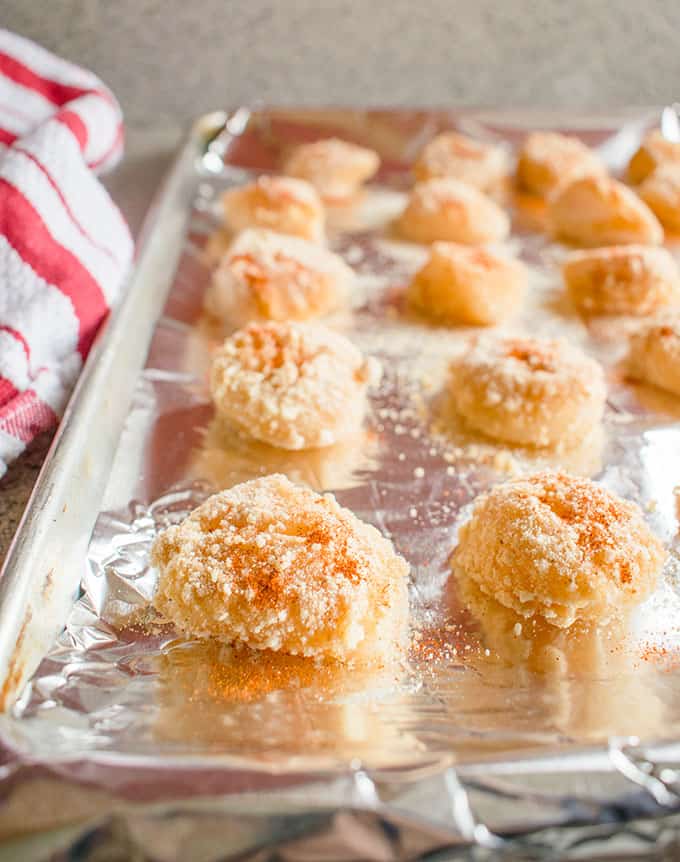 Then, the broiler does the rest of the work. You'll broil them in a sheet pan (affiliate link) on the top rack of your oven to achieve a browned, slightly crispy coating for the tender, buttery scallops.
A squeeze of lemon provides the perfect finishing touch.
Tips to prep the scallops
Rinse the scallops well and examine each one closely for any grains of sand. If you see any, scrape them off with your fingernail.
Remove the side muscle from the scallops, because it will be tough to chew.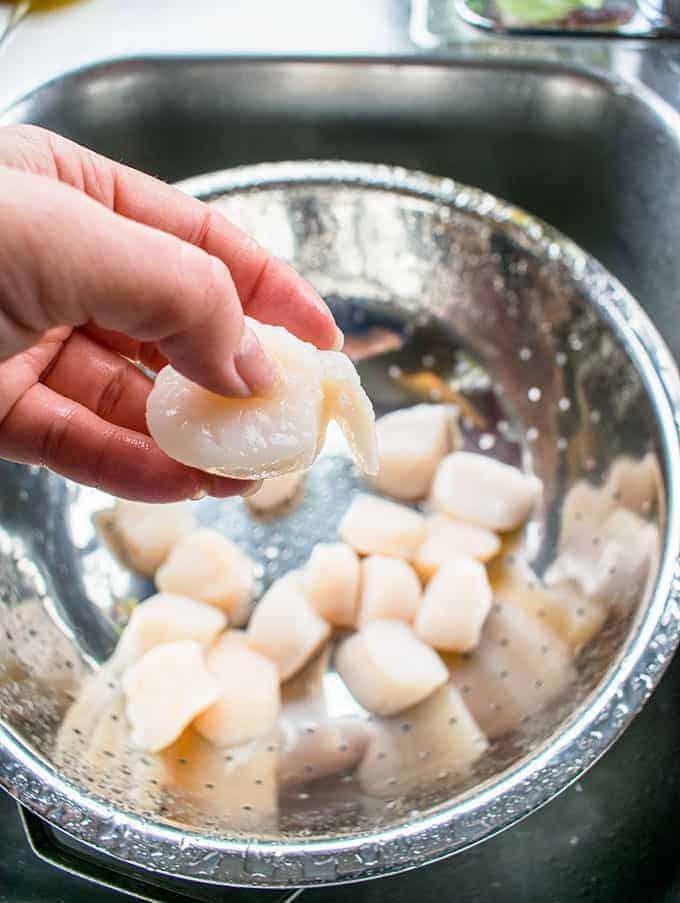 What to serve with them
The scallops are great served with asparagus with tarragon butter and long-grain rice. I like the leftovers over lettuce, like these breaded scallops over salad with lemon vinaigrette.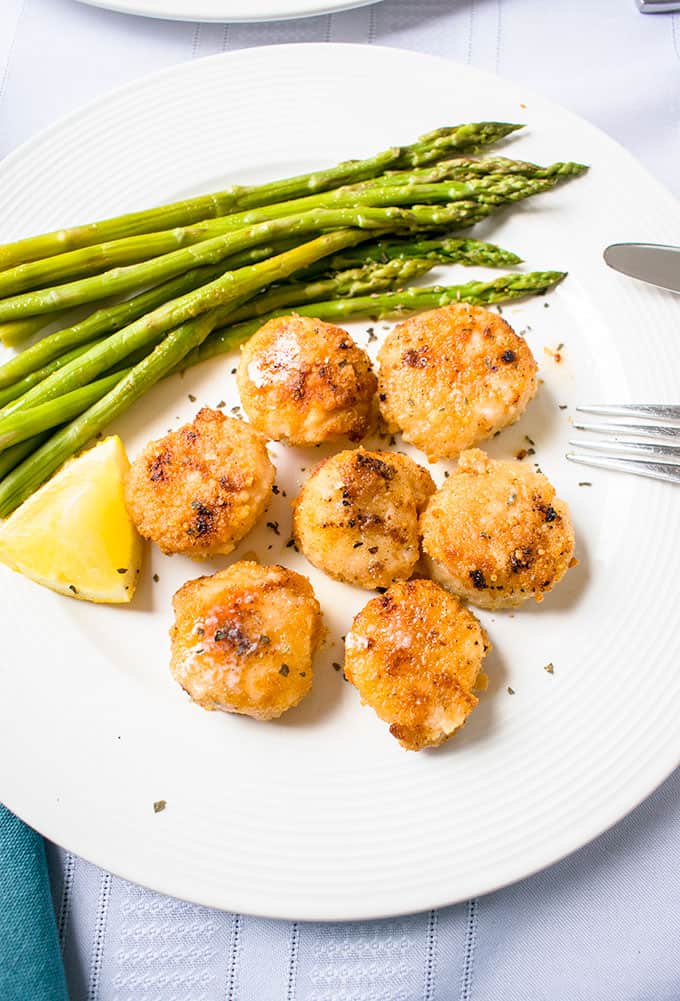 More seafood recipes
Enjoy!
(Recipe Source: Adapted from my Mom, who uses unsalted butter and doesn't measure anything.)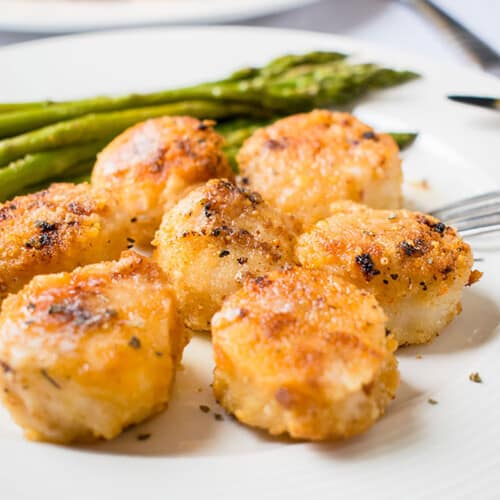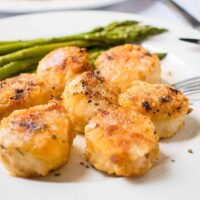 Ingredients
2

pounds

frozen sea scallops

(10-20 count per pound, thawed)

¾

cup

plain fresh bread crumbs

finely grated

⅓

cup

freshly grated Parmesan cheese

2

tablespoons

freshly grated Romano cheese

¼

teaspoon

garlic powder

¼

teaspoon

pepper

4

tablespoons

salted butter

(can use unsalted if watching sodium)

¼

cup

olive oil

paprika

lemon wedges for serving
Instructions
Thaw the frozen scallops overnight in the refrigerator. Place the scallops in a colander in the sink and run cold water over them for 4-5 minutes until completely thawed.

Remove the side muscle from each scallop, as it will be tough. (See photo in post.) Look carefully for any specks of sand to scrape off the scallops.

Pat the scallops dry with paper towels and let them rest on a couple layers of paper towels to continue drying as you proceed with the recipe.

Move your oven rack to the top position and preheat your broiler. Line two half baking sheets with foil. Grease the foil with cooking spray.

Add your bread crumbs, Parmesan, Romano, garlic powder and pepper to a dinner plate (or use a gallon-sized, resealable plastic bag) and stir or shake to combine.

Add your butter to a microwave-safe, liquid measuring cup. Melt the butter in the microwave, covered loosely. (Try 30 seconds at first, then more as needed.)

Stir your olive oil into the melted butter in your cup.

Set up an assembly line from left to right with your scallops, butter mixture, bread crumb mixture, and foil-lined pans.

Dry your scallops again with paper towels, so you don't end up with a soggy result.

Place four scallops at a time into your butter mixture. Use a fork to turn them to coat all sides.

Transfer the scallops to your bread crumb mixture. Coat the scallops with the bread crumbs and use a different fork to transfer them to your pan. Continue breading your scallops until you've filled both pans.

Sprinkle paprika on the breaded scallops. Pour any extra butter mixture over the scallops.

Broil the scallops on the top rack (one pan at a time) for two minutes on the first side, or until browned.

Use a small metal spatula or spoon to flip over the scallops. Broil on the second side for another 90 seconds or two minutes, until browned but not burned. (Watch them carefully.)

Proceed to broil your second pan of scallops the same way. The scallops should be white and tender on the inside when cooked.

Squeeze lemon juice on the scallops before serving.
Notes
Adapted from my Mom, who uses unsalted butter and doesn't measure anything.
Nutrition
Calories:
502
kcal
|
Carbohydrates:
22
g
|
Protein:
34
g
|
Fat:
30
g
|
Saturated Fat:
11
g
|
Cholesterol:
94
mg
|
Sodium:
1295
mg
|
Potassium:
515
mg
|
Sugar:
1
g
|
Vitamin A:
420
IU
|
Calcium:
173
mg
|
Iron:
2
mg