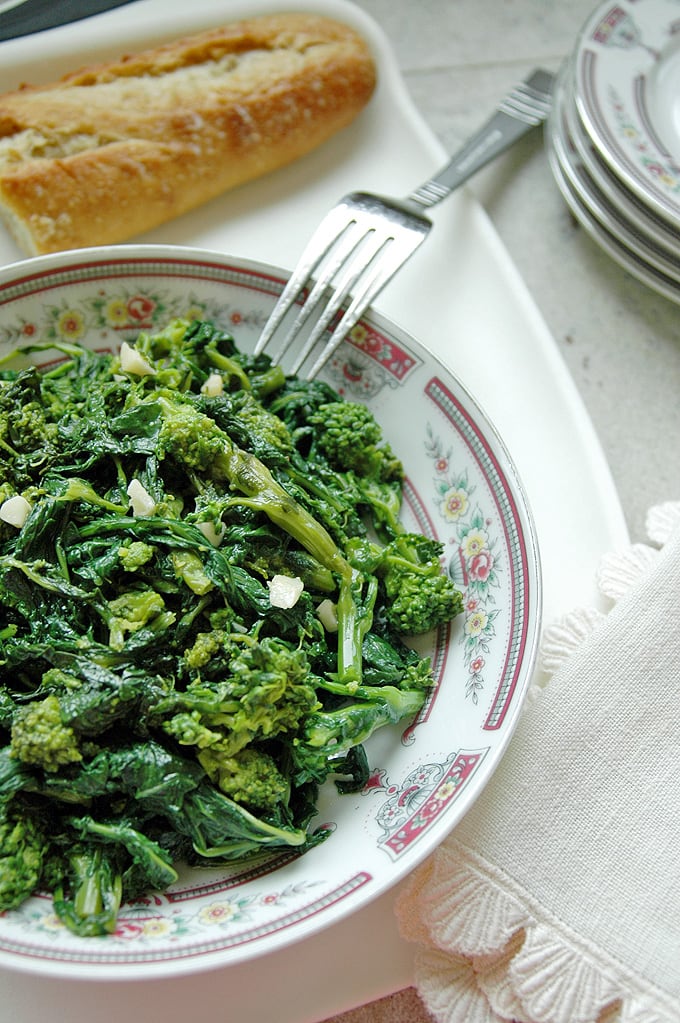 For someone who wouldn't eat rapini as a kid, I sure love it now. All I need for a perfect lunch is a hunk of bread and a mound of slightly bitter rapini with garlic, sautéed in olive oil and accented with salt and red pepper flakes. Yes, indeed.
And, for someone who used to scratch my head at veganism, I'm sharing yet another vegan recipe. It turns out that several Italian vegetables my family has been eating for years are prepared without cheese, eggs, or other animal products. Who knew we were so hip?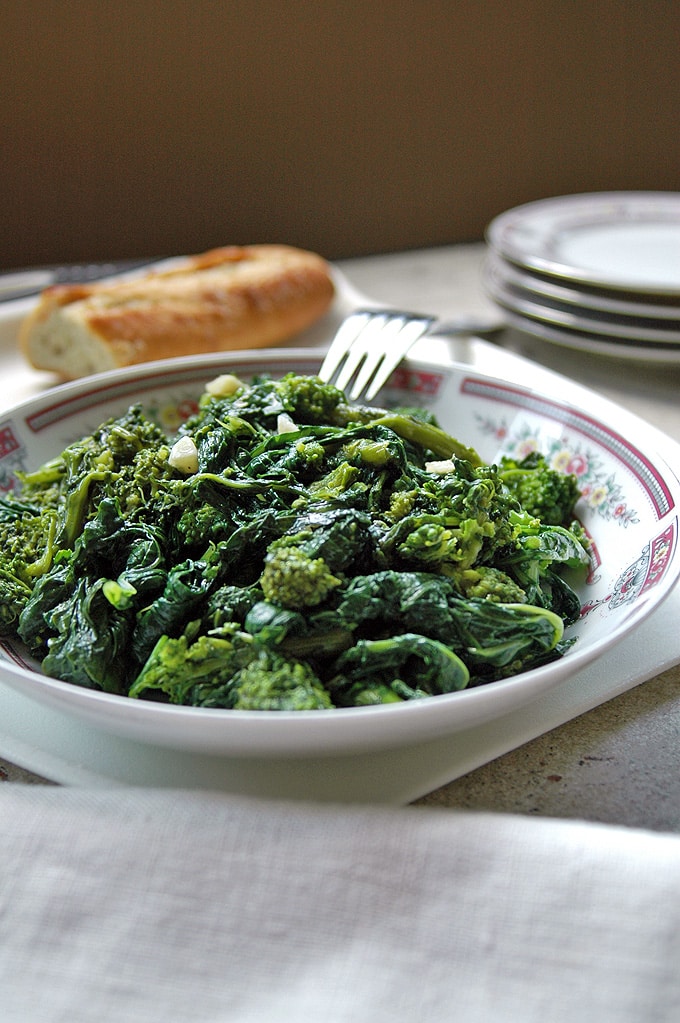 For anyone unfamiliar with rapini, it's sometimes called "broccoli rabe" (rah-bay). Although it resembles broccoli, it's actually closely related to the turnip. (Rapa is the Italian word for turnip.) Rapini is from the mustard family, which includes mustard and collard greens, cabbage, kale, caulifower, etc.
Rapini definitely has a bitter taste, but if you prepare it as they do in Naples, you can minimize that and turn it into one of your favorite greens. The secret to reducing bitterness is to briefly boil the rapini before sautéeing it. And by "briefly," I mean for just a minute. You'll wonder if it was worth the effort to wait for the water to boil, but trust me. And by "me," I mean Mom. (I've never prepared rapini with garlic any other way.)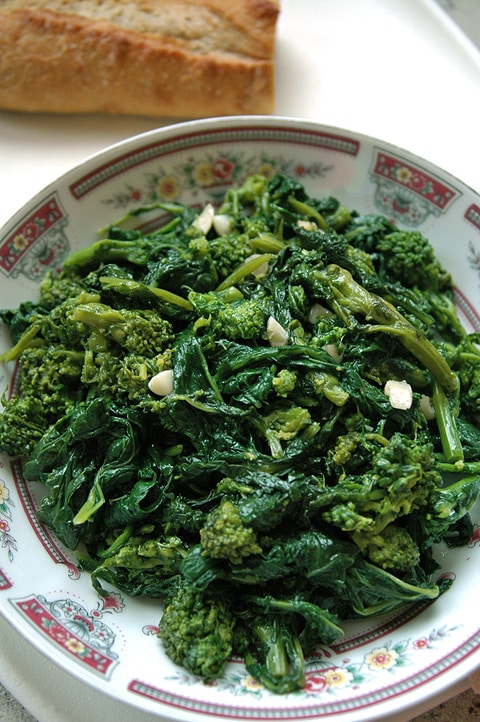 One last note, or maybe warning, about rapini. (If you're Italian, you probably know where I'm going with this.) It's a well-known fact that this vegetable…can give you un po' di gas. Just something to keep in mind when you're thinking about having more than a couple of servings.
Enjoy!
Recipe Source: Adapted from my Mom (and Nonna); I mainly reduced the olive oil by half.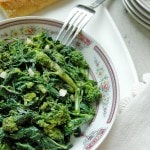 Rapini with Garlic
Keyword:
broccoli rabe, rapini, vegan
Ingredients
2

bunches rapini

3

cloves

garlic

1/4

cup

olive oil

salt

black pepper

2-4

dashes red pepper flakes
Instructions
Fill a large pot about 2/3 full with salted water, enough to cover the rapini when you add it later. Place the pot on the stove with high heat and cover it.

Cut off the bottom four inches of rapini stems. Rinse rapini well in cold water to remove any dirt in the leaves. Peel the garlic and slice it thinly, then set it aside.

When the water is boiling, add the rapini to the pot. Wait for the water to come to a boil again, and when it does, leave the rapini in for one minute longer. Drain the rapini and let it sit in the drainer in the sink.

Heat olive oil in a large skillet. Add the garlic and let it cook for a minute. Add the rapini, turning it to coat with olive oil. Add salt and black pepper to taste. Cook for 5 minutes or until done to your liking (stirring occasionally). Taste again for seasonings, and add red pepper flakes before serving.
Nutrition Facts
Rapini with Garlic
Amount Per Serving
Calories 98
Calories from Fat 81
% Daily Value*
Total Fat 9g 14%
Sodium 25mg 1%
Potassium 153mg 4%
Total Carbohydrates 2g 1%
Protein 2g 4%
* Percent Daily Values are based on a 2000 calorie diet.