Enjoy this Escarole with Raisins and Pine Nuts from Naples! It's a vegan, sweet-and-savory dish we have on Christmas Eve and whenever we want a festive side dish. It's so delicious, even children love it!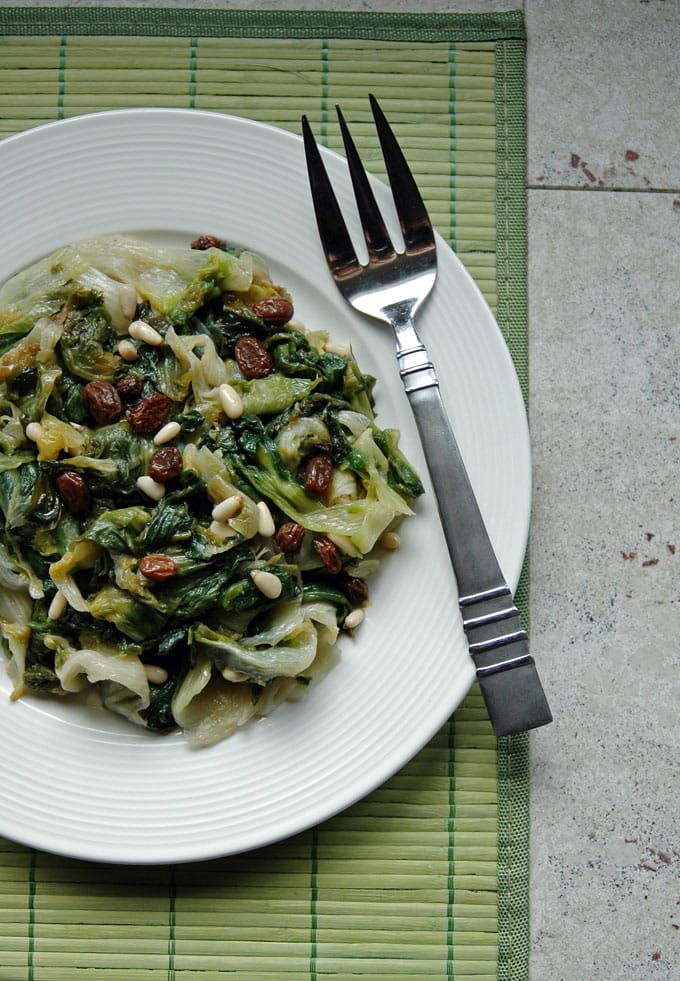 Have you ever tried escarole?
Escarole, or scarola in Italian, comes from the endive family and looks like green lettuce. The outer leaves are dark green, while the inner ones are more pale. The vegetable is loaded with fiber, antioxidants and vitamins A and K.
We eat this escarole with raisins and pine nuts on Christmas Eve, as is traditional in Naples, and it's always been one of my favorite dishes. It's sweet and savory, and I've learned, healthy and vegan.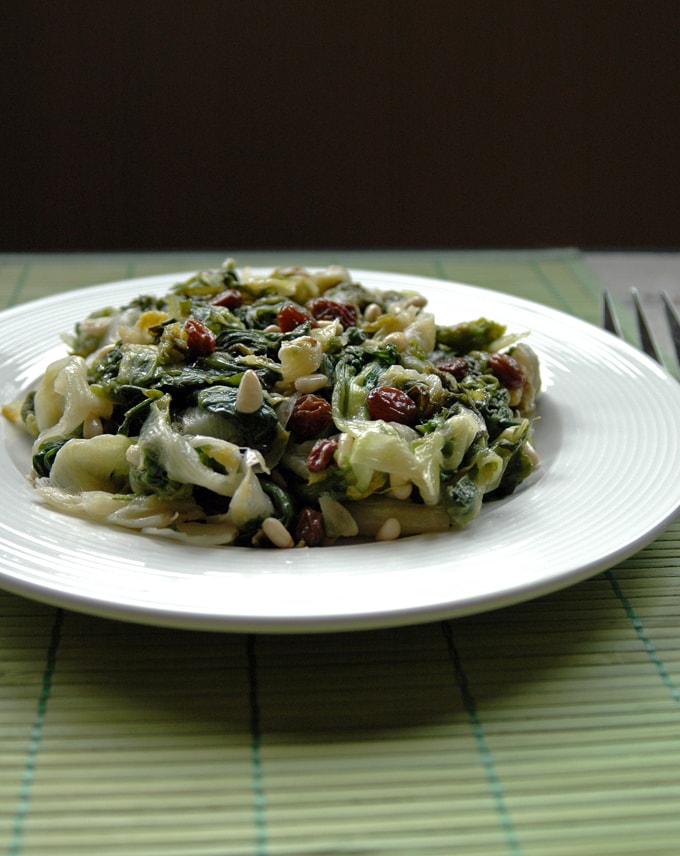 Like this rapini with garlic, the escarole here is briefly boiled to reduce bitterness, then sautéed in olive oil with garlic. Plumped raisins and crunchy pine nuts get tossed in midway, adding incredible flavor and texture.
It's a feast for the senses, with gorgeous green colors and an appetizing aroma.
With its sophisticated flavor profile, this escarole with raisins and pine nuts is an impressive dish to serve to company. Yet children will go for it too because of the sweetness from the raisins. (My kids have always loved this scarola, just like me.)
This really is a special dish. I hope you give it a try!
Enjoy.
P.S. You also have to try this Tuscan Bean Soup with Escarole and Potatoes!
(Recipe Source: My Mom, who learned this method from my Nonna)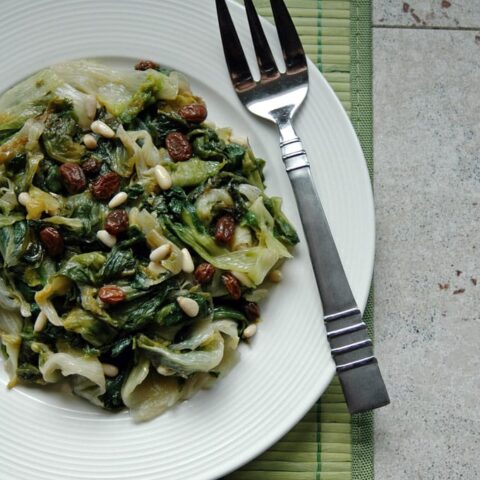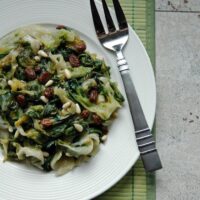 Ingredients
2

1-pound bunches of escarole

¼

cup

olive oil

2

cloves

garlic

1

small box raisins

(1.5 ounces)

3

tablespoons

pine nuts

salt to taste

pepper to taste
Instructions
Place your raisins in a small bowl of water to plump. Fill a pot about ⅔ full with salted water, enough to cover the escarole when you add it later. Put the pot on the stove over high heat to boil. Fill your sink about halfway with cold water.

Cut off the root end of the escarole. With the bunch horizontally in front of you, hold the leaves closed and slice the escarole into three equal sections (or two, if the bunch is small). Place the escarole leaves in the water-filled sink and swirl them around to remove the dirt.

When the water on the stove is boiling, add the cleaned escarole to the pot. When the water returns to boiling, let the escarole cook for one more minute.

Drain the escarole well in a colander in the sink. While the escarole is draining, peel and slice your garlic. Drain the raisins. After a few minutes, use paper towels or a non-shedding kitchen towel to squeeze out the liquid from the escarole (be careful of the heat.)

Heat the olive oil in a 12-inch skillet. Add the garlic, and when it becomes fragrant, add the escarole to the pan, tossing to mix. Add salt and pepper to taste. Sautée the greens for about three minutes, then add the raisins and pine nuts, stirring to combine. Sautée for another three minutes, or to your liking. Taste again for seasonings.

Either serve immediately or let the escarole come to room temperature first. Refrigerate the leftovers for up to five days. Leftovers should be served just slightly heated in the microwave.
Nutrition
Calories:
121
kcal
|
Carbohydrates:
8
g
|
Protein:
2
g
|
Fat:
9
g
|
Saturated Fat:
1
g
|
Sodium:
26
mg
|
Potassium:
422
mg
|
Fiber:
4
g
|
Vitamin A:
2455
IU
|
Vitamin C:
7.9
mg
|
Calcium:
62
mg
|
Iron:
1.3
mg