You'll love these sautéed Italian Green Beans with Tomatoes and Garlic! This is our family recipe from Naples. It's a delicious side dish that's vegan, low carb and gluten free!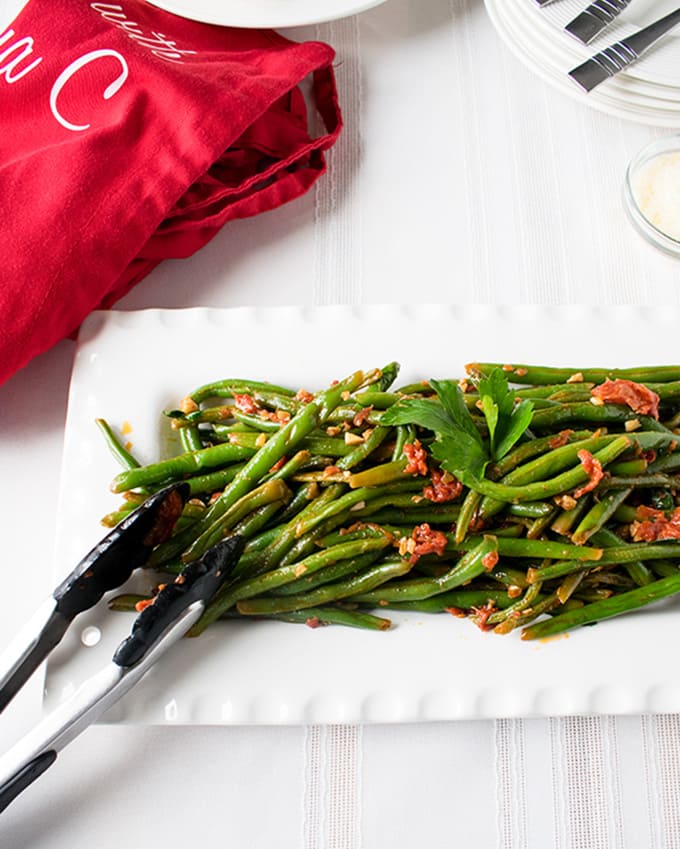 This family recipe from Naples is finally getting its time in the limelight! And deservedly so.
We absolutely love these Italian green beans with tomatoes and garlic. They're prepared similarly to these Italian Mushrooms with Tomatoes, another favorite from Naples.
Usually, though, this green bean side dish is one of many platters on Mom's table. So, we take a few green beans at most, to try to fit in the rest of the meal.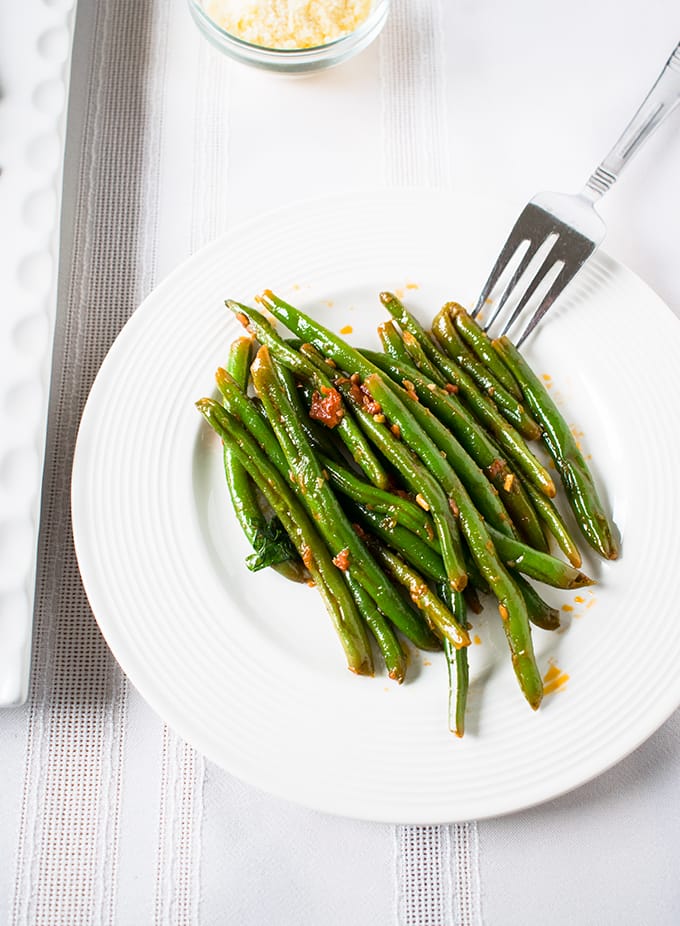 But the next day, when we dive into the Styrofoam takeout boxes of leftovers (Mom never lets us leave empty-handed), it's a different story. We can afford to zero in on one, two or three items and take generous portions.
In my case, I'll make a lunch out of just the Italian green beans. With a side of crusty bread, of course.
Think tender (but not mushy) green beans bathed in olive oil and dotted with garlic and peeled tomatoes. Fresh parsley mixed throughout provides a nice accent.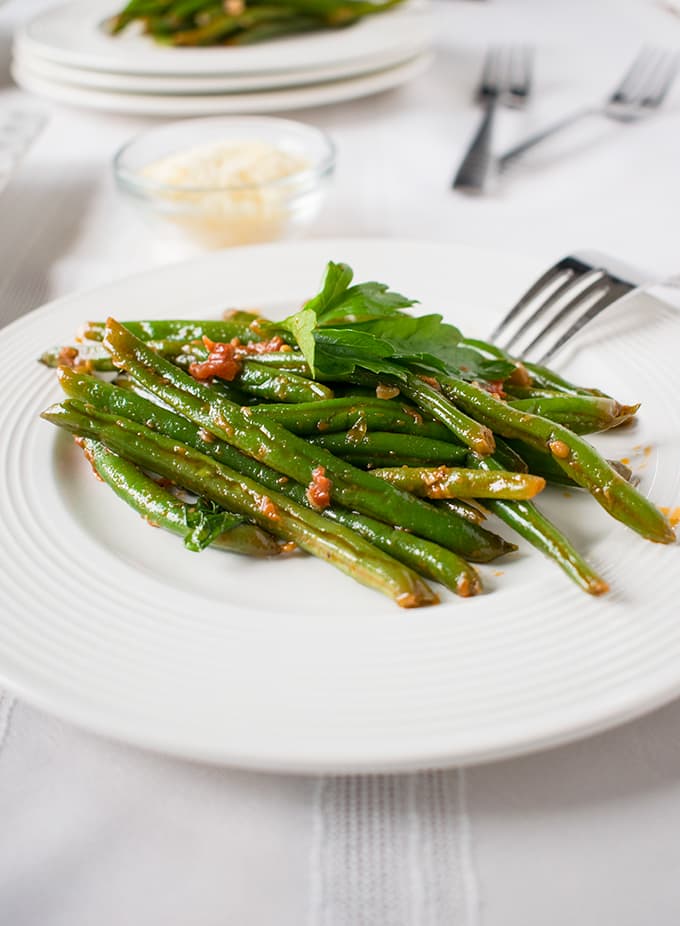 I prefer using canned tomatoes here, but Mom often uses fresh ones. The canned ones will dull the veggies' green color a bit (thanks to the citric acid), but will result in more of a tomato-sauce effect, which.is.everything.
You can use some of the tomatoes from a 28-ounce can of whole, peeled tomatoes for these green beans, and use the rest to make Skillet Cod with Tomatoes. It's the best combination!
This is a gluten-free and vegan side dish. But, if crusty bread isn't a problem, you'll want to have some on hand for dipping into that heavenly, saucy oil.
And don't tell Mom, but I sometimes sprinkle on some Parmesan for a nice flavor kick. If dairy isn't an issue, you should try it! I swear, these Italian green beans with tomatoes are almost as satisfying as a dish of pasta.
Enjoy!
P.S. If you love green beans, check out these Skillet Green Beans with Bread Crumbs and this Italian Potato Salad with Green Beans. And don't miss these other Italian Side Dishes (Contorni)!
(Recipe Source: This is a family recipe adapted from my Mom, who doesn't measure anything. Mom probably uses a little more olive oil and uses four tomatoes instead of five.)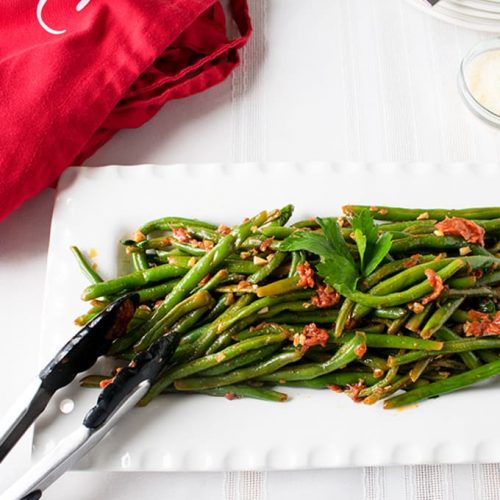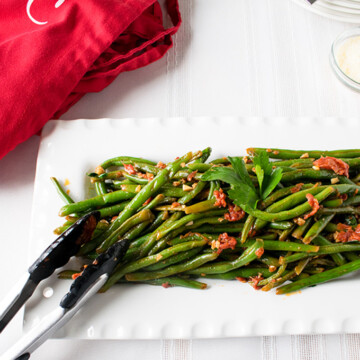 Ingredients
2

12-ounce bags fresh, trimmed green beans

4

cloves

garlic

¼

cup

+ 1 tablespoon olive oil

⅜

teaspoon

salt

(or to taste)

¼

teaspoon

black pepper

5

whole peeled tomatoes from a 28-ounce can

(drained; canned are preferred, but you can use 5 peeled, fresh Roma tomatoes instead)

3

tablespoons

fresh parsley

(flat or curly)

Grated Parmesan for serving

(optional)
Instructions
Cook your green beans, following the instructions on the bag. (You can either microwave them or boil them.) If boiling them, boil the green beans for 10 minutes, or until almost cooked to your liking. Drain.

While your green beans are cooking, peel your garlic and finely chop it.

Heat the oil in a large skillet. Add the garlic and let it cook for a minute or two. Then add your green beans, salt and pepper. Stir to combine.

Let your green beans sauté while you prepare your tomatoes. Use a slotted spoon to remove five peeled tomatoes from the can and add them to a small bowl. (Save the rest for another use.) Break up the tomatoes with a spoon. Drain the extra liquid and discard most of the seeds.

Push aside your green beans in the pan, making room in the center. Add your tomato pieces to the center of the pan. Let them cook down a bit before stirring them into your green beans.

Continue cooking the green beans until they are tender but not mushy. They should be able to bend easily. They should not be crunchy (unless you prefer them that way). The amount of time needed will depend on your stove.

While the green beans are cooking, rinse your parsley, discard the stems, and cut it up with scissors (or chop it).

When the green beans are cooked to your liking, turn off the heat. Stir in your parsley.

Serve the green beans at room temperature. If desired, you can serve it with grated Parmesan at the table. It's great with bread to dip in the oil from the pan.

Store leftovers in the refrigerator for up to five days.
Notes
Canned tomatoes will provide more of a sauce effect than fresh tomatoes. I prefer the canned tomatoes here for that reason. Mom uses either method, but finds the green beans retain their color better when using fresh tomatoes. The citric acid in the canned tomatoes will make the green beans more yellow.
Make sure you drain any juice from your tomatoes before adding them to the pan.
Nutrition
Calories:
147
kcal
|
Carbohydrates:
10
g
|
Protein:
2
g
|
Fat:
11
g
|
Saturated Fat:
1
g
|
Sodium:
156
mg
|
Potassium:
380
mg
|
Fiber:
3
g
|
Sugar:
5
g
|
Vitamin A:
1380
IU
|
Vitamin C:
24.2
mg
|
Calcium:
54
mg
|
Iron:
1.5
mg