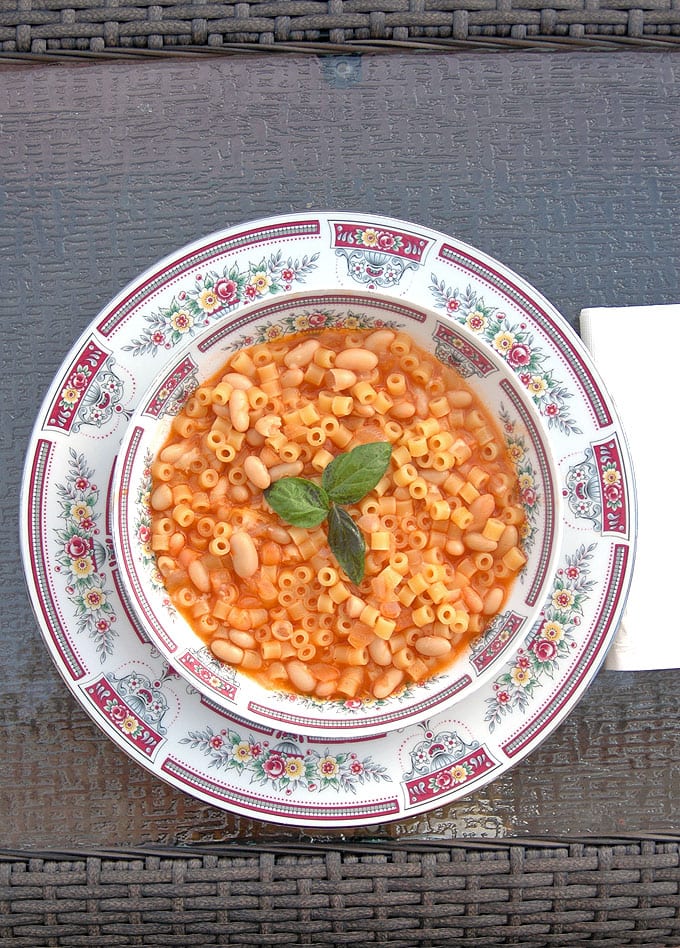 Surprise! I have another pasta recipe for you. Truth be told, I could have an entire blog dedicated to pasta.
I crave pasta nearly every day and have to eat it at least three times a week. (Are you like that with certain foods?) And, there are times when only a comforting bowl of pasta e fagioli will do.
If you've never had it, pasta e fagioli is a meatless, one-pot meal that's a cross between soup and a pasta dish. Made in 30 minutes with cannellini beans (or great northern), garlic, onions, and Parmesan in a tomato broth, it's very similar to this Pasta e Zucchini. There are many variations of pasta e fagioli out there, but mine is based on how it's prepared in Naples, where Mom is from.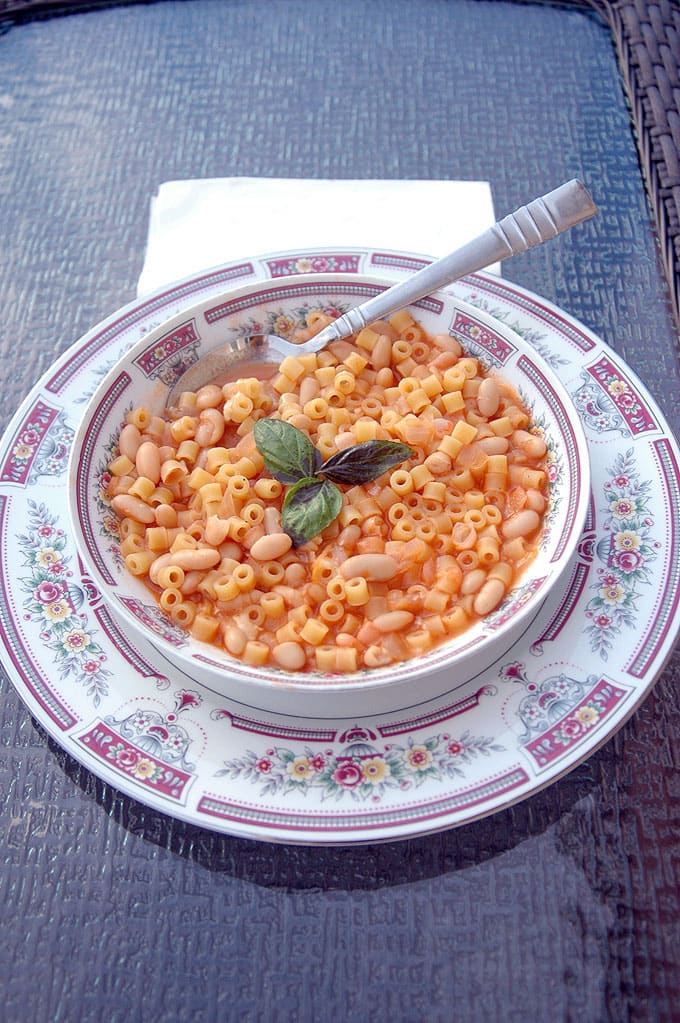 For years, I made this with a fresh tomato, but recently found that I prefer using two tablespoons of tomato paste instead. It really gives the broth a nice tomato flavor, and thickens it as well. (I've been storing extra tomato paste in the freezer by wrapping a couple spoonfuls at a time in plastic wrap, and then placing those little packets in a freezer bag, so they're ready to go whenever I need a small amount.)
I could eat this meal any time of year, but with the weather turning chilly, it's such a treat to have pasta e fagioli to warm our insides. I hope you'll consider making this, especially after a long day. With minimal effort, you can be sitting down to a delicious bowl of comfort in 30 minutes. Because sometimes, you just need a bowl of pasta e fagioli.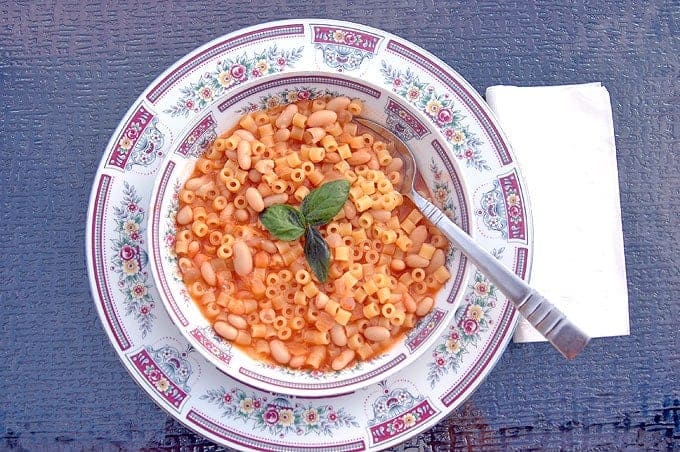 (Recipe Source: Adapted from my Mom's recipe, which came from my Nonna)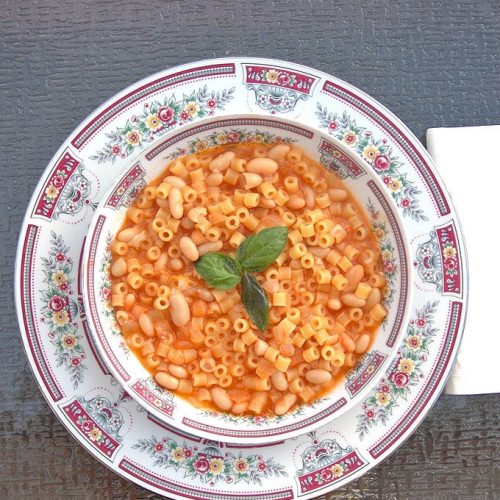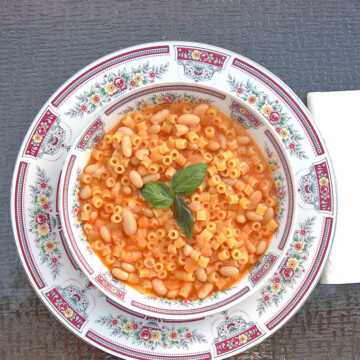 Ingredients
1

medium onion

(peeled & finely chopped)

2

tablespoons

olive oil

2

tablespoons

tomato paste

6-8

fresh basil leaves

(finely chopped)

1

tablespoon

fresh parsley

(finely chopped; optional)

3

cloves

garlic

(peeled & pressed)

15

ounce

can cannellini or great northern beans

(drained & rinsed)

5

cups

hot water

1 ⅓

teaspoons

salt

½

teaspoon

black pepper

1

pound

ditalini pasta

(or other small pasta)

⅓

cup

freshly grated Parmesan cheese

red pepper flakes to taste

extra Parmesan to serve
Instructions
Peel and chop the onion. Heat olive oil in a pasta pot on medium high. Add the onions and tomato paste and stir to combine. Cook until onions are tender, about six minutes.

While the onions are cooking, rinse, dry and chop the herbs, stirring them into the pot when they are ready. Peel and press the garlic. Drain and rinse the beans. When the onions have another minute to cook, stir in the garlic, beans, salt and pepper.

After a minute, add water to the pot, cover it, and put the heat on high. When the pot is boiling, add the pasta.

Cook the pasta uncovered, stirring occasionally, until it is al dente. (Check it three minutes before the al dente time listed on the package.) Do NOT drain.

Turn off the heat and stir in the Parmesan. Taste for seasonings and add a few dashes of red pepper flakes as needed.

Serve immediately with extra cheese at the table. The pasta will absorb the broth quickly. Store leftovers in the refrigerator for up to 4 days. To heat leftovers, add a bit of hot water to each serving before warming it up in the microwave.
Notes
You can freeze unused tomato paste in little portions by wrapping a couple tablespoons of it in plastic wrap. Then, place those packets in a freezer bag and freeze.
Nutrition
Calories:
441
kcal
|
Carbohydrates:
75
g
|
Protein:
17
g
|
Fat:
7
g
|
Saturated Fat:
1
g
|
Cholesterol:
4
mg
|
Sodium:
663
mg
|
Potassium:
584
mg
|
Fiber:
6
g
|
Sugar:
3
g
|
Vitamin A:
205
IU
|
Vitamin C:
3.9
mg
|
Calcium:
144
mg
|
Iron:
3.4
mg