You can make this Baked Pesto Salmon Recipe in 25 minutes! It's so easy and fabulous enough for company. Plus, it's low carb and keto friendly!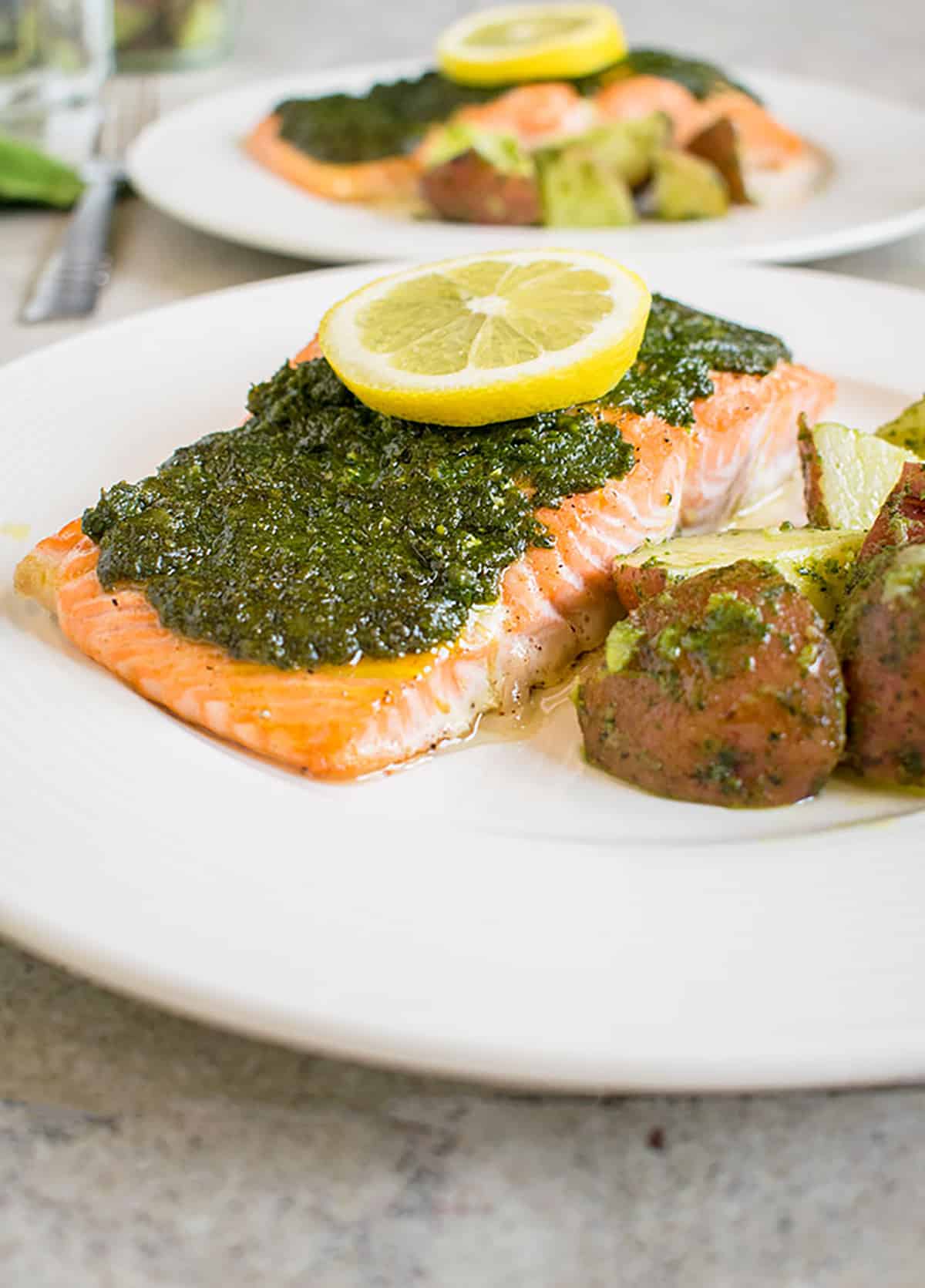 Leave it to Costco to inspire me to make pesto salmon.
After purchasing salmon Milano there several times, I began thinking how good fish would taste with Mom's Pesto with Pecorino Romano.
Because nobody's basil pesto tastes better than Mom's. If you haven't tried her recipe yet, you'd best get moving on that!
Now, let's get to the details of this Baked Pesto Salmon Recipe.
Recipe ingredients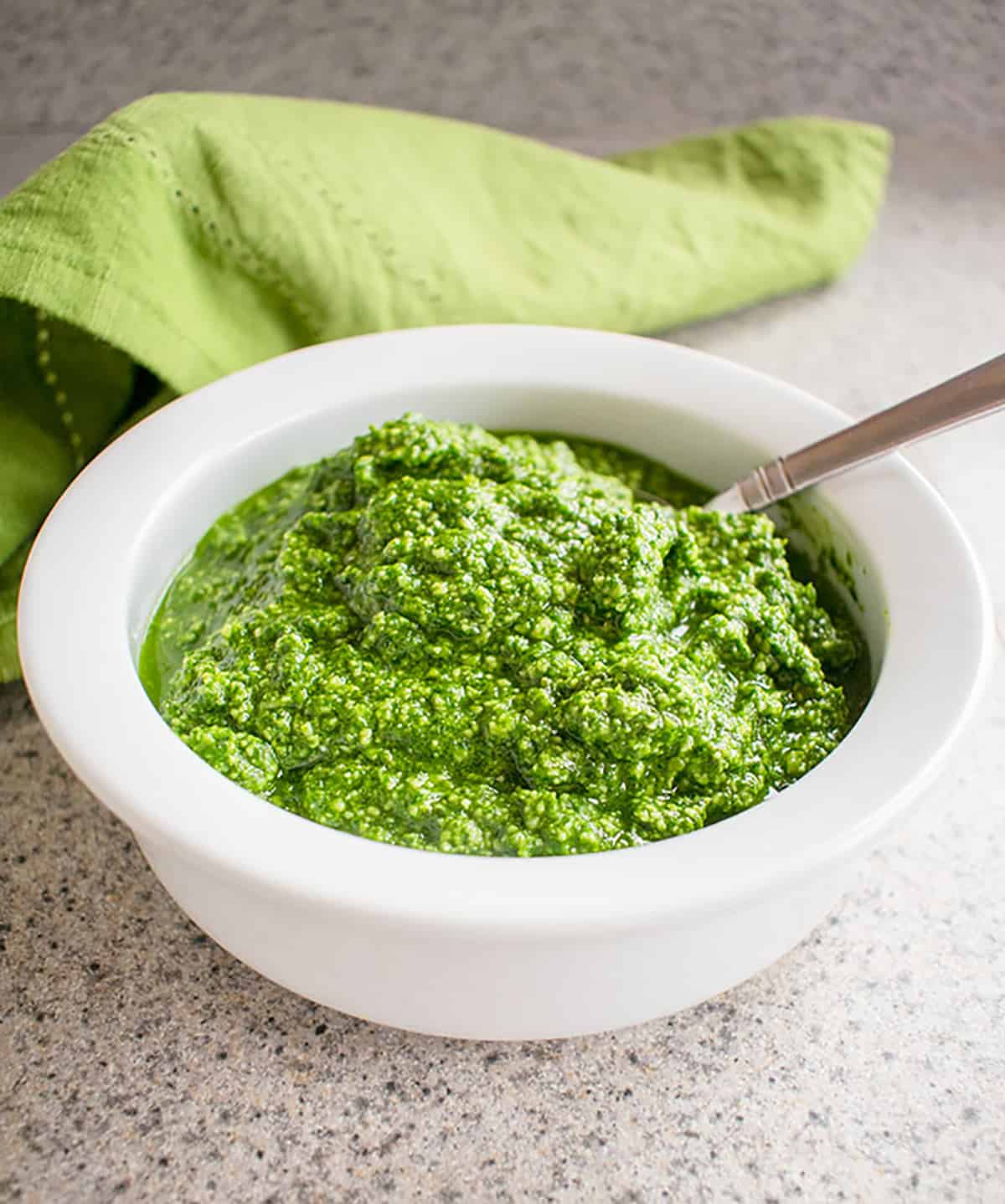 You just need four ingredients to make pesto-encrusted salmon:
Salmon
Pesto - A delicious, basil pesto works best, but you could even make this with Easy Spinach-Walnut Pesto.
Cooking spray (Is that even an ingredient? Ha!)
Black pepper
You can add a slice of lemon for garnish, but it's not needed for flavor. You don't want to overpower the pesto.
How to make pesto salmon
See the recipe card at the bottom for full instructions, but here's an overview.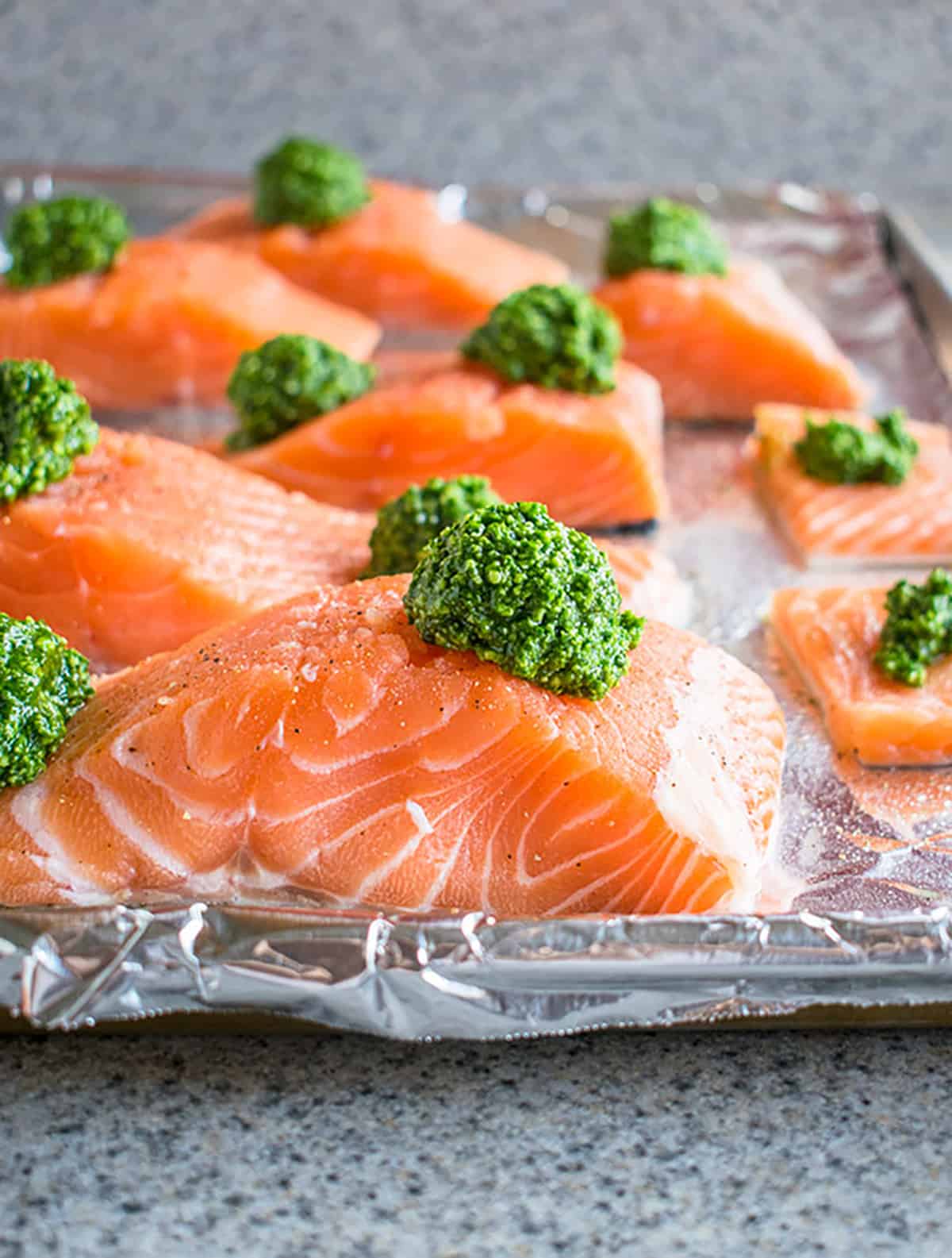 Line a sheet pan with foil and grease it with cooking spray. Place the salmon in the pan, with the skin side down.
Spray the salmon with a little oil, then sprinkle on some black pepper.
Dollop two tablespoons of pesto onto each piece of salmon. I use my tablespoon scoop (affiliate link) to make it easier.
Bake the salmon at 400 degrees F.
Spread the pesto onto the baked salmon.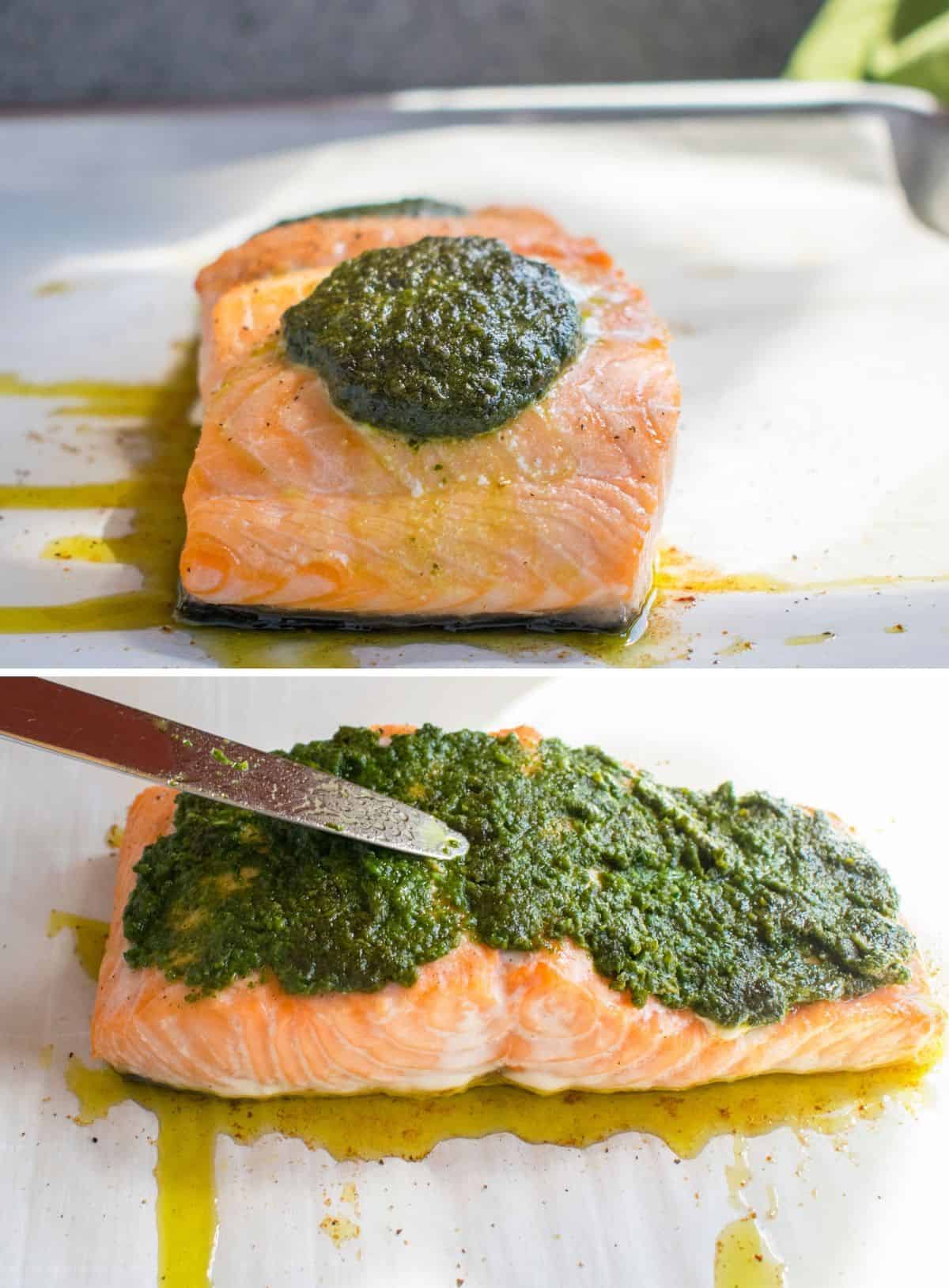 Recipe tips
If the ends of the salmon pieces are very thin compared to the rest, you can fold them underneath before baking. Or, trim off the thin sections and bake them five minutes less than the thicker pieces.
Don't spread the pesto on the salmon until after it's baked. This will give your salmon a vibrantly green pesto crust.
Frequently asked questions
How long should you bake salmon at 400 degrees?
Bake the salmon for 20 minutes, or until it flakes easily with a fork. Bake any thinner pieces for five minutes less than the thicker ones.
Do you bake salmon with the skin on or off?
You can bake salmon with the skin on or off. If it has skin, bake it skin-side down. After it's cooked, slide a metal spatula between the skin and the flesh of the fish, and the skin will come right off.
Can you reheat cooked salmon in the microwave?
Absolutely! Loosely cover the salmon with wax paper and reheat just until it's warm enough.
Can you freeze it?
Yes! Place pieces of cooked pesto salmon in a single layer in a freezer bag. Lay the bag flat in your freezer. Reheat in the microwave.
What to serve with pesto salmon
I love to serve this salmon with boiled redskin potatoes...with a little pesto, butter, salt and pepper stirred in. Yum!
Add The Best Italian Green Salad with Homemade Dressing, and you've got a fabulous meal.
Basic Risotto or this Baked Vegetable Risotto also would make lovely side dishes. So would Steamed Asparagus with Tarragon Butter.
Or...wait for it...you can serve this pesto salmon over pasta! Farfalle (butterfly-shaped pasta) would work well.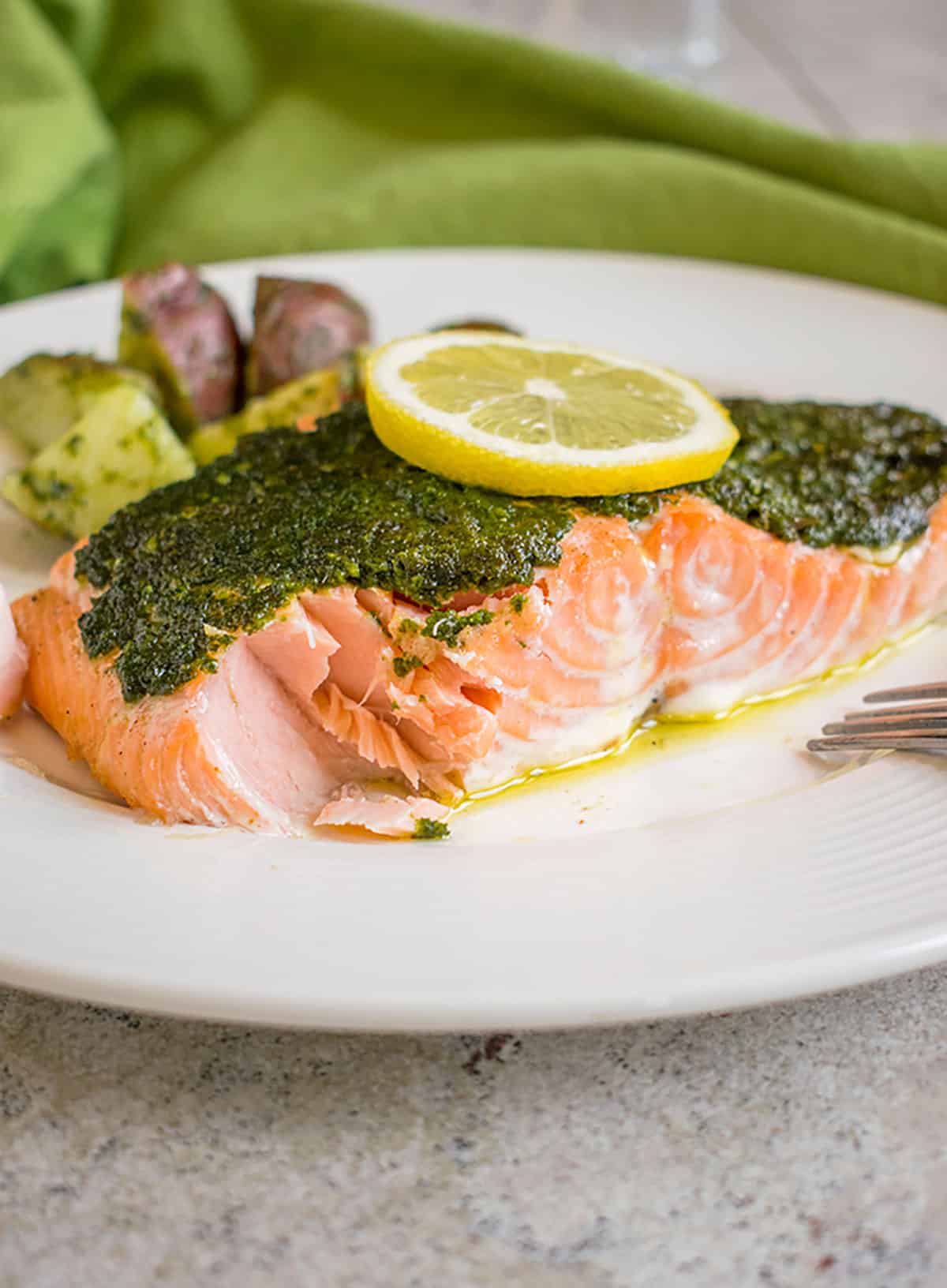 Friends, this Baked Pesto Salmon is impressive, company worthy -- and most importantly -- approved by Mom! She absolutely loved it, despite the unwritten Italian rule of "no cheese with fish."
See? Food can be untraditional and delicious!
I hope you love this as much as my family does.
More salmon recipes
They're all great recipes for Lent.
Enjoy!
If you try this Baked Pesto Salmon Recipe, be sure to leave a comment and rating!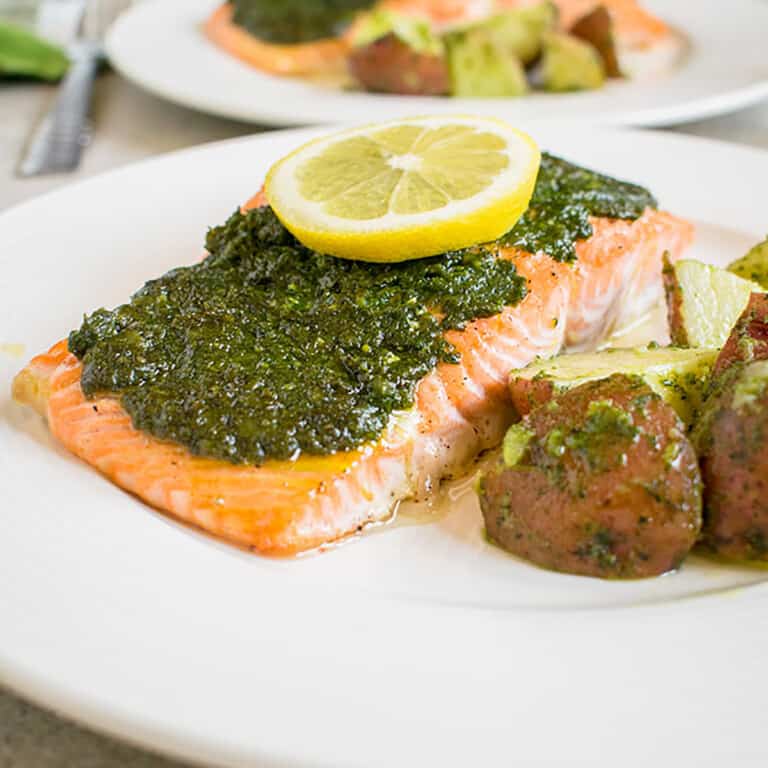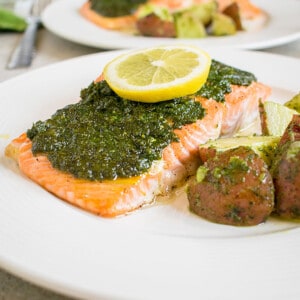 Ingredients
2

pounds

salmon

½

cup

Mom's pesto

(see notes)

cooking spray

black pepper

lemon slices for garnish

optional
Instructions
Preheat your oven to 400 degrees F. Line a half-sheet pan with foil or parchment paper for easy cleanup.

Rinse the salmon and feel for any bones to remove. Pat the fish dry with paper towels. If there are any parts of the salmon that are very thin compared to the rest, use kitchen scissors or a knife to trim them off so you can bake the thin pieces for less time than the rest.

Place the salmon on your lined pan. Spray the salmon with cooking spray and sprinkle on black pepper.

Scoop a tablespoon of pesto onto a large piece of salmon, a couple inches from one end. Scoop another tablespoon of pesto onto the salmon, near the opposite end. (For best results, do not spread the pesto until after the fish is baked. See notes.) Continue placing two tablespoons of pesto onto each large piece of salmon. For any small thin, pieces, you'll probably just need one tablespoon of pesto.

Bake your thick pieces of salmon for 20 minutes, or until it can be flaked with a fork. If you have any thin pieces, bake them for five minutes less.

After the salmon is baked, use a knife or the back of a spoon to spread the pesto across each piece. If your salmon has skin on the bottom, use a metal spatula to gently lift the cooked salmon off the skin before serving your fish. Garnish each piece of salmon with a slice of lemon, if desired.

Store leftovers in the refrigerator for up to three days or freeze in a single layer in a freezer bag. Reheat leftovers in the microwave.
Notes
The prep time doesn't include making the pesto. If you're making Mom's Pesto with Pecorino Romano, you'll need another 25 minutes. You also could make this with Spinach-Walnut Pesto.
Bake your salmon topped with dollops of pesto and then spread the pesto across the fish afterward, to ensure your pesto has a more vibrant color.
Nutrition
Calories:
442
kcal
|
Carbohydrates:
2
g
|
Protein:
46
g
|
Fat:
25
g
|
Saturated Fat:
4
g
|
Cholesterol:
127
mg
|
Sodium:
389
mg
|
Potassium:
1111
mg
|
Vitamin A:
715
IU
|
Calcium:
77
mg
|
Iron:
2
mg
(Recipe Source: Cooking with Mamma C. Originally published on July 19, 2018 and updated now with additional information.)