You'll love these Pesto Deviled Eggs with lemon zest! Make these appetizers for holidays, brunch or even low-carb meal prep!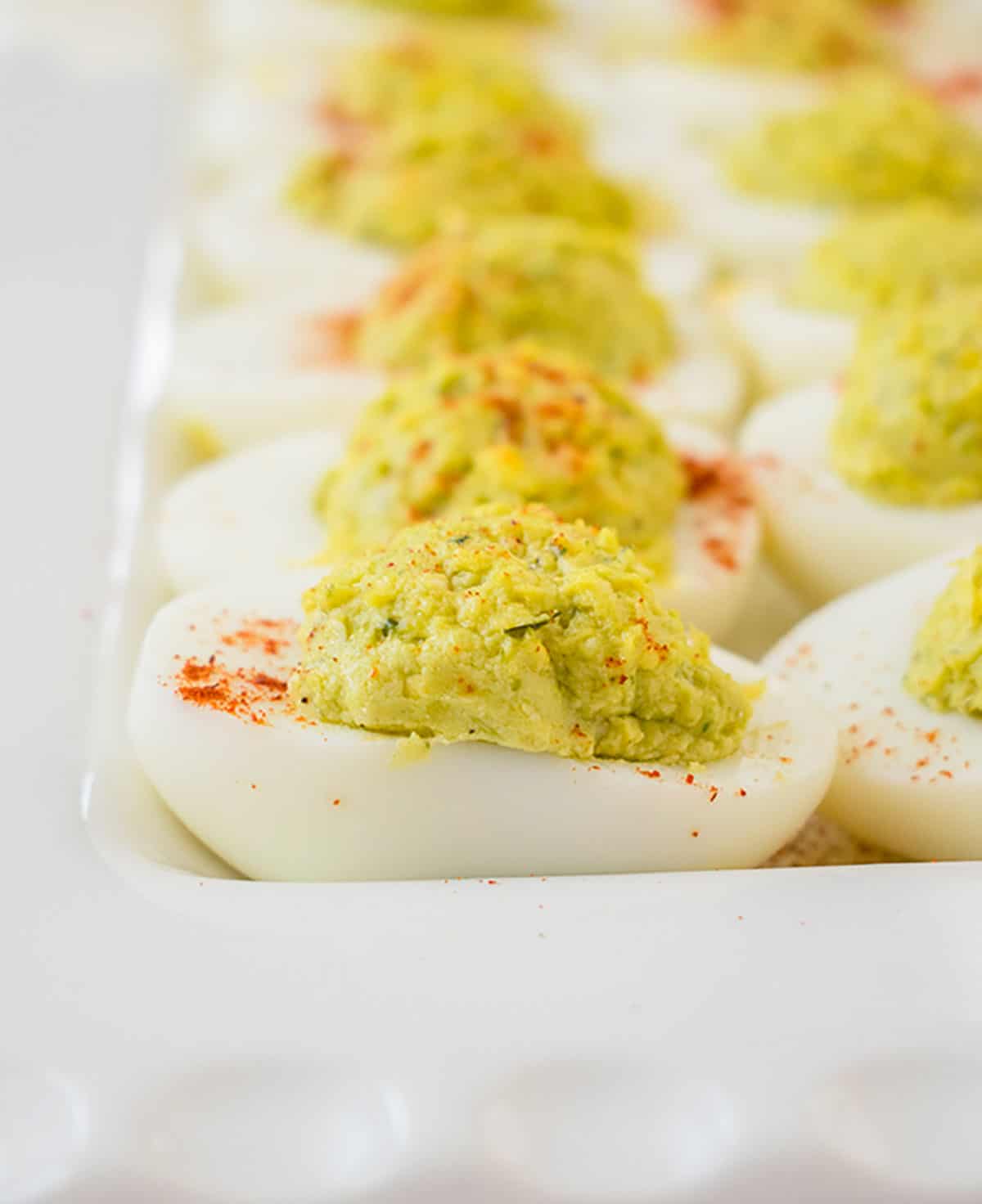 Are you ready for some Italian green eggs to go with your ham?
I'm talking basil pesto deviled eggs with fresh lemon zest, creamy mayo, a shot of white balsamic vinegar (affiliate link) and paprika sprinkled on top. Now do I have your attention?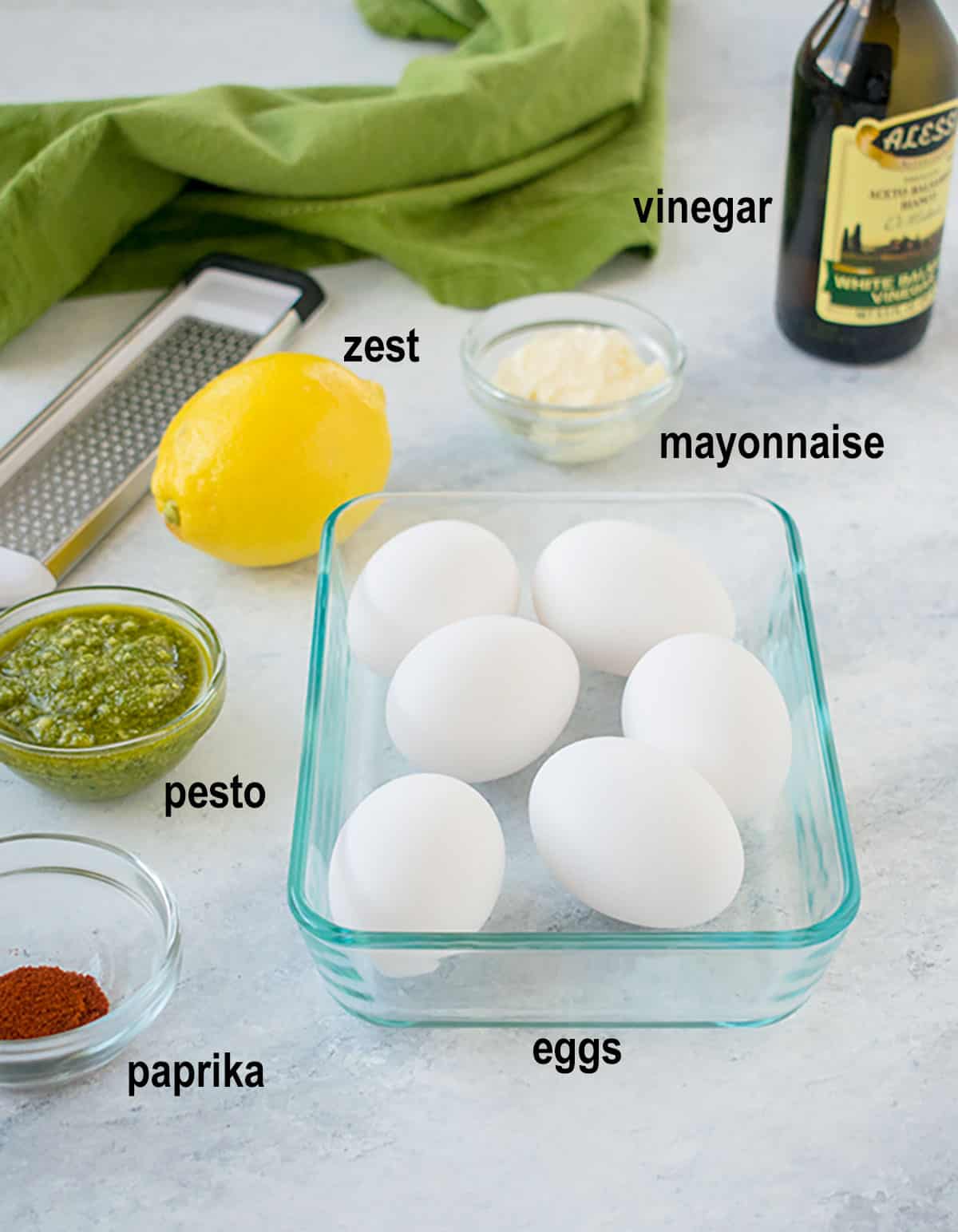 Good. Because these cuties deserve a spot on your menu for St. Patrick's Day, Easter, brunch, cocktails or even low-carb meal prep.
My guys devoured them, after I subjected them to three versions. It's good to live in a food blogger's household.
Making pesto deviled eggs popped into my head one day, surely by divine inspiration. I thought I was inventing something new, but it turns out they're already a thing.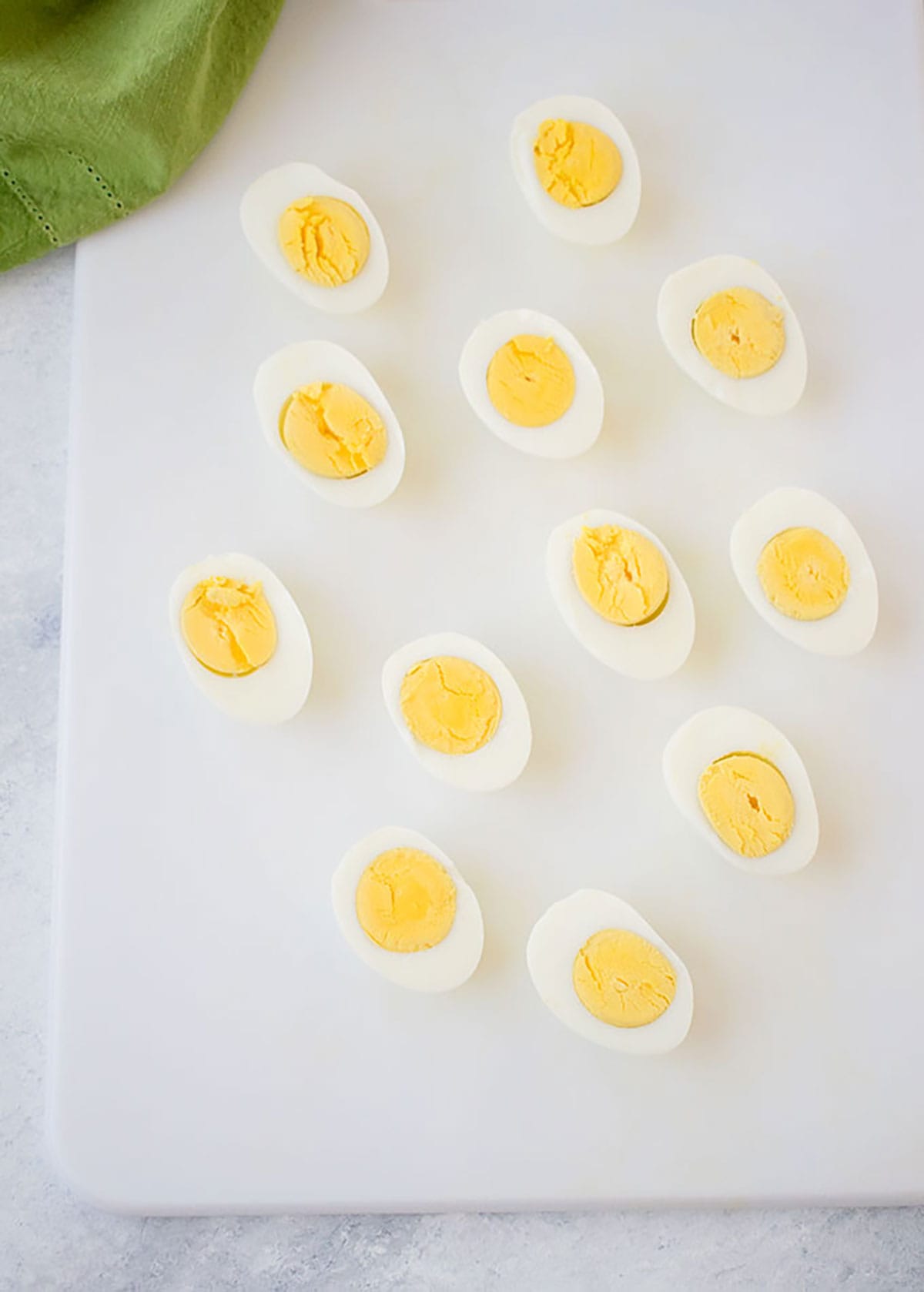 But, my vision was different. I wanted lemon zest to play an important role in this recipe.
That vision turned out to be spot on. The lemon zest makes these Italian deviled eggs.
If you've never tried the lemon-basil combo, your taste buds are in for a treat! I've used this pairing in my Homemade Basil-Garlic Mayonnaise and these Keto Stuffed Mushrooms with Cream Cheese.
And, can we talk about pesto for a moment?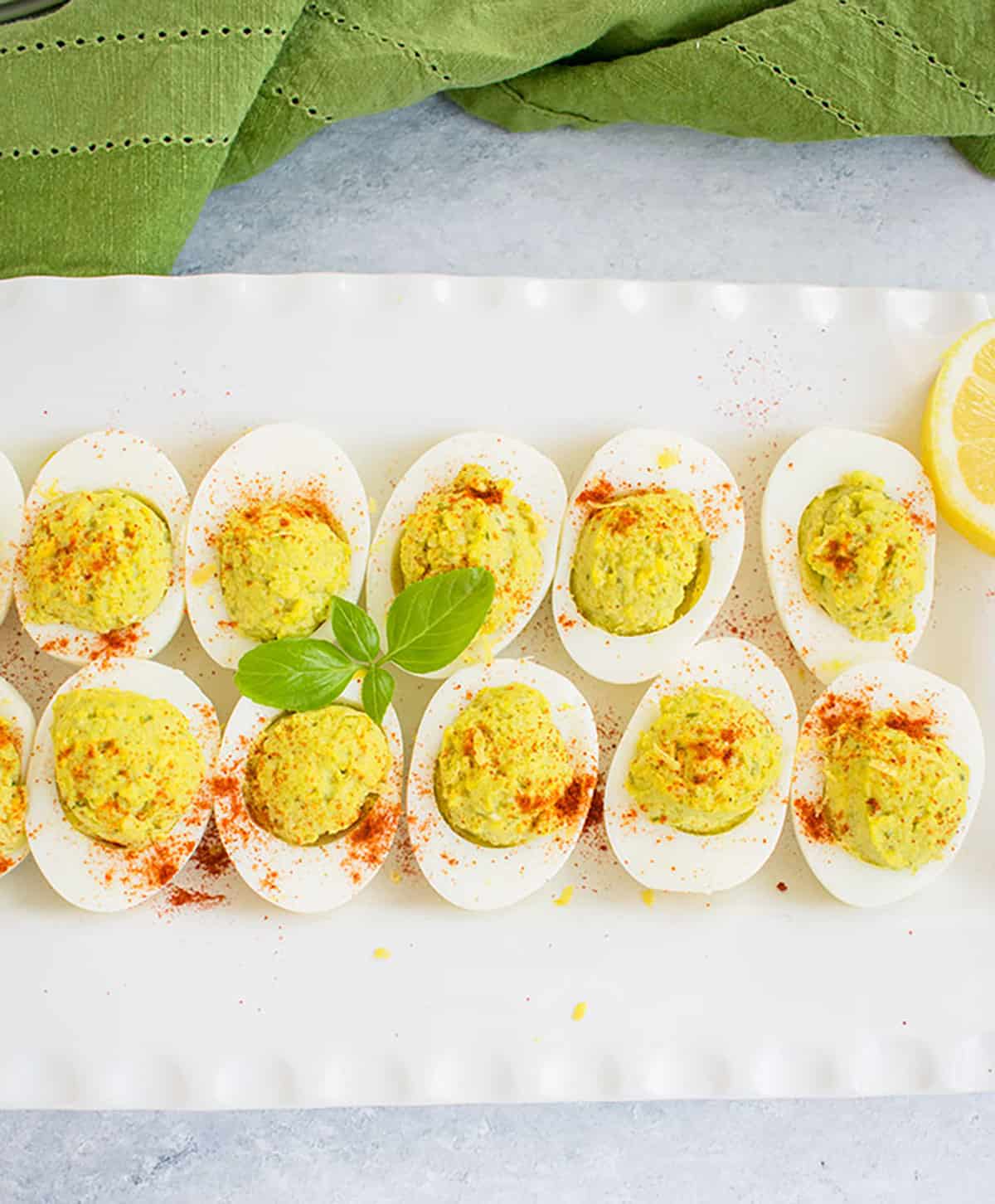 I highly recommend using Mom's Pesto with Pecorino Romano, whenever possible. Nothing I've ever tasted compares. I love it with Pesto Salmon and Baked Pesto Chicken Breasts.
My basil plant was looking sparse though, so for the first time in my life, I bought jarred pesto. Not. The. Same.
But, this green deviled eggs recipe is so good, I made up for it.

Tips for making pesto deviled eggs:
Use the best pesto you can. You only need ¼ cup for half a dozen eggs, so even a small batch of homemade pesto will work.
If you own an Instant Pot (affiliate link), use it to make fabulous hard-boiled eggs in about 15 minutes, start to finish. I've included Instant Pot and stove-top directions for hard-boiling eggs in the recipe card.
Use a small scoop (affiliate link) to add your filling to the cooked egg whites. The pesto mixture is too thick for piping. If you don't have a scoop, just use two spoons.
That's all you need to know, folks. Get crackin'!
Enjoy!
P.S. If you love deviled eggs, you have to try my Deviled Egg Potato Salad! And don't miss this Easy Spinach-Walnut Pesto or these 63 Italian Appetizers!
(Recipe Source: Cooking with Mamma C)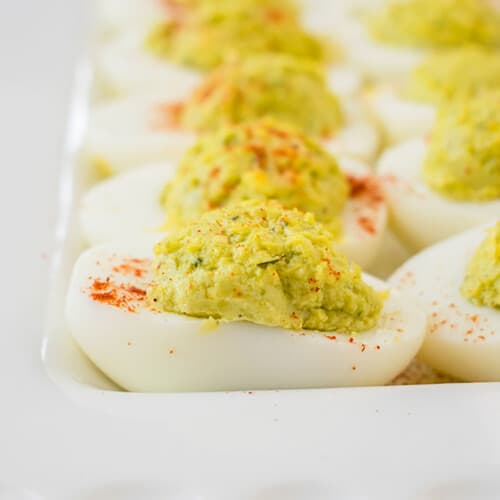 Pesto Deviled Eggs
You'll love these Pesto Deviled Eggs with lemon zest! Make these appetizers for holidays, brunch or even low-carb meal prep!
Print
Pin
Rate
Save
Go to Collections
Instructions
Hard Boiling Eggs on the Stove
Place raw eggs in their shells in a large pot and cover them with enough cold water to cover the eggs by two inches. Place the pot on your stove over medium-high heat and bring it to a boil, uncovered.

When the water is boiling rapidly, turn off the heat, cover the pot, and let the eggs sit in the water for 15 minutes. Remove the eggs with a slotted spoon and place them in a bowl of ice water to cool.

Hard Boiling Eggs in the Instant Pot
Place your eggs on the steamer rack inside the Instant Pot. Add one cup of hot water to the pot, cover with the lid and seal it.


Pressure cook on high for 5 minutes. (Use the egg setting if your machine has one.) After five minutes of cooking, set a timer and allow the Instant Pot to do a natural release of steam for five minutes.


After five minutes of natural release, wear oven mitts and use a long wooden spoon to press down the spout to do an instant release of the remaining steam.


Remove the eggs with a slotted spoon and place them in a bowl of ice water to cool.

Pesto Deviled Eggs Filling
While your eggs are cooking, start making your filling. In a small mixing bowl, add your pesto, mayonnaise, vinegar and the zest of one lemon. Stir to combine.


When the hard-boiled eggs are cool, peel them under cold running water and discard the shells. Pat the eggs dry.

On a cutting board, slice the eggs in half the long way. To remove the yolks, gently squeeze each egg half over your mixing bowl so the yolk drops into the bowl with the rest of the filling.


Mash the egg yolks with a fork and stir them into the rest of the filling until well combined and there are no lumps.


Use a small scoop to add some filling to each egg white half. If you don't have a scoop, use a regular teaspoon as a scoop and another spoon to scrape off the filling into the egg whites. Sprinkle on paprika for garnish.


Chill pesto deviled eggs until serving them. Do not leave deviled eggs out for more than two hours. Refrigerate leftovers, covered, for up to one week.

Nutrition
Calories:
75
kcal
|
Protein:
3
g
|
Fat:
6
g
|
Saturated Fat:
1
g
|
Cholesterol:
83
mg
|
Sodium:
101
mg
|
Potassium:
30
mg
|
Vitamin A:
225
IU
|
Calcium:
21
mg
|
Iron:
0.4
mg