This creamy, Deviled Egg Potato Salad is always a hit! It's perfect for summer potlucks and your 4th of July menu! With red and green onions, mayo, mustard, sour cream and a little kick from cayenne pepper.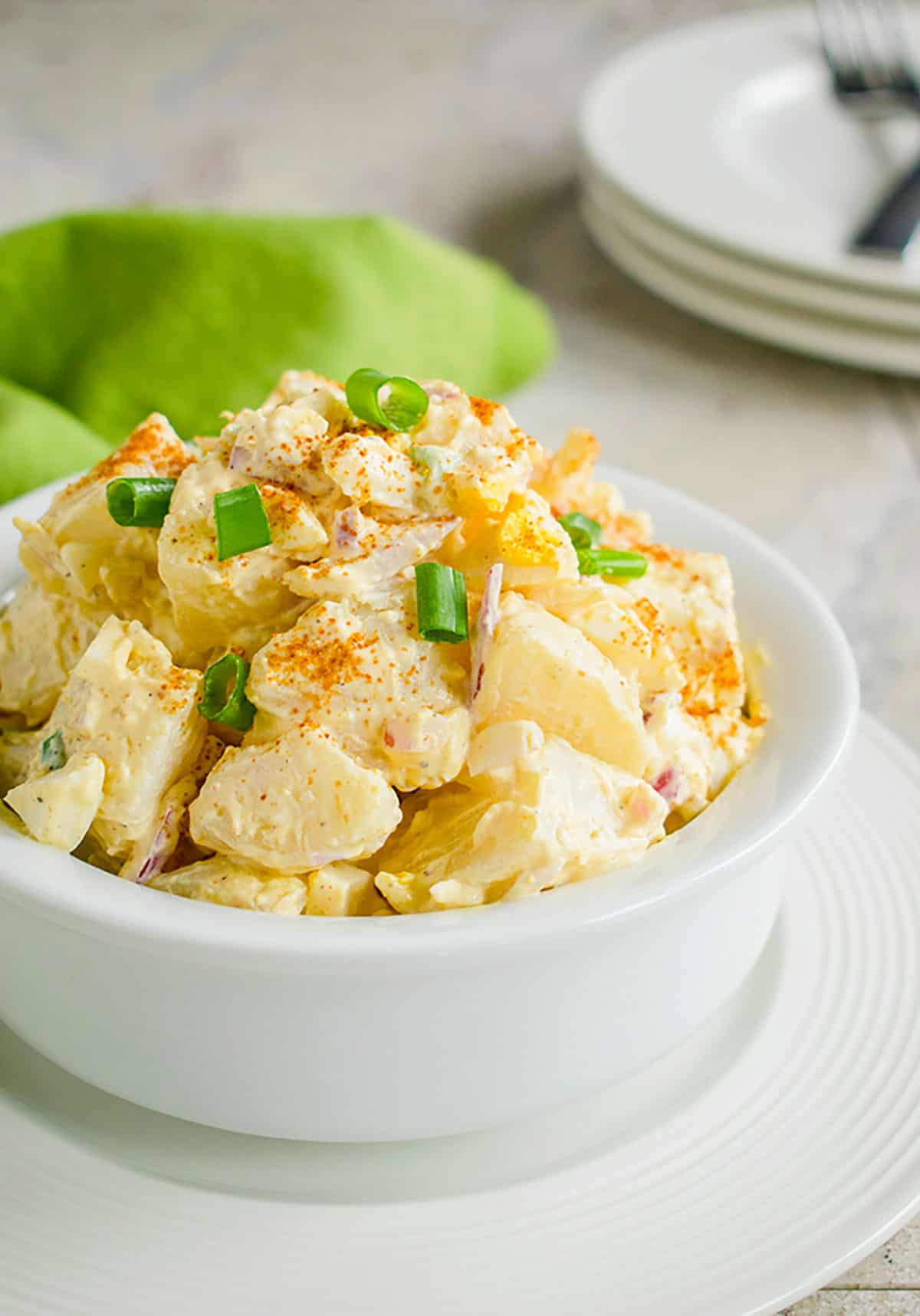 This might be the most American recipe on my site. We eat Italian food two-thirds of the time, and my blog reflects that.
But if you asked me which American dish my family craves the most, it's got to be deviled egg potato salad. Sometimes I buy it at the deli, and sometimes I make it myself. My hubby and kids will eat seconds, even thirds.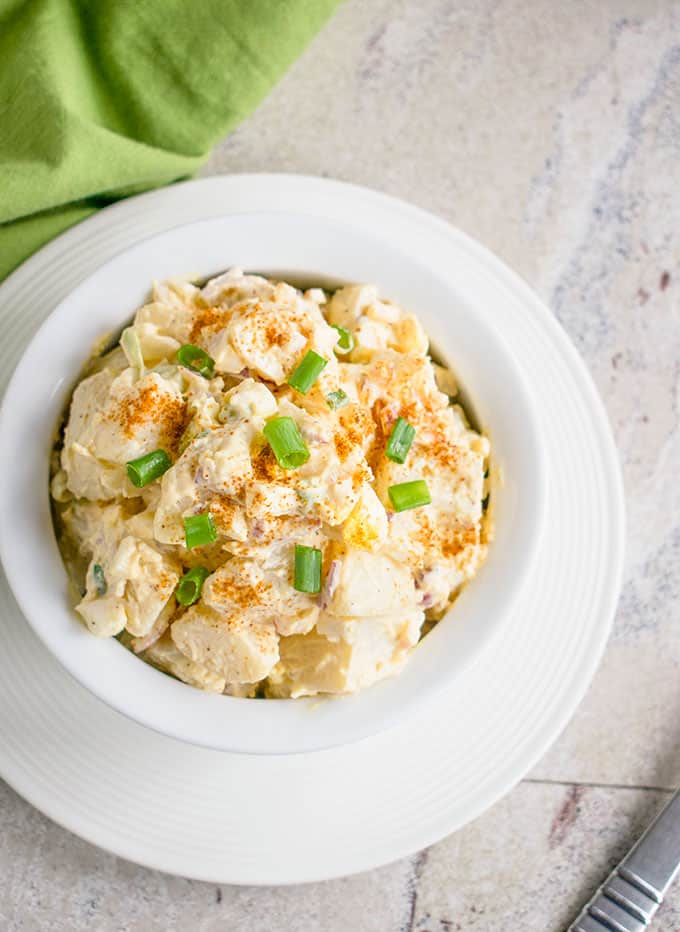 If this potato salad's in the house, it's not unusual to see someone standing at the counter with the serving bowl and a fork. I always have the same reaction.
"Get a dish!!"
So, what's in deviled egg potato salad? Just as the name implies, it involves potatoes, plus the ingredients from deviled eggs — mayo, mustard and seasonings —to give it a devilish, spicy kick.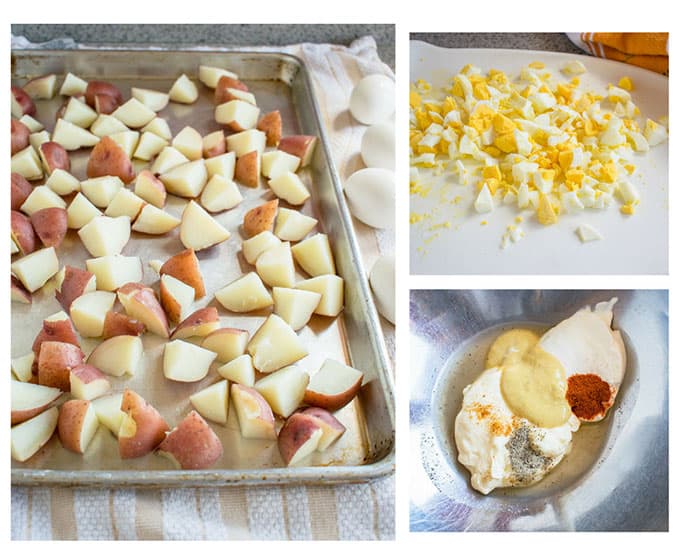 And guess what? Deviled eggs originated in ancient Rome, where people enjoyed boiled, seasoned eggs as a first course. (I doubt mayo and mustard were involved though.)
Anyway, I use a bit of cayenne pepper, green onions and a generous amount of red onion for some oomph in this potato salad. As Mom taught me, I add a little sour cream for extra creaminess.
My deviled egg potato salad is many years in the making. I typed out my recipe on the computer at least 15 years ago, before food blogs were a thing. (I had no idea what was coming!)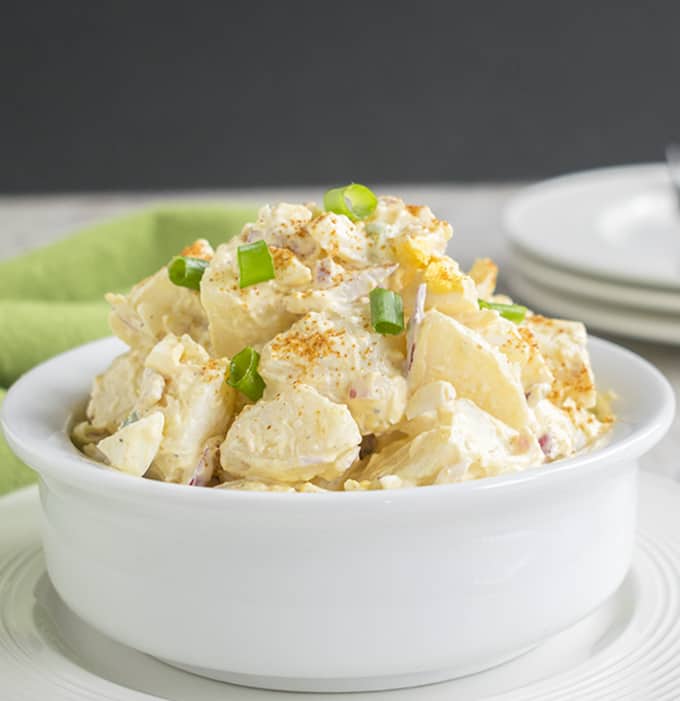 Each time I'd prepare the potato salad, I'd think of tweaks for next time. I finally decided it needed official testing and a spot on Cooking with Mamma C.
Of course, I've already shared this outstanding Italian Potato Salad with Green Beans, a family recipe from Naples. That one has a vinegar-based dressing, instead of mayonnaise.
Both salads are crowd pleasers and perfect for summer. They go great with Super Easy Slow Cooker BBQ Ribs or Slow Cooker Carolina Pulled Pork.
Tips for deviled egg potato salad

Pat your onions and potatoes dry before adding them to the bowl. You don't want runny potato salad.
Make the potato salad at least a day ahead so it's thoroughly chilled before serving it. It tastes best cold!
To store green onions, pat them dry without rinsing and refrigerate them in a sealed plastic container (affiliate link) with a paper towel. If you don't have a container long enough for the onions, cut them in half first. The green onions will last for two weeks.
More potato recipes
Enjoy!
(Recipe Source: Cooking with Mamma C)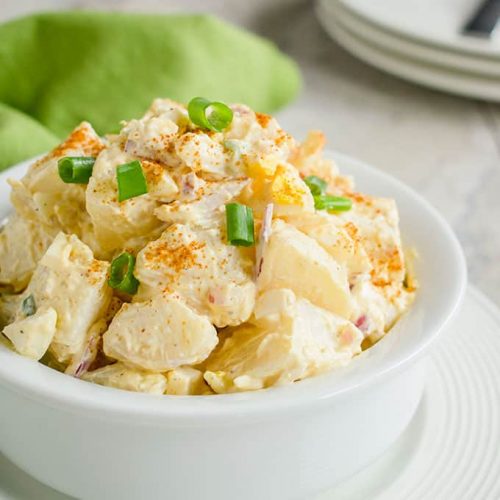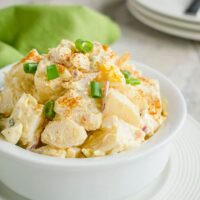 Deviled Egg Potato Salad
This creamy, Deviled Egg Potato Salad is always a hit! It tastes best chilled overnight, so plan ahead!
Print
Pin
Rate
Save
Go to Collections
Ingredients
4

hard-boiled eggs

2

pounds

red potatoes

1

teaspoon

salt for boiling potatoes

1

cup

chopped red onion

(from ½ large red onion)

1

green onion with bottom and 3 green strands
Dressing
½

cup

mayonnaise

¼

cup

sour cream

(light is fine)

1

tablespoon

Dijon mustard

1

tablespoon

white balsamic vinegar

(or white vinegar)

⅓

teaspoon

salt

¼

teaspoon

black pepper

¼

teaspoon

paprika

pinch

cayenne pepper

(or to your taste; it will add heat)
Instructions
Make your hard-boiled eggs: Place raw eggs in their shells in a large pot and cover them with enough cold water to cover the eggs by two inches.

Place the pot on your stove over medium-high heat and bring it to a boil, uncovered.

When the water is boiling rapidly, turn off the heat, cover the pot, and let the eggs sit in the water for 15 minutes.

Remove the eggs with a slotted spoon and place them in a bowl of ice water to cool.

While your eggs are cooking, rinse your potatoes in cool water and peel them, if desired. If keeping the skins on, scrub them clean, if needed.

Cut your potatoes into 1 ¼-inch chunks: Cut the potatoes in half, then in half again, and in half again until you have chunks. Place your potatoes in a bowl of water to prevent them from turning reddish brown.

When your eggs are done and removed from your pot, you can drain the water and use the same pot to cook your potatoes.

Transfer your potatoes and water to the pot and add enough extra cold water to cover the potatoes by two inches. Add a teaspoon of salt to the pot and place it on the stove over high heat, covered.

When the pot is boiling (keep an eye on it as soon as you hear it bubbling, so it doesn't spill over), lower the heat to keep the pot simmering and boil the potatoes for 10 minutes, covered, or until you can stick a fork in them with just a little resistance. (You don't want the potatoes so soft that they fall apart.)

Drain the potatoes well in a colander in the sink. Transfer the potatoes to a sheet pan in a single layer to cool off.

Peel and chop your red onion, pat the pieces dry, and add them to a large serving bowl. Rinse and pat dry your green onion. Snip off the stringy bottom tip and discard it. Use kitchen scissors (or a knife) to cut the green onion into small pieces and add them to your bowl.

Peel your cooled hard-boiled eggs, rinse them and pat them dry. Chop them into small chunks and add them to your bowl.

Pat your potatoes dry and add them to the large bowl.

In a small mixing bowl, add all of your dressing ingredients and whisk well to combine. There should be no liquid pooling on the edges.

Add your dressing to the large bowl with the potatoes, eggs and onions. Gently stir with a silicone spatula to combine. Cover with plastic wrap and chill in the refrigerator for at least six hours, but preferably overnight.

Serve chilled. Do not leave the potato salad out of the fridge for more than two hours. Place it over a tray of ice if needed for a party.

Store leftover potato salad covered in the refrigerator for up to four days after making it.
Notes
This recipe calls for 4 hard-boiled eggs, but consider boiling extra eggs at the same time so you can use them for breakfast and salads.
Nutrition
Calories:
318
kcal
|
Carbohydrates:
28
g
|
Protein:
7
g
|
Fat:
19
g
|
Saturated Fat:
4
g
|
Cholesterol:
137
mg
|
Sodium:
741
mg
|
Potassium:
782
mg
|
Fiber:
3
g
|
Sugar:
4
g
|
Vitamin A:
315
IU
|
Vitamin C:
15.3
mg
|
Calcium:
48
mg
|
Iron:
1.6
mg