Crispy Parmesan Potatoes with Onions and Garlic will become a family favorite! I've been making these for decades!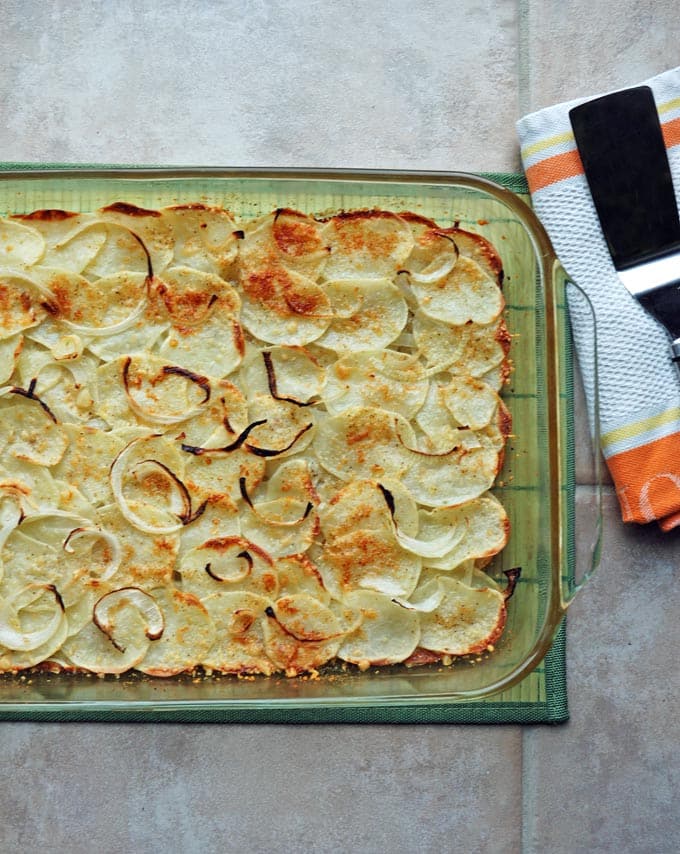 I've been making these crispy Parmesan potatoes with onions and garlic for 22 years. In fact, now that I think about it, this much-loved recipe has been part of my household longer than any others on Cooking with Mamma C.
How's that for an endorsement?
Like this Coq au Vin and my New England Clam Chowder with Bacon, I picked this up from my Better Homes and Gardens New Cook Book, which has served as my go-to resource for how to make anything during my married life. Granted, I often rely on blogs nowadays, but hey, in the Dark Ages, cookbooks (with barely any photos!) were the bee's knees.
I really haven't changed this recipe much at all. I've always doubled the original version (except for the onions) and made three layers of potatoes, because this is one of those dishes that compels everyone to ask for seconds.
I've learned that russet potatoes will turn out mealy here, so I always use redskins.
For years, I used my food processor to slice up my spuds almost ¼-inch thick, but now that I have a mandoline (affiliate link), I used it to make thinner ⅛-inch-thick slices. Whatever you use, try to stay within that range.
This side dish is not quick enough for a weeknight meal, but I've served these potatoes on countless weekends and for small dinner gatherings. Mom will tell you they're her favorite!
With the crispy Parmesan layer, the onions that turn sweet from roasting, and that delicious garlic butter, what's not to love?
Other potatoes you might like
And don't miss this collection of Italian Side Dishes (Contorni)!
Enjoy!
(Recipe Source: Slightly adapted from Better Homes and Gardens New Cook Book, (affiliate link) 1989, page 404.)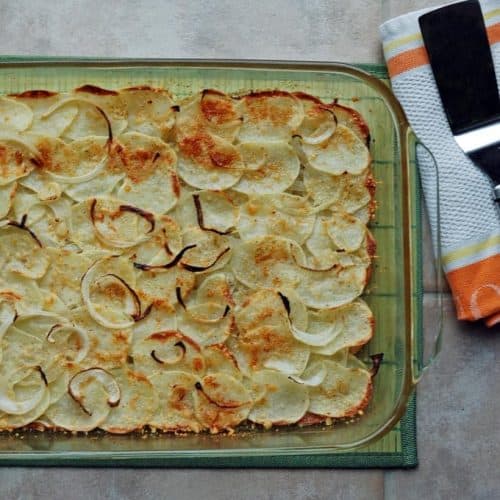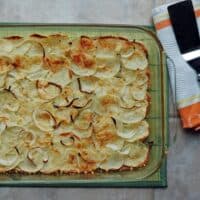 Ingredients
2

pounds

red potatoes

(6 medium; peeled and sliced ⅛-inch thick)

1

small white, yellow, or red onion

(sliced thinly into rings)

½

cup

freshly grated Parmesan cheese

¼

teaspoon

garlic powder

¼

teaspoon

black pepper

6

tablespoons

salted butter

(melted)

salt to taste

(for serving)
Instructions
Preheat your oven to 450 degrees F. Grease a 15x10-inch baking pan (see notes for a half-sheet pan) with butter. Rinse and peel your potatoes. Slice them thinly (⅛ -inch to ¼-inch thick), using a food processor, mandoline, or the slicer on a box grater.

Cut off the root and stem ends of your onion and peel it. Cut it into thin rings by starting at one end and slicing downward. Continue slicing the rest of the onion into rings. Separate the rings and set them aside.

In a small bowl, combine the Parmesan, garlic powder and pepper. Melt your butter in a small pan on the stove or in a small bowl in the microwave.

To assemble, place some potatoes in a single layer, slightly overlapping, in your baking pan. Sprinkle on a third of your Parmesan mixture evenly. Add some onions on top in a single layer. Repeat with another layer of potatoes, the Parmesan mixture, and onions. For your third layer, add the potatoes, Parmesan mixture, onions, and drizzle your melted butter all over the top.

Bake uncovered for 30-35 minutes, until the top layer is browned and crispy.

Serve with salt at the table, for anyone who wants to add it.

Store leftovers in the refrigerator for up to five days.
Notes
If using a 13 x 18 half-sheet baking pan, you will probably need 8 or 9 medium potatoes to make three layers. Use a medium onion and 1.5 times the Parmesan mixture and butter.
Slightly adapted from Better Homes and Gardens New Cook Book.
Nutrition
Calories:
187
kcal
|
Carbohydrates:
19
g
|
Protein:
4
g
|
Fat:
10
g
|
Saturated Fat:
6
g
|
Cholesterol:
28
mg
|
Sodium:
191
mg
|
Potassium:
543
mg
|
Fiber:
2
g
|
Sugar:
2
g
|
Vitamin A:
325
IU
|
Vitamin C:
10.8
mg
|
Calcium:
86
mg
|
Iron:
0.9
mg