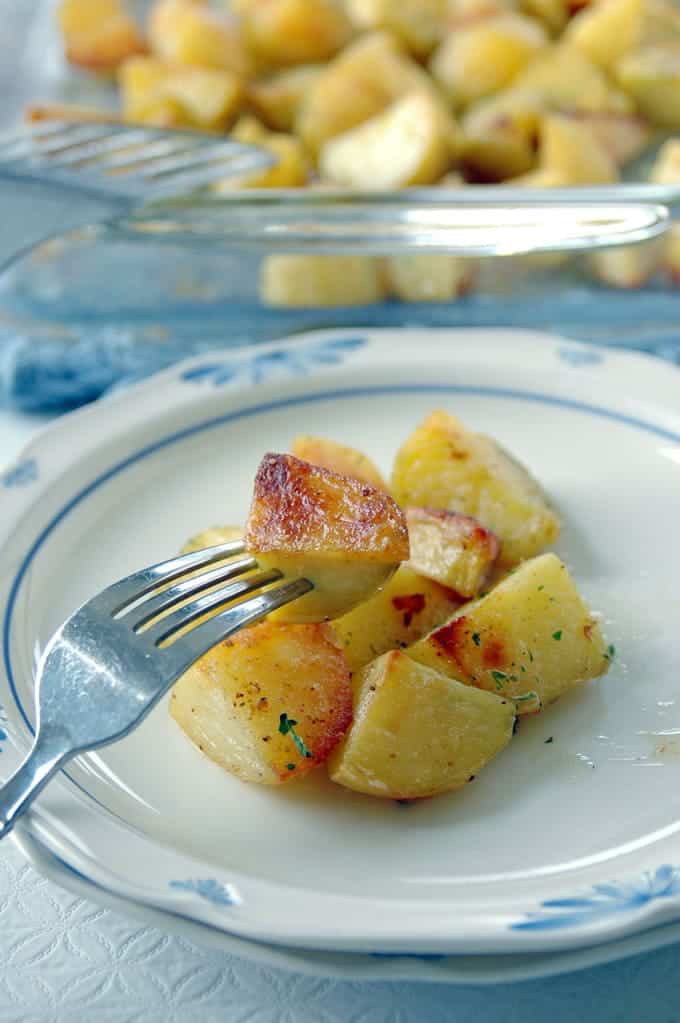 I have no affiliation with Seasonello, but it's high time I told you about my favorite seasoning. These Seasonello Roasted Potatoes are simple and fabulous, and everyone will wonder what is that deliciousness they taste. (It's a combination of sea salt, rosemary, garlic, sage and pepper.) I promise, there are so many other uses for the Seasonello that you won't regret purchasing it.*
These potatoes are crispy on the outside, soft on the inside, buttery and browned just right. In fact, Mom calls these oven-browned potatoes, and has made a version of these for years. I'll take credit for begging her to make them as a kid when I read the Trixie Belden mystery series. (How I loved those books!) Trixie's mother would make oven-browned potatoes, and they sounded so good.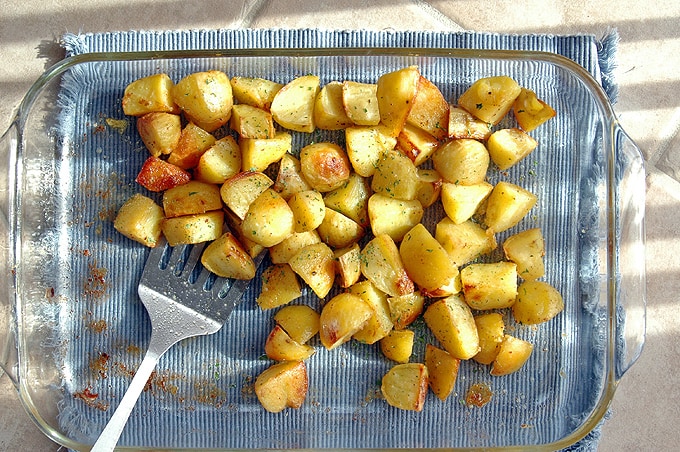 Of course, we'd never heard of Seasonello at that point, so Mom did her own thing. But once Seasonello became a staple in our homes (see my staples list), Mom took her oven-browned potatoes over the top. My version is slightly adapted, allowing for less cooking time at a higher temperature. (I know you're shocked I went for the shortcut.)
We eat these Seasonello Roasted Potatoes on Easter and several times throughout the year. They're so easy and addictive, whatever you want to call them.
Enjoy!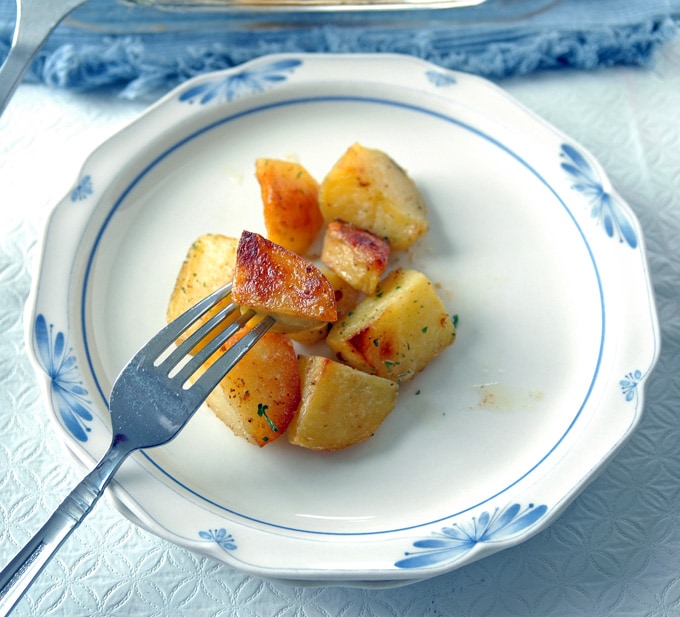 *You can buy Seasonello at Italian import stores or online. (This is my Amazon affiliate link.) It's excellent on vegetables, pork, beef and lamb, and we order a few jars at a time so as never to be without it.
(Recipe Source: Adapted from my Mom)

Cooking with Mamma C
Serves 6
Seasonello Roasted Potatoes
10 minPrep Time
1 hr, 15 Cook Time
1 hr, 25 Total Time
Ingredients
3 pounds red or gold potatoes
1/2 teaspoon onion powder
1 1/2 teaspoons Seasonello
6 tablespoons salted butter
dried parsley for garnish (optional)
Directions
Preheat the oven to 375 degrees F. Rinse your potatoes and peel them. Cut each in half, then cut each of those pieces in half. If some of the potatoes are large, you may need to cut those pieces in half again.
Spread the potatoes in a single layer in a large glass pan. (I used a 10x15). If you don't have a pan that large, fit what you can in a 9x13 and put the extras in an 8x8. (Glass works better than a baking sheet.)
Sprinkle on the onion powder and Seasonello evenly. Slice the butter into squares 1/2-inch thick and scatter them on top of the potatoes.
Bake uncovered for 1 hour and 15 minutes, stirring once at the halfway point. The potatoes should be browned on some sides, but not all. For best texture, let the potatoes rest for 10 minutes before serving. Garnish with parsley, if desired.
7.6.7
254
https://cookingwithmammac.com/seasonello-roasted-potatoes/