You can make these Breaded Italian Pork Chops in 25 minutes or make a smaller batch in just 15 minutes! You'll love these pan-fried, Parmesan-crusted pork chops! They're crispy on the outside, juicy and tender inside.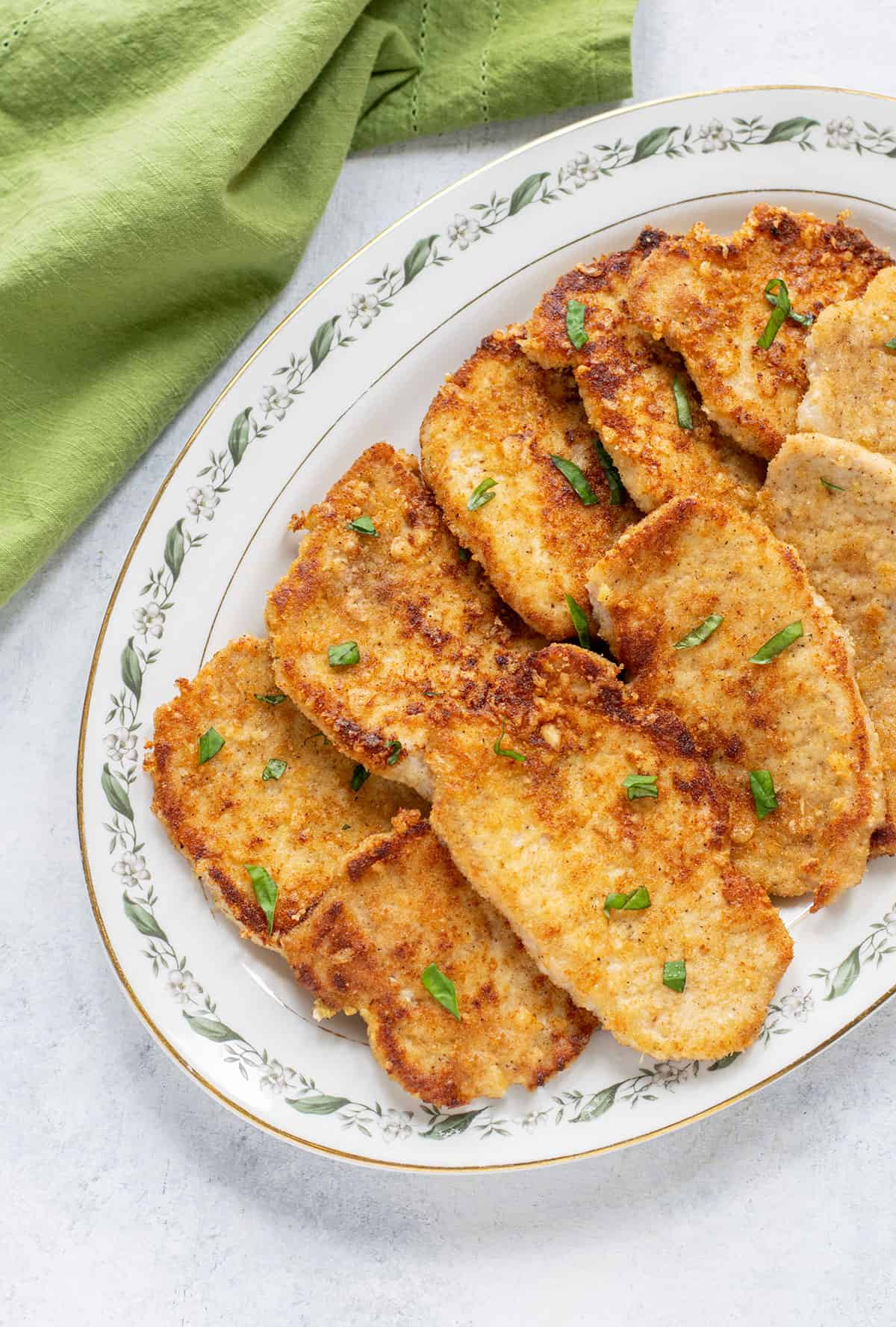 Everyone needs a quick pork chop recipe that delivers big flavor. These Breaded Italian Pork Chops are IT!!!
You don't need to pound them like chicken cutlets. Just dip them in egg, then seasoned bread crumbs with Parmesan and fry them up fast.
Top them with fresh basil and swoon over these crispy, juicy pork chops! I dare you to resist grabbing them out of the platter to devour at the counter!
Recipe ingredients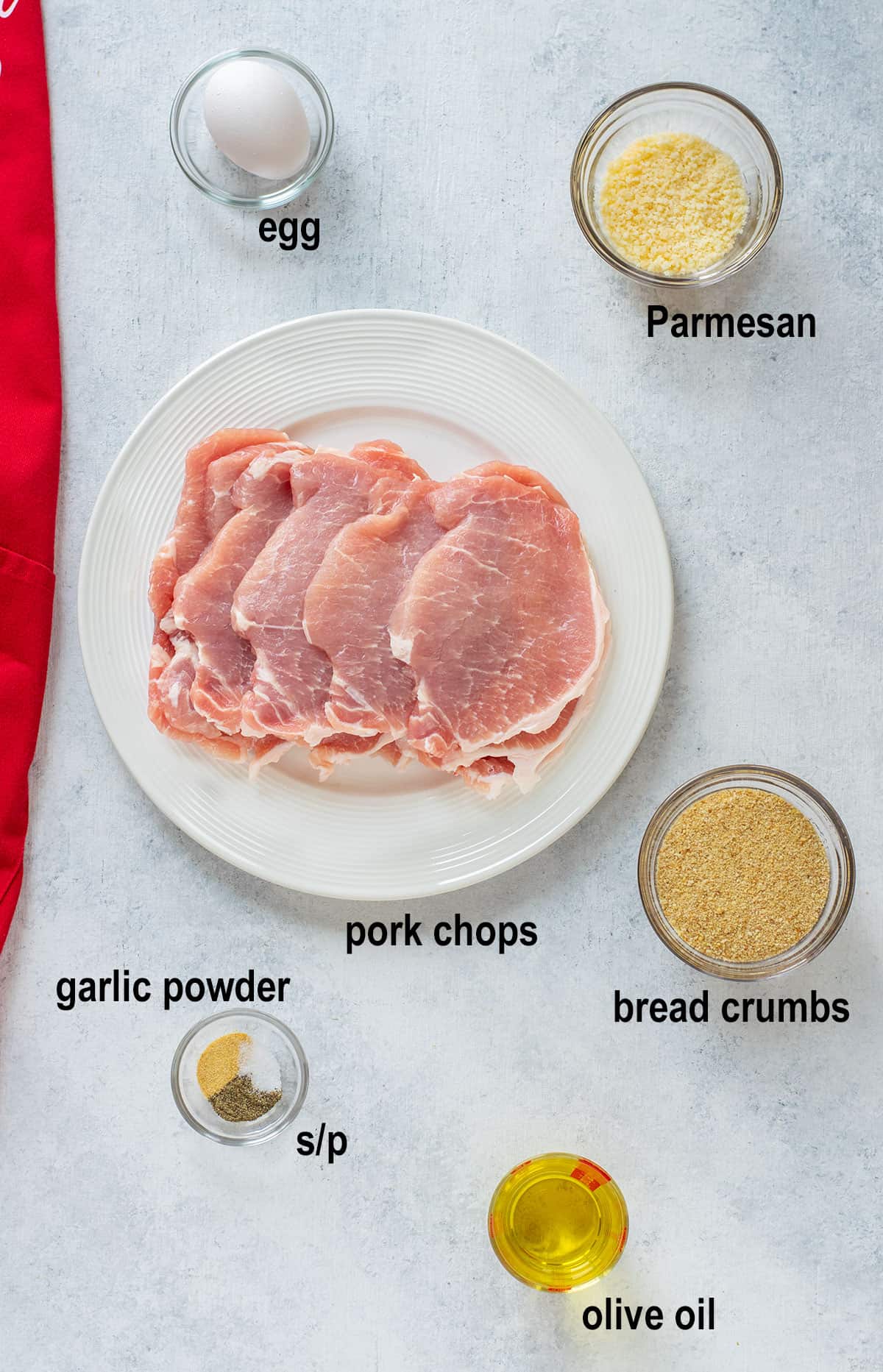 Pork Chops: For best results, use thin, boneless pork chops. The chops should be no more than ½-inch thick. They may be labeled as "thin pork loin chops" or "center-cut pork loin chops."
Thicker chops will take longer to cook in the pan, and the breading can burn while you're waiting for the inside to be done.
I have never used thin, bone-in pork chops with this recipe, but they would probably need a bit longer to cook.
Parmesan: I always use freshly grated Parmesan cheese because it provides a better taste and texture than the one in the green can. But...use what you have.
Bread Crumbs: If you have Parmesan bread crumbs already made, feel free to use them here. Otherwise, use store-bought plain bread crumbs, season them yourself and add the cheese.
If you're starting with store-bought seasoned bread crumbs, you could skip adding the garlic powder and pepper called for in this recipe. Taste the crumbs to see if you need to add salt.
Olive Oil: Some recipes, like Italian Zucchini Flowers, taste good pan-fried in canola oil or vegetable oil. But these Italian pork chops really need olive oil. We tested this recipe both ways, and olive oil made a huge difference in the flavor!
I use regular olive oil for its mild taste, but you can use extra-virgin if you prefer.
Olive oil does have a lower smoke point than canola and will start to brown as you pan-fry the first batch of pork chops. Before you start cooking the rest of the chops, you'll need to use a wad of paper towels to wipe out the pan and replenish the oil.
Fresh Basil: I highly recommend using strips of fresh basil to garnish these Italian-style pork chops. They bring fantastic herbal flavor and a wonderful aroma. But if you don't have fresh basil, use a little dried basil in the bread crumbs.
How to make Breaded Italian Pork Chops
See the card at the end of this post for the full recipe, but here's an overview.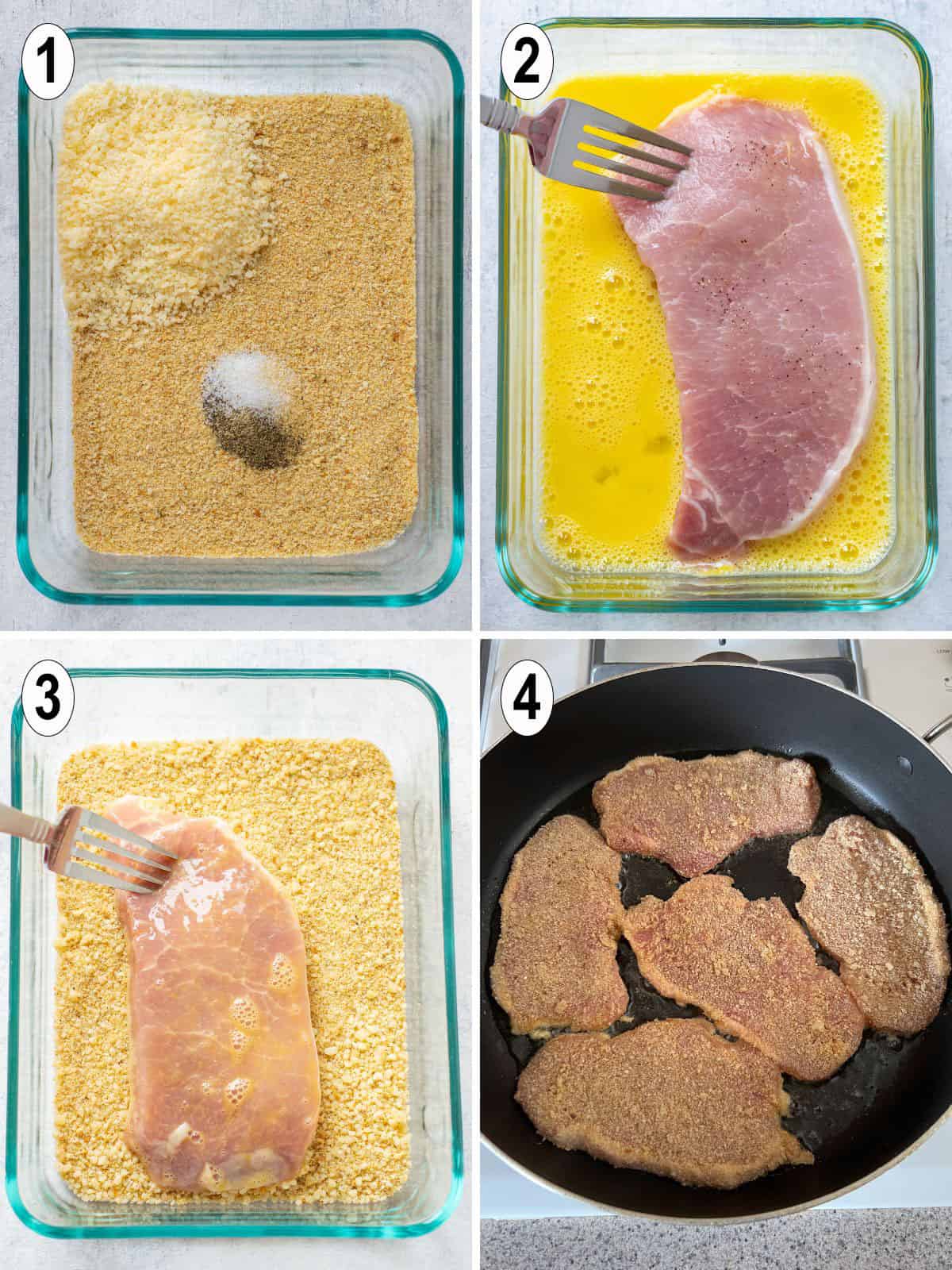 Toss the bread crumbs, Parmesan and seasonings in a shallow bowl to combine.
Beat an egg and dip a pork chop in it. Season both sides of the chop with salt and pepper.
Transfer the pork to the Parmesan bread crumbs and bread each side. Bread the remaining chops.
Pan-fry the breaded pork chops in a 12-inch skillet (affiliate link), uncovered, until golden brown on each side. (You'll probably need to do this in two batches, wiping out the pan and adding fresh olive oil in between batches.)
Transfer the cooked pork chops to a platter (affiliate link) and loosely cover with foil for a few minutes before serving them.
Recipe tips
You can make half a batch of these Italian pork chops in just 15 minutes.
Watch the pork chops carefully so they don't get too dark when you're cooking them. The best way to judge when to flip them is by looking at their color. You want them golden brown with some dark brown at the edges.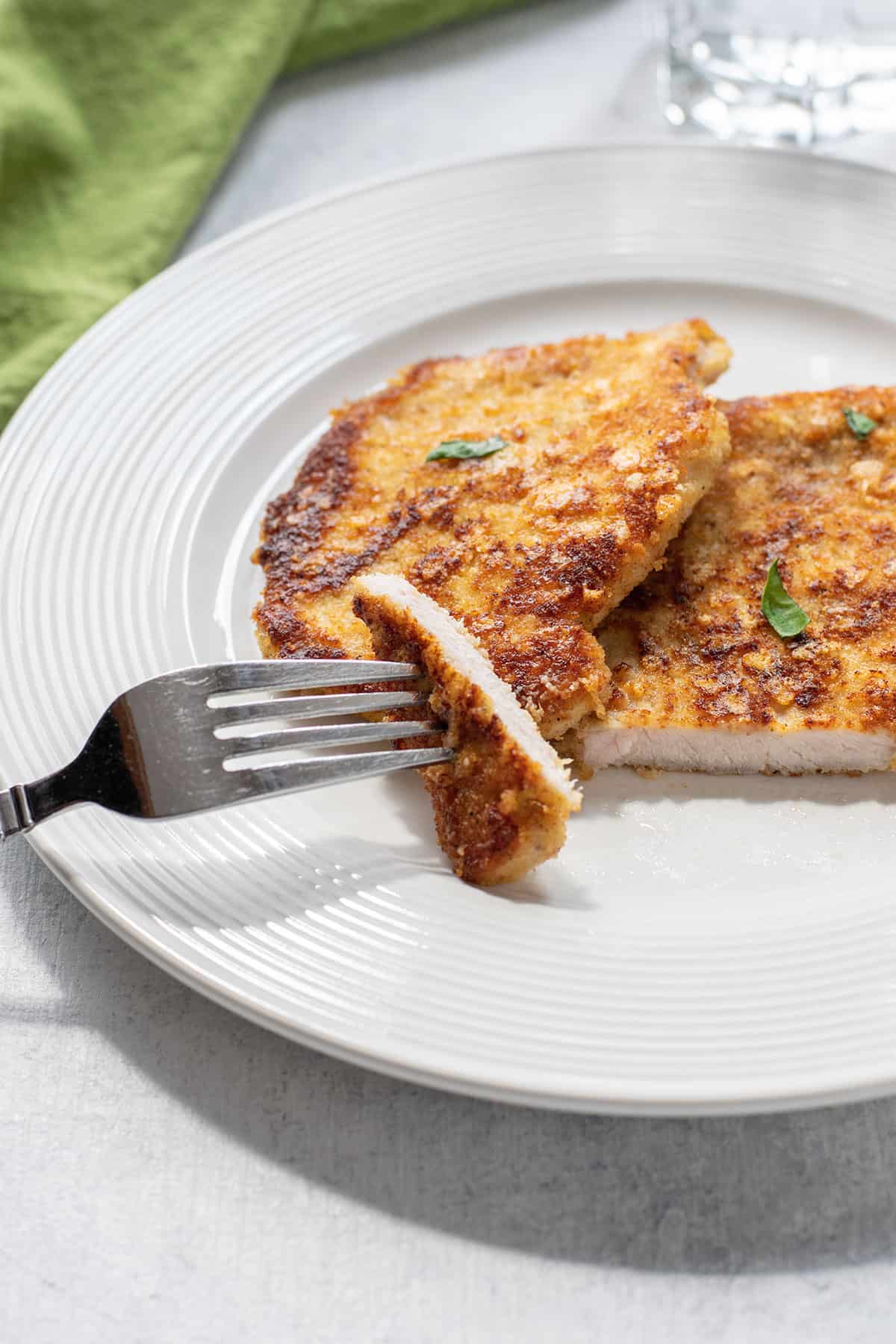 What to serve with it
Serve these pan-fried pork chops with Italian Roasted Potatoes (see below), green bean potato salad or Parmesan sliced potatoes.
They're also delicious with breaded eggplant, peas and onions, sautéed rapini, or Italian greens!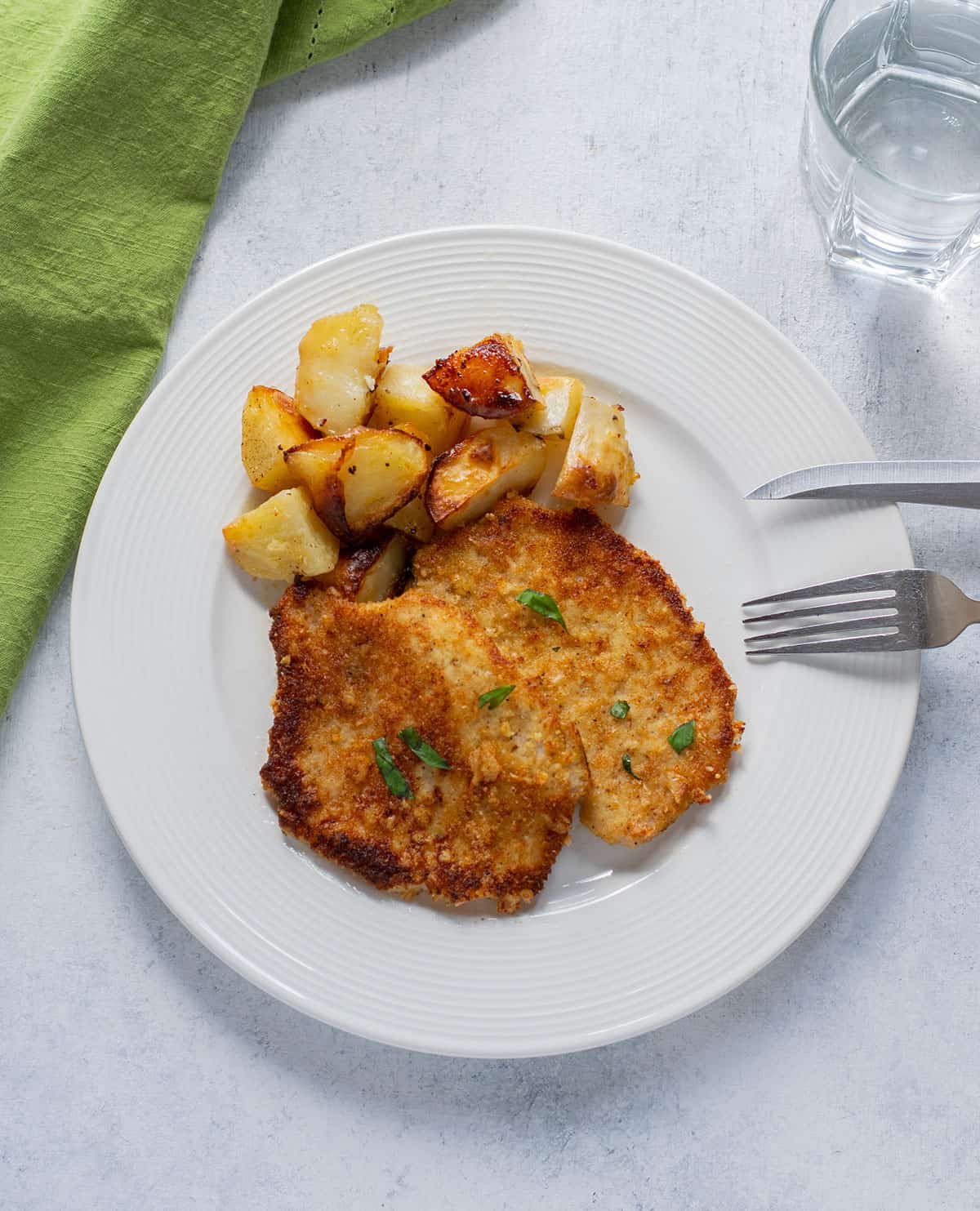 Frequently asked questions
What's the internal temperature pork chops need to reach?
Cooked pork chops are done when they reach an internal temperature of 145 degrees F. The U.S. Department of Agriculture recommends letting them rest for three minutes afterward.
How do you fry pork chops so they are tender?
Don't overcook the pork chops, or they'll be tough. It's important to let the oil heat on medium-high until it's sizzling before adding the breaded pork chops to the pan. The pork chops will cook quickly this way.

You'll just need to fry ½-inch thick, boneless chops for three minutes on the first side or until they're golden brown. Fry the second side for 1 ½ minutes-two minutes for tender, juicy pork chops. Let them rest under foil for a few minutes before serving.
If you try this Breaded Italian Pork Chops recipe, please leave a comment and a rating!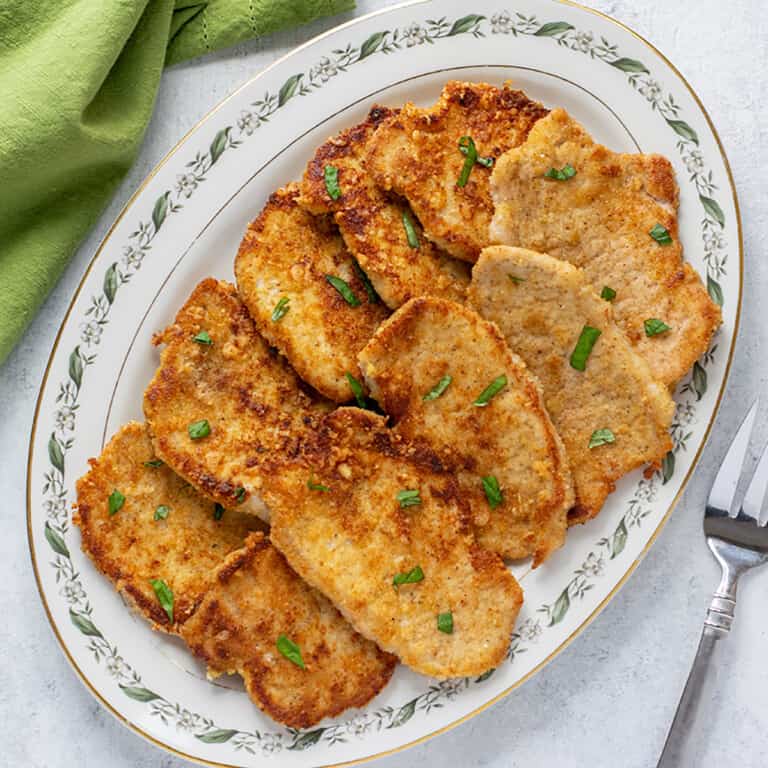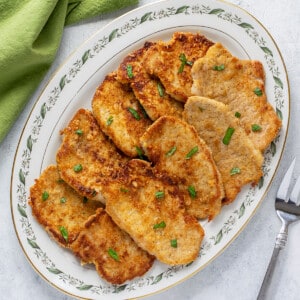 Breaded Italian Pork Chops
Make these Breaded Italian Pork Chops for a quick meal! Feel free to halve the recipe for a smaller batch ready in 15 minutes.
Print
Pin
Rate
Save
Go to Collections
Ingredients
Bread Crumb Mixture
½

cup

plain bread crumbs

(Store-bought is fine)

¼

cup

grated Parmesan cheese

(Use freshly grated for best results.)

¼

teaspoon

garlic powder

¼

teaspoon

black pepper

¼

teaspoon

salt
Thin Boneless Pork Chops
2

pounds

thin, boneless, pork chops

(½-inch thick)

1

egg

(large or extra-large)

⅓

teaspoon

salt

(approximately - can sprinkle some salt on each side without measuring)

⅓

teaspoon

black pepper

(approximately - can sprinkle pepper on each side without measuring)

6

tablespoons

olive oil (divided use)

(for pan frying; see notes)

4

fresh basil leaves

(or use ¼ teaspoon dry basil in bread crumbs)
Instructions
Grate the Parmesan cheese, if needed. Use a whisk or fork to mix the bread crumb ingredients in a shallow bowl or dinner plate.

Crack the egg and add it to a small bowl, such as a pasta dish. Beat the egg with a fork.

Set up an assembly line from left to right with the pork chops, beaten egg, the bread crumb mixture and a clean platter. Use a fork to pierce a pork chop and place it in the beaten egg. Sprinkle salt and pepper on the pork chop and flip it over. Sprinkle salt and pepper on the other side of the pork. Pierce the pork chop with a fork and hold it up to let the excess egg drip off. Transfer the chop to the bread crumbs. Use a fork to cover the meat with the bread crumbs and pat them onto the surface. Flip the pork over and bread the other side. Place the breaded pork cutlet onto the platter.

Continue breading the rest of the chops as above. Discard any leftover egg mixture and any breadcrumbs that had raw meat dipped in it.

On the stove, heat a 12-inch skillet (or larger) on medium-high. Add 3 tablespoons of olive oil to the pan and let it get hot. When the oil is sizzling, add some pork chops to the pan in a single layer. You will probably need to cook them in two batches, since they won't all fit. Cook the first side, uncovered, for three minutes or until the bottom is golden brown. Flip the chops over and cook them uncovered for 90 seconds or 2 minutes, just until the second side is golden brown.

Transfer the cooked pork to a clean platter. (You can cut into one to make sure it's done. It should be white inside or just slightly pink. If you have an instant meat thermometer, the pork chops should have an internal temperature of at least 145 degrees F.) Cover the chops loosely with foil.

The olive oil will have turned dark after cooking the first batch and needs to be replaced. Remove the pan from the heat and wipe out the pan with paper towels. Add another 3 tablespoons of olive oil so you can cook the next batch of pork chops in clean oil.

Continue cooking the rest of the boneless pork chops. Let them rest under the foil for five minutes before serving, to help keep them juicy. Cut up the fresh basil leaves into ribbons and sprinkle them on the pork chops before serving them.

Store leftover Italian pork chops in the refrigerator for 3-4 days. The leftovers are delicious cold out of the fridge or at room temperature. If you want to reheat them in the microwave, just do it briefly so you don't overcook the pork and make it tough.
Notes
If starting with seasoned Italian bread crumbs, just add the Parmesan and skip the other bread crumb ingredients.
The pork chops taste so much better when fried in olive oil instead of canola or vegetable oil. I use regular olive oil, but you can use extra-virgin olive oil.
However, olive oil has a low smoke point, and will turn dark once you've fried a panful of chops. You'll need to wipe out the pan and replenish it with clean olive oil to fry the next batch. 
If you make half a batch (one pound), you'll still need to use one beaten egg.
Nutrition
Calories:
318
kcal
|
Carbohydrates:
7
g
|
Protein:
37
g
|
Fat:
15
g
|
Saturated Fat:
4
g
|
Polyunsaturated Fat:
2
g
|
Monounsaturated Fat:
8
g
|
Trans Fat:
0.04
g
|
Cholesterol:
131
mg
|
Sodium:
450
mg
|
Potassium:
626
mg
|
Fiber:
0.5
g
|
Sugar:
1
g
|
Vitamin A:
91
IU
|
Vitamin C:
0.05
mg
|
Calcium:
67
mg
|
Iron:
1
mg
(Recipe Source: Cooking with Mamma C)