Pork Rib Tomato Sauce is one of life's simplest and greatest pleasures! It's the perfect Sunday sauce.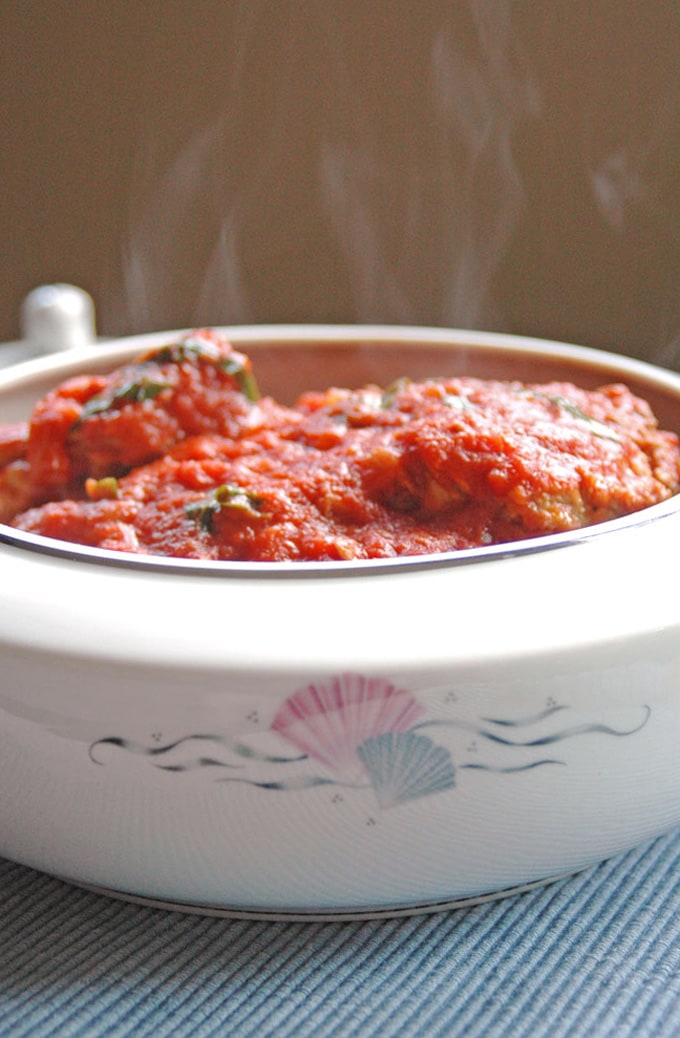 I'm writing this in the afterglow of eating some farro with pork rib tomato sauce. I made a big pot of the sauce on Sunday, and we've been savoring its goodness on pasta, pizza, and Italian bread that's been dipped in it and topped with Parmesan.
This sauce is one of life's simplest and greatest pleasures.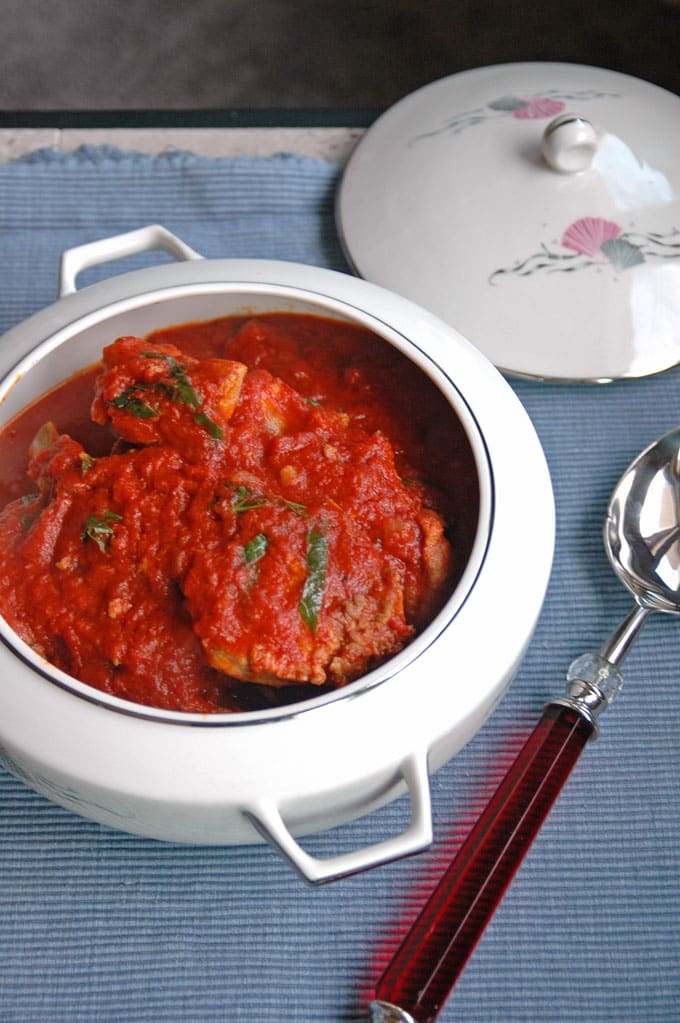 Did you ever taste something so delicious that you assumed it'd be too complicated to make? I could see that happening with this sauce, but I'm here to report it isn't difficult at all. It takes just 15 minutes of prep and some simmering over low heat for about 2 hours and 45 minutes.
It's perfect for a leisurely Sunday afternoon at home, and if on that day, we could peek inside Italian kitchens around the globe, we'd likely be greeted many times by this comforting, intoxicating aroma. It's so familiar to me and takes me back to my childhood.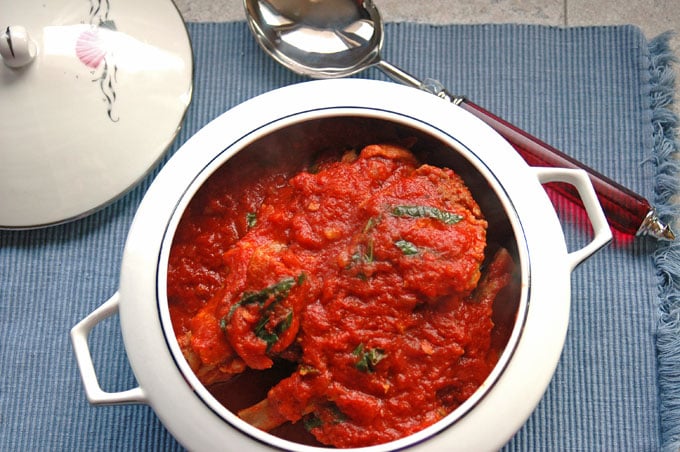 The keys to a delicious pork sauce are buying bone-in ribs, searing them first over high heat, and letting them cook in the tomato sauce until they're fork-tender. If you test them and they seem tough, let them cook longer.
And it's perfectly okay — rather mandatory even — to verify the ribs are in fact done when you suspect so by transferring one to a small dish and eating it right there while standing at the stove. It's a special privilege for the cook, and no one else needs to know.
Try this wonderful meat sauce with pasta al forno, lasagna or manicotti!
Enjoy!
(Recipe Source: Cooking with Mamma C)
Ingredients
4

tablespoons

olive oil

(divided use)

4

pounds

pork country ribs

(bone-in)

1/2

large sweet onion

6

garlic cloves

2

28-ounce cans crushed tomatoes

1

28-ounce can whole peeled tomatoes

3/4

teaspoon

salt

3/4

teaspoon

red pepper flakes

1

bay leaf

6-8

fresh basil leaves

pasta

(for serving)
Instructions
In an extra-large skillet, heat two tablespoons of oil on high and brown the ribs in it on all sides, for about 15 minutes. (If all the ribs won't fit in your pan, you might want to use two skillets, with a tablespoon of oil in each.)

While the ribs are browning, peel the half onion and chop it. In a large pot, heat two tablespoons of oil on medium high heat and add the onions. While they are cooking (stir them occasionally), peel and chop your garlic. When the onions are just about tender, stir in the garlic to the pot with the onions.

Transfer the browned ribs to the pot, along with some of the oil from the skillet. Add your cans of tomatoes. Use a potato masher to gently smash the whole tomatoes.

Stir in the salt, red pepper flakes and bay leaf. When the pot comes to a boil, put the heat on low to let it simmer gently. Prop a lid over the pot, using a wooden spoon resting on the edge of the pot to keep the lid open just a bit. Let the sauce cook for at least 2 1/2 hours, stirring it occasionally to prevent sticking. (Wait at least an hour into the process before tasting the sauce, so you're not consuming raw meat.)

The sauce needs to cook until the ribs are fork tender. This may take around 2 hours and 45 minutes. When the ribs are almost tender, place a pasta pot with salted water on to boil and cook your pasta so that it should be ready for when the sauce is done. When you can easily insert and remove a fork from the meat, your meat and sauce are done. Stir in the fresh basil, and taste to see if the sauce and meat are to your liking.

Serve the sauce spooned over pasta, and keep the ribs covered at the table so they can be eaten as a second dish. Or, each person can add a rib to his or her pasta, if desired. The sauce also can be used on pizza.

Store leftover sauce in the refrigerator for up to four days, or freeze it.
Nutrition
Calories:
465
kcal
|
Carbohydrates:
16
g
|
Protein:
38
g
|
Fat:
27
g
|
Saturated Fat:
5
g
|
Cholesterol:
134
mg
|
Sodium:
616
mg
|
Potassium:
1218
mg
|
Fiber:
4
g
|
Sugar:
9
g
|
Vitamin A:
505
IU
|
Vitamin C:
23.3
mg
|
Calcium:
125
mg
|
Iron:
4.5
mg