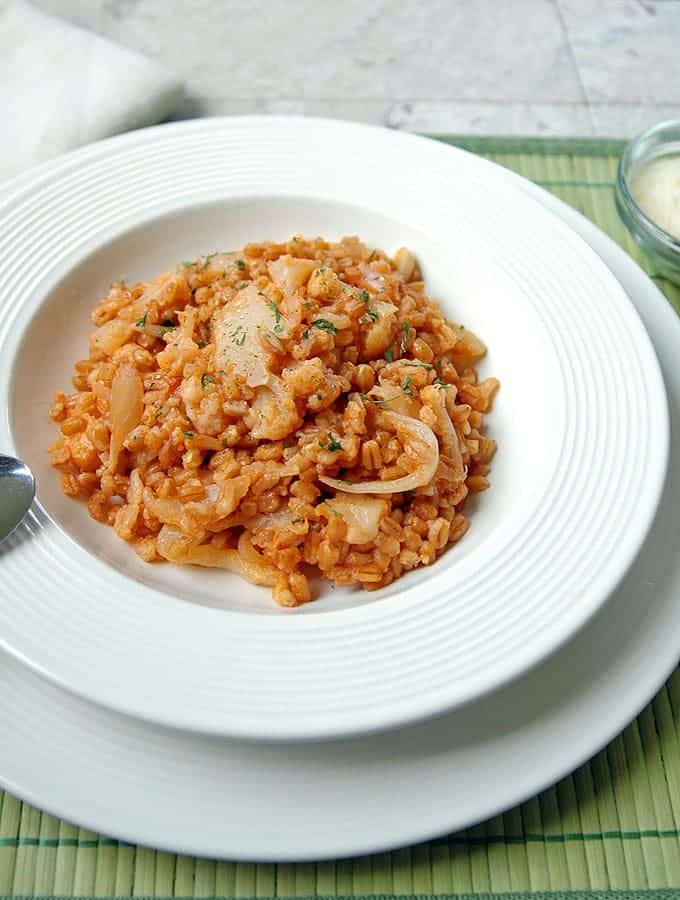 I have to thank my friend Patrick for convincing me to try farro, an ancient, Italian wheat grain that's become our favorite pasta substitute. This one-pot farro with cauliflower and onions is comforting and crave-worthy, and I'll be making this (or some variation of it) weekly as part of our increased efforts to adopt a healthier lifestyle. Farro is high in fiber, protein and magnesium and gives you energy while making you feel full longer.
For anyone who cringes at quinoa but wants to cut back on pasta made with refined flour, you've got to try farro! It has a slightly nutty flavor, cooks up al dente (allow 35 minutes) and actually maintains its firm texture when reheated as leftovers. It's a miracle, I tell you!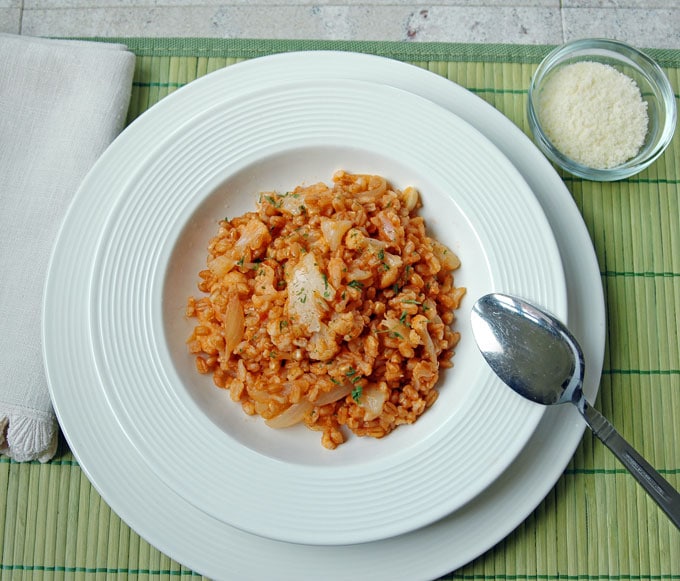 This recipe is like the cauliflower love-child of my Pasta e Fagioli and Smitten Kitchen's One-Pan Farro with Tomatoes, minus the beans. You simply throw water, farro, sliced onions, garlic, tomato paste and frozen cauliflower into the pot with a bit of olive oil and seasonings and fahgeddabouttit for 35 minutes, except for the occasional stir. It's a fantastic vegan dish, but feel free to add a light sprinkling of fresh Parmesan, if you wish.
Over the past 11 months, you've (hopefully) come to know that when I push healthy food, it has to taste fabulous. This one-pot farro with cauliflower and onions has the seal of approval of everyone in my household — kids too — and will fill your home with the most enticing aroma. Go make it!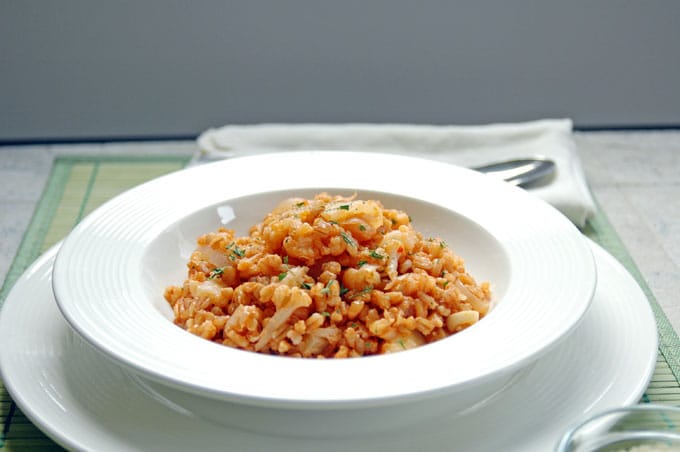 P.S. Farro is pronounced FAHR-Roh, and if you can trill your "Rs," you're an honorary Italian.
P.P.S. Mom wanted to name me "Fara," pronounced "FAH-Rah," but Dad thought it sounded too much like…well…you know. THANK YOU, DAD!!!
(Recipe Source: Adapted from Smitten Kitchen and inspired by my Pasta e Fagioli.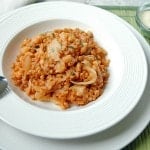 One-Pot Farro with Cauliflower and Onions
Cuisine:
Italian-American
Ingredients
4

cups

water

1

pound

semi-pearled or pearled farro

(see notes)

1

pound

frozen cauliflower

(or cut up fresh cauliflower)

2

small onions

4

cloves

garlic

3

tablespoons

tomato paste

2

tablespoons

olive oil

(plus more to drizzle on each serving)

3/4

teaspoon

salt

(or use 1 teaspoon, to taste)

1/2

teaspoon

red pepper flakes

grated Parmesan for serving

(optional)

basil or parsley for garnish

(optional)
Instructions
Add the water, farro, and cauliflower to a large pasta pot off the heat. Let the farro soak while you prepare the onions and garlic. Peel the onions, cut them in half, then slice them up and add them to the pot. Peel your garlic, cut off the root ends, and slice the garlic thinly. Add the garlic to the pot.

Stir in the tomato paste, olive oil, salt and red pepper flakes. Cover the pot and put the heat on high until the water comes to a boil. When it is boiling, remove the cover, lower the heat until the pot is simmering gently, and set a timer for 35 minutes.

Stir the pot occasionally to prevent sticking. After 35 minutes, the farro should be al dente and most of the liquid will have absorbed. Do not drain any excess liquid.

Serve the farro and cauliflower with extra olive oil to drizzle on top and Parmesan on the side, if desired. Garnish with basil or parsley (optional). Store leftovers in the refrigerator for up to 5 days.
Recipe Notes
There are three kinds of farro: whole grain, semi-perlato, and pearled, with the highest nutritional value being in the whole version, and the least amount in the pearled, although that's still a good option. I have not been able to find whole-grain farro at the store, but if you find it, it will likely take at least an hour to cook and may require overnight soaking. Follow the directions on your package.
Nutrition Facts
One-Pot Farro with Cauliflower and Onions
Amount Per Serving
Calories 350
Calories from Fat 45
% Daily Value*
Total Fat 5g 8%
Sodium 396mg 17%
Potassium 580mg 17%
Total Carbohydrates 68g 23%
Protein 9g 18%
* Percent Daily Values are based on a 2000 calorie diet.