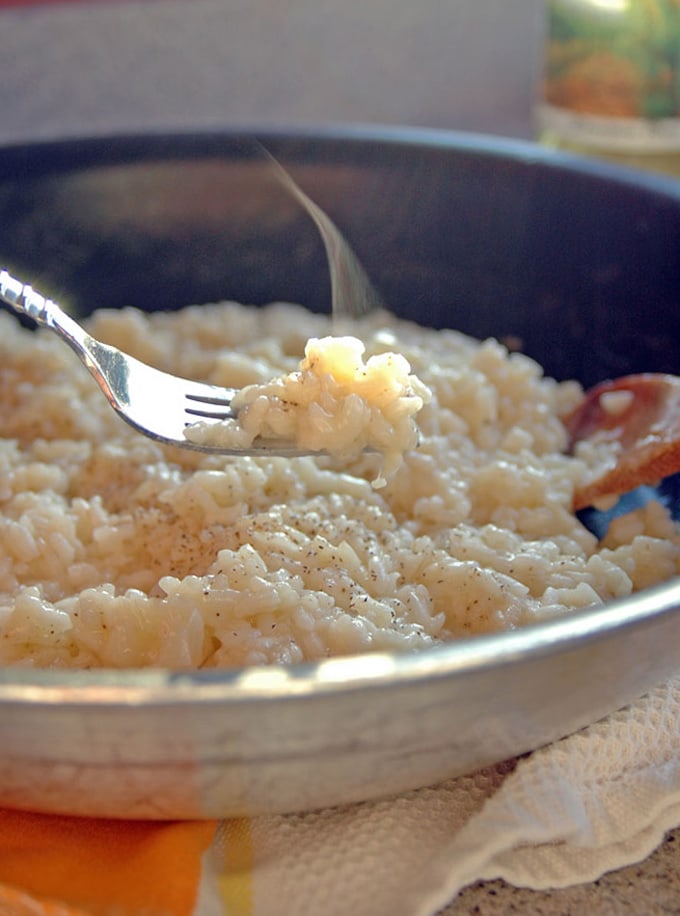 In the same way fabulous shoes can make an outfit, delicious risotto can bring that "wow" factor to your meal. Every home cook should know how to produce this creamy, gluten-free rice dish, so today, I'm sharing my basic risotto recipe.
It goes well with so many main dishes and can be adapted to include veggies.
Last night, I served this risotto beneath grilled tilapia and steamed asparagus with tarragon butter, but I often pair it with Braised Chicken in Red Wine Sauce, Apple-Mushroom Pork Tenderloin, Parmesan Chicken Drumsticks with Garlic Butter and oooh, it would be excellent with Lemon Parmesan Cod with Garlic Butter.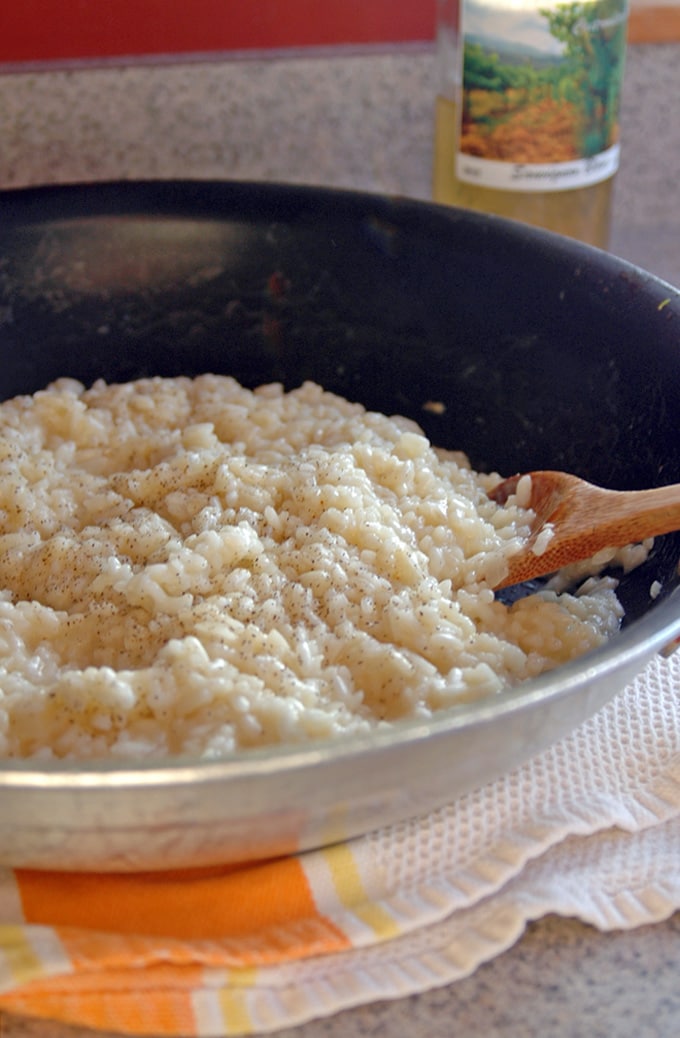 The key ingredients in this risotto are arborio rice, onion, chicken stock, wine (I used my husband's award-winning Sauvignon Blanc) and Parmesan cheese. Arborio has a high starch content, which is what creates a creamy dish. (I'm surprised that some risotto recipes call for cream, because you really don't need it here.) The liquid is stirred into the rice one ladle at a time, and when the mixture is absorbed, it's time to add more. You can always skip the wine and use more chicken stock instead, which I've done often, and vegetarians can use vegetable stock.
Risotto requires hands-on time at the stove for about 35 minutes, which is not easy if you have little ones, but I began making this regularly once my youngest was about 5 years old. My family goes nuts for this, so it's something I make every couple of months, and I've served it to company many times.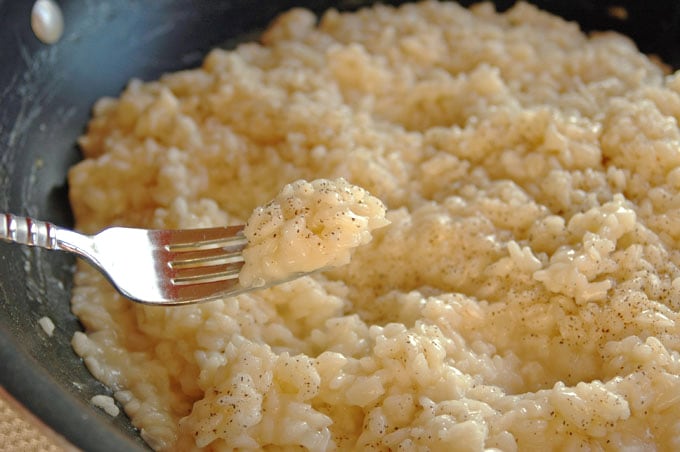 There's something about the whole process that I find enjoyable, even therapeutic. I like to pour myself a small glass of wine and just savor the experience of watching the crisp arborio transform into plump risotto as I stir away. (It helps to wear short sleeves, since it gets hot standing over that stove.) And what a sense of accomplishment when it's done!
I hope you add basic risotto to your cooking repertoire, if it's not there already. You'll feel just like a chef!
(Recipe Source: Cooking with Mamma C)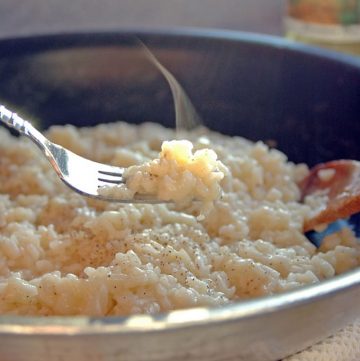 Basic Risotto
A deliciously creamy, cheesy rice dish that makes any meal special
Print
Pin
Rate
Ingredients
1

small onion

(yellow, white or red; peeled & finely chopped)

2

tablespoons

olive oil

4

cups

chicken stock

2

cups

water

1

cup

white wine

(or use more chicken stock or water)

2

cups

arborio rice

(1 pound)

1/2

cup

freshly grated Parmesan cheese

1/8

teaspoon

black pepper

salt to taste

(if needed)
Instructions
Peel and finely chop your onion. Add the oil to your largest skillet over medium high heat on the stove. Add the onion and cook until it's tender, about five minutes.

While the onion is cooking, add chicken stock and water to a medium pot and set it over medium heat on the stove, with a ladle nearby.

When the onions are tender, add the arborio rice to your skillet and stir it around for a minute or two. Add the cup of wine and continue stirring, pushing the rice toward the middle and scooping the wine over it, until the liquid is absorbed.

Add a ladle (about 1/2 cup) of the chicken stock mixture to the skillet and stir until it is absorbed by the rice (push the rice toward the center and scoop the liquid over it as you go.) Continue adding one ladle of liquid at a time, stirring constantly after each addition and waiting for the stock to be absorbed before adding the next ladle. You may need to lower the heat under the pot with the chicken stock, to keep it at a simmer.

The risotto is cooked when the rice is just tender but not mushy. It will take 30-35 minutes once you've added the rice to the pan, and your chicken stock mixture will be almost gone. Turn off the heat and stir in the Parmesan and pepper. Taste the risotto to see if it needs any salt. (It might not, depending on the stock you used.)

Serve risotto as a side dish or beneath your meat, fish and veggies on the plate. Store leftovers in the refrigerator for up to four days.
Nutrition
Calories:
310
kcal
|
Carbohydrates:
46
g
|
Protein:
8
g
|
Fat:
7
g
|
Saturated Fat:
2
g
|
Cholesterol:
9
mg
|
Sodium:
272
mg
|
Potassium:
213
mg
|
Fiber:
1
g
|
Sugar:
2
g
|
Vitamin A:
55
IU
|
Vitamin C:
1.2
mg
|
Calcium:
82
mg
|
Iron:
2.5
mg