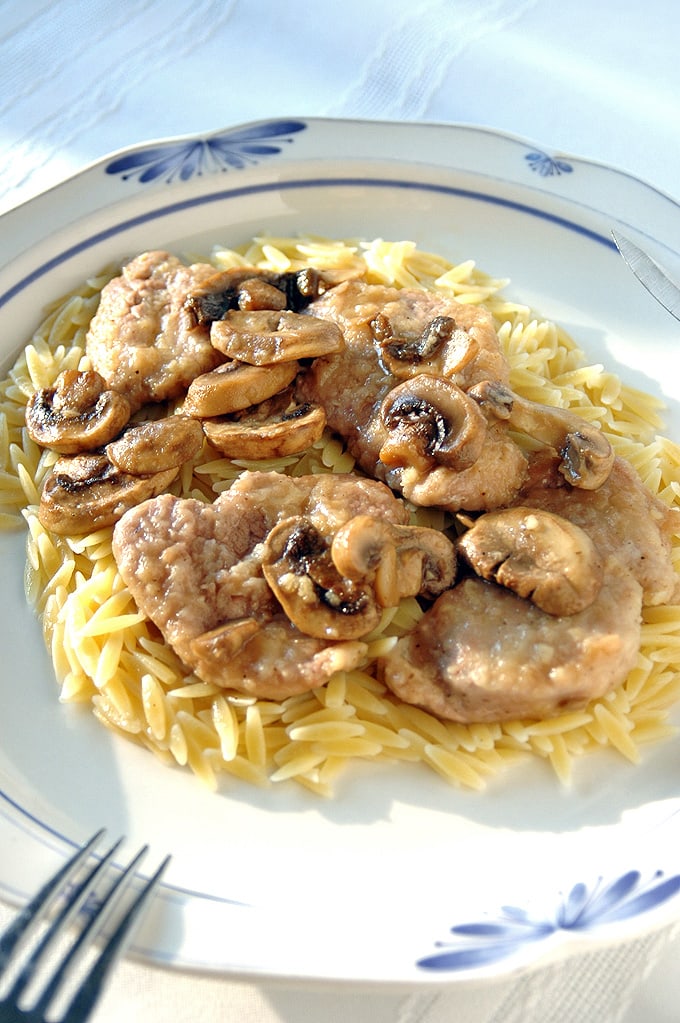 Everyone needs a tried-and-true recipe for a meal to serve to company, bring to a family with a newborn baby, or just make for Sunday dinner, knowing that it will be enjoyed by all (who eat meat). This Apple-Mushroom Pork Tenderloin never fails to impress. The first time I made it for my parents, Mom declared it her favorite pork and asked me for the recipe. She's been making it ever since, and there's no greater compliment, as far as I'm concerned.
In case you're wondering why you don't see apple slices in the photo, there are none. The apple flavor comes from apple juice concentrate. Here's how it all comes together: Pork tenderloin is sliced into medallions and then pounded to even further tenderness. (Loosely covering the meat with a sheet of plastic wrap before pounding will prevent a mess.) This is the meat mallet I use; if you don't have one of these, a heavy pan would work.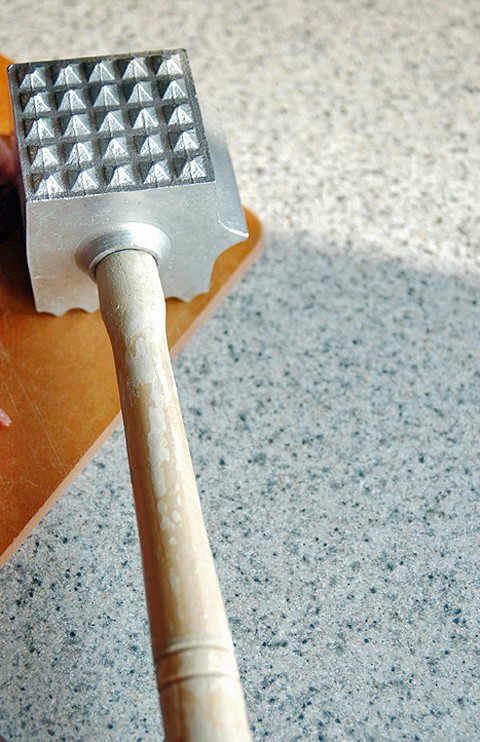 The medallions are then coated with seasoned flour and browned in olive oil. The partially cooked pork is removed so that the sliced mushrooms can be sautéed with garlic in melted butter. (Mushroom haters shouldn't be fazed, though, because it's easy enough to avoid taking some in a serving.)
After a few minutes, the apple juice concentrate gets stirred into the pan with the mushrooms, the pork is added back, and everything simmers together while covered. The flour from the meat helps thicken the juice, which gets reduced as it cooks. The resulting sauce is slightly fruity with a hint of sweetness and a garlicky accent. The meat is oh-so-tender, and pairs nicely with the golden, glazed mushrooms. I usually serve Apple-Mushroom Pork Tenderloin over orzo or risotto, but buttered rice, polenta or mashed potatoes would work well too.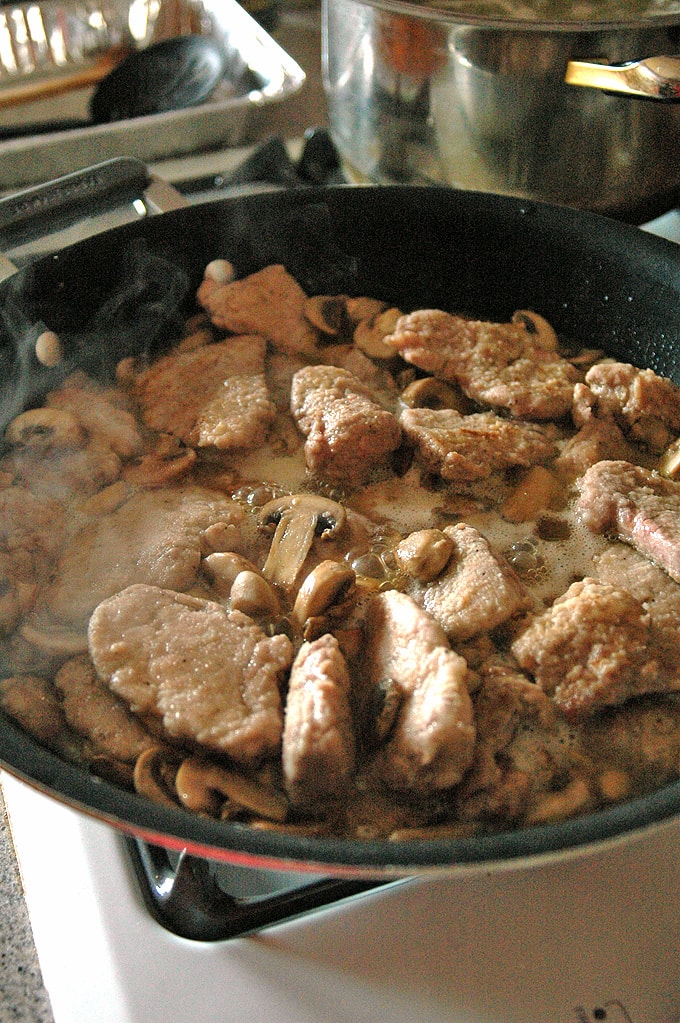 This has been my go-to pork tenderloin recipe for years. It makes a lot of food, but people will take second or third helpings, and leftovers are even better the next day. I'm happy to share this with you (and look forward to having a nicely formatted, new printout to replace my old, splattered, note-covered recipe!)
Enjoy!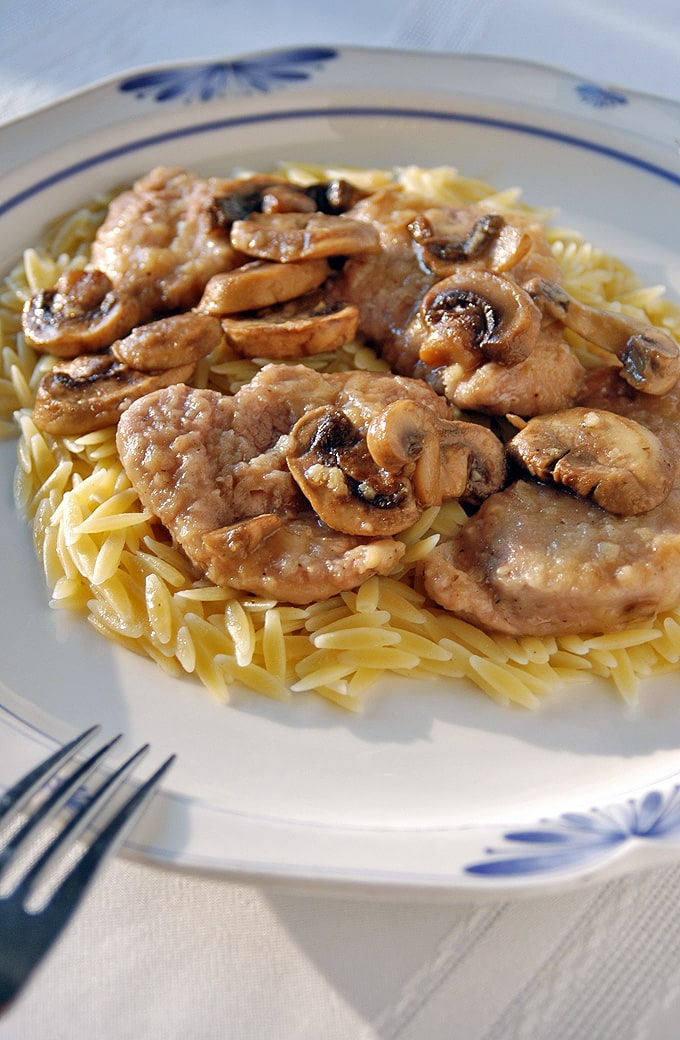 Recipe Source: Adapted from a recipe I printed 14 years ago from an online forum. Original source unknown.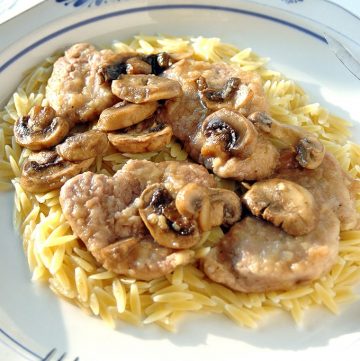 Apple-Mushroom Pork Tenderloin
A savory, slightly sweet sauce with a hint of apple flavor provides a nice accent for the tender, flour-crusted pork and glazed mushrooms. Serve this with orzo, rice, risotto, polenta or mashed potatoes.
Print
Pin
Rate
Ingredients
Meat
2

pork tenderloins

(1 pound each)

3/4

cup

flour

1/2

teaspoon

salt

1/4

teaspoon

pepper

1-2

tablespoons

olive oil
Mushrooms
4

tablespoons

salted butter

3

cloves

garlic

(minced)

2

12-ounce packages white mushrooms

(whole; cleaned & sliced)

1/4

teaspoon

salt

1/4

teaspoon

pepper

3/4

cup

frozen apple juice concentrate

(thawed and undiluted)

red pepper flakes to taste
Instructions
Measure the frozen apple juice concentrate and let it thaw. Clean whole mushrooms one at a time with a damp paper towel. If needed, rinse them lightly and dry with paper towels. Slice the mushrooms and set them aside.

Peel and mince the garlic and set it aside. In a dinner plate, combine the flour with 1/2 teaspoon salt and 1/4 teaspoon pepper. Set the flour mixture aside.

On your largest cutting board, trim the silver lining of fat from the pork using a large knife. Discard the fat and slice the pork into medallions about 1/2-inch thick. Spread out the pork slices in a single layer on the cutting board and lightly cover them with plastic wrap to prevent a mess when pounding. Pound the meat to 1/4-inch thickness using a mallet or heavy-bottomed pan.

Discard the wrap and set up an assembly line from left to right with the pounded meat, the flour, and an empty platter or sheet pan. Using a fork, dredge the pork in the flour, coating each slice on both sides and using the back of the fork to pat the flour into the meat. Place the floured pork onto the platter or pan as you go. If you have to stack the meat, you may want to use wax paper to separate the layers, to prevent sticking. Discard any remaining flour mixture.

Heat 1 tablespoon olive oil in your largest skillet over medium-high heat. Add the pork in a single layer (you will need to do this in batches) and brown it for around 3-4 minutes on the first side, then 2 minutes on the second side. Remove the partially cooked meat to a clean platter; stacking is fine. Cover with foil to keep warm. Continue browning the rest of the meat, adding another tablespoon of olive oil to the pan if needed. Remove the pork and keep warm.

Add butter to the pan and when it melts, add the garlic, stirring. After 30 seconds, add the mushroom slices, 1/4 teaspoon salt, 1/4 teaspoon pepper and stir to coat. Cook and stir for five minutes.

Add the apple juice concentrate and all of the pork to the pan. Stir it once to coat the pork with the juice. Cover the pan and simmer on low for at least 15 minutes. Check for doneness by cutting into a piece of pork. It should no longer be pink inside. Taste for seasonings, and add red pepper flakes if desired.
Notes
Purchasing sliced mushrooms may seem like a time saver but will take longer to clean if they have lots of dirt. I've learned the hard way to buy whole mushrooms. If making this for company, you can cook this ahead of time and keep it covered in the pan, off the heat, for up to 1 1/2 hours, then reheat it in the pan before serving (otherwise, store it in the refrigerator.) Leftovers do well in the microwave.
Nutrition
Calories:
367
kcal
|
Carbohydrates:
19
g
|
Protein:
36
g
|
Fat:
15
g
|
Saturated Fat:
6
g
|
Cholesterol:
118
mg
|
Sodium:
443
mg
|
Potassium:
1008
mg
|
Fiber:
1
g
|
Sugar:
5
g
|
Vitamin A:
235
IU
|
Vitamin C:
3.1
mg
|
Calcium:
22
mg
|
Iron:
2.8
mg