Looking for a Tender Beef Stroganoff recipe? This is it! And...it's got the best flavor from beef stock, wine and a delicious blend of seasonings. I tested this over and over!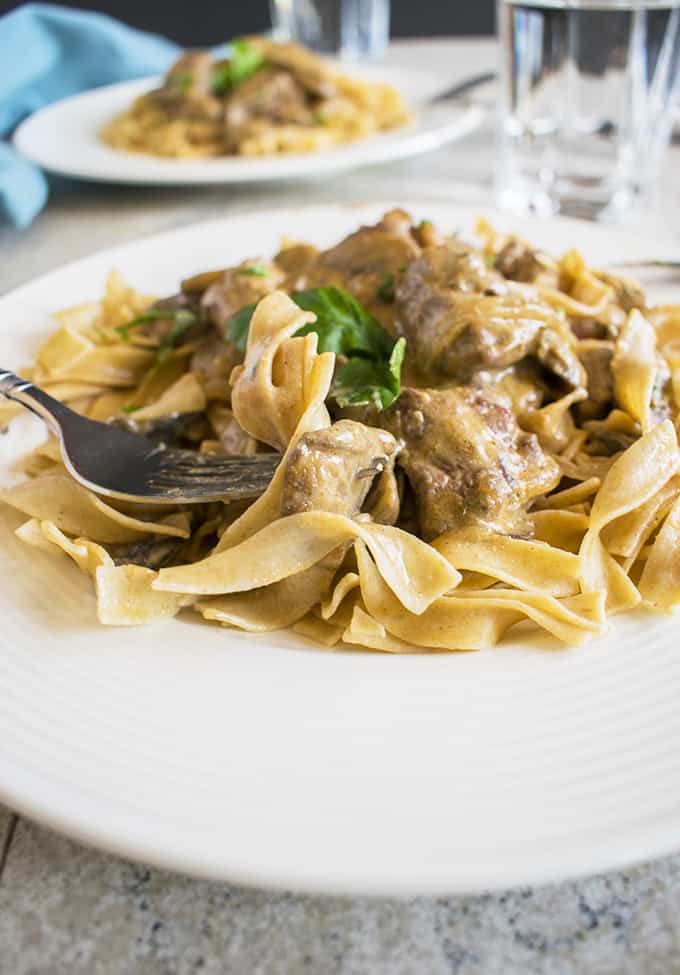 Beef Stroganoff holds a special place in my heart. It's one of the dishes Mom would make on Sundays when my Hungarian Grandpa was visiting. Chicken Paprikash with Dumplings also was in rotation.
Mom's Stroganoff sets the bar really high for Beef Stroganoff recipes.
She includes wine, as done in Europe, and a special blend of seasonings. But she braises the meat for a long time, and I was trying to find a quicker method.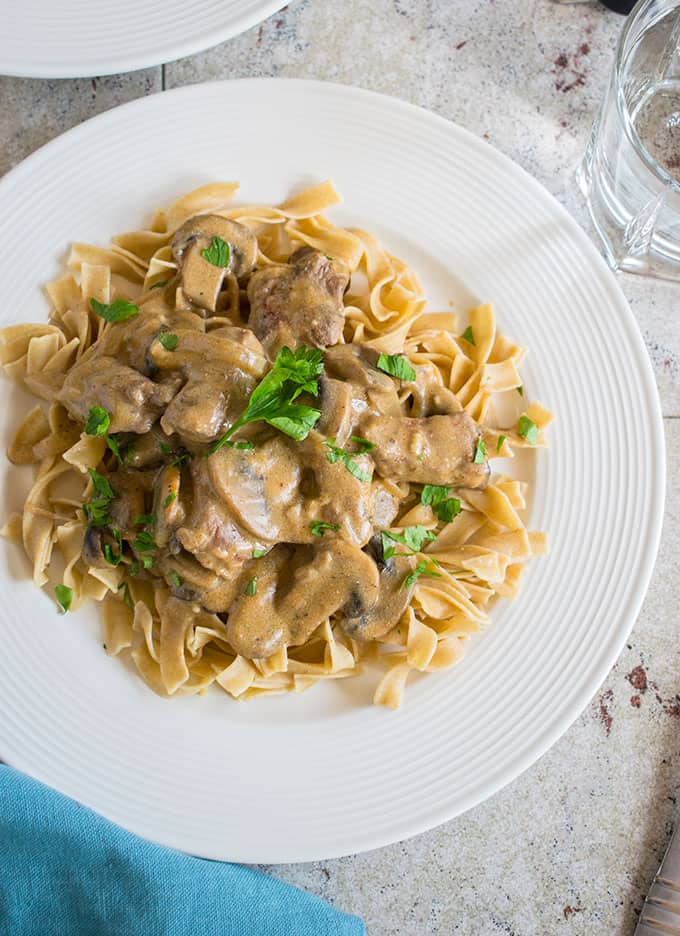 After several experiments (starting last year!), I finally nailed this fabulously tender Beef Stroganoff recipe to share with you. It's got huge flavor!
Still, it'll take over an hour of mostly hands-on time, so buckle up, Baby. I promise, it'll be worth it.
Tips for the Best Beef Stroganoff
Use ribeye steak and pound it (affiliate link) to tenderize it. I have to thank Recipe Tin Eats for that tip, which was the missing link for me. You need an expensive, tender cut of beef, or substitute pork tenderloin.
Season the meat with a blend of paprika, ground mustard, salt and pepper. Thanks to Mom for passing on this secret. It.Tastes.Amazing. Sprinkle it on the beef while you're quickly browning the meat.
Cook the mushrooms and onions until there is no liquid remaining, and the vegetables are golden brown. This is necessary to build flavor. The mushrooms must reach the stage pictured before you proceed with the next step.
After stirring flour into your mushrooms, deglaze the pan with white wine. This provides a flavor powerhouse. I use half a cup of my hubby's Sauvignon Blanc. Choose something not too dry.
Use beef stock instead of beef broth. Because...FLAVOR.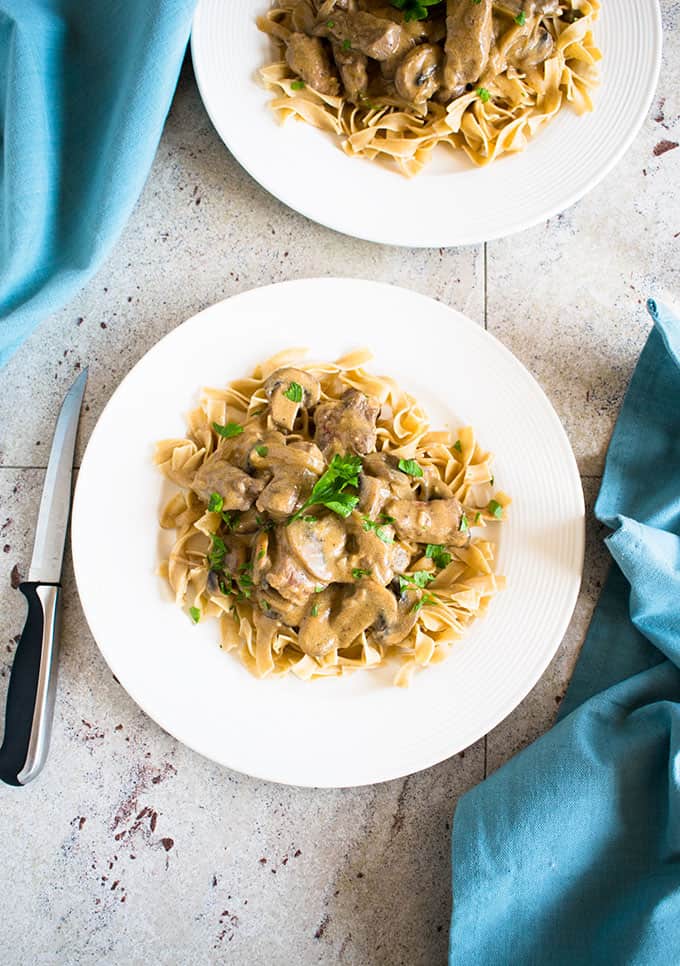 Add sour cream and let the mushroom sauce thicken before returning the beef to the pan. You don't want to overcook the beef, or it'll become dry.
Serve the Beef Stroganoff over egg noodles. I used whole wheat egg noodles for a healthier option.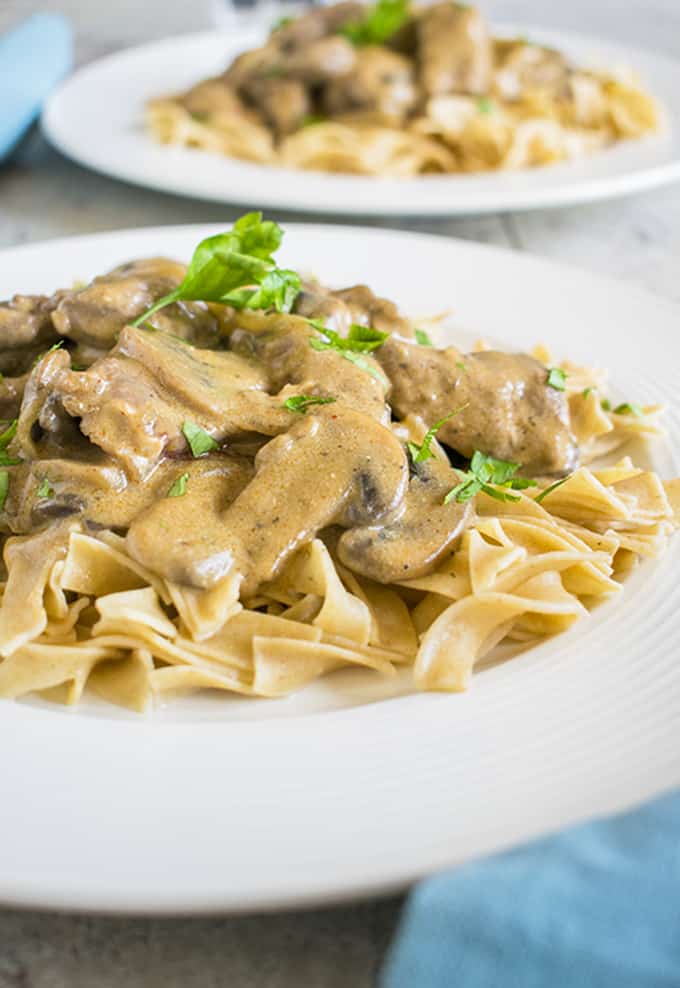 If you'd like, you can sprinkle on some red pepper flakes to give your serving a little extra kick. Just make sure to sit back and savor this delicious meal. It's one of our favorites!
Enjoy! If you try this tender Beef Stroganoff, let me know how you liked it by leaving a rating and a comment.
P.S. You have to try this Pork Scallopini with Mushrooms too!
(Recipe Source: Inspired by Mom's Beef Stroganoff.)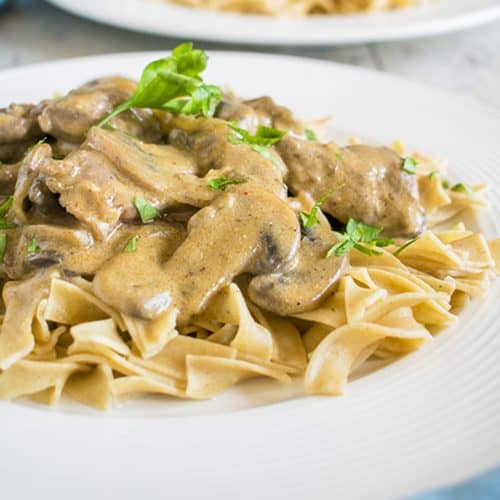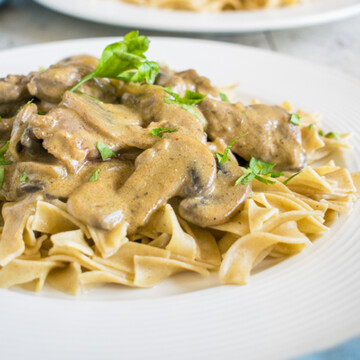 Ingredients
12

ounces

white mushrooms

(see notes)

1

yellow onion

(large)

1

clove

garlic

(pressed)

2

pounds

ribeye steak

(once you trim off the fat, you'll end up with 1 ½ pounds)

1

teaspoon

paprika

½

teaspoon

ground mustard

½

teaspoon

salt

(divided use)

½

teaspoon

pepper

(divided use)

4

tablespoons

salted butter

(divided use)

3

tablespoons

all-purpose flour

½

cup

white wine

(I use Sauvignon Blanc)

1 ½

cups

beef stock

⅔

cup

sour cream
Egg Noodles
1

pound

egg noodles

(I used whole wheat)

3

tablespoons

butter
Instructions
Rinse your mushrooms under a cool stream of water while brushing off the dirt with a vegetable brush or (wipe with a damp paper towel). Pat the mushrooms dry with a paper towel, slice them and set aside.


Peel your onion and slice it thinly.

Peel your garlic clove and press it with with a garlic press (or chop it finely).


Pound your steak to about ⅓-inch thick using a meat mallet or the bottom of a heavy skillet. Use a knife or kitchen scissors to trim off excess fat. Slice the beef into strips (slice in the opposite direction of the grain to help make it more tender.) Cut any long strips in half. Wash your hands well.


Prepare the seasoning blend by mixing the paprika and mustard with ¼ teaspoon salt and ¼ teaspoon pepper.


Fill a pasta pot ⅔ full with hot water and set it on the stove without any heat yet.


In an extra-large skillet, melt two tablespoons of butter over medium-high heat. Add the beef strips to the pan in a single layer. Sprinkle on the seasoning blend.


Quickly brown the meat on one side, then flip it over to brown the other side for about 30 seconds. The meat will still have some pink on the edges but will cook more later. Use a slotted spoon to transfer the beef to a platter and cover it with foil.


Add two more tablespoons of butter to the pan and let it melt. Add your onions and mushrooms but hold off on the garlic. Stir to combine. Add ¼ teaspoon salt and ¼ teaspoon pepper. Stir again and let cook, stirring occasionally, until the onions are soft and golden, the mushrooms are golden brown and all the liquid has evaporated. This should take around 15 minutes.


When the mushrooms and onions are golden brown, stir your pressed garlic into the mushrooms and let it cook for a minute. Stir in 3 tablespoons of flour and cook for another minute.


Deglaze the pan by pouring in ½ cup white wine and using a wooden or plastic spoon to scrape all the bits off the bottom of the pan. Stir everything for a minute, then stir in 1 ½ cups beef stock.


Bring the mixture to a boil, then lower the heat and let the pan simmer for five minutes.


While that's simmering, add a teaspoon of salt to your pot of water for the egg noodles. Cover the pot with a lid and place the pot over high heat so it can boil.

After the mushroom mixture has simmered for five minutes, stir in the sour cream and bring the sauce to a simmer. Let the sauce simmer over low heat for 5-10 minutes, until the sauce is thickened.


While the mushroom sauce is simmering, cook your egg noodles in the boiling water. Cook them until al dente (check on them a minute or two before the package directions say they're done.) Drain the egg noodles in a colander in the sink, keeping just a bit of the cooking water in the pot. Return the drained noodles to the pot and stir in 3 tablespoons of butter.


When the mushroom sauce is thickened, add the beef to the sauce and give it a stir. Let the beef cook for 2-3 minutes more. (You can cut into a strip of beef to see if it is cooked enough for you. It needs to have some pink inside in order to be tender. Keep in mind the beef will continue cooking after you turn off the heat.)


Serve the Beef Stroganoff over the egg noodles. Serve with red pepper flakes at the table if desired.


Store leftover noodles separately from the Beef Stroganoff. Refrigerate leftovers for up to four days.

Notes
Buy the cleanest white mushrooms you can find. I prefer buying them whole because they're much easier to clean than sliced mushrooms. If you want to use a pound of mushrooms instead of 12 ounces, feel free. You won't have to add extra seasonings.
If you don't want to use wine, use an extra ½ cup of beef stock instead.
If the meat is too expensive, you can buy just 1 ½ pounds and use extra mushrooms. Or, substitute pork tenderloin.
Nutrition
Calories:
827
kcal
|
Carbohydrates:
62
g
|
Protein:
45
g
|
Fat:
43
g
|
Saturated Fat:
21
g
|
Cholesterol:
204
mg
|
Sodium:
549
mg
|
Potassium:
965
mg
|
Fiber:
3
g
|
Sugar:
4
g
|
Vitamin A:
800
IU
|
Vitamin C:
3
mg
|
Calcium:
82
mg
|
Iron:
4.9
mg