Our family makes the best Italian green salad with homemade dressing! It's simple, vegan, gluten free and the most requested recipe when we have friends over for dinner!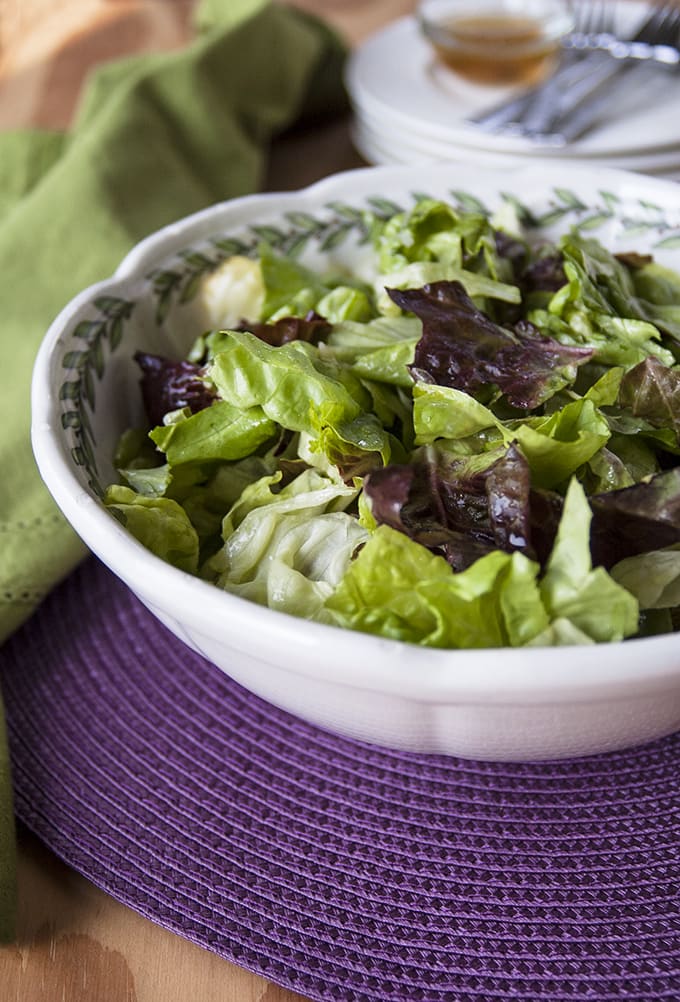 I feel a bit ridiculous posting our family's salad recipe. But so many friends rave about it, and I always say I'll share it someday. Today is the day! So, my friends...I give you The Best Italian Green Salad with Homemade Dressing.
In my family, we call this "The Salad." Our friends refer to it as "That Sallladdd," while rolling their eyes and swooning. It catches me off guard every time.
Don't get me wrong; it's delicious. I could've called it "Cinderella Salad," though, because it's always there, doing its job.
We have this tossed salad most often, compared to spinach salad or apple mozzarella salad.
And growing up, we had this Italian green salad every.single.day. Back when everybody used iceberg lettuce, this dish wasn't my favorite.
But in the early 1990s, when we figured out iceberg has minimal nutritional value, we switched to tastier alternatives, like romaine and butter lettuce. For the first time in my life, I realized I actually liked this salad but wasn't a fan of iceberg.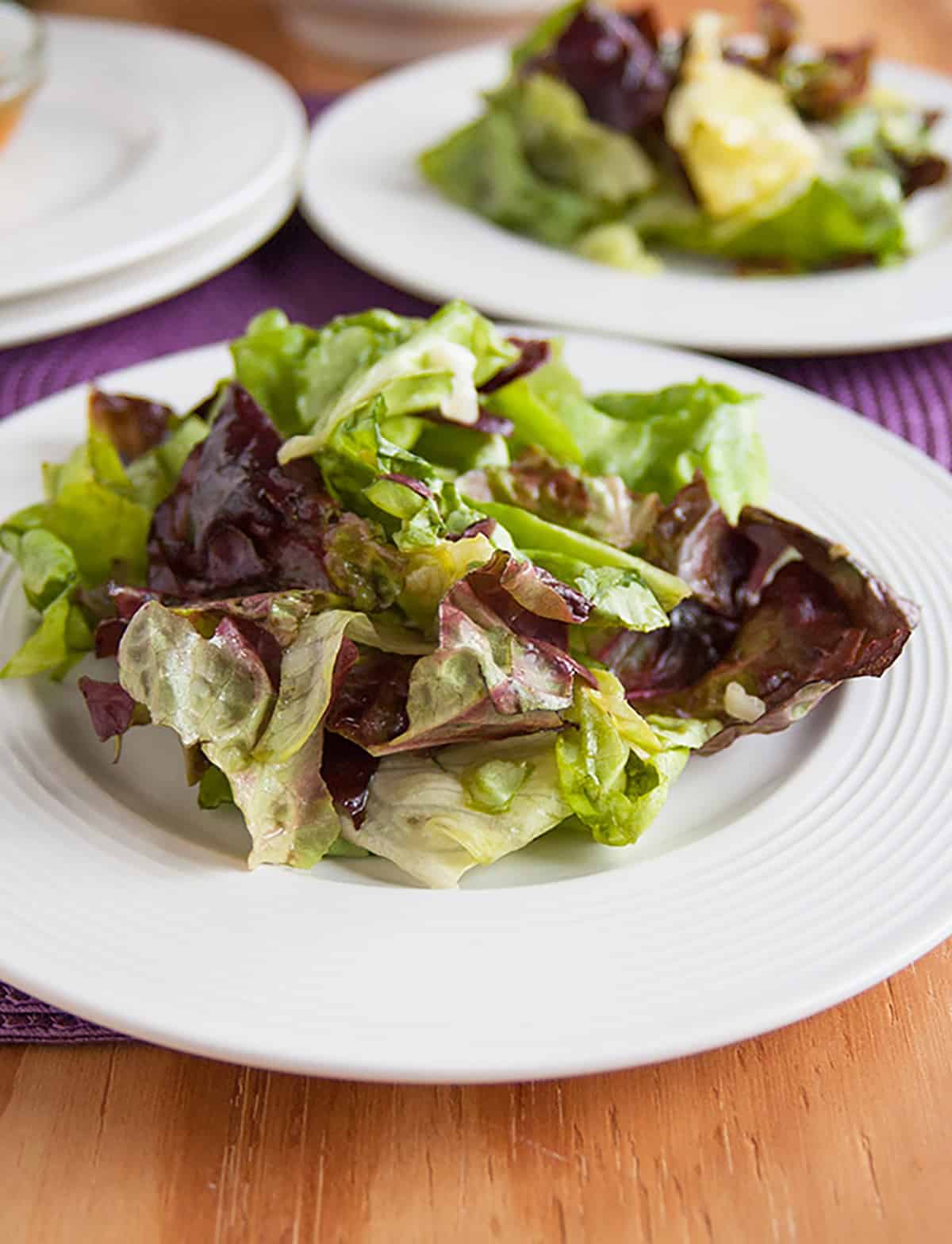 Nowadays, I make the salad a couple times a month at my house, but we also have it with every dinner at Mom and Dad's. Sometimes I'll skip the salad, just so I have room to eat all the other courses.
But someone is always eager to take it off my hands (each place setting gets a side salad...just like a knife, fork, napkin and glass.) And, if there's extra salad left over, someone in the family will gladly hug the serving bowl and dig in.
So, what makes this The Best Italian Green Salad with Homemade Dressing? Why does it steal the show so often when guests are over?
Maybe it's the white balsamic vinegar. Or the regular —not extra-virgin — olive oil.
Or the fact that there's no oregano. (As I mentioned in my very first post, Homemade Marinara Sauce, we never use oregano in anything, because we find it bitter tasting.)
Or maybe, it's the smooth texture, with every leaf coated just right.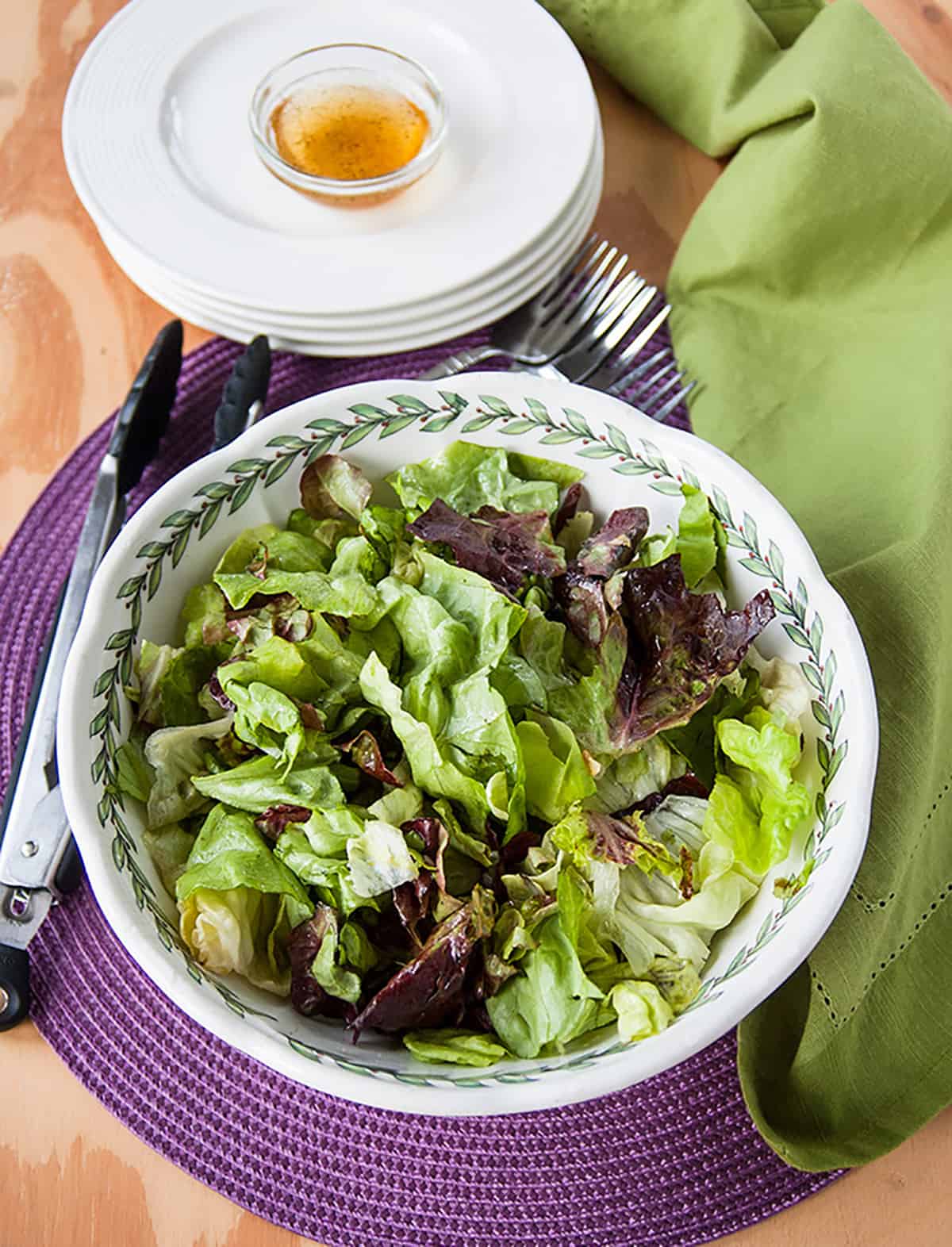 Really, this salad's as simple as can be.
We usually just stand at the counter, pouring and sprinkling ingredients without measuring, relying on our tastebuds to guide us as we go. (Sometimes, I taste so much salad while making it that I don't need to have any more with my meal. #Italianproblems)
But, no worries.
I took the time to figure out the recipe for our homemade Italian dressing — a vinaigrette — so I could share it properly here on Cooking with Mamma C. (Mom didn't think I could do it. I gently reminded her I've been cobbling together family recipes out of vague information for more than two years.)
So, there you have it.
In case you're wondering where to buy the white balsamic vinegar, you can check your grocery or Italian import store. Here's my Amazon affiliate link, if you'd like to order the vinegar online.
Enjoy! And make sure to leave room for the rest of your dinner!
(Recipe Source: Cooking with Mamma C, based on our traditional family salad that's never been documented)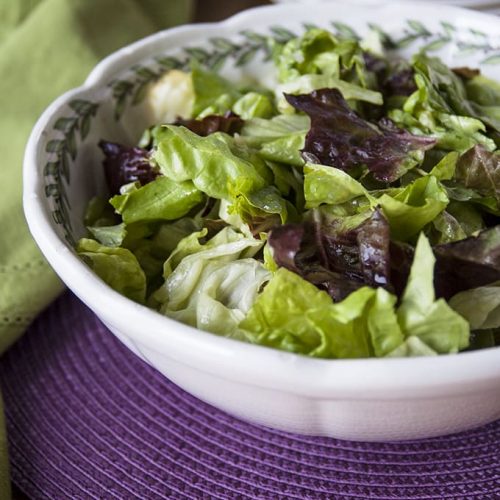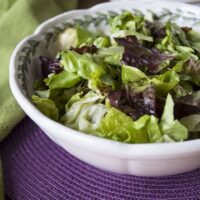 Ingredients
Salad
9

ounces

lettuce

(butter lettuce, romaine or a combination)

white bottoms of 2 green onions

(optional)
Dressing
4

teaspoons

olive oil

(not extra virgin)

3

tablespoons

white balsamic vinegar

⅛

teaspoon

garlic powder

⅛

teaspoon

salt

scant ⅛ teaspoon black pepper
Instructions
Use a pre-washed bag of lettuce or, if starting with a head of lettuce, make sure the leaves are rinsed and dried. Place your lettuce in a large bowl.

If using the white part of the green onions, rinse the green onions, snip off the root end and slice the white part of the onion thinly. Add the white onion slices to your salad.

Add the dressing ingredients one at a time and toss with two spoons to mix well.

Serve immediately and finish leftovers within an hour or so. Leftover salad will get soggy, but keep it refrigerated if saving it.
Notes
If you want to make extra dressing and store it separately, it will keep well in a covered container at room temperature. (If you refrigerate it, the oil will solidify and separate from the vinegar.)
Nutrition
Calories:
55
kcal
|
Carbohydrates:
4
g
|
Fat:
4
g
|
Sodium:
81
mg
|
Potassium:
103
mg
|
Sugar:
3
g
|
Vitamin A:
320
IU
|
Vitamin C:
1.8
mg
|
Calcium:
15
mg
|
Iron:
0.3
mg