You can make Broiled Cod with Paprika in less than 20 minutes! Enjoy this low-carb, low-calorie cod recipe when you want a simple, flavorful fish dinner. Enjoy it as is, or try it in lettuce wraps, fish tacos or fish sandwiches!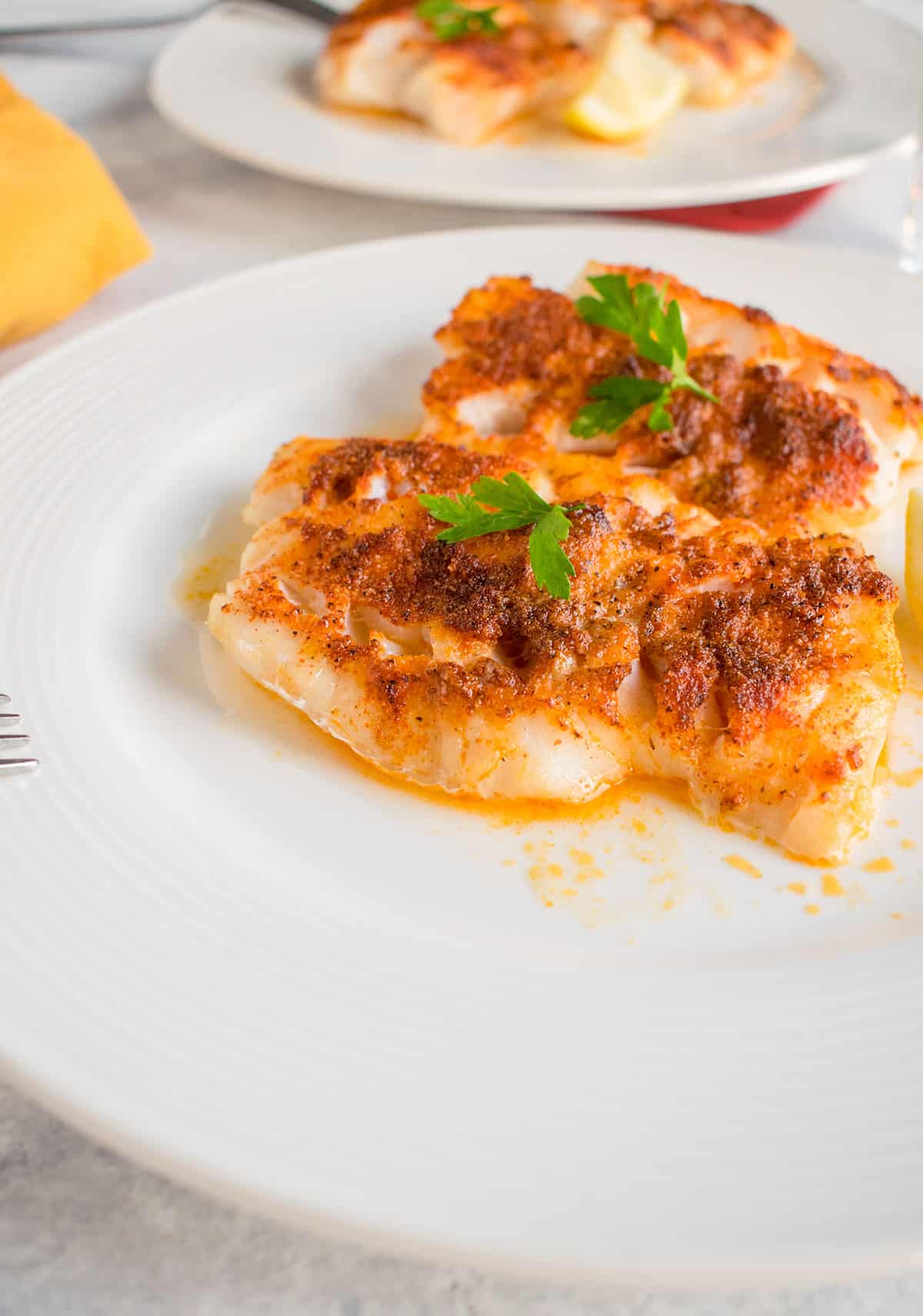 Sometimes, we just need a simple recipe that delivers big flavor while being diet friendly.
When I realized people were coming to Cooking with Mamma C, searching in vain for a broiled cod recipe with paprika, I knew I needed to make this happen.
I never want to disappoint my guests. (It's an Italian thing!)
Besides, some might call me the Queen of Cod, thanks to my wildly popular Parmesan Baked Cod, Oven-Fried Cod, Fried Baccalà (Salted Cod Fish) and more.
So, here's the lowdown on the broiled cod fish recipe I've been making for the last couple of months! (And, don't miss these delicious Broiled Scallops with Parmesan Bread Crumbs!)
Recipe ingredients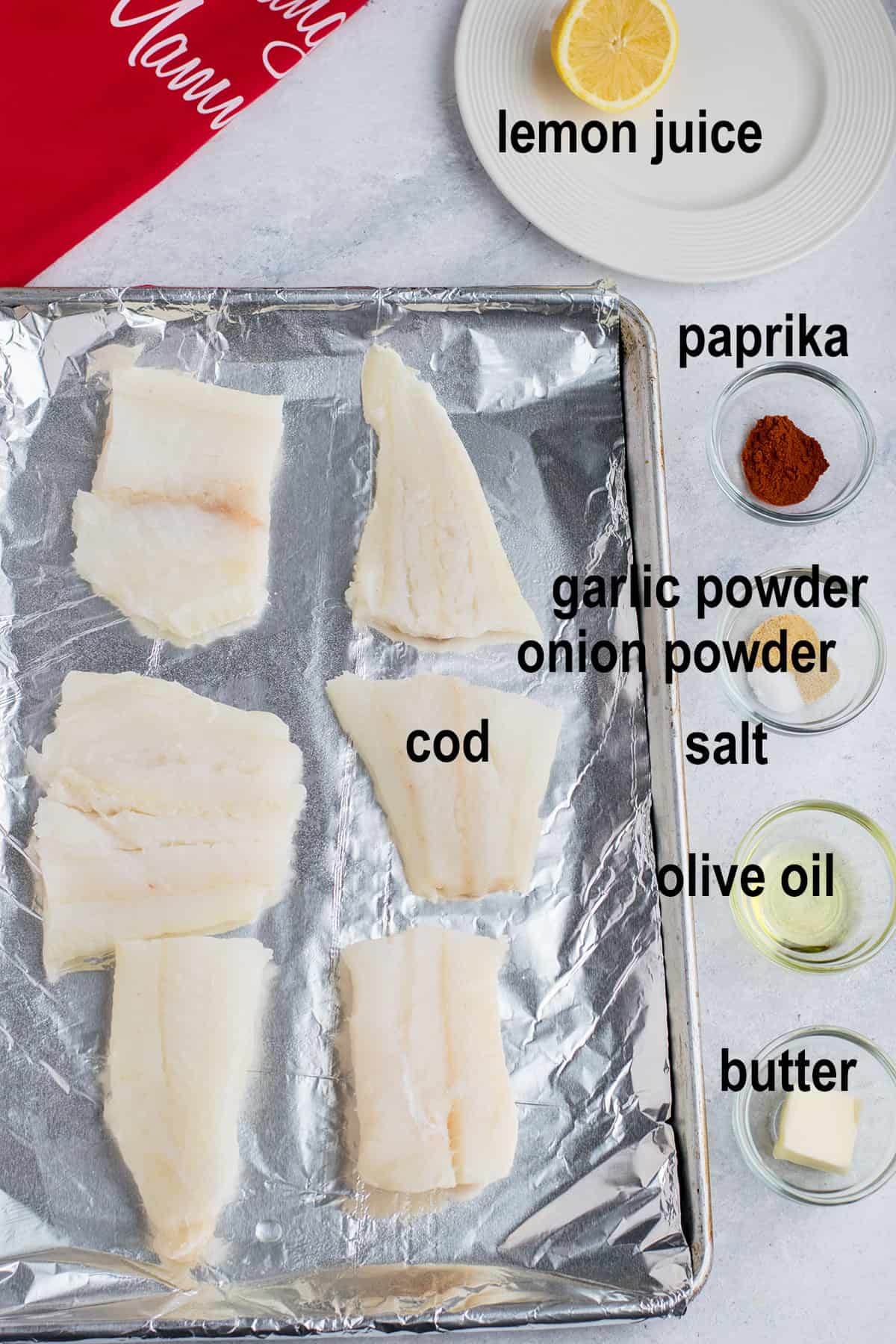 It starts with fresh cod fillets or cod loins. But, feel free to substitute haddock, pollock, orange roughy, or any sturdy white fish.
Now, let's talk about paprika. This recipe calls for plain paprika. You can use smoked paprika, if you wish, but it has a stronger flavor, so I recommend slightly reducing the amount used.
As for hot paprika, like I use in my Hungarian Chicken Paprikash, I think it might be too spicy hot here. But, you can give it a try in a reduced amount.
The other ingredient I want to mention is the butter. We're using one tablespoon here, in addition to a tablespoon of olive oil.
It's just enough for flavor and moisture, while keeping the calories low. However, if you're looking for a more decadent meal, feel free to use extra butter.
This is a judgment-free zone!
How to broil cod fillets
See the recipe card at the bottom of the post for full instructions, but here's an overview.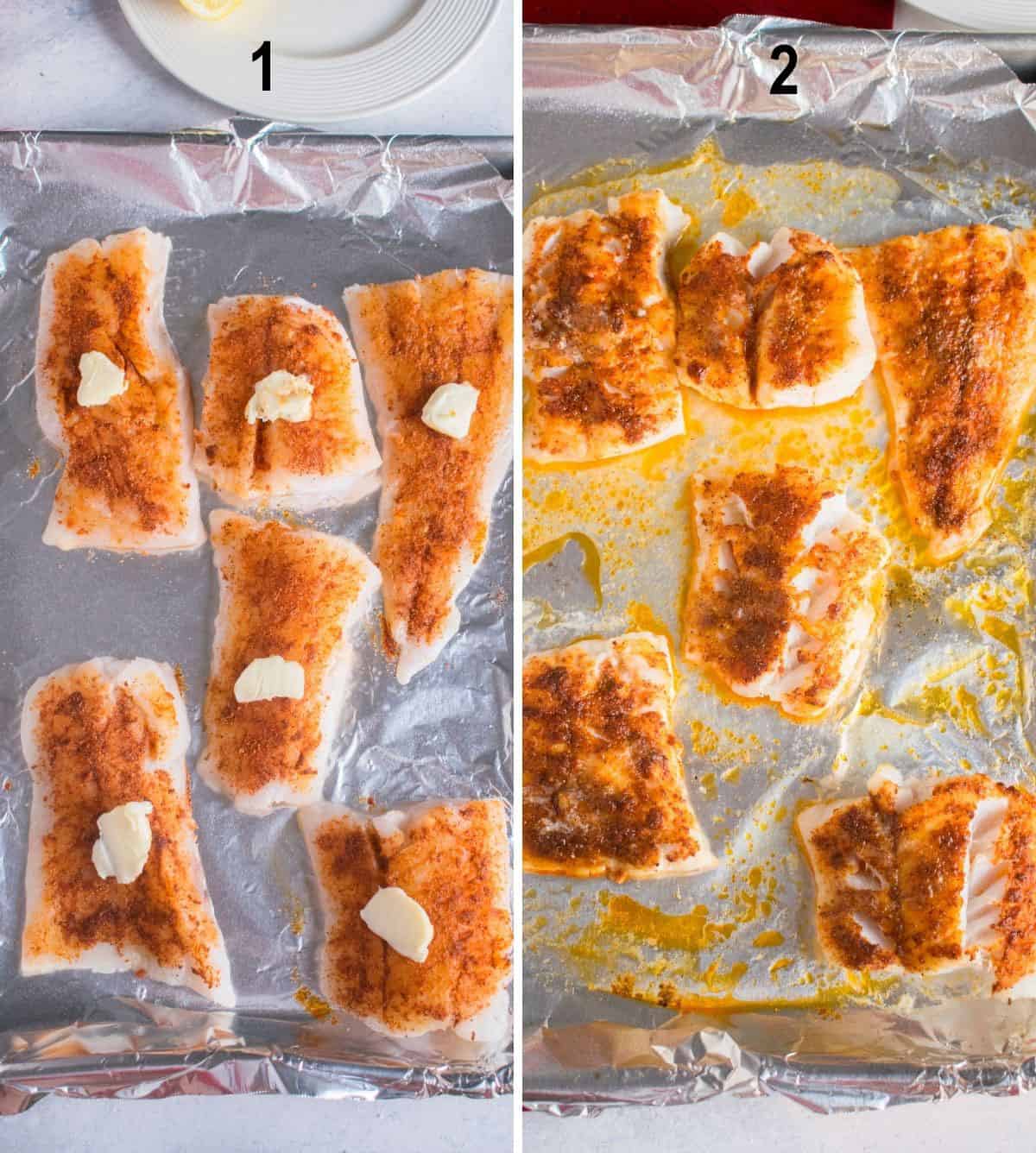 Move the oven rack to the top level. Preheat your broiler to medium heat (500 degrees F), if you have that option.
Coat the fish on both sides with a little olive oil. Place the cod on a greased, foil-lined half-sheet pan (affiliate link).
Sprinkle on a mixture of paprika, onion powder, garlic powder and salt. Rub the seasoning on the surface of the cod.
Squeeze on the juice of half a lemon. Top each piece of fish with a slice of butter.
Broil the cod for 6-8 minutes. The thin pieces will cook faster than the thick ones, so take out the thin ones as soon as they're done.
The cod is cooked when you can easily flake it with a fork. If you want to check its internal temperature, it should be 130 degrees F for a moist result.
If you want the broiled cod fillets more well done, the maximum internal temperature should be 145 degrees F. But that will give you fish that's bordering on tough.
Recipe tips
For easy cleanup, broil the cod on a foil-lined sheet pan that's greased with cooking spray.
Monitor the cod (or any food) carefully when broiling. Cooking time will depend on the thickness of your fish and how hot your broiler gets.
If the cod fillets seem to be getting too dark but still need time to cook through, move the pan to the center rack of the oven to finish cooking, keeping the broil setting.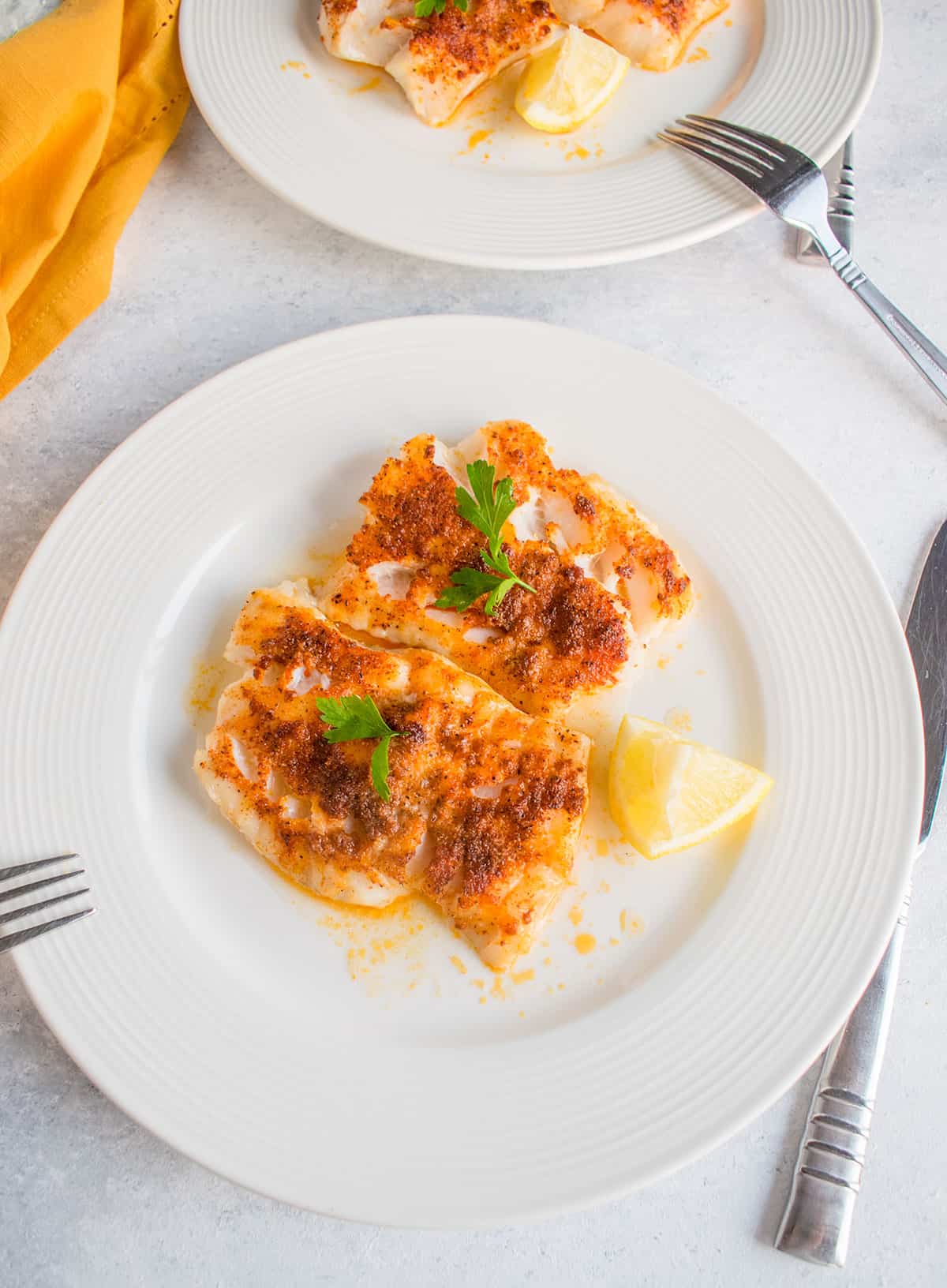 Frequently asked questions
Do you have to use a sheet pan?
It's best to use a sturdy, metal pan for broiling. Don't use a glass pan, because it might break.
Do you have to turn fish when broiling?
You don't need to turn over the cod when broiling. You may wish to rotate your pan after a few minutes, if you notice that the fish at one end of the pan is getting darker than the other end.
And, here are some tips on how to cook cod.
Enjoy!