You have to try this Atlantic Cod with Coffee Butter! It's so easy to throw together and can be on your table in 20 minutes! Low carb and gluten free.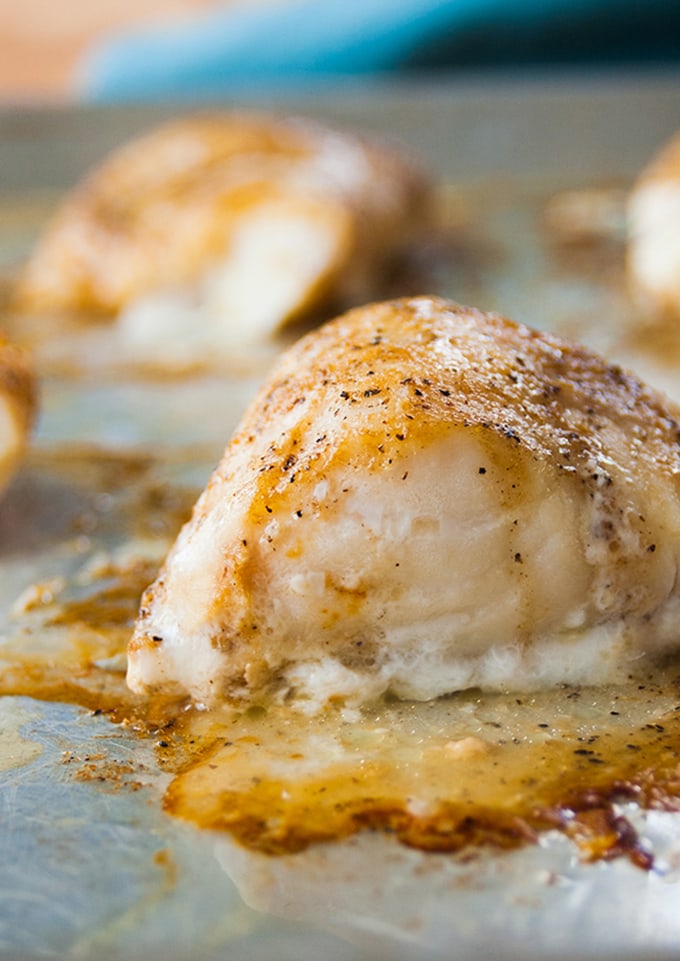 Any fellow coffee lovers out there? You're going to love this cod with coffee butter.
Like most of my cod recipes, this is quick, easy and delicious dish.
And, I'm willing to bet even non-coffee drinkers (how do you function?!) will enjoy this meal.
If you don't announce there's coffee butter involved, probably no one will guess the secret ingredient. Spoiler: it's coffee extract (affiliate link).
Yes!
It's a thing. A beautiful thing.
It gives your lemon butter a savory somethin' somethin' without using ground or brewed coffee. Combined with garlic and pepper accents, you'll have a delectable, velvety, coffee butter sauce that makes you go mmmm.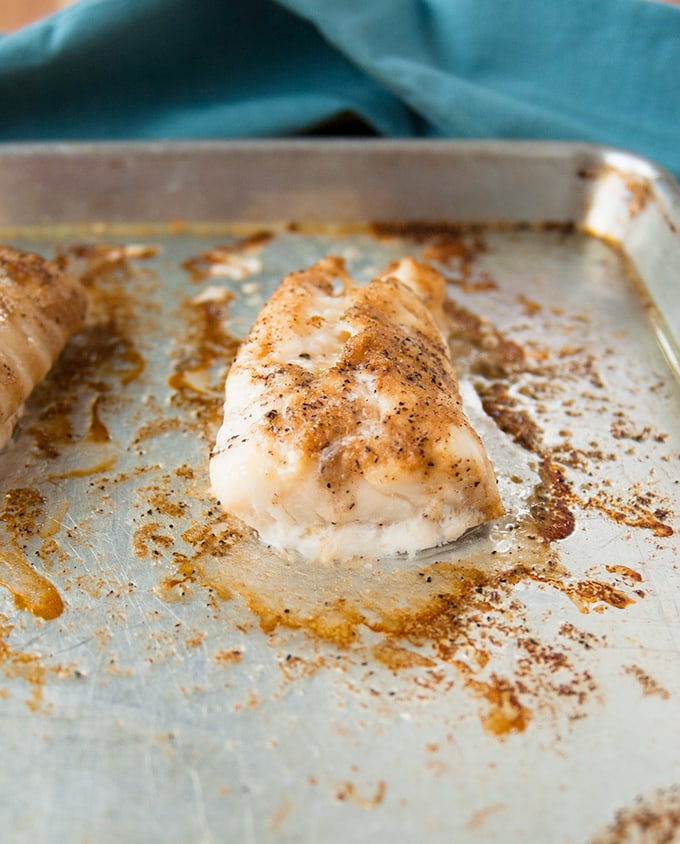 You might be wondering how in the world I decided to pair cod with coffee butter. Well, years ago, I clipped a catfish recipe from the newspaper, because..."DID SOMEBODY SAY 'COFFEE BUTTER??!'"
That old recipe called for instant ground coffee. My hubby and I enjoyed it, but my kids were put off by the taste and texture of the grounds.
So, I tucked away that note-covered newspaper clipping in my file of meal ideas (that thing is bursting at the seams now), and vowed to revisit coffee butter when my children were older.
These days, I don't stock instant coffee (yuck!) but do keep coffee extract in my pantry. It's great for coffee whipped cream, mocha anything, and I'll be baking cookies with it next.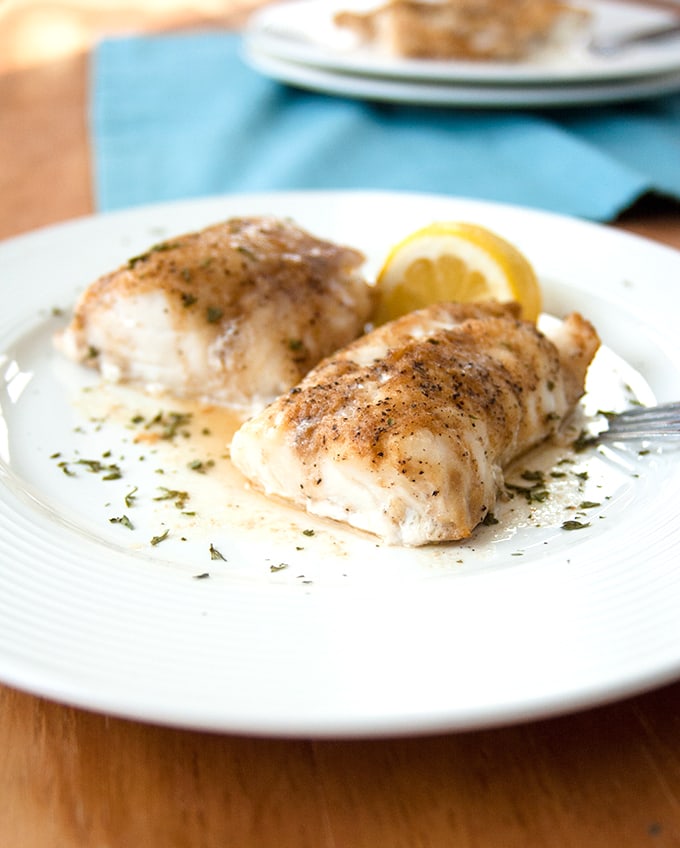 So, I ended up reinventing the coffee butter sauce, building it around the coffee extract for a smooth texture and outstanding flavor. My daughter hasn't tasted this coffee cod yet, but my son gave it a thumbs up.
It's definitely earned its spot in my blog's arsenal of fish recipes.
And, while this cod dish is gluten free and low carb — but you'll want some type of bread to soak up that to-die-for sauce in the pan. Because...coffee butter.
Coffeeee buttahhh.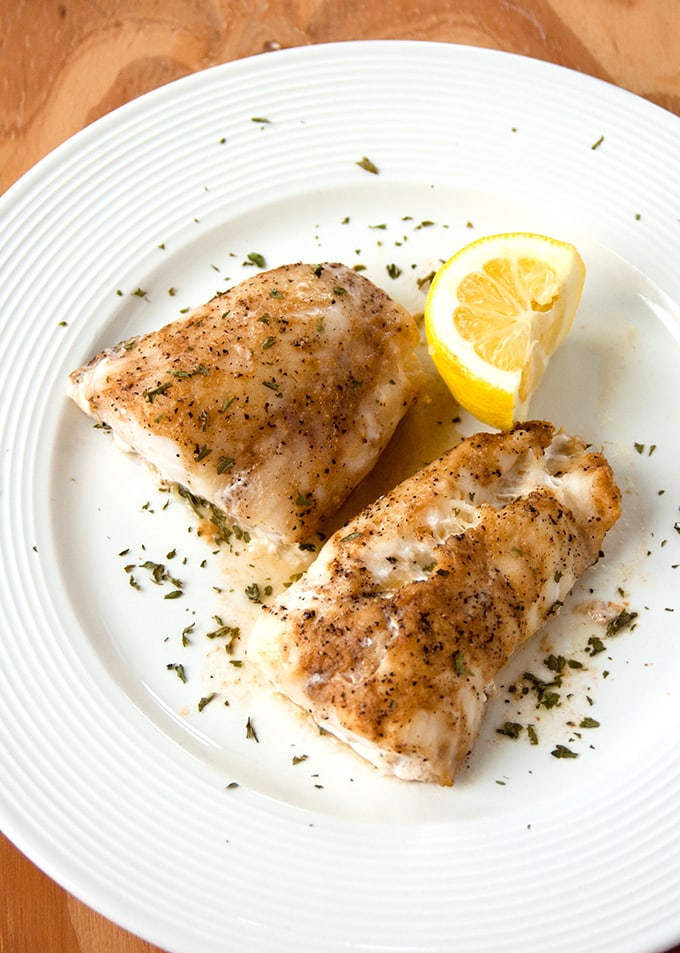 This is such a quick and easy recipe. It can be on your table in 20 minutes, from start to finish!
Serve it with rice and Rapini with Garlic. Or Baked Vegetable Risotto with Asparagus and Spinach. Yum!
Have you tried cooking cod? It's meaty, mild and tender.
If you'd like to check out some other cod recipes, don't miss my Baked Cod with Bread Crumbs and Butter, Oven-Fried Cod, Pan-Fried Cod Fish, Fried Baccalà, Broiled Cod, and my Nonna's Skillet Cod with Tomatoes.
You also have to try this Grilled Cod and Pan-Seared Cod, which is ready in less than 20 minutes. Lenten meals don't have to be boring!
(Recipe Source: Cooking with Mamma C, inspired by a recipe I clipped from the Plain Dealer years ago)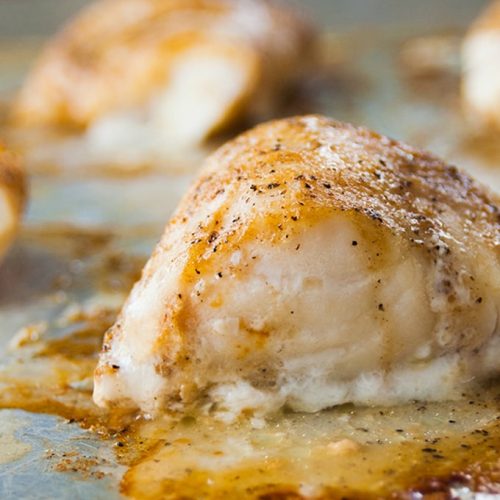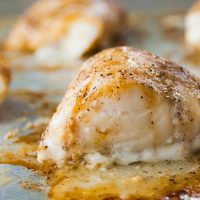 Atlantic Cod with Coffee Butter
A unique & delicious combination that can be on your table in 20 minutes! Low carb and gluten free.
Print
Pin
Rate
Save
Go to Collections
Ingredients
1 ½

pounds

fresh Atlantic cod

3

tablespoons

salted butter

1

tablespoon

lemon juice

(from one lemon)

¼

teaspoon

plus ⅛ teaspoon garlic powder

¼

teaspoon

plus ⅛ teaspoon black pepper

¼

teaspoon

plus ⅛ teaspoon coffee extract

(see notes)

salt

bread for dipping in the sauce

(optional)
Instructions
Preheat your oven to 400 degrees F. Spray a rimmed baking sheet with oil.

Rinse your cod and feel for any bones to remove. Pat the cod dry with paper towels and place the cod on your baking pan. Wash your hands well.

Melt your butter in a small bowl in the microwave. (Cover your bowl with wax paper to prevent a mess.) Heat the butter for 20 seconds at a time until melted.

Add the lemon juice, garlic powder, pepper and coffee extract to your melted butter and stir it with a spoon or whisk until combined.

Pour the coffee butter over your cod. Bake the cod for 15 minutes, or just until the fish can be easily flaked with a fork.

Add salt to taste and serve immediately. I don't recommend adding extra lemon juice, because it overpowers the coffee flavor. If desired, serve with bread for dipping in the coffee butter from the pan.

The taste and texture are best if the cod is eaten right away, but store any leftovers in the refrigerator for up to three days. Leftovers are best eaten cold.
Notes
The recipe as written provides a mild coffee flavor when the fish is cooked. You can experiment with increasing the coffee extract if you're looking for a bolder taste.
Nutrition
Calories:
216
kcal
|
Protein:
30
g
|
Fat:
9
g
|
Saturated Fat:
5
g
|
Cholesterol:
95
mg
|
Sodium:
166
mg
|
Potassium:
702
mg
|
Vitamin A:
330
IU
|
Vitamin C:
3.1
mg
|
Calcium:
30
mg
|
Iron:
0.6
mg