Lemon Parmesan Cod with Garlic Butter is so delicious, even toddlers and people who don't like fish love it! Plus, it's gluten free and low carb. One of the most popular recipes on Cooking with Mamma C!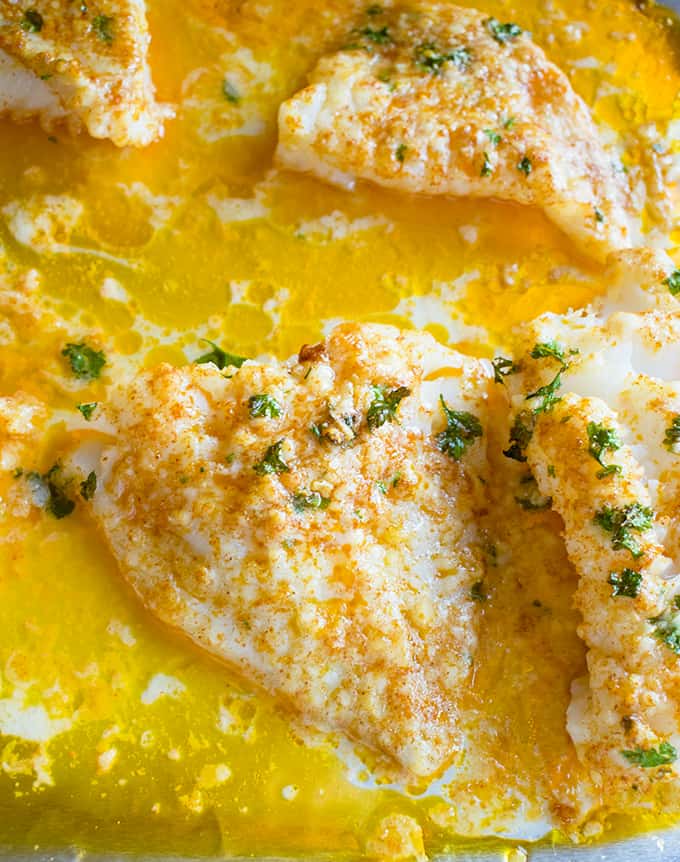 Three weeks ago, if anyone would've told me I'd be head over heels for a cod recipe, my response would've been, "What you talkin' 'bout, Willis?"
But this Lemon Parmesan Cod with Garlic Butter has blown me away and become an instant family favorite.
Allow me to explain. You see, apparently there are two types of cod: dried/salted and fresh/frozen.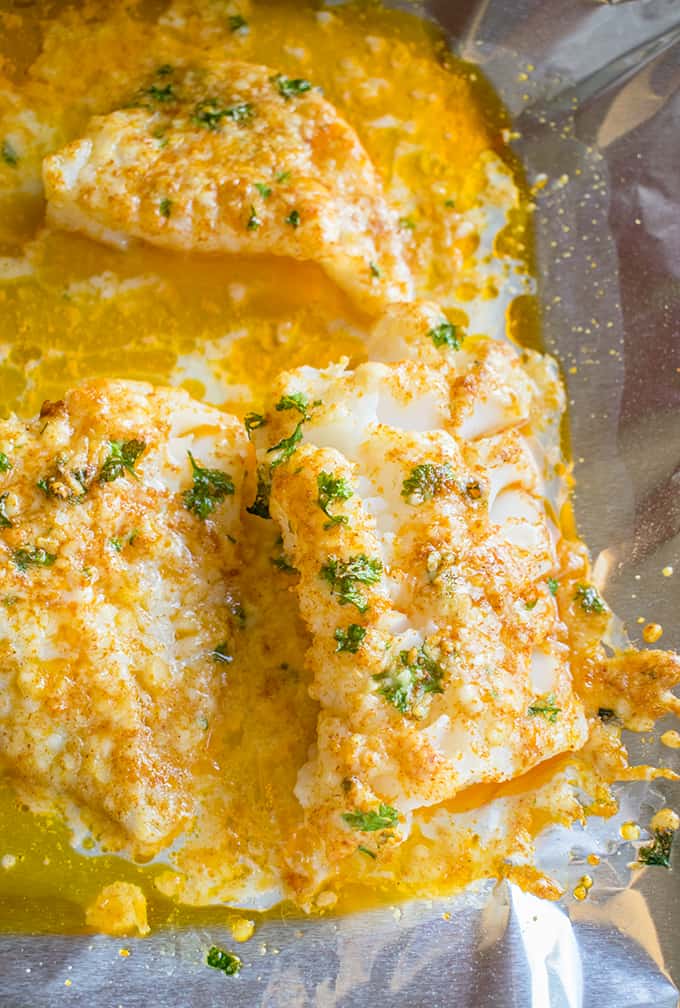 Since I was not born with this information, as my chemistry teacher used to say, I had no idea. (Is it just me? Does everyone else in the universe know this?)
Anyway, 20 years ago, I tried baccalà (that's Italian for dried, salted cod) and immediately decided I didn't like it at all. I was completely unaware that baccalà had an alter ego — the moist, mild-tasting, sturdy, so-good-it-could-pass-for-a-poor-man's-lobster fresh cod.
So, I didn't eat cod for two whole decades. What?!!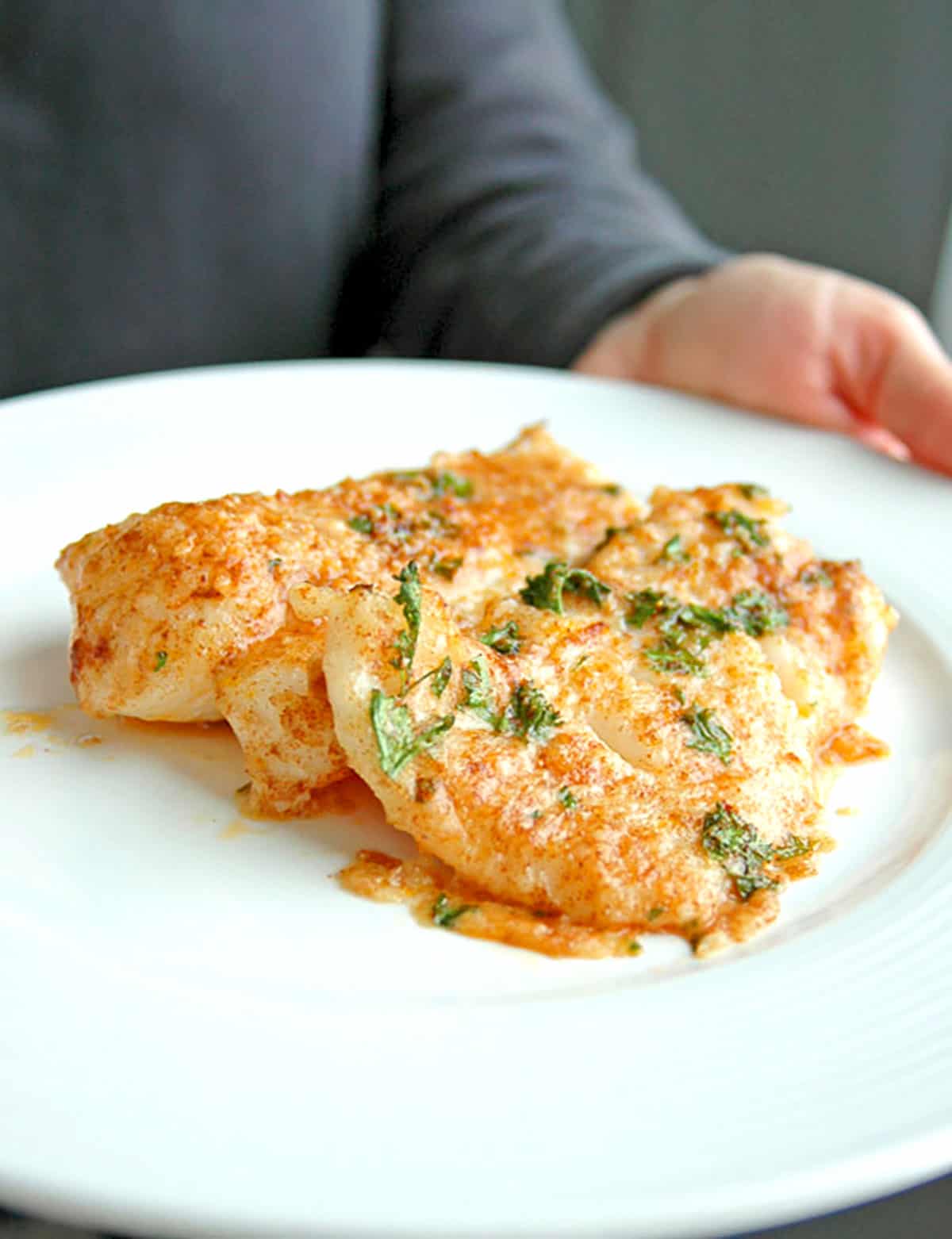 Yes, folks, I've been missing out on what has now become my favorite variety of fish. The only reason I finally tasted it is that the grocery store was out of tilapia, and the fish clerk urged me to try the cod instead.
I'd recently seen a drool-worthy photo of a cod dish on Pinterest, so I decided to take the plunge. (I'm a risk-taker like that.)
I'm so excited to tell you what I made. I took my beloved Parmesan Chicken Drumsticks with Garlic Butter recipe and turned it into a cod dish!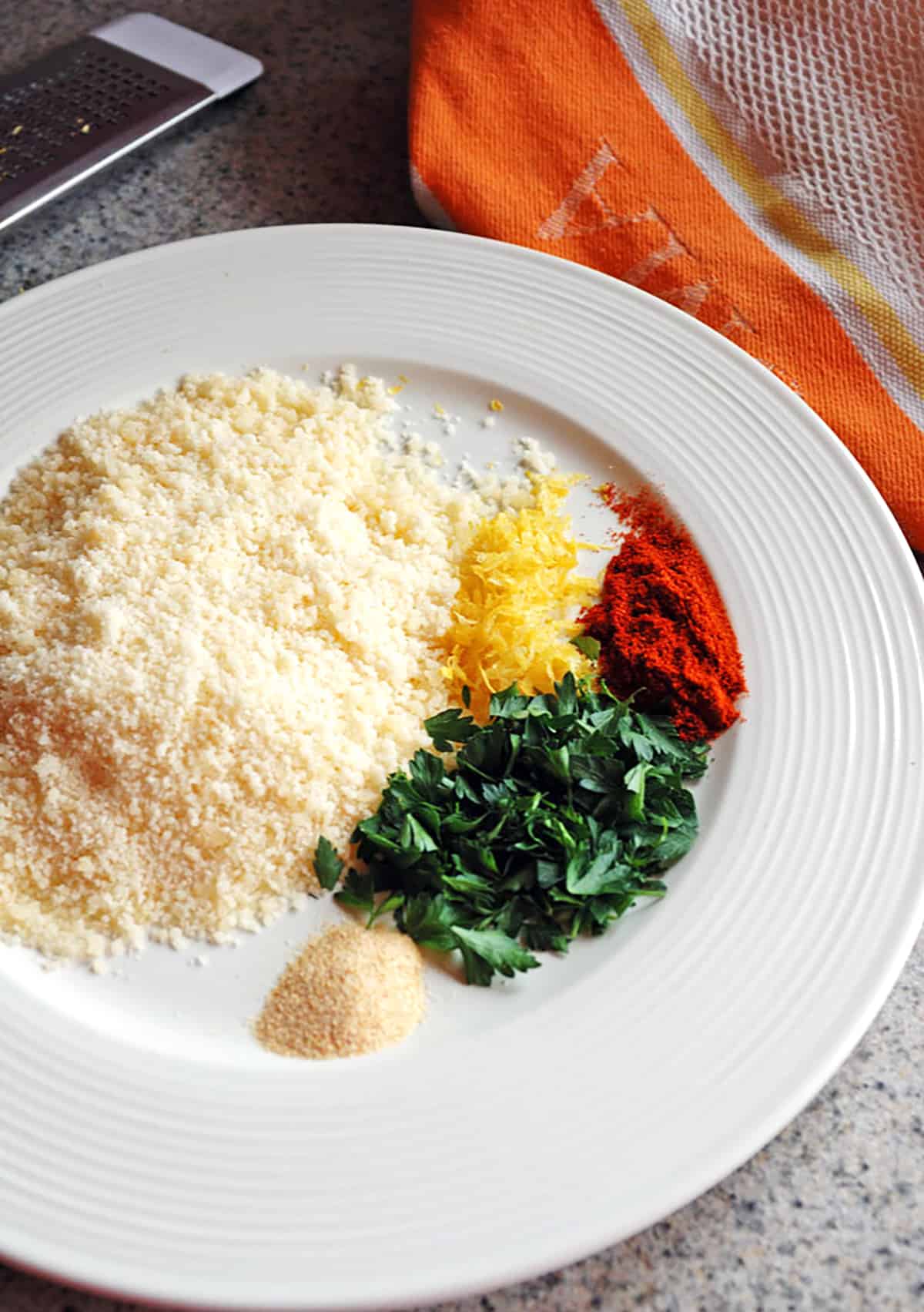 I added fresh parsley and lemon zest to the Parmesan-garlic-paprika mixture, dipped the fish in melted butter, then coated the cod with the incredible lemon-Parmesan blend. I use this zester for the lemon (affiliate link).
Then, I baked the cod at 400 degrees for 15 minutes on a sheet pan. Just like the chicken, it comes out of the oven in a nice pool of garlic butter begging for bread to be dipped in it.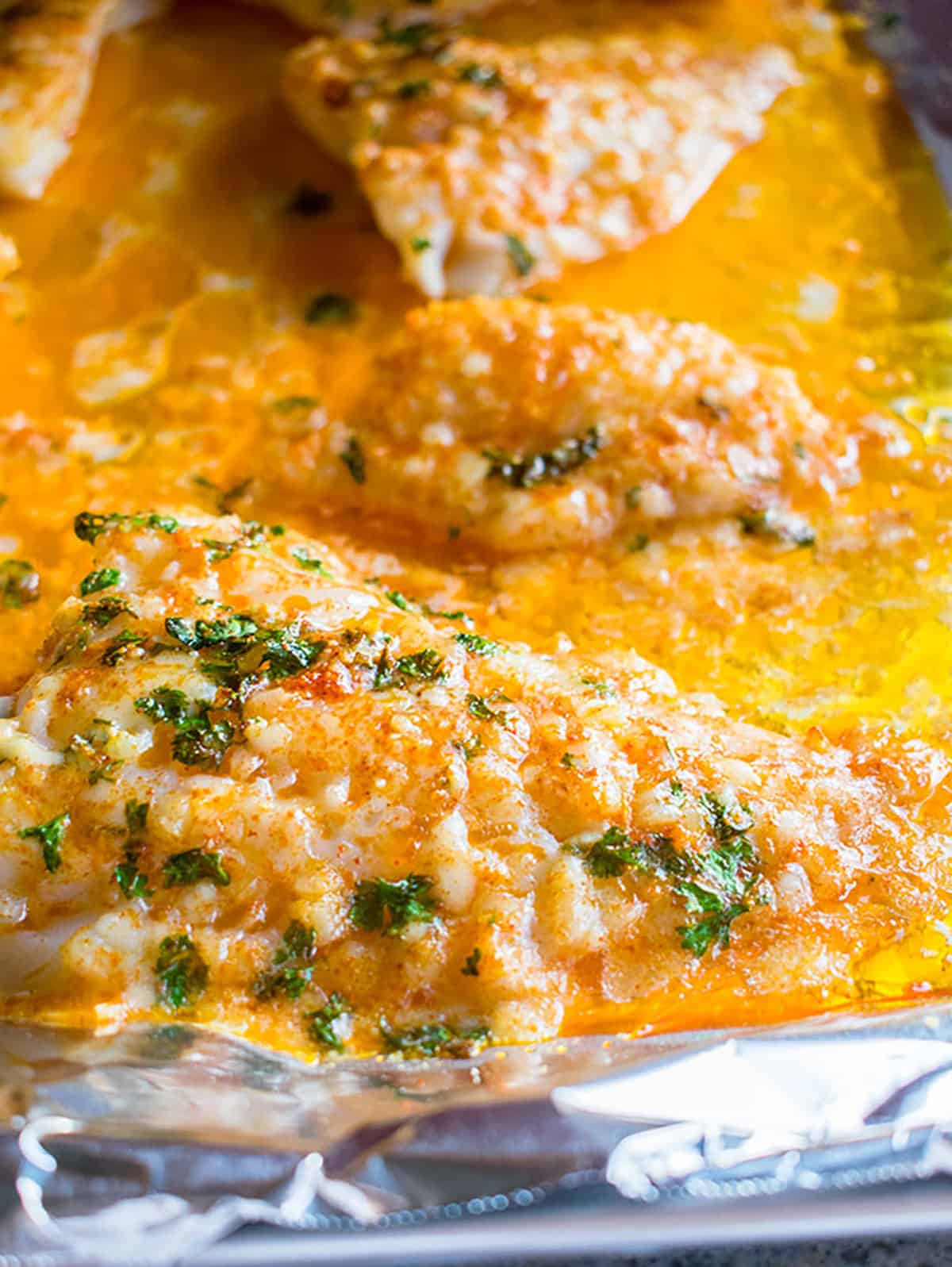 We devoured this meal like vultures. And get this — my 17-year-old daughter, who usually eats a toddler-sized portion of fish, ate a large piece and then took seconds.
We all just stopped and stared. I made this again two weeks later, and everyone welcomed it back, happily dipping their bread into the pan before I even sat down.
This cod is that good. And I can't wait to see what other cod recipes I can come up with.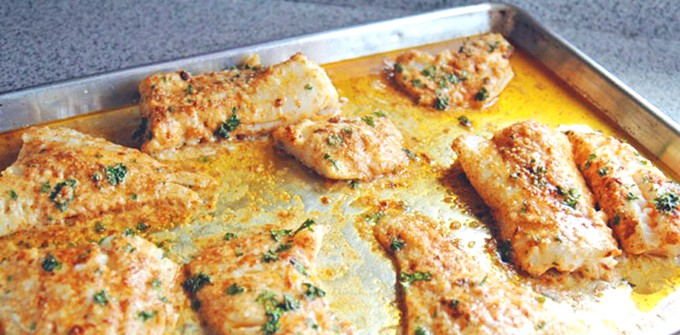 Baked Cod with Coffee Butter, anyone? And, don't miss my Nonna's Sautéed Cod with Tomatoes.
Look out, Honey. Your wife is smitten.
Enjoy!
P.S. I came up with a shrimp version of this recipe too! Don't miss this Baked Parmesan Shrimp with Garlic Butter. You also might like my other low-carb, gluten-free recipes using the garlic-Parmesan coating:
Watch the video to see how to make Lemon Parmesan Cod with Garlic Butter!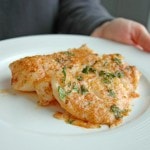 Lemon Parmesan Cod with Garlic Butter
Lemon Parmesan Cod with Garlic Butter is sure to become a favorite meal and is fit for company. Serve with bread to dip into the luscious garlic butter.
Keyword:
baked cod, gluten-free cod
Ingredients
3/4

cup

freshly grated Parmesan cheese

1/2

lemon

(zest, plus juice)

2

tablespoons

fresh parsley

(cut small or chopped)

1/2

teaspoon

garlic powder

1 1/4

teaspoon

paprika

3

tablespoons

butter

(melted)

1 1/2

pounds

fresh cod
Instructions
Preheat the oven to 400 degrees F. Grease a rimmed baking sheet with cooking spray. Place the grated Parmesan on a dinner plate and add the garlic powder and paprika.

Wash the lemon and pat it dry. Cut it in half and make zest from one of the halves by using a zester or grater to shave off the yellow part of the skin, adding it to the cheese mixture.

Rinse the parsley and pat it dry. Cut it with scissors or chop it before adding it to the cheese mixture. Toss the cheese mixture with a fork to blend it.

Rinse the fish in cold water and rub your thumbs along the surface to see if there are any bones to remove. Pat the fish dry with paper towels.

Melt the butter in a small pan on the stove or microwave it in a bowl. Set up an assembly line from left to right with the fish, the butter, the cheese mixture, and the sheet pan.

Use a fork to dip each piece of fish in the butter on both sides, then in the cheese mixture, coating both sides and patting the topping onto the cod with the fork. Place the coated fish onto the sheet pan and bake for 15 minutes. The cod is done when it can be easily flaked with a fork.

Squeeze lemon juice over the fish and serve with bread for dipping in the garlic butter (you can place the pan on the table for informal dinners) or spoon the butter over rice, mashed potatoes or polenta. Store leftover cod in the refrigerator for up to three days.
Nutrition Facts
Lemon Parmesan Cod with Garlic Butter
Amount Per Serving (6 ounces)
Calories 303
Calories from Fat 135
% Daily Value*
Total Fat 15g 23%
Cholesterol 112mg 37%
Sodium 455mg 19%
Potassium 769mg 22%
Total Carbohydrates 2g 1%
Protein 37g 74%
* Percent Daily Values are based on a 2000 calorie diet.
(Recipe Source: Cooking with Mamma C)