Got 10 minutes? Make these gluten-free Baked Parmesan Crisps for an easy appetizer, snack or to top your soup or salad! I flavor mine with garlic powder and paprika, but they're good plain too!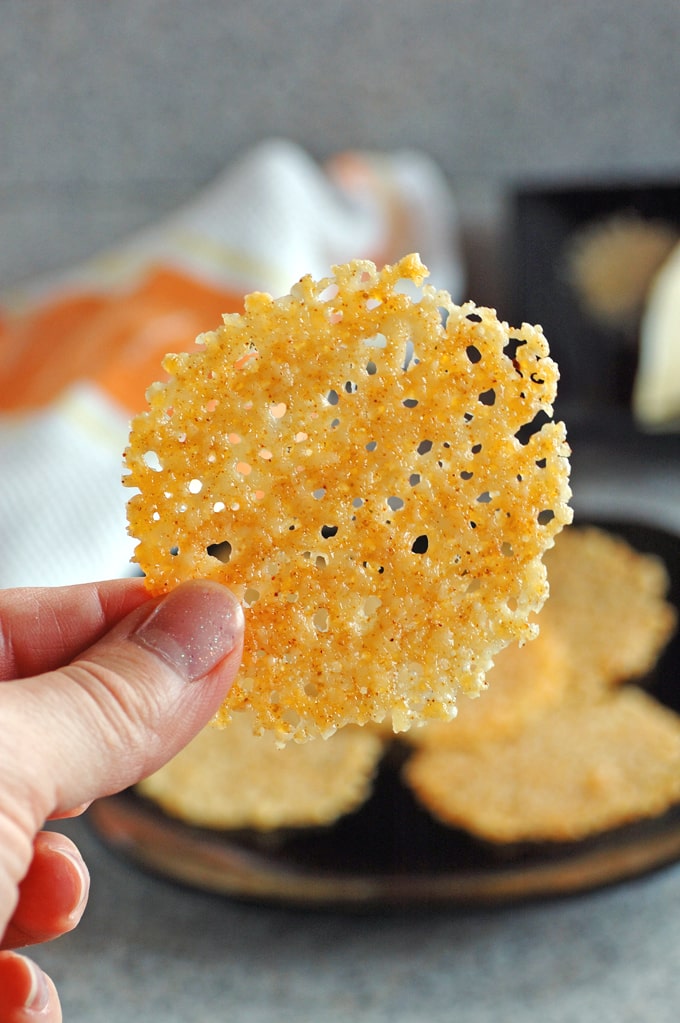 I made snowflakes for Christmas in July! Just kidding.
But aren't these baked Parmesan crisps the cutest things ever? And, do you see the heart?
I'm giddy over here. These are so fun! Oh, and they're delicious, too.
If you're wondering what's in these crisps, they just have three ingredients — freshly grated Parmesan seasoned with garlic powder and paprika. That's it! You can even make them plain, if you'd prefer, or add herbs like basil or rosemary.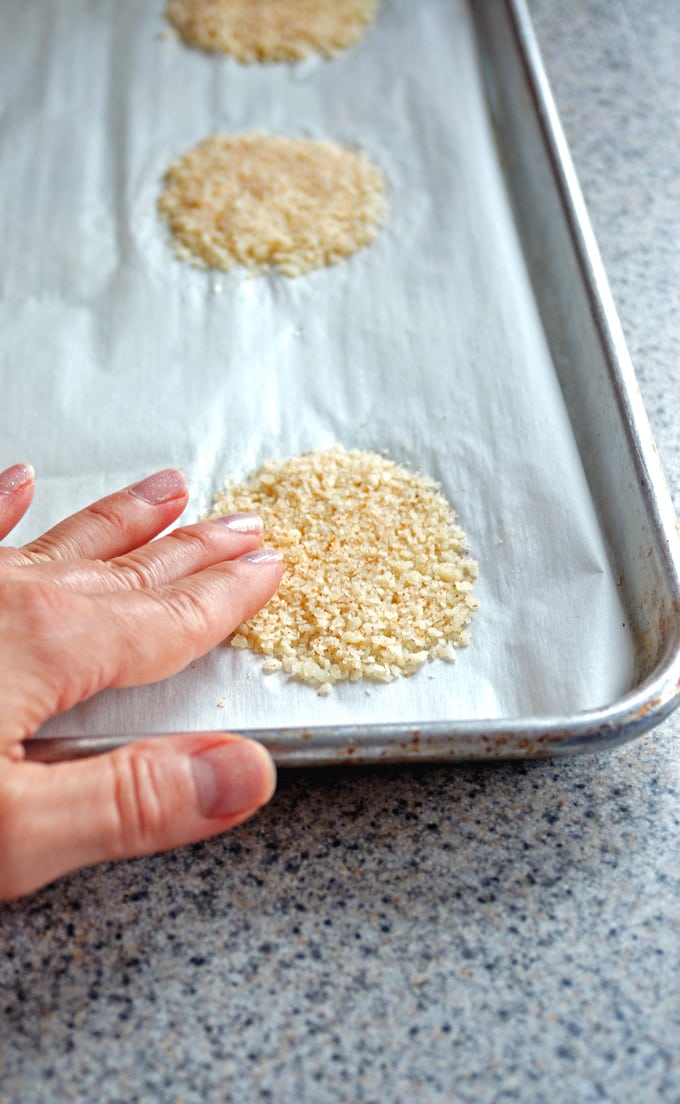 The process is so cool! All you do is scoop little mounds of your cheese mixture on a rimmed sheet pan lined with greased parchment paper. Then, you flatten them a bit with your hand and bake at 400 degrees for five minutes. Finito!
I know I'm using lots of exclamation points, but these baked Parmesan crisps make me happy. I first saw some on The Italian Dish a few years ago. I was blown away, and vowed to make them someday.
I hadn't thought of them for a long time, though, until last week. I had made little pizzas out of sliced bread for lunch, and was standing at the stove, scraping up every bit of cheese that had fallen onto the pan and gotten baked into crispy, crunchy goodness.
Suddenly, it hit me. Parmesan crisps!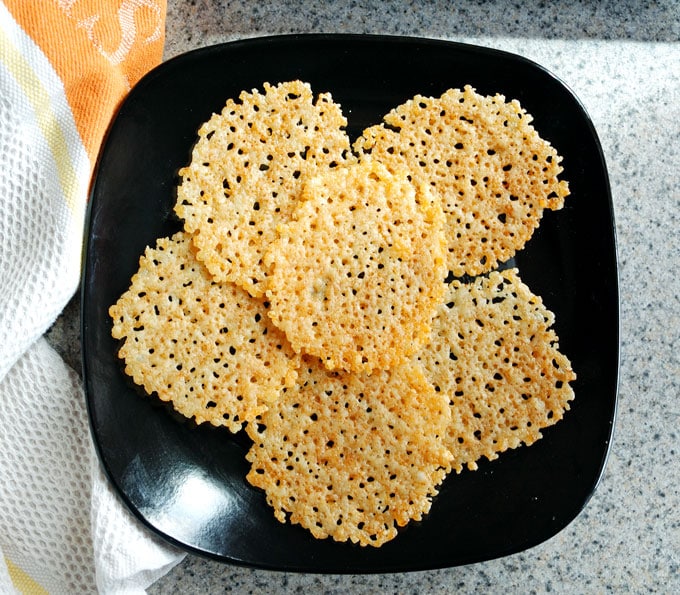 I did some research and learned they're called frico in the Italian dialect from the Veneto region, where Venice is located. I decided to add the garlic powder and paprika, because that's the combo we love in my Parmesan Chicken Drumsticks with Garlic Butter and Lemon Parmesan Cod with Garlic Butter. Mmmm.
You can make these baked Parmesan crisps as an appetizer, snack or to top your salads and soups. (They're perfect for Lightened Up Broccoli and Cheese Soup and Minestrone with Fire-Roasted Tomatoes). You can even use them to scoop up my Homemade Marinara Sauce or Spinach, Artichoke and Asiago Dip.
So many possibilities. Enjoy!
(Recipe Source: Adapted from Giada De Laurentiis)
Watch the video to see how you can make these Baked Parmesan Crisps!!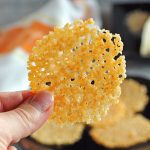 Baked Parmesan Crisps
Got 10 minutes? Make these gluten-free Baked Parmesan Crisps for an easy appetizer, snack or to top your soup or salad!
Ingredients
1

cup

freshly grated Parmesan cheese

1/4

teaspoon

garlic powder

1/4

teaspoon

paprika
Instructions
Preheat your oven to 400 degrees F. Line two large, rimmed baking sheets with parchment paper (cut them to fit inside your pan.)

Grate your Parmesan in your blender, food processor, or on a box grater until you can measure out one cup.

In a small bowl, stir together your Parmesan, garlic powder and paprika.

Using a measuring spoon, scoop a heaping tablespoon of your cheese mixture and place it on your baking sheet, starting at one of the corners. Continue placing little mounds of cheese on your pan, fitting six on each pan and spacing them apart.

Pat down each cheese mound with your hand to flatten it into a circle about 2 1/2 inches to 3 inches wide. Bake for 4-6 minutes, until they are set and starting to get crispy.

Remove the crisps from the oven and let them rest in the pan for a couple minutes. Then, use a thin spatula to transfer them to a plate or serving platter to cool. They will be most crispy if eaten soon, but store leftovers covered in the refrigerator.
Nutrition Facts
Baked Parmesan Crisps
Amount Per Serving
Calories 36
Calories from Fat 18
% Daily Value*
Fat 2g3%
Cholesterol 7mg2%
Sodium 127mg6%
Potassium 10mg0%
Protein 3g6%
Vitamin A 95IU2%
Calcium 92mg9%
Iron 0.1mg1%
* Percent Daily Values are based on a 2000 calorie diet.