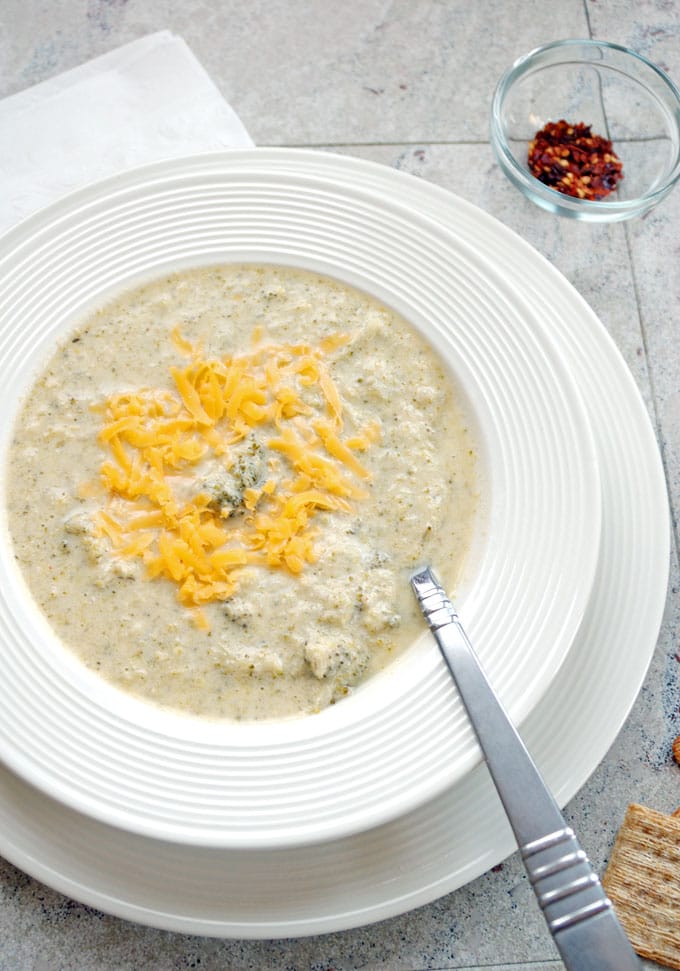 I started making this lightened up broccoli and cheese soup two years ago, when I became jealous that my daughter was frequently ordering a heavier version of this at Panera. I mean, what the heck, I can make soup too, right?
Yes, and it's one of our favorites.
As soon as I get a whiff of its delicious aroma, I'm transported back to my sophomore year in high school, otherwise known as "That Time I Joined Ski Club Even Though I'm Afraid of Heights."
Dad would always pick me up afterward and make me cream of broccoli soup when we got home.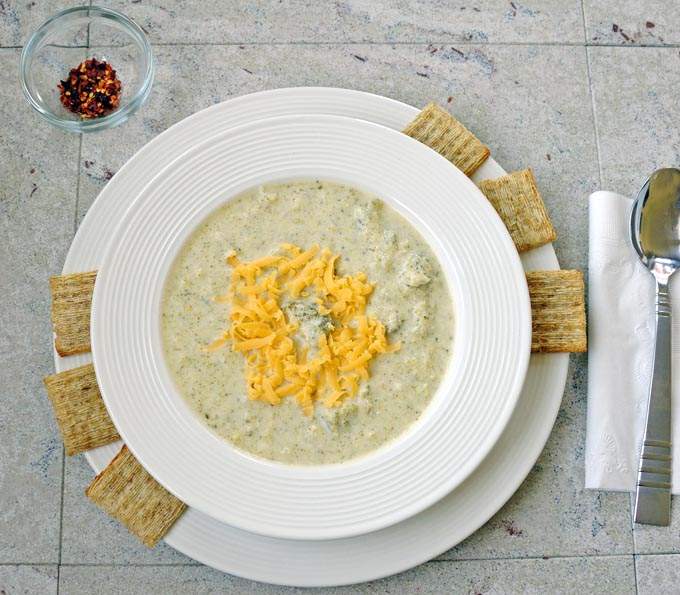 When you're cold, hungry, and still jittery from risking your life on the bunny hill as wild skiers rudely cut you off, a hot bowl of soup prepared by Dad was the most comforting thing in the world.
Even if it was the kind heated up from the freezer. Skiing is dangerous, folks!
And don't even get me started on the chair lift. Let's just say that having my feet dangling from frightening heights without being buckled in (I could slip right out!) is not my idea of fun.
My friend and I would pray Hail Marys out loud, over and over, until the ride ended. And I barely spent time actually skiing, because as soon as I'd start to pick up speed, I'd fall on purpose, scared out of my wits.
Then, I'd lay there like the Michelin Man, rolling around helplessly in my puffy (but cute) outfit because "I've fallen, and I can't get up!"
My poor friend spent most of her time trying to pull me to my feet. We were quite the pair, I tell you.
The Laverne and Shirley of the slopes.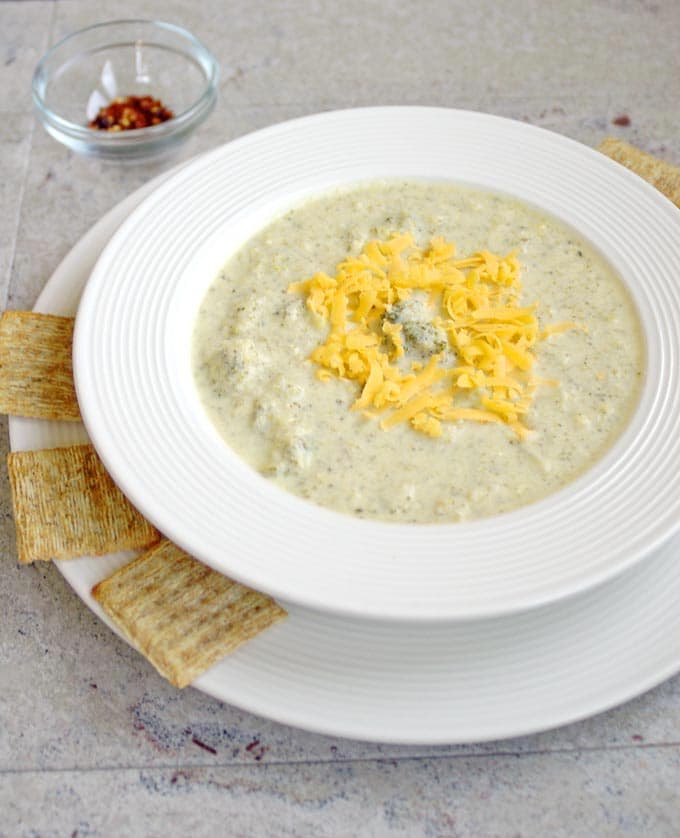 Without a doubt, I have some great memories of Ski Club. My favorite ones are in the kitchen with Dad though, safe and sound with my cream of broccoli soup.
This lightened up broccoli and cheese soup, made with 2% milk, a bit of half and half, chicken stock, onions, cheddar and Parmesan, tastes like a comforting bowl of love. I hope it creates wonderful memories around your table.
Enjoy!
(Recipe Source: Adapted from Brown Eyed Baker, who adapted it from Pioneer Woman Cooks)

Cooking with Mamma C
Serves 8
Lightened Up Broccoli and Cheese Soup
10 minPrep Time
43 minCook Time
53 minTotal Time
5 based on 1 review(s)
Ingredients
1 yellow or white onion, peeled and finely chopped
4 heads broccoli (two bunches), stems removed, florets cut into bite-sized pieces
8 tablespoons salted butter
1/3 cup all-purpose flour
4 cups 2% milk
2 cups half and half
3 cups shredded sharp cheddar cheese (about 9 ounces), divided use
1/3 cup freshly grated Parmesan
1/4 teaspoon salt
1/4 teaspoon black pepper
1/4 teaspoon garlic powder
1/4 teaspoon red pepper flakes
1 cup chicken stock
Directions
Peel and chop your onion. Rinse your broccoli, cut off and discard the stems, and cut up the florets.
In a large pot, melt your butter over medium heat. Add the onions and cook for three or four minutes, until they begin to soften. Sprinkle the flour over the onions and stir to mix, cooking for one minute. Slowly whisk in the milk and half and half.
Add in the broccoli and stir in your salt, pepper, garlic powder, and red pepper flakes. Cover the pot until it starts to simmer. Remove the lid, lower the heat, and let the broccoli simmer for 30 minutes, or until it is tender. While the broccoli is cooking, shred your cheddar and grate your Parmesan, if needed.
When the broccoli is tender, add 2 1/4 cups cheddar to the pot a handful at a time, stirring after each addition until the cheese melts. Stir in the Parmesan. Use a potato masher to break up the broccoli a bit. If you have an immersion blender, use it in your pot to blend the soup a bit, leaving some chunks. If you don't have an immersion blender, you can transfer the soup to a regular blender in two batches to puree a bit. (You can make it completely smooth if you wish, but I like to leave some chunks of broccoli.)
If you used a regular blender, return your broccoli mixture to the pot. Whisk in your chicken stock over low heat. The soup is ready when it's heated through.
Serve the soup topped with your reserved shredded cheddar and additional red pepper flakes at the table. Store leftovers in the refrigerator for up to four days.
Notes
Adapted from Brown Eyed Baker and Pioneer Woman Cooks
7.8.1.2
277
https://cookingwithmammac.com/lightened-up-broccoli-and-cheese-soup/