If you want delicious comfort food that's not heavy, Slow Cooker Cauliflower Soup with Cheddar is perfect! Serve it with pasta shells or omit them for a low-carb, gluten-free meal!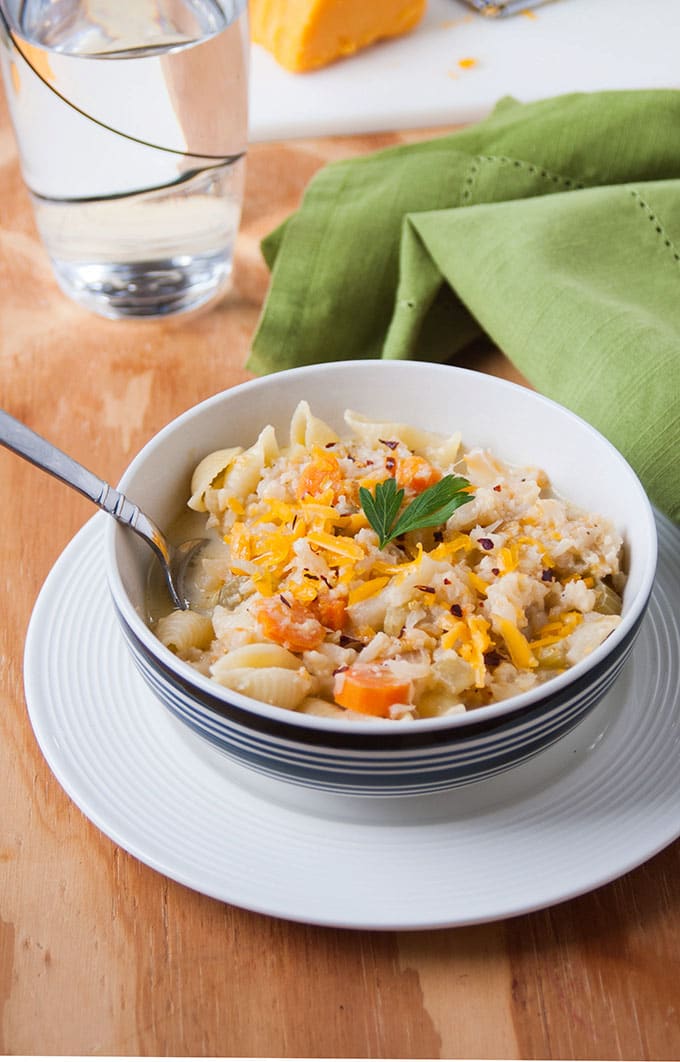 It's soup weather! Soup-ah!!! (Any Monty Python fans out there?)
I know I'm aging myself, but hey, if it works for cheddar, it works for me. (Someone, make the Dad jokes stop!)
OK, I think the coast is clear. I will now discuss slow cooker cauliflower soup with cheddar like a normal person.
I've made this soup several times over the years, always adding small pasta, such as shells or ditalini. I think it was supposed to be a low-carb recipe with only vegetables, broth, milk and cheddar, but you know me and pasta. I can't help it. Plus, I wanted to make this a complete meal. But, feel free to go the low-carb route and omit the pasta, if you prefer.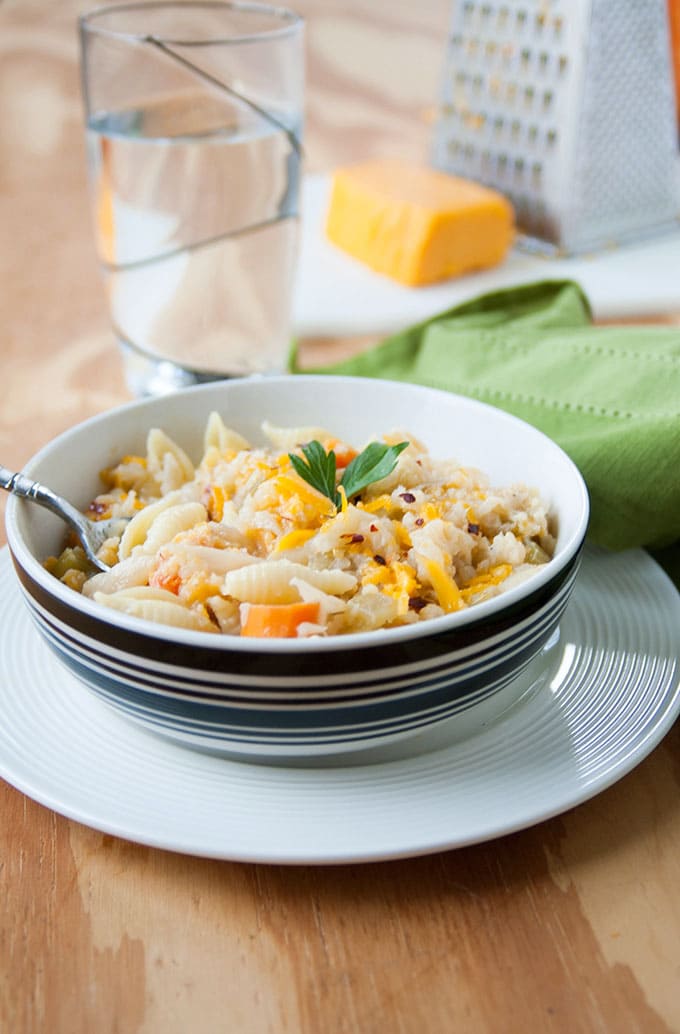 In the morning, you'll chop an onion and cut up a couple carrots and celery sticks. You'll throw those in the CrockPot with frozen cauliflower (yes!), a little seasoning, and chicken stock (or veggie stock for a vegetarian version). Later in the day, you'll get your pasta pot going, mash up the veggies right in the slow cooker, and add the soup to another pot on the stove. The milk and cheddar get added in, the cheese will melt, and the soup is ready when it's heated through.
When the pasta is ready, you'll keep it separate and add some to each serving, with the soup ladled on top. Then, if you're like me, you'll add a little more shredded cheddar on top of yours, sprinkle on some red pepper flakes, and dig into your comforting bowl of cheesy cauliflower goodness.
This is by no means a rich soup, however. There's no cream or half and half here, so you'll end up with a slightly creamy broth. If you use whole milk, you'll get a creamier texture than what you see in the photos, since I only used 2% milk. (That's what I keep in stock.)
But, especially if you're skipping the pasta, you might want to give your soup a whirl in the food processor or mix it with an immersion blender to achieve a thicker consistency, like this Lightened Up Broccoli and Cheese Soup. It's soup to you. (Another Dad joke!)
It's time to go.
Enjoy!
(Recipe Source: Adapted from Saving Dinner)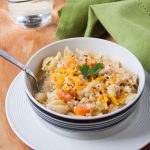 Slow Cooker Cauliflower Soup with Cheddar
This makes a big batch of soup, because I like to have leftovers, but feel free to halve the recipe. - Adapted from Saving Dinner
Keyword:
cauliflower soup, crockpot soup, slow cooker soup
Ingredients
1

medium onion

(peeled & chopped)

2

medium carrots

(peeled & cut into 1/2-inch pieces)

2

celery sticks

(cut into 1/2-inch pieces)

2

16-ounce packages frozen cauliflower

1

quart

chicken stock

(or veggie stock)

1/2

teaspoon

thyme

1/2

teaspoon

garlic powder

1/2

teaspoon

black pepper

1/8

teaspoon

salt

2

cups

milk

(whole or use 2% for a thinner soup)

4

cups

shredded sharp cheddar cheese

(plus extra for serving)

red pepper flakes for serving

1

pound

small pasta shells

(optional)

3

tablespoons

butter
Instructions
Peel and chop your onion and add it to your slow cooker. Rinse and peel your carrots and cut them up. Add them to the slow cooker. Rinse your celery and cut it up, adding it to the slow cooker.

Add your cauliflower, chicken stock, thyme, garlic powder, salt and pepper to the slow cooker. Cover and cook on low for 4-6 hours, until the veggies are tender.

When the veggies are just about done, cook your pasta, if using. Fill a pasta pot a little more than halfway with hot water. Add a couple teaspoons of salt, cover the pot, and heat it on high to boil.

Shred your cheddar, if needed, and set it aside.

When the water boils, add your pasta, stir it, and lower the heat a bit. Stir it periodically while it's cooking, to prevent sticking.

While the pasta is cooking, turn off your slow cooker and use a potato masher to mash up the veggies a bit. (Or, you can blend the soup in a food processor or with an immersion blender for a smoother consistency.) Pour the soup mixture into a clean pot on the stove. Add in your milk and cheese, heat over medium heat, and stir until the cheese is melted and the soup is hot. Turn off the heat and taste to see if the soup needs extra salt.

When the pasta is al dente, drain it in a colander in the sink and return the pasta to your empty cooking pot. Stir in three tablespoons of butter to keep the pasta from clumping.

To serve, scoop some pasta into each bowl and ladle the soup over it. Top with more shredded cheddar and red pepper flakes, if desired.

Store the soup and pasta separately in the refrigerator for up to five days.
Nutrition Facts
Slow Cooker Cauliflower Soup with Cheddar
Amount Per Serving
Calories 596
Calories from Fat 243
% Daily Value*
Fat 27g42%
Cholesterol 80mg27%
Sodium 668mg29%
Potassium 794mg23%
Carbohydrates 58g19%
Protein 28g56%
Vitamin A 3345IU67%
Vitamin C 57mg69%
Calcium 526mg53%
Iron 1.9mg11%
* Percent Daily Values are based on a 2000 calorie diet.