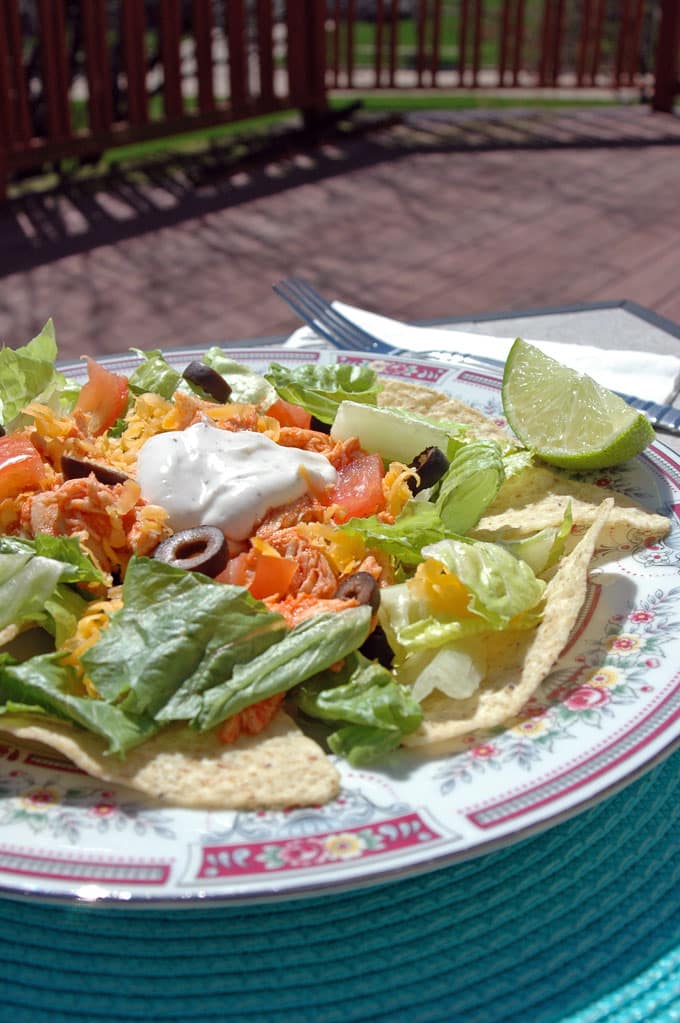 To the ladies at Panera: You made our day. And I think you'll enjoy this Buffalo Chicken and Nacho Salad with My Son's Homemade Ranch Dressing.
To everyone else, I have to tell you what happened!
My son was at Panera the other day and heard the women in the next booth talking about how much they love Cooking with Mamma C. (Oh my gosh!)
He wondered if he should say something, but didn't want to interrupt.
Then, get this — one of the ladies started talking about how the Ranch dressing recipe is so good, she's made it 10 times already because everybody asks for it. (Wow!)
So now my son knew he had to say something. He went over and explained that he couldn't help but overhear them talking.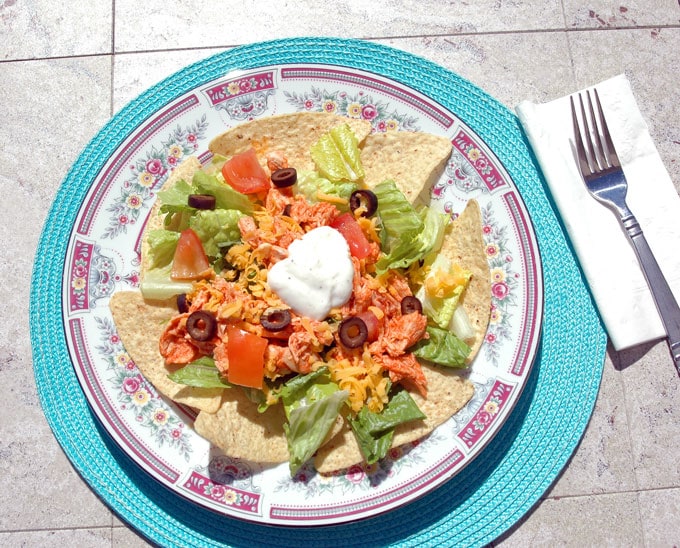 "That's my mom's blog, and that's my Ranch recipe," he told them. (I'm melting.)
So they had a nice little chat, and one of the women said she loves my White Chocolate Macadamia and Coconut Mug Cookie and makes it all the time. I'm so happy to hear that!
I usually have no idea if readers tried making a recipe from the blog, and if so, whether they liked it. Whenever I do get an email or a comment to that effect, it makes it all worthwhile.
And I assure you, it doesn't go to my head. No, it goes straight to my heart.
I get such satisfaction knowing that I helped bring smiles and good food to your day. So, don't be shy!
I'd love to hear from you.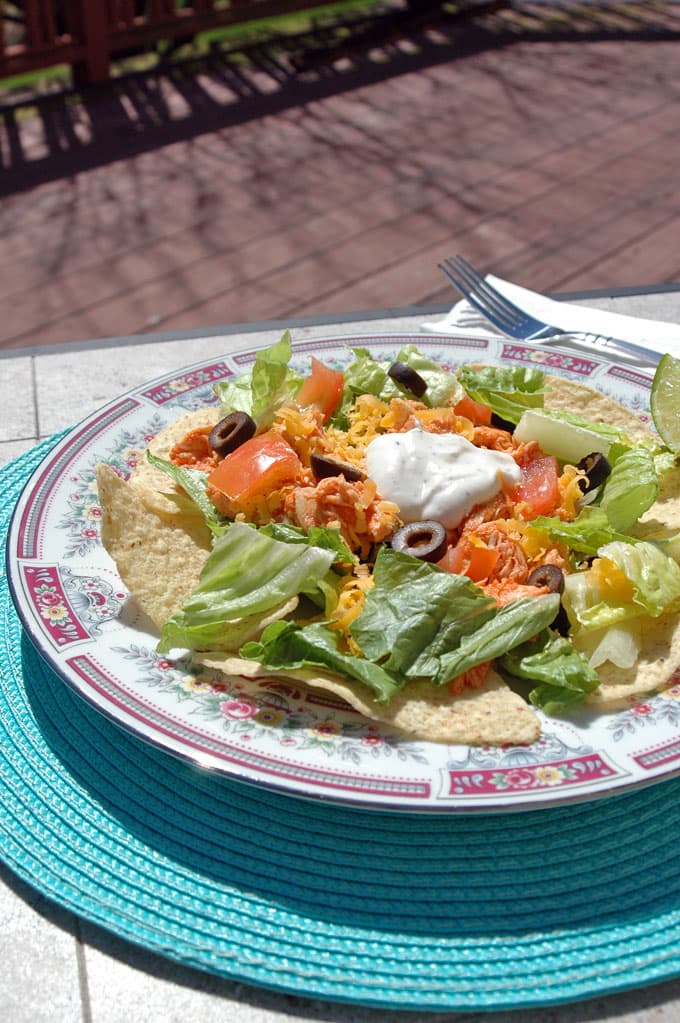 Now, back to today's recipe. It's really easy and fun. You simply place chicken breasts in the slow cooker with some Frank's RedHot Original, cook them just until they're done and shred them.
Then, you layer your salad with tortilla chips (I like Giant Eagle's natural ones), some lettuce, chicken, chopped tomatoes, sliced olives, shredded cheddar and whatever else you'd like.
Just make sure to top it with some Ranch and a squirt of lime juice, which knocks this meal out of the park. Yum!
Enjoy!
(Recipe Source: Slightly adapted from The Sisters' Cafe)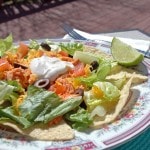 Buffalo Chicken and Nacho Salad
Keyword:
buffalo chicken salad
Ingredients
1 1/2

pounds

fresh boneless, skinless chicken breasts

(3 large breasts)

6

ounces

Frank's RedHot Original sauce

2

10- ounce bags chopped Romaine lettuce

natural tortilla chips

(use gluten-free if needed)
Toppings
chopped tomatoes

shredded sharp cheddar

sliced black olives

half a lime for squeezing

Ranch dressing

(try Cooking with Mamma C's Homemade Ranch)
Instructions
Place the chicken breasts in a slow cooker in a single layer, if possible, and pour the hot sauce over them.

Cook on high for 1 hour and 45 minutes. Check to see if the chicken is cooked through (no longer pink inside). If the chicken needs more time, cook it for 15 minutes longer or until it is done. While the chicken is cooking, prepare your toppings and keep them chilled.

When the chicken is done, transfer it and its sauce to a medium bowl and shred with two forks. Let the chicken cool at room temperature for a bit. If you have time, it's best to let the chicken chill in the refrigerator before using it in your salad.

To assemble your salad, cover each dinner plate with a layer of tortilla chips. Place some lettuce on top. Add some chicken and sprinkle on your tomatoes, cheese, olives and any other toppings of your choice. Squeeze on some lime juice (don't skip it; it adds a lot of flavor) and serve with Ranch dressing.

Store leftover chicken in the refrigerator for up to three days.
Recipe Notes
Whenever making chicken breasts in the slow cooker, it's important to only leave them in just until they're cooked. They'll dry out if left all day long. I used a Crock Pot large enough to place my raw chicken in a single layer, and it cooked rather quickly. Whenever I have more chicken or need to stack it, it takes longer to cook. (It shouldn't take more than 4 hours on high though.) You might have to experiment to see what works best with your slow cooker.
For a great weeknight option, you can cook the chicken in the evening, shred it and refrigerate it overnight. Then, you can assemble your salad at dinnertime the next day.
Nutrition information does not include toppings or tortilla chips.
Nutrition Facts
Buffalo Chicken and Nacho Salad
Amount Per Serving
Calories 218
Calories from Fat 36
% Daily Value*
Total Fat 4g 6%
Cholesterol 108mg 36%
Sodium 1512mg 63%
Potassium 979mg 28%
Total Carbohydrates 4g 1%
Protein 37g 74%
* Percent Daily Values are based on a 2000 calorie diet.