Make Seven-Layer Taco Dip from Scratch and see how addictive it is! Homemade bean dip and taco seasoning take this much-loved party appetizer to a whole new level! It'll be ready in 25 minutes.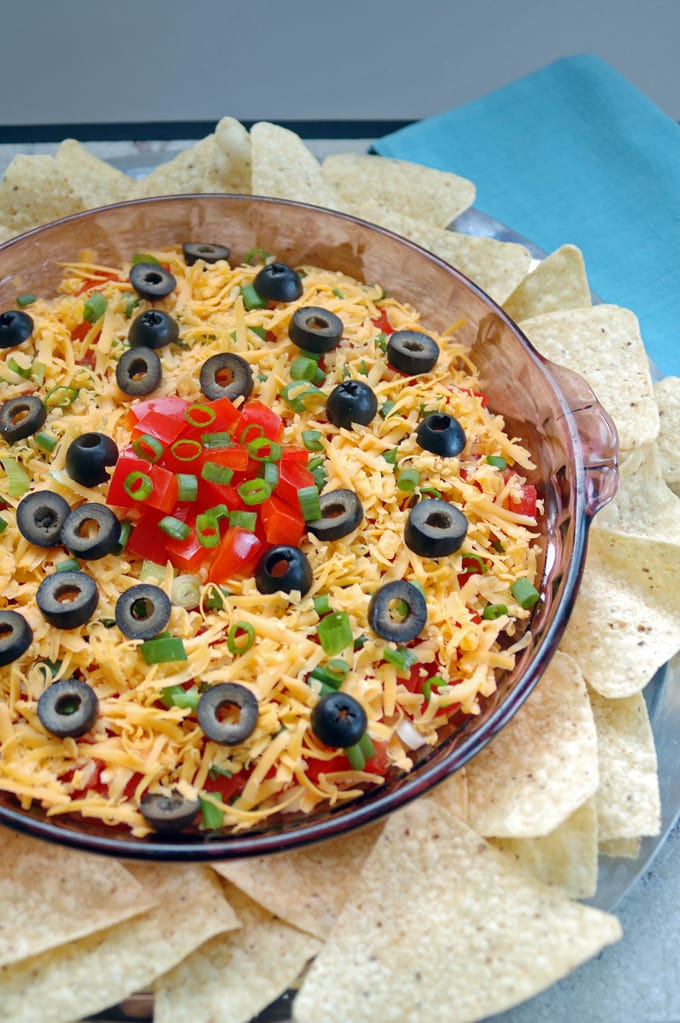 This post is dedicated to the 150+ theater kids (now young adults) who enjoyed this dip at my house during the many high school cast parties we hosted over the years. If it's possible to feel sentimental about an appetizer — this seven-layer taco dip from scratch is the one that gets me.
If I close my eyes, I can still see the girls who'd arrived early gathered around my kitchen island to watch me prepare this.
I can still hear the laughter and banter of the growing crowd as each party progressed.
And I can still see my coffee table being dragged into the corner to make room for dancing in our family room, as teenagers lounged everywhere. (Theater kids always made themselves right at home.)
I loved every minute of it.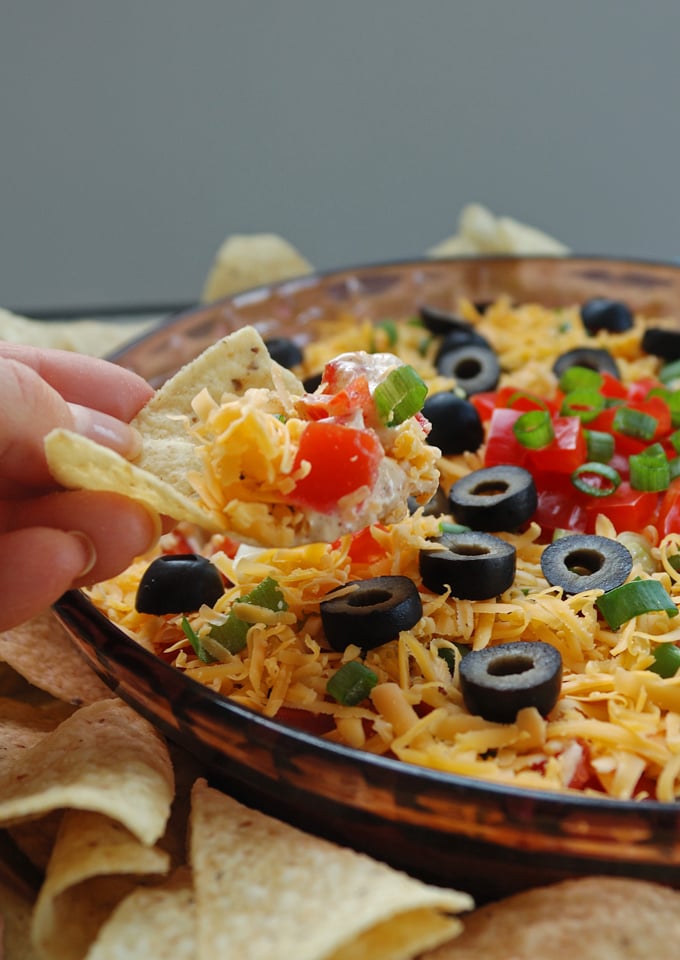 These are the kids who nicknamed me "Mamma C."
I guess it's partly because I always wanted to cook for them. They'd be eating pizza all week after rehearsals, and were really in the mood for something different by the weekend.
My hubby and I initially wracked our brains trying to figure out how to economically entertain such a large group of young people. Don't laugh, but we served hot dogs for our first party, along with this seven-layer taco dip, side dishes, dessert, cake and ice cream.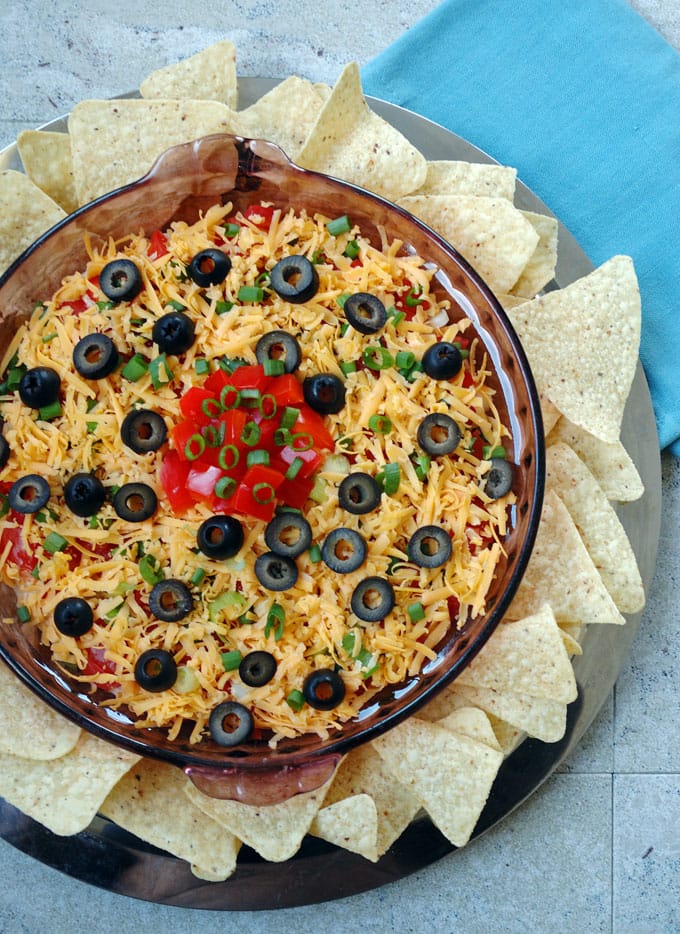 By our second bash six months later, we'd remembered we're Italian. So, I made rigatoni and a big pot of homemade marinara sauce as the main dish.
I wasn't going to serve the dip, since I didn't think a Tex-Mex appetizer was the right fit. But the kids wouldn't hear of it.
"Mom, everyone wants you to make the dip," my son informed me. So, along with the pasta and sauce, it became part of our Official Cast Party Menu.
I tweaked the dip over the years, ditching the store-bought taco seasoning (which basically is a packet of sodium and chemicals with a couple of spices) and mixing up my own.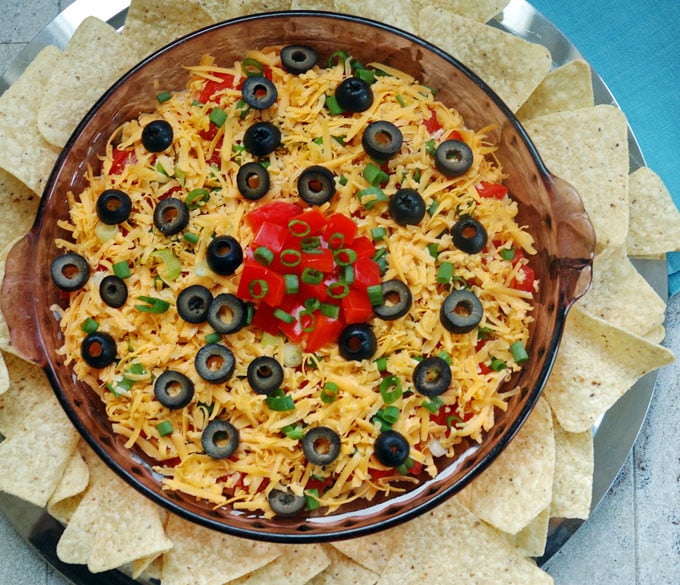 And, now that I'm really trying to cut back on processed foods, I even made the bean dip layer from scratch. It's a lot cheaper, and easy as throwing a can of drained and rinsed beans into the food processor with four ingredients.
Plus, I found organic mayonnaise with no preservatives to go with the sour cream layer and shredded the sharp cheddar myself.
This seven-layer taco dip from scratch is delicious and addictive as ever. It's perfect for the Super Bowl, your book club...and definitely when you're having 55 teenagers over for dinner.
Enjoy!
(Recipe source: Cooking with Mamma C. Heavily adapted from a recipe given to me 22 years ago.)
More recipes you'll love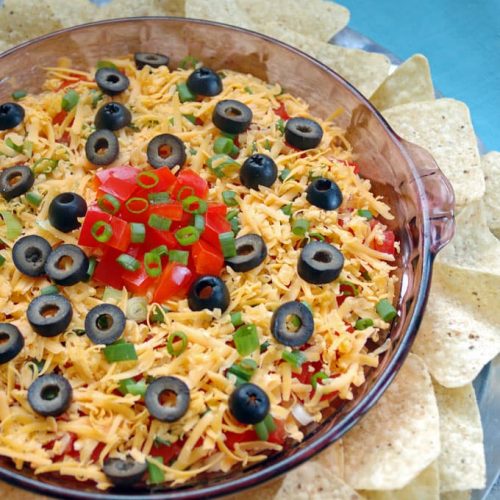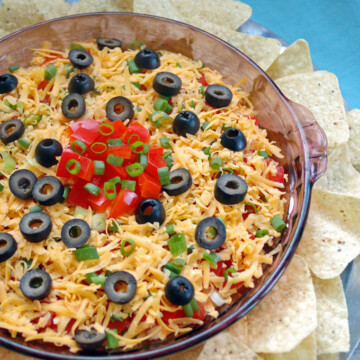 Ingredients
Bean Dip
1

15-ounce can pinto beans

(drained & rinsed)

1

Tablespoon

hot sauce

(I use Frank's)

2

teaspoons

olive oil

½

teaspoon

cumin

⅛

teaspoon

salt
Sour Cream & Mayo Layer
1

cup

sour cream

(low fat is fine)

½

cup

mayonnaise

(low-fat is fine)

1

Tablespoon

chili powder

1

teaspoon

cumin

¼

teaspoon

garlic powder

⅛

teaspoon

salt

⅛

teaspoon

cayenne pepper
Toppings
½

red pepper

(chopped, plus extra for garnish, if desired)

3

roma tomatoes

(cored, seeded & chopped)

1

cup

shredded sharp cheddar cheese

4

green onion stalks

(snipped into small rings)

3

ounces

black olives

(drained, rinsed & sliced)
Chips for Serving
13-

ounce

bag tortilla chips
Instructions
To make your bean dip, drain and rinse your beans in a fine mesh strainer in the sink. Add the beans to a food processor or blender, along with the other bean dip ingredients. Pulse or blend until you have a paste. Spread the bean dip in the bottom of a pie dish.

For the sour cream layer, in a small mixing bowl, whisk together your sour cream, mayo, and seasonings. Gently spread it over the bean dip layer.

Prepare your toppings. Rinse and pat dry your red pepper, cut out its stem, and cut the pepper in half. Remove and discard the membrane and seeds. Slice the pepper half into strips and then slice those into small pieces. Pat the cut up peppers dry with a paper towel and sprinkle them on top of the sour cream layer.

Rinse your tomatoes and pat them dry. Cut out the core of each tomato and cut the tomatoes in half. Gently squeeze each tomato half over the sink as you scrape out the seeds. Chop up the tomatoes, pat them dry, and add them in a layer on top of the peppers.

Shred your cheddar until you have 1 cup. Sprinkle the cheese on top of the tomatoes.

Rinse your green onions and pat them dry. Slice off the root end and discard. Trim off the tips of the green parts if they look wilted. Using kitchen scissors if you have them, cut the green onions into small rings. Sprinkle almost all of them on top of the cheese layer, saving a few for garnish.

Drain and rinse your olives in a fine mesh strainer in the sink. Pat them dry. Slice up the olives into threes and add dot them over the cheese and green onions.

If desired, you can garnish the center of the dip with a small mound of extra diced peppers sprinkled with green onion slices.

Store the dip covered in the refrigerator until it's time to serve. Serve it with the tortilla chips and enjoy!
Nutrition
Calories:
546
kcal
|
Carbohydrates:
48
g
|
Protein:
13
g
|
Fat:
34
g
|
Saturated Fat:
9
g
|
Cholesterol:
35
mg
|
Sodium:
709
mg
|
Potassium:
500
mg
|
Fiber:
8
g
|
Sugar:
3
g
|
Vitamin A:
1165
IU
|
Vitamin C:
14.5
mg
|
Calcium:
256
mg
|
Iron:
3
mg