You're going to love this Blueberry Salsa! It's refreshing, naturally sweet and provides a kick of heat.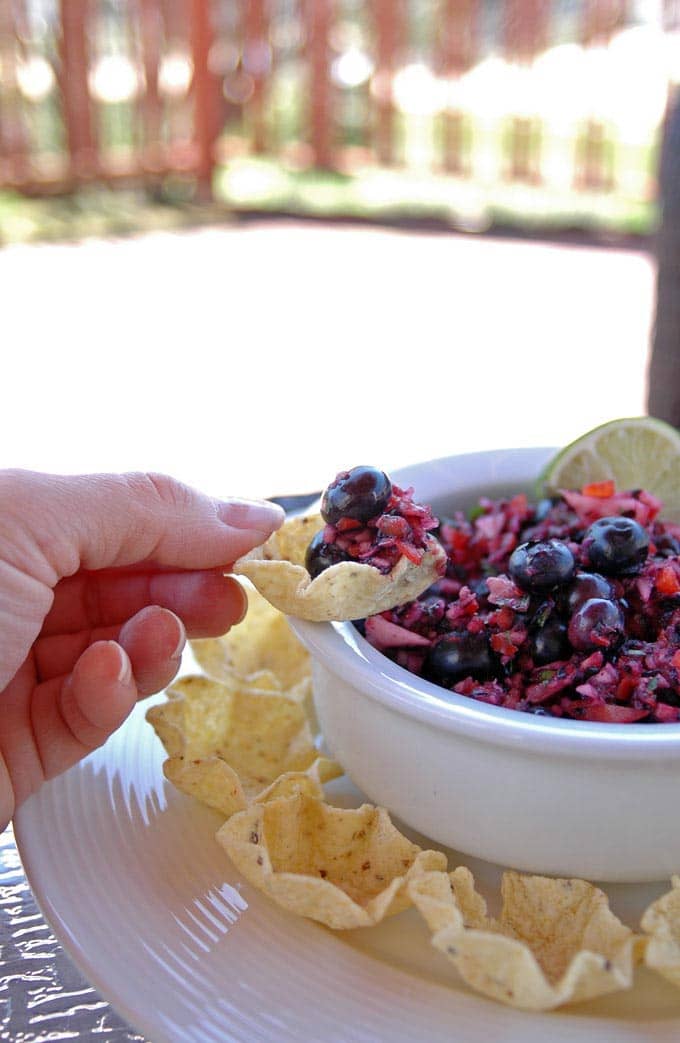 I'm completely addicted to this Red, White and Blueberry Salsa. I mean, my teeth are blue, but I couldn't care less.
My love for blueberries run deep. I make Blueberry Pie with Sugar Cookie Crust, Healthy Whole Wheat Blueberry Muffins and Easy Lemon-Blueberry Pancakes.
If it's got blueberries, I'm in!
Our blueberry salsa craze started when we discovered this Yummy Fresh Cranberry Salsa from Mel's Kitchen Cafe. It became an instant family favorite, and I made it no less than ten times in three months, tweaking it here and there to suit my guys, who wanted less sugar and more heat.
In the back of my mind though, I kept thinking about what the salsa could become in the summer, when cranberries would be long gone, and blueberries would emerge in all their ripe, sweet, juicy glory.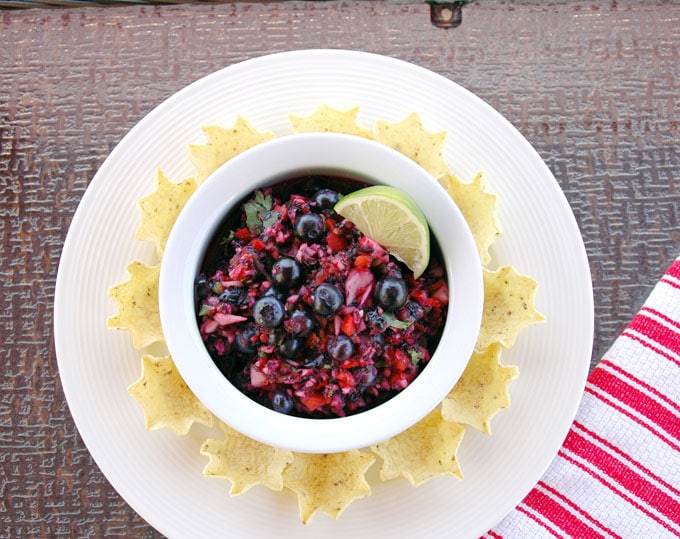 I'm so glad I went down this path.
This fruit salsa usually needs no sugar, since the blueberries and a bit of apple provide plenty of sweetness. But, if it's early in the season, and your blueberries aren't sweet enough, you may need to add a little sugar.
I included an entire jalapeno, seeds and all, plus some hot sauce to give it a little kick. (But it's not overly hot at all, so feel free to increase the heat, if you wish.)
In fact, the beauty of this bowl of goodness is that you can adjust the flavors to your liking and make it your own.
In case you're wondering, the "red" comes from red peppers and the "white" from the onions (they're actually red onions, but they start out looking white before the blueberry juice gets to them.) The hint of green you see is from the cilantro.
And lime juice provides a nice, bright accent. (I just love a squeeze of lime juice on my food, don't you?)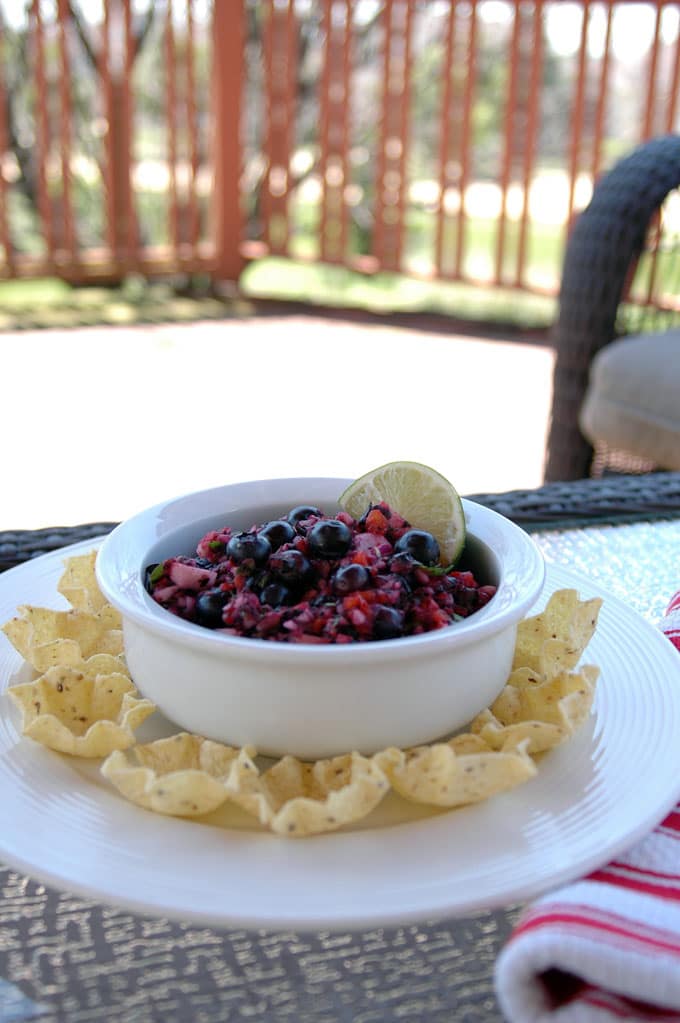 This fruit salsa tastes best cold (so refreshing!) But I'm not going to lie.
We often eat it as soon as it's mixed, before it ever makes it to the fridge. And while this Red, White and Blueberry Salsa is technically an appetizer, we've been known to devour it for lunch, with our star-shaped tortilla scoops.
Enjoy!
(Recipe Source: Adapted from this Yummy Fresh Cranberry Salsa at Mel's Kitchen Cafe)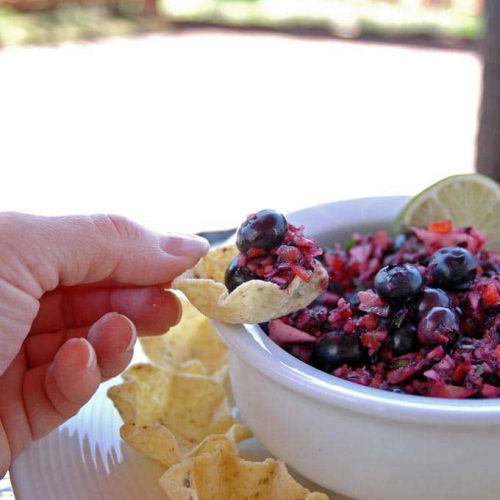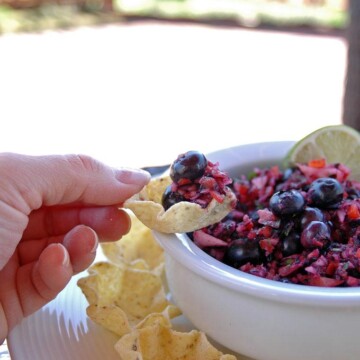 Ingredients
3

cups

fresh blueberries

(divided use)

⅔

of a medium red apple

½

of a red bell pepper

⅔

cup

chopped red onion

1

jalapeno

⅓

cup

fresh cilantro leaves

juice of 1 lime

2

tablespoons

unsweetened applesauce

1

teaspoon

hot sauce

⅓

teaspoon

salt

¼

teaspoon

black pepper

2

or 3 teaspoons sugar

(optional; if your berries aren't sweet enough, you might need the sugar.)

tortilla chips for serving
Instructions
Rinse blueberries and remove any stems. Pat them dry. Place two cups of blueberries in a medium bowl.

Rinse an apple and pat it dry. Without peeling the apple, use a small knife to slice off large pieces around the core. Chop up ⅔ of the apple and add it to the bowl with the blueberries.

Rinse a red pepper and cut out the stem. Cut the pepper in half and remove the membrane and seeds. Chop up half of the pepper and add it to the bowl.

Peel and chop a small red onion until you have ⅔ cup. Add it to the bowl.

Rinse the jalapeno and cut off and discard the stem. Cut the jalapeno in half. You can use the seeds if you want a hotter salsa or discard them for a more mild salsa. Chop up the jalapeno, adding it to the bowl. Wash your hands well after handling the jalapeno and seeds.

Rinse the cilantro and shake off the water. Use scissors to cut off some leaves until they measure ⅓ cup. Add the cilantro to the bowl.

Add the lime juice, applesauce, hot sauce, salt and black pepper. Toss everything with a spoon to mix it. Add the mixture to the bowl of a food processor fitted with a chopping blade (or add it to your blender). Gently and briefly pulse the mixture one or two times. If needed, pulse it again, just until everything is chopped. (Be careful not to let the food processor or blender run too long, or you'll end up with all liquid.)

Drain any excess liquid in a fine mesh strainer and return the chopped salsa to your mixing bowl. Stir in the remaining cup of whole blueberries. Refrigerate the salsa for an hour before serving, ideally. Give it another stir and taste it to see if it needs any sugar or seasonings before serving it with tortilla chips. Refrigerate any leftovers for up to three days.
Nutrition
Calories:
44
kcal
|
Carbohydrates:
11
g
|
Sodium:
104
mg
|
Potassium:
83
mg
|
Fiber:
1
g
|
Sugar:
7
g
|
Vitamin A:
300
IU
|
Vitamin C:
16.7
mg
|
Calcium:
6
mg
|
Iron:
0.2
mg