You need this Guacamole with Cherries, Gorgonzola and Walnuts in your life! It's a sweet and savory dip with Italian blue cheese, red onion, jalapeño, toasted walnuts...and honey drizzled on top!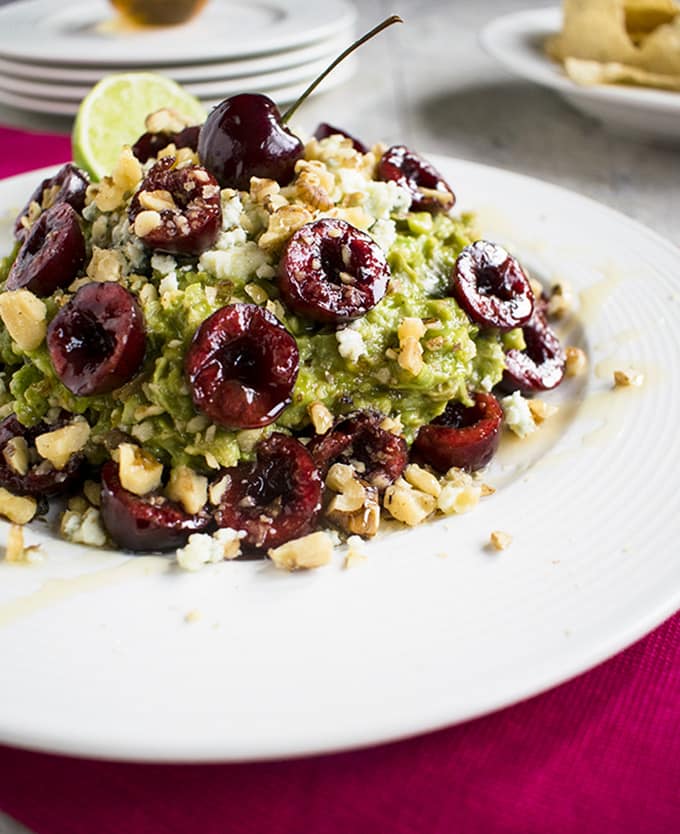 I'm excited about today's recipe! This is guacamole on steroids, folks. In a good way.
I'd never considered taking guacamole in a sweet-and-savory direction. I usually make Easy Guacamole Without Cilantro, which is delicious and savory.
But that changed when I ate at Barrio, a Cleveland restaurant known for its tacos and gourmet guacamole variations. After tasting (and devouring) its cherry Gorgonzola guacamole with candied walnuts, I knew I had to try replicating it at home.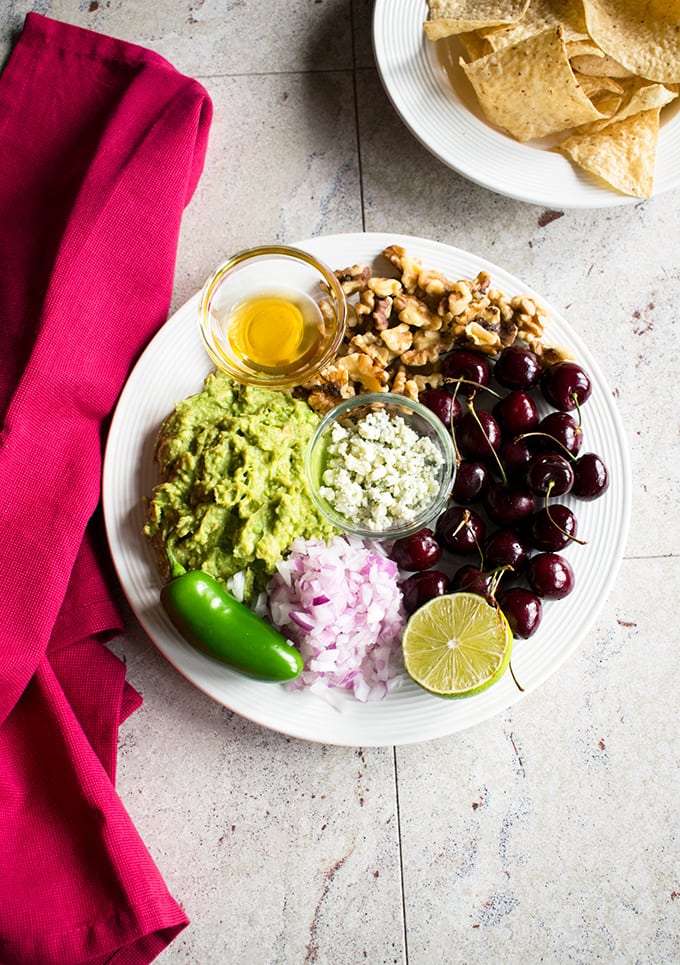 Because dark, sweet cherries are my weakness. I want to add them to everything. Remember my Chocolate-Covered Cherry-Almond Smoothie?
After my first version of this guacamole (and with my family's input) I realized candied walnuts with butter and sugar were too sweet here. I decided to try toasted walnuts instead, with honey mixed into the dip and drizzled on top. Mmmmm!
But the guac still needed a savory kick. My hubby encouraged me to add some jalapeño for heat. Sometimes, he has good ideas.
So, after two grocery trips and three iterations, I finally nailed the right combination of ingredients for my guacamole with Gorgonzola, cherries and walnuts. Friends, you need this dip in your life!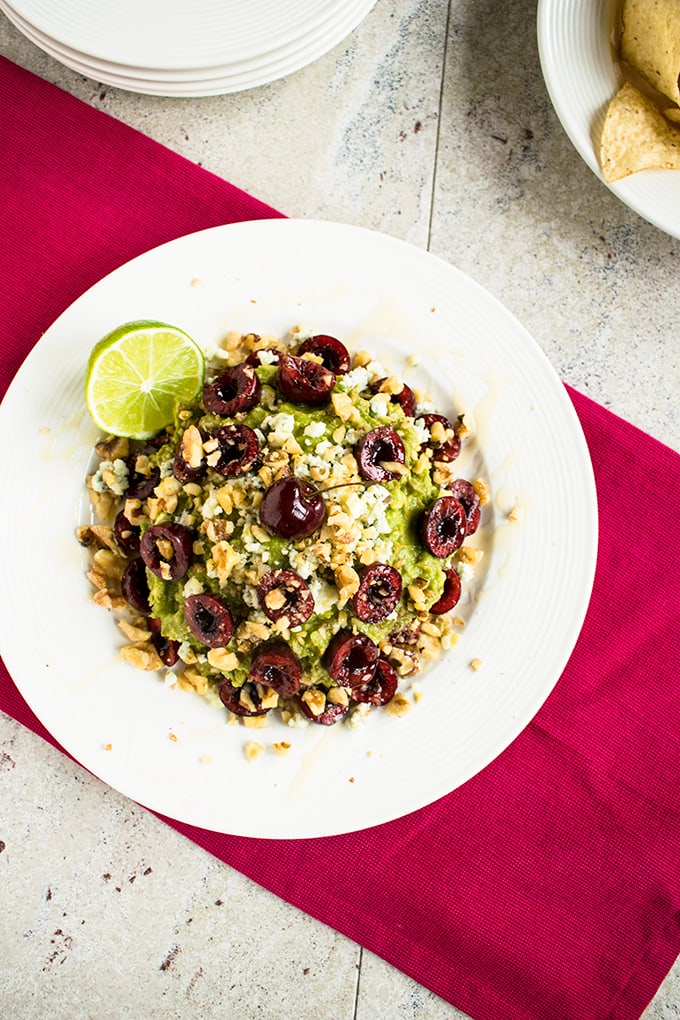 Make it for Taco Tuesday. Make it for game day. Bring it to your next barbecue. You'll be the hit of the party.
You can obviously serve it with tortilla chips for a gluten-free, Tex-Mex appetizer. But, this is fabulous as crostini for a more fancy occasion.
Either way, if you have leftovers in your fridge the next day, I highly recommend you have guacamole toast for breakfast. Just toast some bread and spread on this guac.
You're welcome.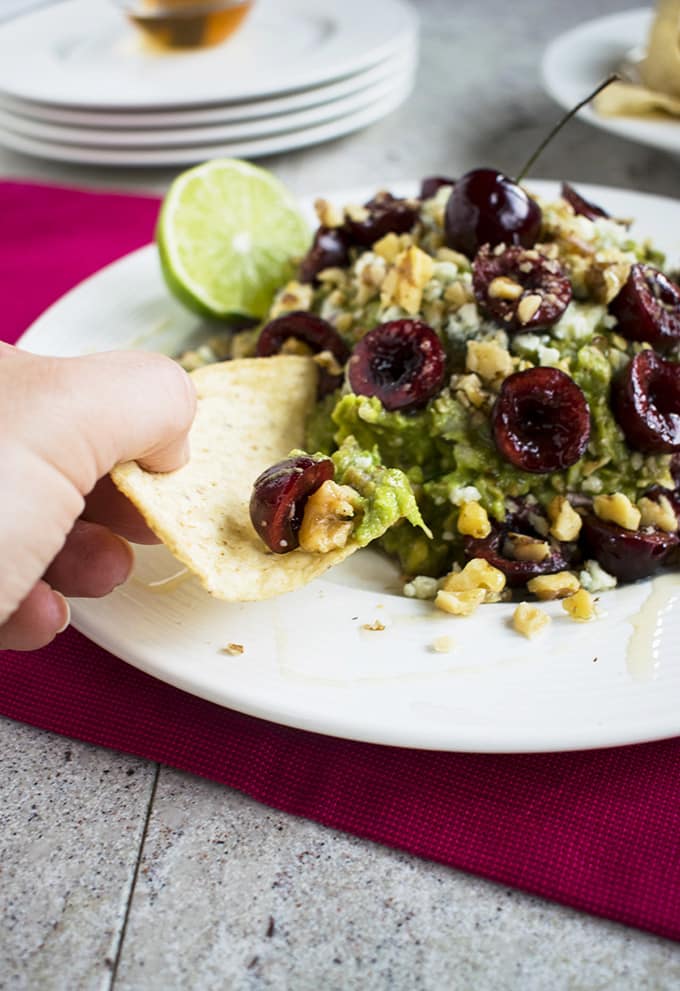 More appetizers to love
Enjoy!
(Recipe Source: Inspired by the cherry Gorgonzola guacamole with candied walnuts at Barrio in Cleveland)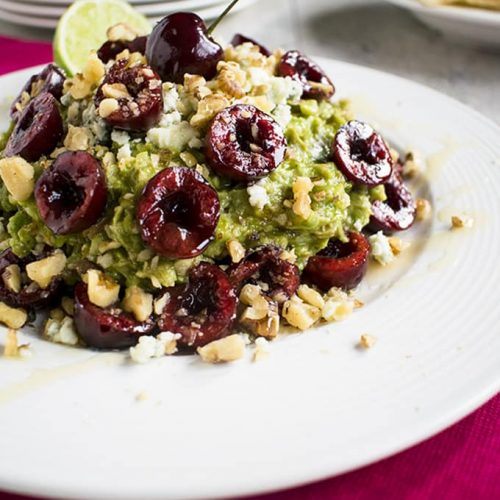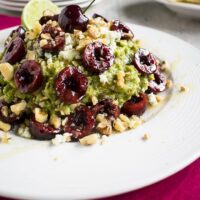 Guacamole with Cherries, Gorgonzola and Walnuts
You need this guacamole in your life! It's sweet, savory and delicious! Gluten free.
Print
Pin
Rate
Save
Go to Collections
Ingredients
½

cup

shelled walnuts

½

medium red onion

(peeled)

3

ripe avocados

juice of ½ lime

½

jalapeño with seeds and membrane

¼

teaspoon

salt

⅛

teaspoon

pepper

3

tablespoons

crumbled Gorgonzola

(divided use)

1

tablespoon

honey

1

cup

fresh cherries

(pitted)

tortilla chips or toasted baguette slices for serving
Instructions
Coarsely chop your walnuts and place them in a small skillet on the stove. Heat the walnuts on medium high and stir for 3-4 minutes, until toasted and fragrant. Turn off the heat and transfer the walnuts to a plate to cool.

Chop your ½ red onion and set it aside.

If starting with a whole jalapeño, rinse and dry it. Cut off the stem and root ends. Then slice the jalapeño in half the long way, saving half for another use. Chop your ½ jalapeño and set it aside with the seeds. (Do not touch your face or eyes after handling a jalapeño, or it will burn. Wash your hands well.)

Slice each avocado in half. Gently squeeze out the pits and discard them. Scoop out the avocado flesh into a small mixing bowl.

Squeeze your lime juice over the avocado. Use a potato masher to mash and stir the avocados until smooth.

Stir in your salt, pepper, red onions, chopped jalapeño with seeds, half of your toasted walnuts and one tablespoon of Gorgonzola. Stir in half a tablespoon of honey, saving the rest to drizzle on top.

Rinse your cherries and pat them dry. Remove the stems. Slice the cherries in half with a small knife. (It's better not to cut from root to stem. Instead, position the cherry on a cutting board with the root end on the right. Slice vertically through the middle of the cherry.) Gently squeeze the cherry as you pull it apart with two hands. Gently squeeze out the pit, using your knife to scoop it out if needed. Discard the pits.

To assemble, scoop half of your guacamole into the center of a dinner plate or serving platter. Place some cherry halves on top of the guacamole.

Scoop the rest of your guacamole over the top of the cherries. Place some cherry halves on your plate in a circle around the guacamole.

Sprinkle on the rest of your Gorgonzola, and add the remaining cherry halves on top.

Sprinkle on the remaining walnuts and drizzle with the rest of the honey.

Serve chilled, with tortilla chips or toasted baguette slices and refrigerate the leftover dip, covered with plastic wrap, for up to two days. Stir the guacamole if it gets too dark green.
Notes
It's important to add the cherries as described, instead of stirring them into the dip. Stirring them in will turn your guacamole into a gross, ugly color!
Nutrition
Calories:
208
kcal
|
Carbohydrates:
13
g
|
Protein:
4
g
|
Fat:
17
g
|
Saturated Fat:
3
g
|
Cholesterol:
3
mg
|
Sodium:
151
mg
|
Potassium:
459
mg
|
Fiber:
6
g
|
Sugar:
5
g
|
Vitamin A:
170
IU
|
Vitamin C:
10.3
mg
|
Calcium:
48
mg
|
Iron:
0.7
mg