If you love cherries and chocolate, you have to try this Chocolate-Covered Cherry-Almond Smoothie! It's healthy, vegan, sugar free and gluten free! It's one of my favorite breakfast smoothies.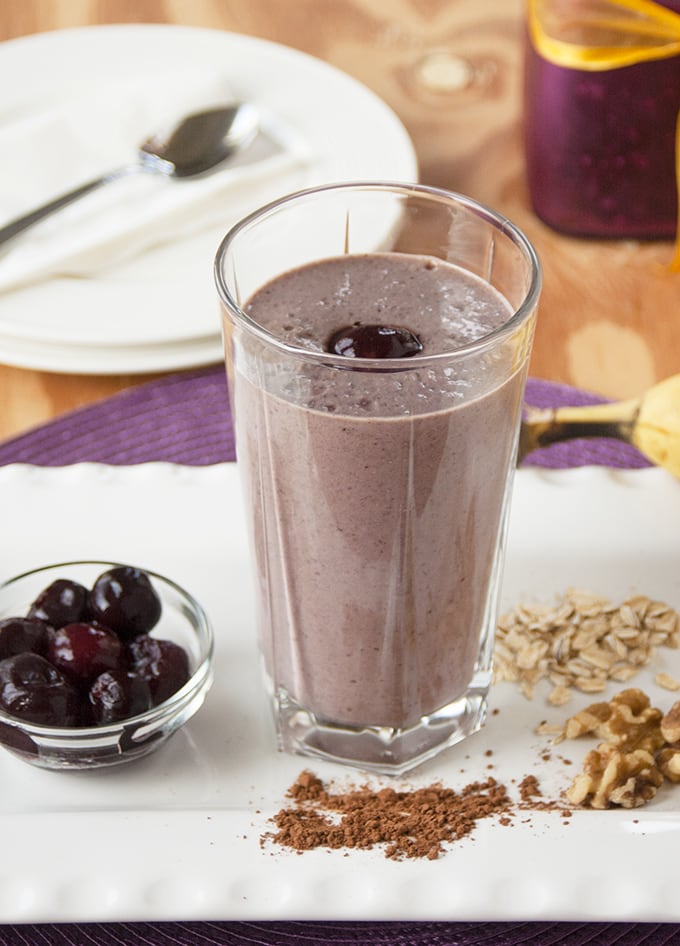 I can't believe I didn't share this recipe sooner. I've been enjoying this to-die-for, chocolate-cherry-almond smoothie for weeks.
You know, like a normal person. One who doesn't whip out a bulky camera and tripod at breakfast.
Each morning, I'd gleefully scoop frozen dark cherries into my blender, while belting out — in my best Frankie Valli voice — "Cherrryyy, Cherry Baby..." Then I'd swoon when I tasted that deliciously intense cherry flavor accented with almond extract and cocoa.
Yum!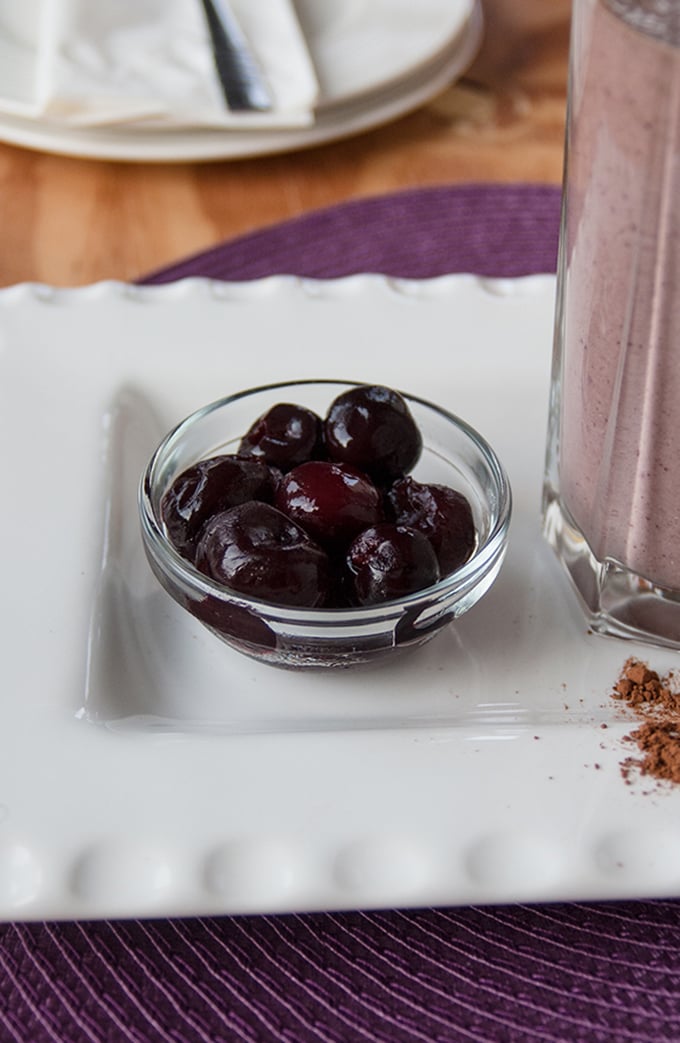 Then I remembered I have a food blog. And chocolate and cherries would have been great for Valentine's Day...or Presidents Day!
You know...the whole cherry-tree legend with George Washington. (Supposedly, as a six-year-old boy, he used his hatchet to cut his father's beloved cherry tree, and then confessed when his dad was angry. George couldn't tell a lie.)
I'm a stunad for not sharing this chocolate-covered cherry smoothie earlier. But, it's still February, right?
And wait until you taste this. If you love cherry-flavored anything, it'll knock your socks off.
Of course, there's a banana in there too, plus walnuts and oats.
Like my other healthy, vegan smoothies, this is gluten free, if you use gluten-free oats. And, it's sugar free, if you use unsweetened almond milk.
But that all-natural, cherry flavor really shines here.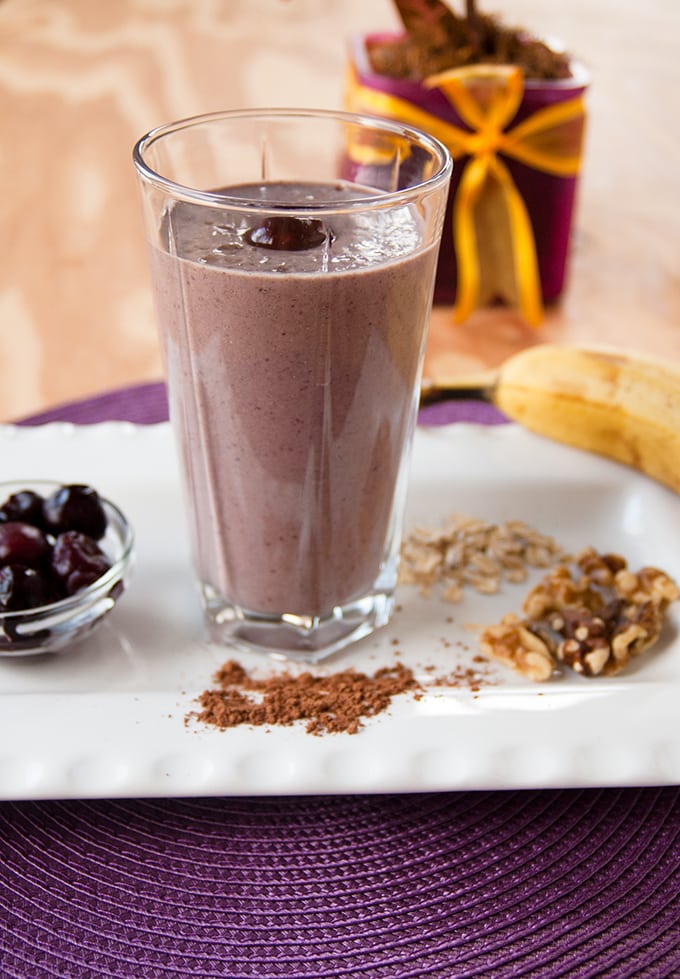 As a kid, I always loved cherry candy and cherry popsicles best. I secretly enjoyed getting a cold so Dad would give me Luden's cough drops to take to school. Does anyone else remember that slim, white cardboard box and those oh-so-delicious wild cherry cough drops??!
Wait, I found them online! This is unsponsored, but here's my affiliate link for Luden's Wild Cherry Cough Drops in the box, in case you want to buy a pack of 20. Maybe I should request them for my birthday present...
OK, enough with the cough drops. Let's get back to this smoothie. If you love cherries, if you love chocolate, if you love chocolate-covered cherries, if you love almond flavor, you must try this!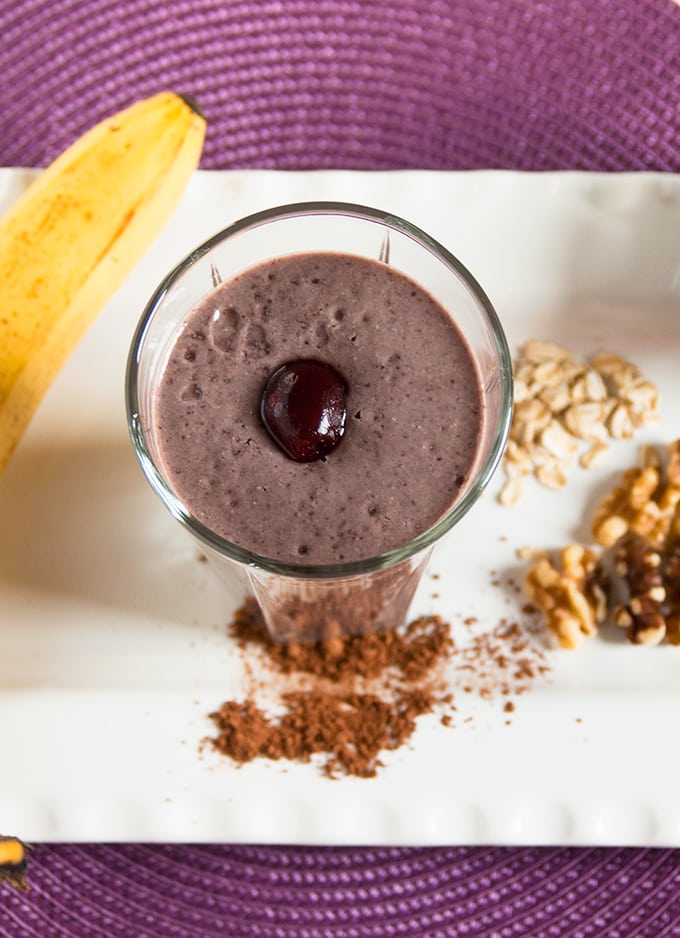 Just make sure to sing at the top of your lungs when blending it.
"Cherrryyy, Cherry Baby!"
If you do love cherries, don't miss this Dark Cherry Amaretto Sour and this Guacamole with Cherries, Gorgonzola and Walnuts!
If cherries aren't your jam (what?!!), you might enjoy my Healthy Chocolate-Banana Smoothie, Espresso Smoothie or this Pomegranate Smoothie with Banana and Walnuts. And, if you don't eat bananas, definitely try my Strawberry-Grape Breakfast Smoothie.
Enjoy!
(Recipe Source: Cooking with Mamma C)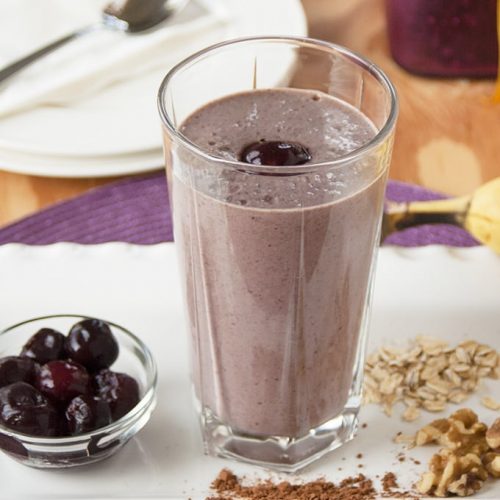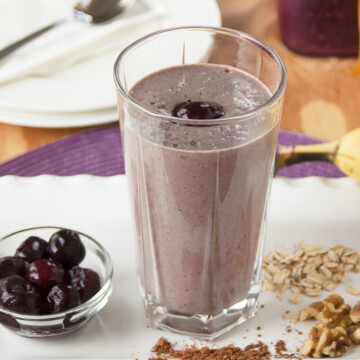 Ingredients
1

ripe banana

(peeled & broken in half)

heaping ½ cup frozen dark, pitted cherries

⅓

cup

oats

(use gluten free if needed)

¼

cup

shelled walnut halves

1

cup

almond milk

(I use unsweetened)

1

teaspoon

cocoa

¼

teaspoon

almond extract

4-5

ice cubes

(add more if using cherries that aren't frozen)
Instructions
Add all the ingredients to your blender. Blend until smooth, stopping once to scrape down the cocoa from the sides of your blender container.
Nutrition
Calories:
482
kcal
|
Carbohydrates:
62
g
|
Protein:
11
g
|
Fat:
24
g
|
Saturated Fat:
2
g
|
Sodium:
331
mg
|
Potassium:
802
mg
|
Fiber:
10
g
|
Sugar:
24
g
|
Vitamin A:
75
IU
|
Vitamin C:
15.1
mg
|
Calcium:
343
mg
|
Iron:
2.6
mg