This Espresso Smoothie with Banana is delicious, healthy and refreshing! Start your morning with this naturally sweetened coffee smoothie and add protein powder if you wish. You can make it vegan or use dairy milk.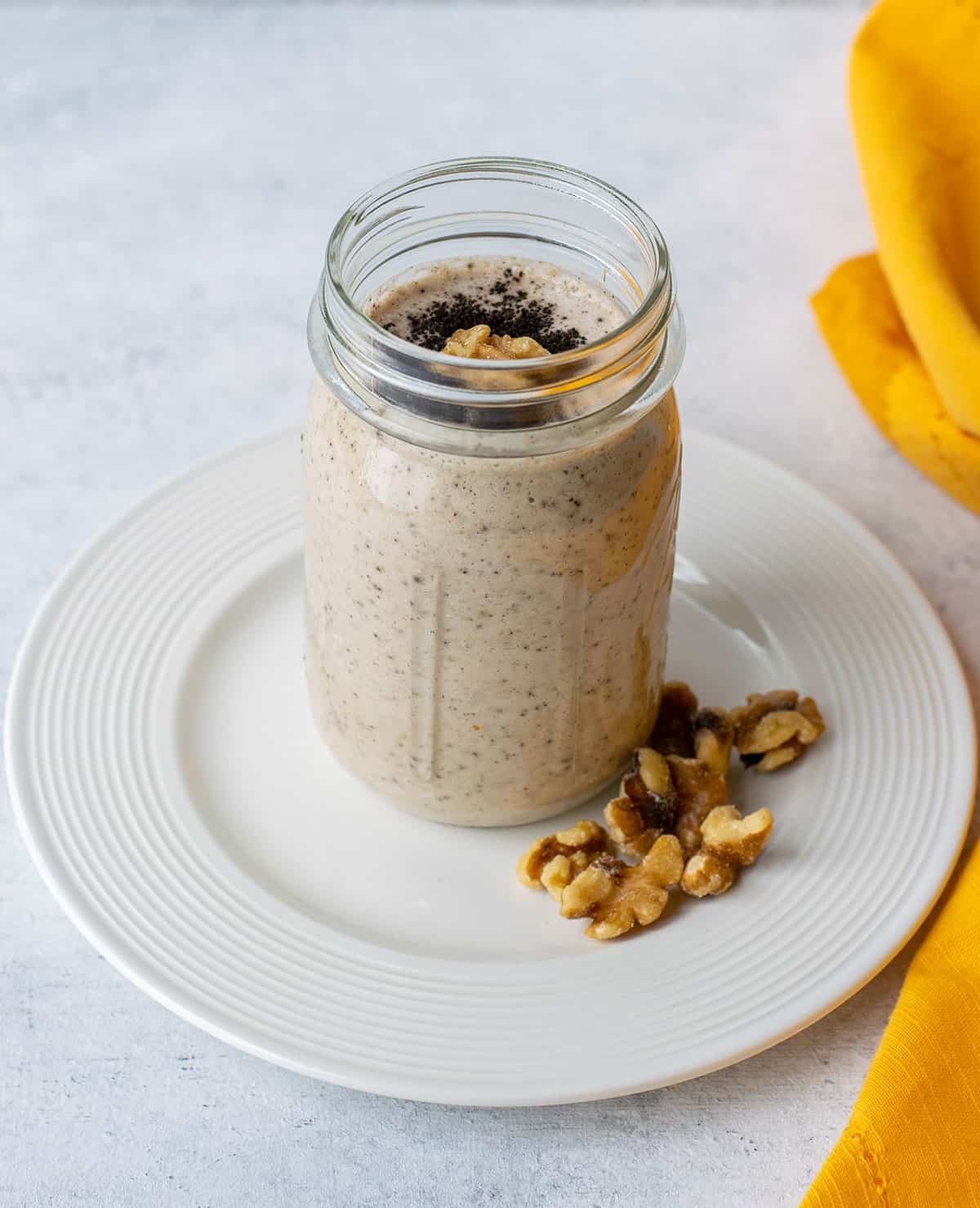 If you're a coffee aficionado, you need to try this Espresso Banana Smoothie!
It'll greet your taste buds with the rich flavor of full-bodied espresso. The kind with the swoon-worthy aroma that makes you inhale deeply and give thanks for one of life's simplest but splendid pleasures.
I love espresso coffee smoothies so much, I even have a Healthy Vanilla Frappuccino version!
Are you ready to enjoy your morning coffee in the form of a healthy breakfast smoothie? It's easy to make!
Recipe ingredients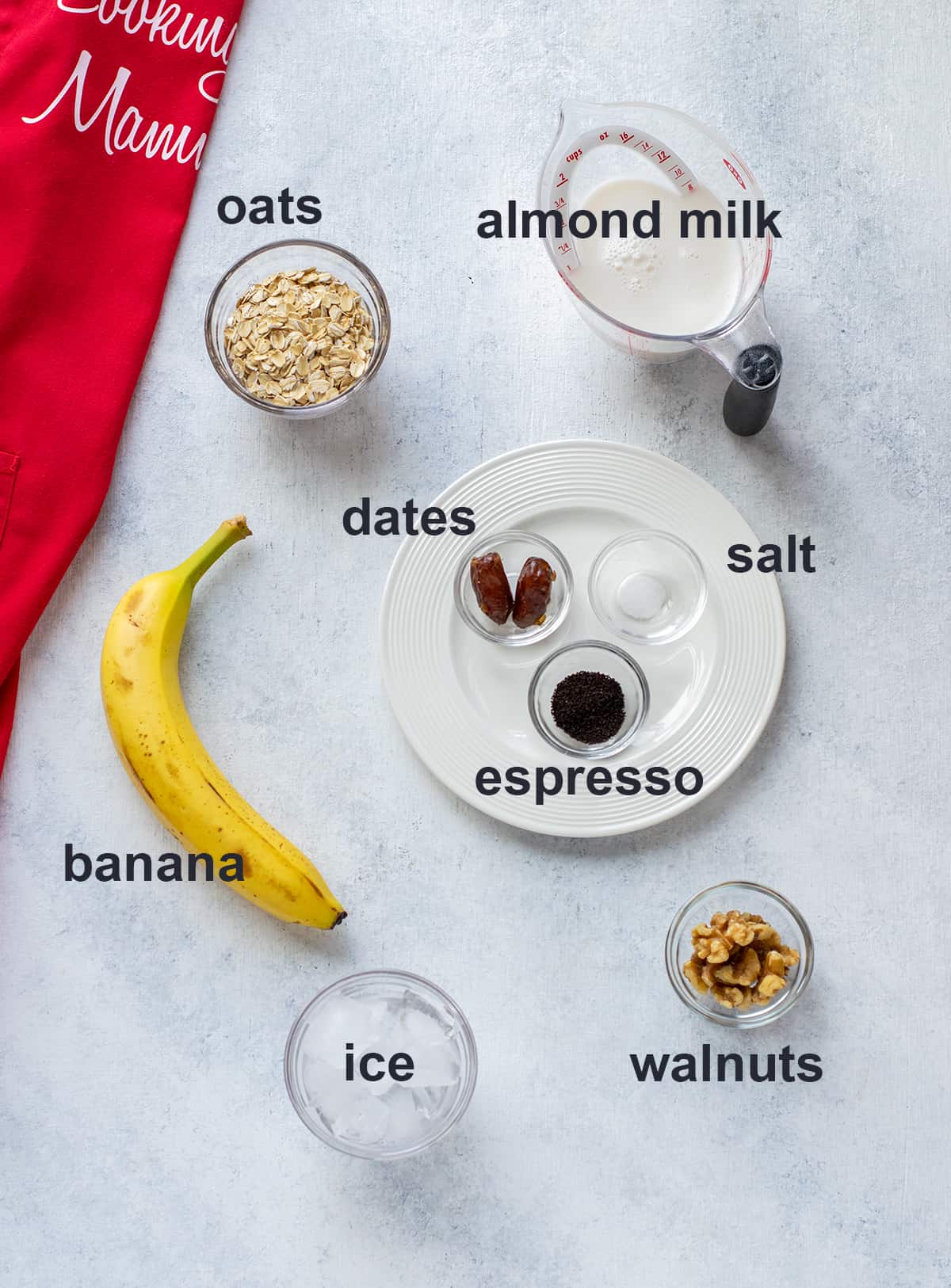 Banana: Use fresh or frozen. It's best to use a ripe banana with at least a few spots to get some sweetness.
Espresso: I use a teaspoon of ground espresso (affiliate link). It lends far more flavor than brewed coffee, which just waters everything down.
You can use two espresso beans instead, if you have them. You also could try espresso powder (affiliate link) or espresso-style instant coffee (affiliate link).
If you don't have espresso but want a coffee-banana smoothie, you can use a teaspoon of regular coffee grounds or even instant coffee grounds.
Almond milk: I use unsweetened, plain almond milk, but you can use dairy milk or substitute cashew milk, soy milk, or oat milk to keep this a vegan smoothie.
Oats: Oats add fiber and help make this espresso smoothie more filling. You can omit them if you wish, but a coffee-oatmeal smoothie helps keep things moving. (Wink!)
I use raw, rolled oats. Plain, quick-cooking oats also should work. Don't use steel-cut oats here because they won't blend as well.
Walnuts: Besides being good for us, walnuts taste delicious here. I love the banana-walnut combination, but you can substitute pecans or skip the nuts if needed.
Dates: Dates are a great way to add some natural sweetness. Feel free to substitute with a handful of raisins or a sweetener of your choice.
How to make an espresso smoothie
See the card at the end of this post for the full recipe, but here's an overview.
You just need to add all of the ingredients to your blender and give them a whirl!
Recipe tips
For a thicker smoothie, use a frozen banana and only five ice cubes.
Don't add too much ice with a frozen banana, or you'll end up with sorbet instead of a smoothie.
Feel free to add protein powder or chia seeds for extra nutrition.
Frequently asked questions
Can you put espresso grounds in a smoothie?
You can add a small amount of coffee grounds or coffee beans to a smoothie. They add wonderful flavor and texture while being an excellent source of antioxidants and providing a boost of energy.
What does a banana do in a smoothie?
Bananas provide a naturally sweet base for smoothies. They also give smoothies a creamier texture and are neutral enough to taste great with a variety of different ingredients.
More smoothies to enjoy
I have lots of smoothie recipes, since they're my breakfast six days a week! Here are a few of my favorites:
And, if you love espresso, don't miss this Traditional Tiramisu Recipe!
Enjoy!
If you try this Espresso Smoothie recipe, please leave a comment and a rating!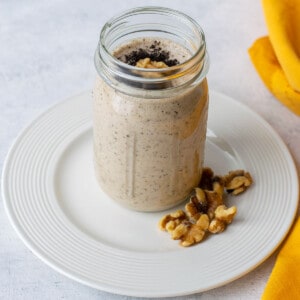 Ingredients
1

ripe banana

(Peeled and cut in half. See notes if using a frozen banana.)

1

cup

almond milk (unsweetened)

½

cup

oats

⅛

cup

shelled walnuts

(heaping)

1

teaspoon

ground espresso

(Or 2 espresso beans. See notes.)

1

pitted date

(Or use another sweetener.)

1

sprinkle

salt

½

cup

ice

(Or use just 5 ice cubes for a frozen banana.)
Instructions
Add all ingredients to a blender and mix until smooth, stopping to scrape down the sides of the container if needed.
Notes
If using a frozen banana, only use about five ice cubes, or you'll end up with sorbet instead of a smoothie.
If you don't have espresso grounds or espresso beans, you can substitute espresso powder or instant espresso coffee grounds. You also can try using regular ground coffee.
Consider adding protein powder for extra nutrition.
Nutrition
Calories:
412
kcal
|
Carbohydrates:
63
g
|
Protein:
10
g
|
Fat:
16
g
|
Saturated Fat:
1
g
|
Polyunsaturated Fat:
9
g
|
Monounsaturated Fat:
4
g
|
Sodium:
240
mg
|
Potassium:
715
mg
|
Fiber:
9
g
|
Sugar:
20
g
|
Vitamin A:
79
IU
|
Vitamin C:
10
mg
|
Calcium:
349
mg
|
Iron:
3
mg
(Recipe Source: Cooking with Mamma C. Originally published on February 24, 2016 and updated now with new photos and additional information.)