This Healthy Carrot Cake Smoothie is so delicious! It's guilt free, gluten free and vegan, if you omit the tablespoon of Greek yogurt!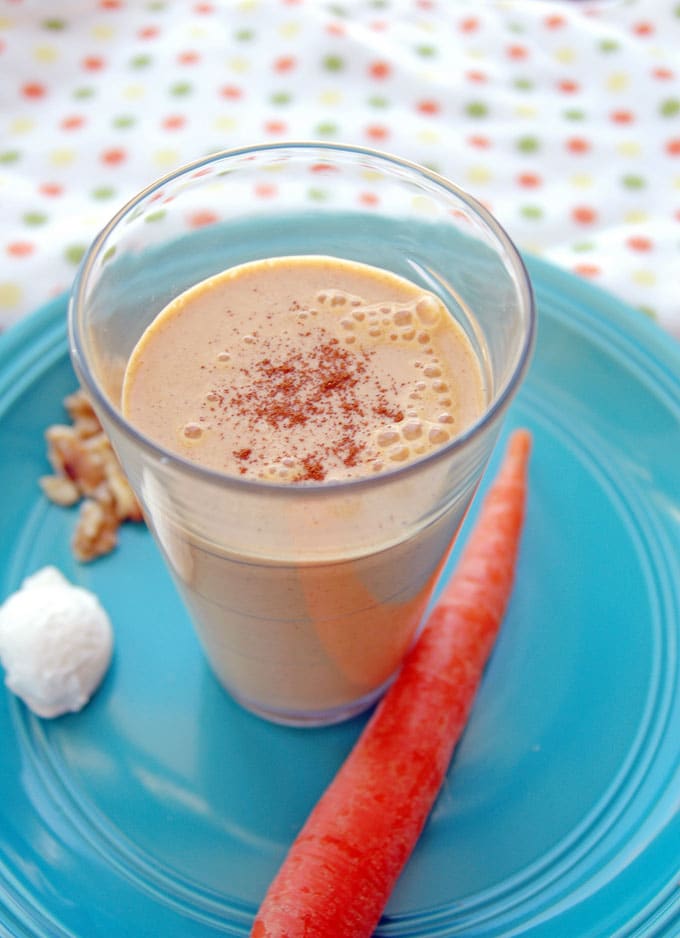 Apparently, this is the season for carrot cake, because I'm seeing all kinds of tempting recipes on social media. And since I love carrot cake, I've developed such a craving for it in the past couple weeks.
But, we've had other sweets around the house, and I couldn't justify one more (no self-control here).  Plus, carrot cake isn't on my daughter's approved dessert list for the dinner we're hosting tonight for her and a dozen friends before their dance.
So, I figured I'd get my fix with this healthy carrot cake smoothie. It's so good!
Each serving has two small carrots (the whole kind), plus a banana, walnuts, cinnamon, allspice, vanilla and a dash of salt, blended with almond milk.
A tablespoon of nonfat Greek yogurt whirled in provides the perfect tang to balance the smoothie's sweetness and mimic carrot cake's requisite cream cheese frosting.
I actually tried it with a teaspoon of cream cheese instead, and.....just no. And who puts cream cheese in her smoothie?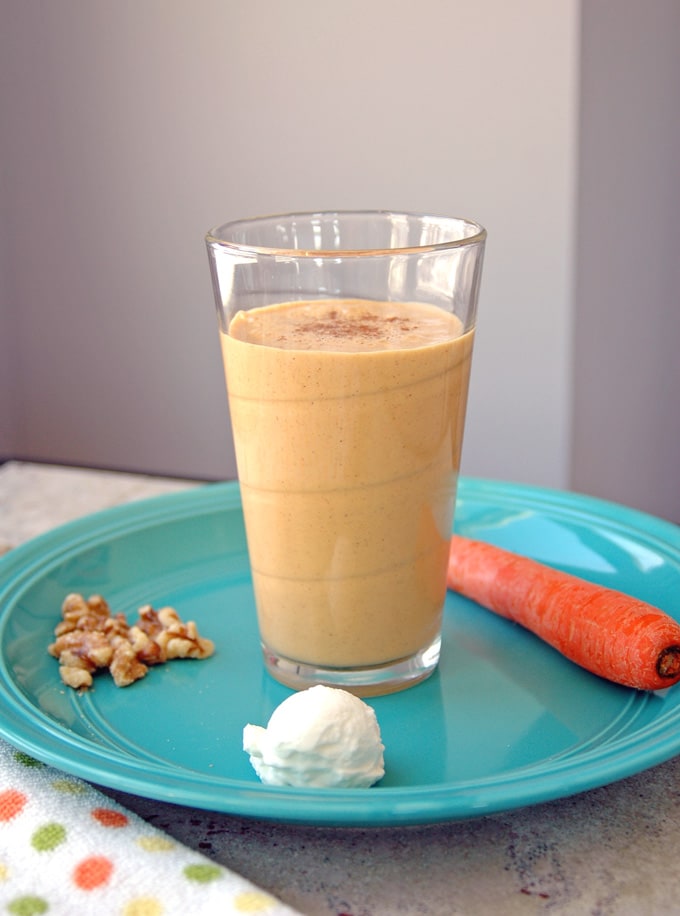 Anyway, I have to scratch my head about carrots and bunnies being associated with Easter, the most significant Christian holiday. Growing up, we colored Easter eggs on Good Friday but Mom and Dad never arranged for us to find an Easter basket.
As Mom said, "We didn't have the Easter Bunny in Italy. This is an American thing."
And so I raised my kids the same way, coloring eggs with them but never giving them a basket.
"We're Italian. There's no such thing as the Easter Bunny," I'd tell them.
And that seemed to go over okay (they still received candy and baskets from relatives when they were young.) But just a few years ago, when my kids were already big teenagers, they called me at the grocery store to plead their case.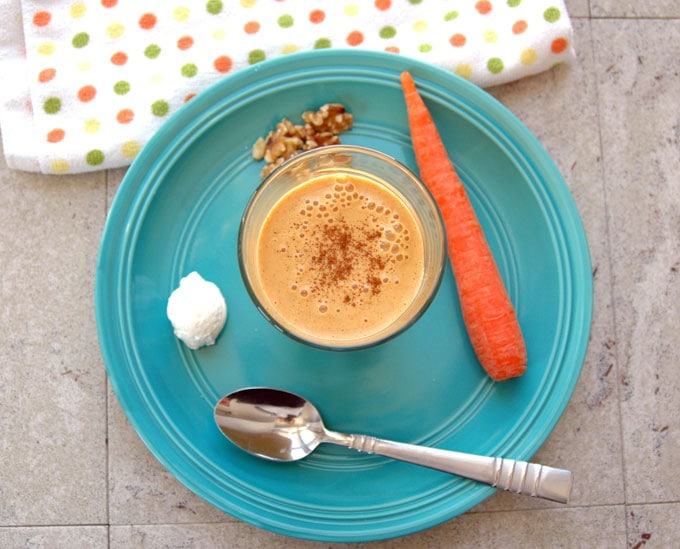 "Mom, can you please give us Easter baskets? All our friends get money and presents on Easter, and we're the only ones whose parents don't give them anything."
"Sure. I'll buy you each a pack of gum and deodorant and hand them to you in a plastic bag," I joked. (Santa, a.k.a. my hubby, was notorious for leaving deodorant in the kids' stockings for several years, along with candy and gifts.)
"Awww...come on, Mom! Don't you want to be a helicopter mom?"
 "We want you to be a helicopter mom!" (They hover.)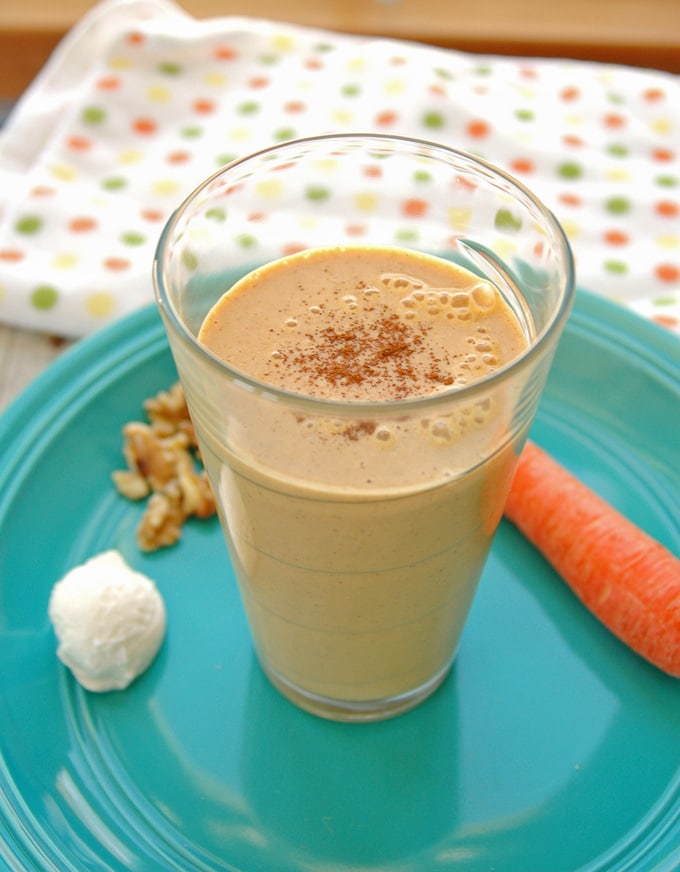 What can I say? They won me over.
I have to admit, I had fun as I ran around the store, finding things to put in their baskets. And when I got home, they were so excited.
It was the cutest thing.
They took turns locking themselves in the bathroom so that the other could hide their basket. Then, they ran around the house searching for the goods.
At their ages, it was priceless. And I ate some of their candy, of course.
I'm still adamant that there's no such thing as the Easter Bunny. But, did somebody say healthy carrot cake smoothie?
More smoothie recipes
(Recipe Source: Cooking with Mamma C)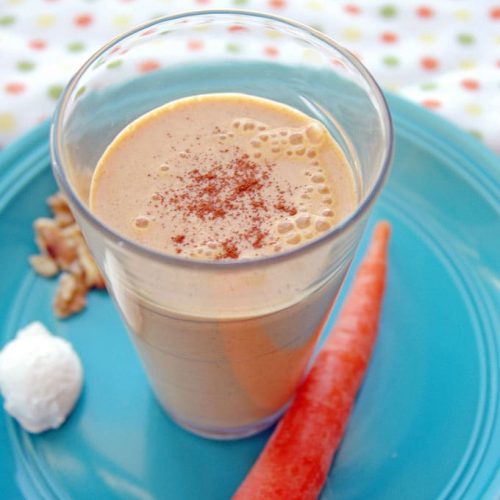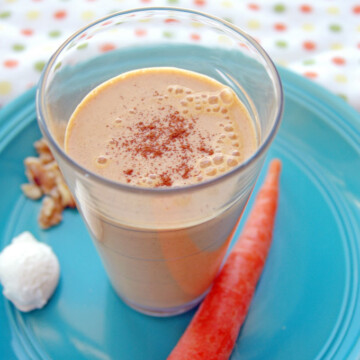 Healthy Carrot Cake Smoothie
This Healthy Carrot Cake Smoothie is so delicious! It's guilt free, gluten free and vegan if you omit the tablespoon of Greek yogurt!
Print
Pin
Rate
Save
Go to Collections
Ingredients
2

small whole carrots

(peeled and cut in threes)

1

ripe banana

1

cup

almond milk

(I use light)

¼

cup

shelled walnuts

1

tbsp

tablespoon nonfat Greek yogurt

(optional)

½

teaspoon

vanilla extract

¼

teaspoon

cinnamon

4

dashes allspice

dash salt

½

cup

ice
Instructions
Place all ingredients in your blender and mix until smooth.
Nutrition
Calories:
401
kcal
|
Carbohydrates:
46
g
|
Protein:
9
g
|
Fat:
22
g
|
Saturated Fat:
1
g
|
Sodium:
416
mg
|
Potassium:
941
mg
|
Fiber:
9
g
|
Sugar:
23
g
|
Vitamin A:
20455
IU
|
Vitamin C:
17.5
mg
|
Calcium:
369
mg
|
Iron:
1.5
mg