Make this Piña Colada and Banana Breakfast Smoothie if you love pineapple and coconut! It's a taste of tropical heaven, and it's healthy and vegan to boot.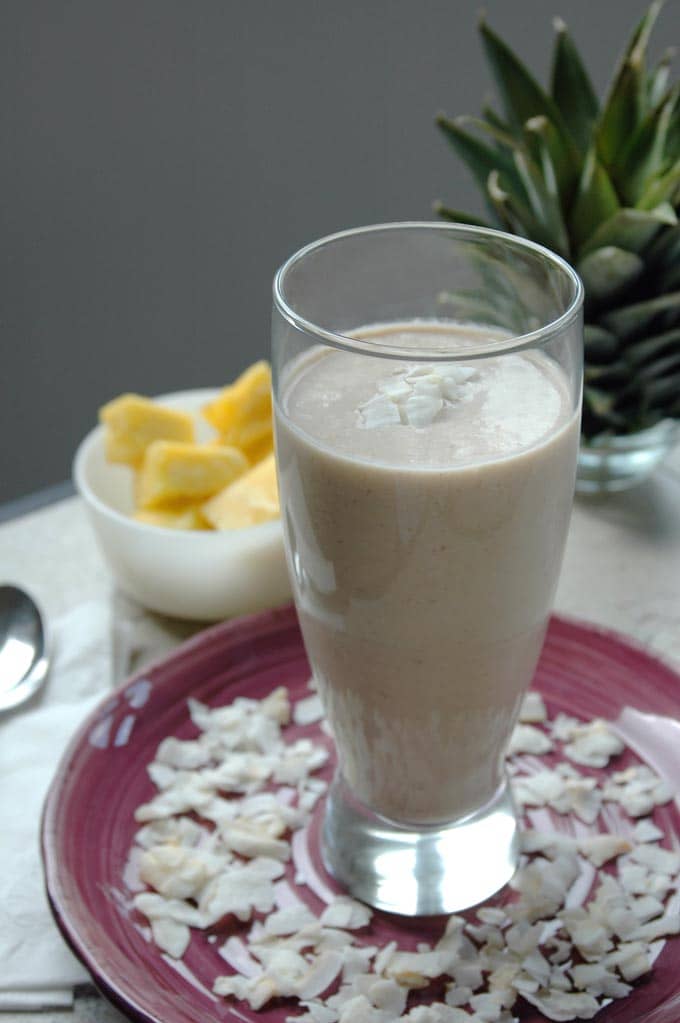 Happy Memorial Day weekend, everyone! I'm back from a work trip and couldn't wait to make myself a smoothie and return to clean eating. (I'm not getting on the scale for a few more days, if you know what I mean.)
Can you believe this is my blog's first recipe featuring pineapple, even though it's by far my favorite fruit?
It's probably because I usually just stand at the counter and eat it like candy.
But I do make this Piña Colada and Banana Breakfast Smoothie, and if you're a lover of pineapple and coconut, you've got to try this! It's a taste of tropical heaven, and it's healthy and vegan to boot.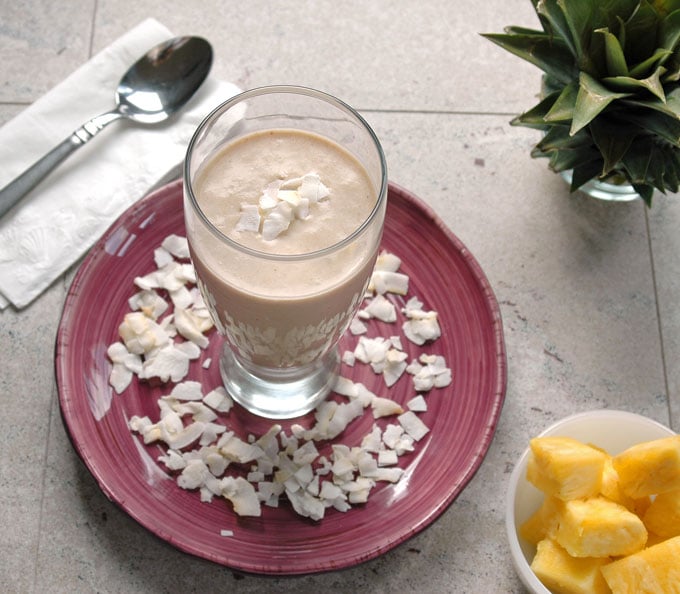 I start with a ripe banana and add fresh, juicy pineapple chunks, light almond milk, unsweetened coconut, walnuts, oats and coconut extract. I top it with ice and whirl it in my blender until it's like a virgin Piña Colada. Yum!!
For research purposes, I did try some with a shot of coconut rum in the afternoon while snapping my photos. So, if you prefer to make a "naughty" version of this smoothie after a long day of work and call it dinner and a cocktail...I think that's perfectly acceptable.
More smoothies to love
Enjoy!
(Recipe Source: Cooking with Mamma C)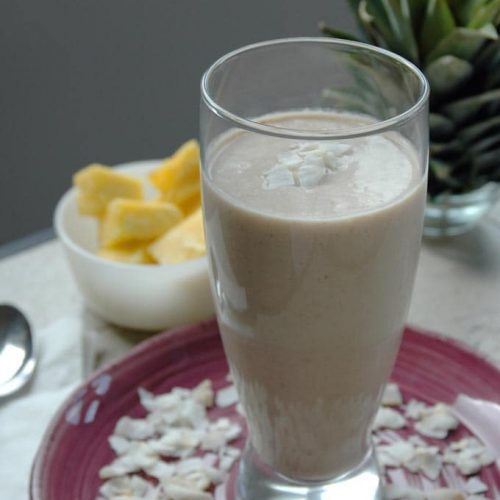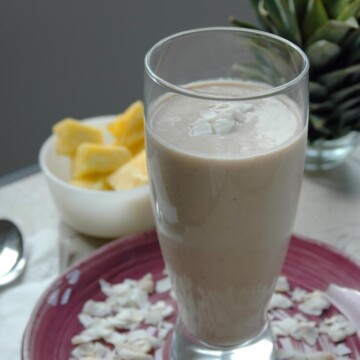 Ingredients
1

ripe banana

(peeled and broken in half)

1

cup

fresh pineapple chunks

(see notes on how to cut a fresh pineapple)

1

cup

almond milk

(I use light)

⅓

cup

oats

¼

cup

unsweetened coconut flakes

⅛

cup

shelled walnuts

⅓

teaspoon

coconut extract

(or vanilla)

½

cup

ice
Instructions
Place all ingredients in a blender and mix until smooth.
Notes
If starting with a fresh, whole pineapple, twist off the green top and discard. Trim off the ends with a sharp knife and stand up the pineapple. Starting at the top, trim off the skin a section at a time by making downward slices.
Trim off any hard parts and use a small knife to pick out the seeds. Discard the skin and seeds and rinse your cutting board. Rinse your knife and pineapple and pat dry.
Stand up the pineapple, and starting to the right of the core, slice downward. Rotate the pineapple and continue slicing downward around the core. Discard the core and cut the remaining pineapple into chunks.
Try this smoothie with coconut rum after 5 p.m.!
Nutrition
Calories:
565
kcal
|
Carbohydrates:
75
g
|
Protein:
11
g
|
Fat:
29
g
|
Saturated Fat:
14
g
|
Polyunsaturated Fat:
9
g
|
Monounsaturated Fat:
4
g
|
Sodium:
344
mg
|
Potassium:
882
mg
|
Fiber:
13
g
|
Sugar:
33
g
|
Vitamin A:
174
IU
|
Vitamin C:
90
mg
|
Calcium:
365
mg
|
Iron:
3
mg